The power of brand authenticity
As we come to the end of 2019 and with annual trend reports likely well underway, we have been discussing the latest and greatest email trends and the priorities brands continue to tell us they're focusing on for email in 2020.
A topic we all feel about is the power of brand authenticity and how brands looking to achieve it. It is more important than ever for brands to offer authentic experiences, being true to their own mission and values in all that they do, including their communication with subscribers and customers. For a brand to be considered authentic, it must be perceived as reliable, respectful and real. According to Instapage, companies perceived to be authentic build brand loyalty and are likely to be more profitable.
As consumers, we feel inspired by authentic brands and emotionally invested in their success, so we buy their products even when there might be cheaper alternatives, so we demand that brands walk the talk. Whether about their features, benefits, quality, or even about how you should feel when using the product or what kind of lifestyle you should be able to achieve, if a brand is making a promise, we expect them to keep their promise (Forbes).
Over the past few years, it has been reported that consumers are becoming less loyal and trusting of brands, yet more demanding that they stand for something bigger than profits.
According to Fabrik, authentic brands thrive because:
You stand above the noise - if you

can be authentic in everything you do and say, then your customers will do your marketing for you through word-of-mouth

You make stronger connections - genuine messages and ideas resonate more powerfully with people

You differentiate - an authentic brand stands out from dozens of competitors by being transparent building trust and generating long term loyalty
Put simply in email terms, authentic brands remain true to their identity and put the customer experience first to build brand affinity and stand out in a crowded inbox.
Let's look at three brands that provide authentic and engaging content in their emails.
Patagonia
Patagonia is a brand that screams sustainability from its culture and values, product design and manufacturing, to its marketing messages and advertising. Their business mission is "to save our home planet", proven by their business decisions such as buying 1 million acres of land in Patagonia, then donating it back to the government in 2017 and across their marketing channels.
The BAU emails below feature no product content but are promoting causes that the brand believes in and actively supports. By purchasing Patagonia products, customers feel like they're involved in the overall mission and are a part of a greater cause.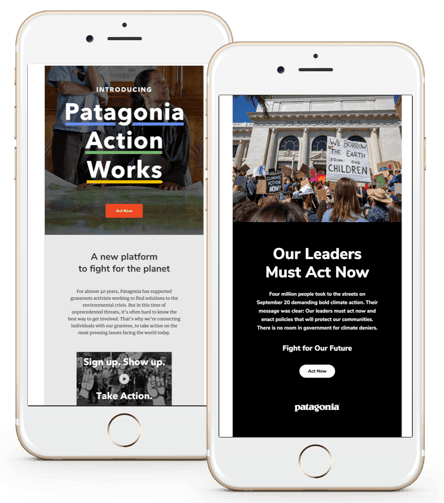 Gymshark
Selling more than their products, Gymshark aims to sell a lifestyle. As an example, this email features more than products; there's no direct selling content. They display content that's true to their brand vision, "To create the tools that help people unlock their full, incredible potential", including fitness advice, how to make workouts more environmentally friendly and a link to follow their Spotify account which has a wide range of playlists to motivate their followers.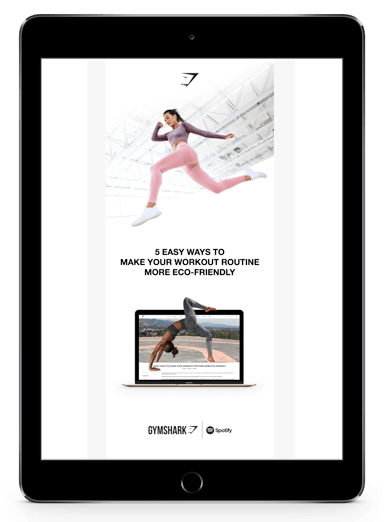 Sweaty Betty
This email is an innovative way to do a discount email differently with gamification. Fans of Sweaty Betty emails know to look out for this email every month or two. Subscribers are challenged to find Betty on a product page, somewhere on the website and receive 50% off the product where she's hiding. This not only encourages click through but increases product discoverability as subscribers actively scour the site to search through products hoping to find Betty and secure the discount.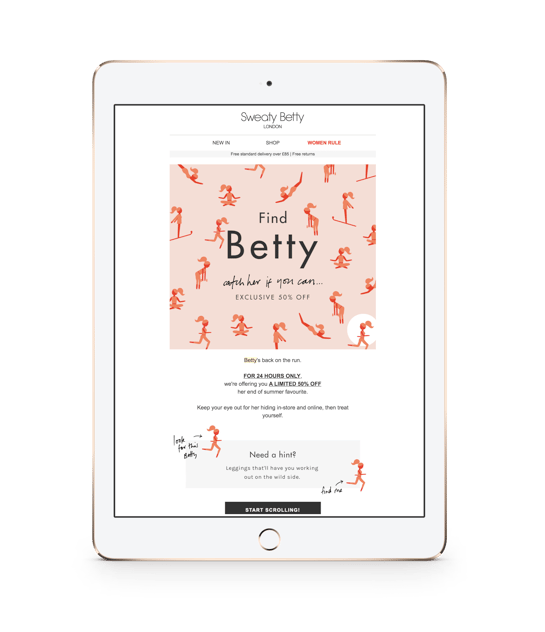 Another great way to show authentic content in email is to display real customer reviews and user-generated content. According to Power Reviews, 97% of consumers depend on some form of review to inform purchase decision. Consumers expect information to be easily accessible to aid their purchase decisions. By showcasing reviews from real people wearing or experiencing the product someone is considering, this supports a consumer's purchase decision and builds trust in the brand.
This email from Yours Clothing shows ratings and reviews from customers in the email to encourage click through and purchase.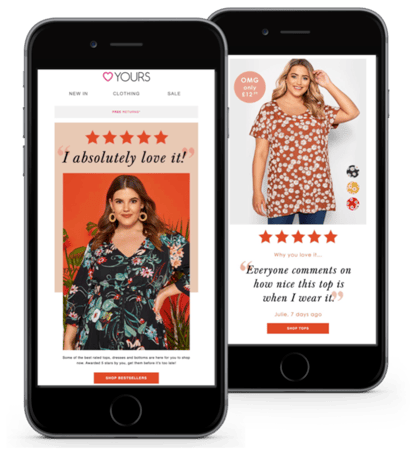 Using UGC in email is another powerful way to drive conversion. Through first-hand stories and experiences, UGC builds intimacy with your target audience and the results can be huge. A study by Olapic discovered retailers that use its user-generated content in email see a 43% increase in click-through rates and a 2-3X conversion rate. UGC transforms your product from a packaged showpiece on a virtual shelf into a genuine part of your 'tribes' lives (Klaviyo).
This email from Athleta features a product in the hero then both UGC and user reviews in the email using social proof to aid the consumer's decision.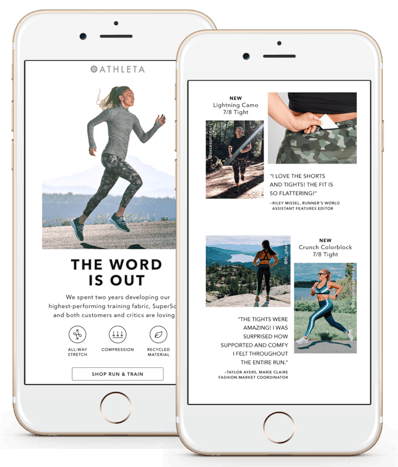 We believe that brands must share regular and consistent, yet varied content that stays true to their values in order to build loyalty and drive repeat purchases. Over time, this is far more powerful than offering discounts to try to stand out in a loud marketplace.