Why you should be using User Generated Content
User-generated content (UGC) isn't just a trend, it's here to stay. Companies have the option to include their customers' pictures, videos, reviews, blogs, and testimonials, all made accessible via social media. Genuine content posted online by real customers.
If you're like me, you'll actively seek out this UGC content when deciding whether to make a purchase. I look around for visual inspiration, be it for interior design, fashion, lifestyle, or holiday ideas. I also search for reviews and testimonials before I buy something. With the large proportion of this content created by real people rather than 'influencers', I'm a big fan of seeing people just like me using/wearing products over heavily photoshopped, stylized content. The people who loved their purchases enough to post a picture and tag the brand in the post - they're the people I trust.
It's a well-known fact that people trust people. We respond well to authenticity. We ask our friends their opinions and we read reviews before we buy something because we trust real reviews more than we trust manufacturers. Whilst brands work hard on being authentic to the content, we still know they're trying to sell to us. Reviews are commonplace now on-site and even in email, but it's the visual imagery that's starting to really take off. Galleries on-site, like the example below, go a long way in building trust in a brand to inspire purchases. I love the Matches Fashion community gallery - a stream of images posted by their real customers, showcasing their genuine purchases. The inclusive title 'Our Community' gives me all the feels as a shopper, I feel valued and it shows off their brand in a wonderful light.
MATCHESFASHION.COM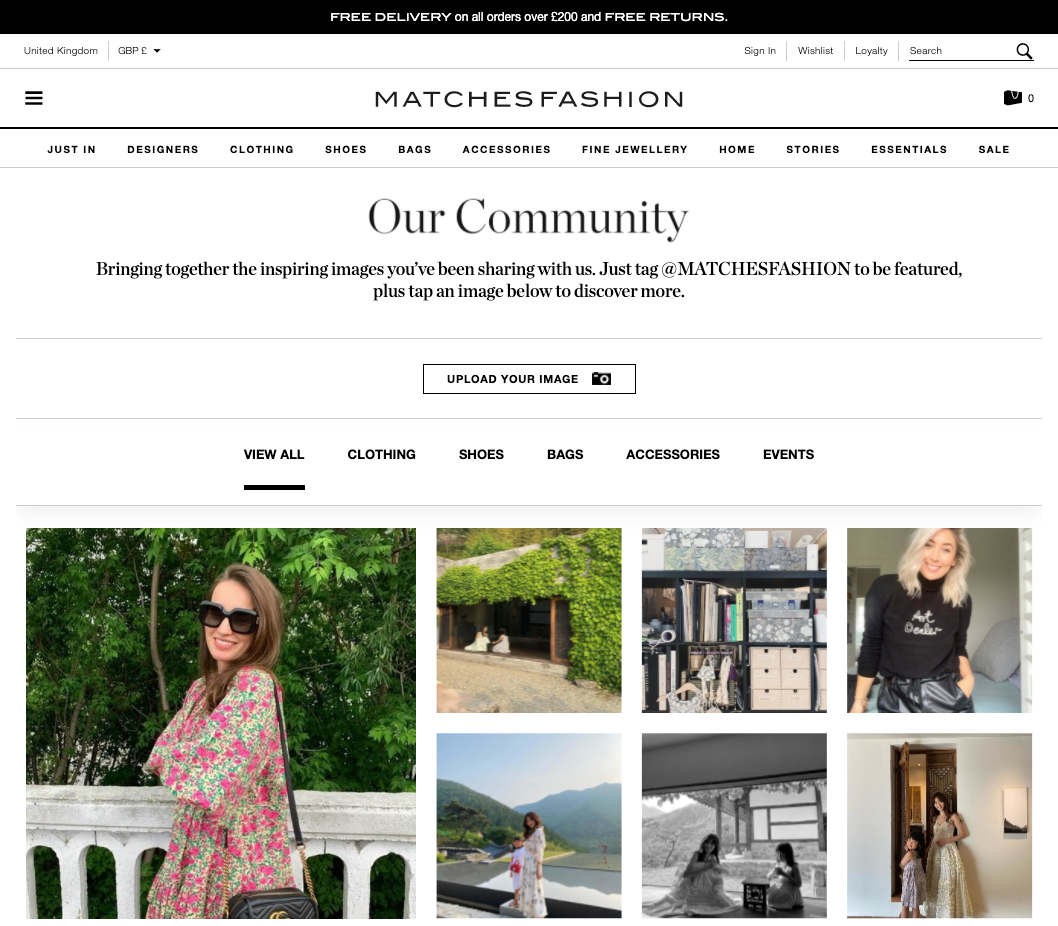 Whilst UGC is particularly well suited to highly visual industries (fashion, homeware, sportswear, etc.) it can be applied to almost every industry. Implemented and managed correctly, it can deliver strong commercial results, build brand trust, identity and awareness. It opens the door for brands to use humanized content. Social proofing is provided by real customers - that's what real people are looking for. The results speak for themselves, UGC is proven to influence prospective customers into becoming active shoppers by increasing conversion rates by 5-10%.
A retailer typically features UGC in a branded gallery and sometimes on product pages and checkout pages, but it's been slow to make its way into email in any significant way. When they do include it in their content strategy, the results speak for themselves. One beauty retailer saw a 30% increase in daily sales when including UGC in emails and a different retailer reported 28% higher AOV in emails with UGC (Olapic, 2019).
There has been a noticeable increase in UCG promotion, with customers being encouraged via email to share pictures across popular platforms with specific hashtags. According to Olapic, one brand had over 2,500 more photos posted on Instagram the week after sending an email asking customers to share pictures.
In my experience, the reason for limited UGC visibility is the element of relinquishing control. Brands carefully manage their brand and how it's perceived. Allowing customers to use their voice as a promotion tool takes an element of bravery. However, brands that are confident in their service, products, and brand are the ones that will really get the most out of UGC as a success amplification tool.
Of course, reputation and content does need to be managed, so tools including Olapic, Bazaarvoice, Curalate, and Yotpo help brands to discover content and curate it in one platform. These providers enable brands to display the best of their UGC. If you're not already leveraging UGC you need to be talking to these brands to make it happen. Harness the power of your customer's voice, let them do the talking and you'll see the results.