What results can Beauty and Cosmetics retailers expect from live content?
Having worked closely with some if the biggest beauty and cosmetics brands, I've seen first-hand how implementing live email content strategies can take email performance to the next level. We've seen triple digit performance increases with iconic brands from implementing simple stuff. It doesn't have to be earth-shatteringly huge to make a difference. Simple, well thought out strategies can make a world of difference to how your subscribers interact with your email. Here's some top tips, real results and examples to show beauty brands where to get started…
Countdown timers
An easy quick win to get started. Done properly you can expect to see upwards of 10% increase in CTR. Clients have also reported significant increases in opens, orders and revenue increases of up to 30%. The correlation between countdown timers and an increase in revenue and AOV is interesting and most likely due to timers being used for urgency around promotions. When there's time-sensitivity around an offer, and if the discount is good, customers spend, and they spend more!
Make sure that if you do use a timer that the messaging around it is clear! Timers plonked into an email with little messaging referencing them won't perform as well. Include time labels (hours/mins/secs) to give the timer context. I'd also recommend not using timers when the promotion ends too far in the future, short bursts of urgency work best rather than, say, 7 days of ticking down
Birchbox - we love this example because the timer is BIG and the message is clear!
Ted Baker - This timer is simple & effective, counting down the days until Ted's beauty launch.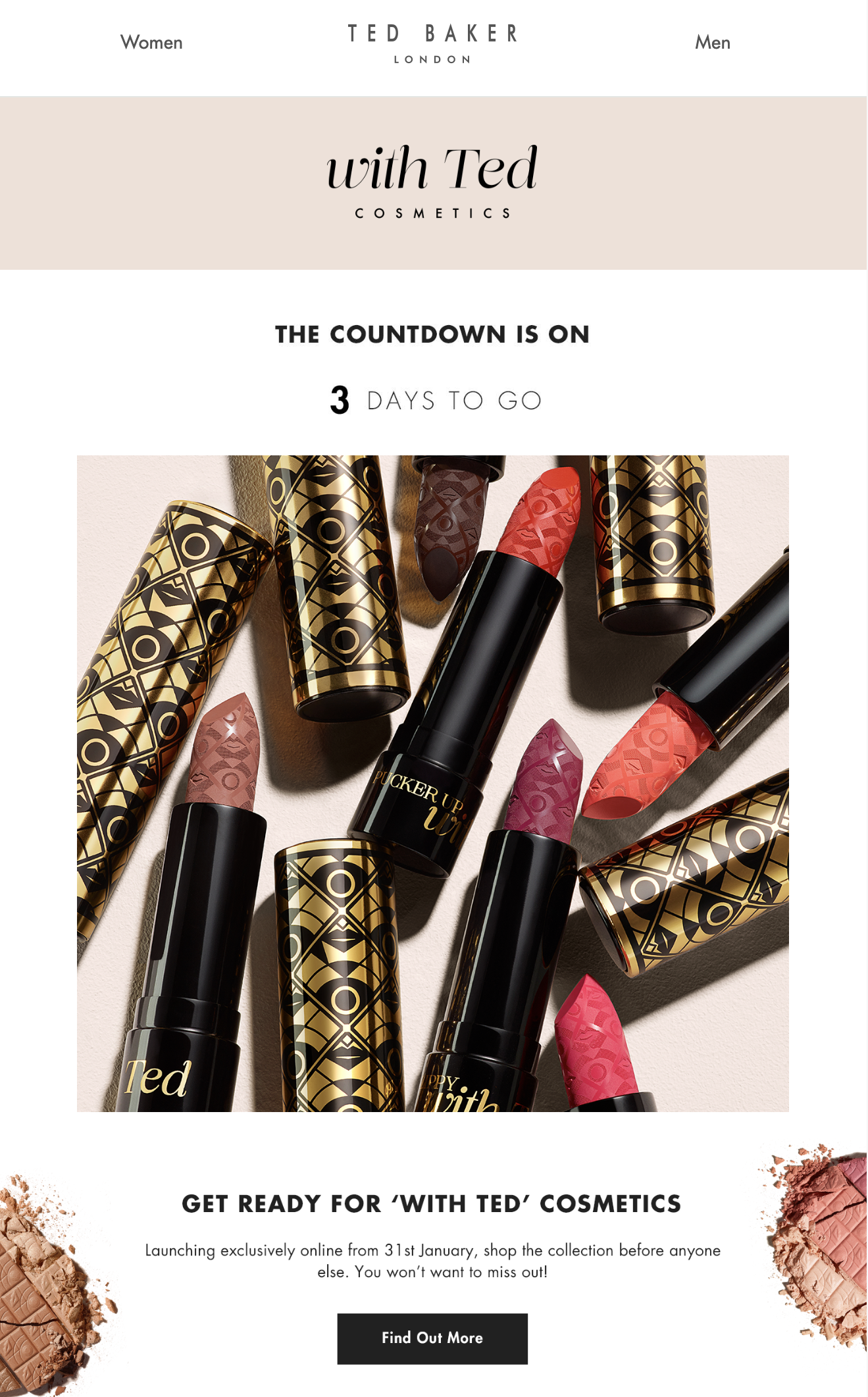 Timed Images
If you've got different make up or cosmetics for different times of day, use timed images to switch up the creative at the relevant time of day. For example, promote day cream in the morning, and night cream in the evening OR tips for keeping make up in place in the day and glam makeup looks for the evening in the evening! Time of day relevancy has increased orders by 180% and revenue by over a whopping 190% for one of our beauty customers.
Using timed images clients have reported over 25% increases in open rates as openers check back in to see the next lot of content and over 90% increase in web traffic from the day-parted email! This is an innovative, powerful (and easy!) way to capture attention in the inbox, keep content relevant and keep customers coming back to the email for the latest content.
Live polls
Live polls are a fantastic way to increase clicks from your email. Ask customers anything and they'll click to tell you what they like. Great examples for beauty include voting for favourite colours, products and looks as well as asking customers what they'd like to receive more of or what offer they would like to receive. Displaying the live vote percentages encourages openers to register their vote by clicking. One customer introduced a live poll into their email and reported an increase in conversion of over 95% - that's almost double their standard conversion rate!
Take it up a notch by triggering an email with content specific to the click to capitalize on the interest in real-time.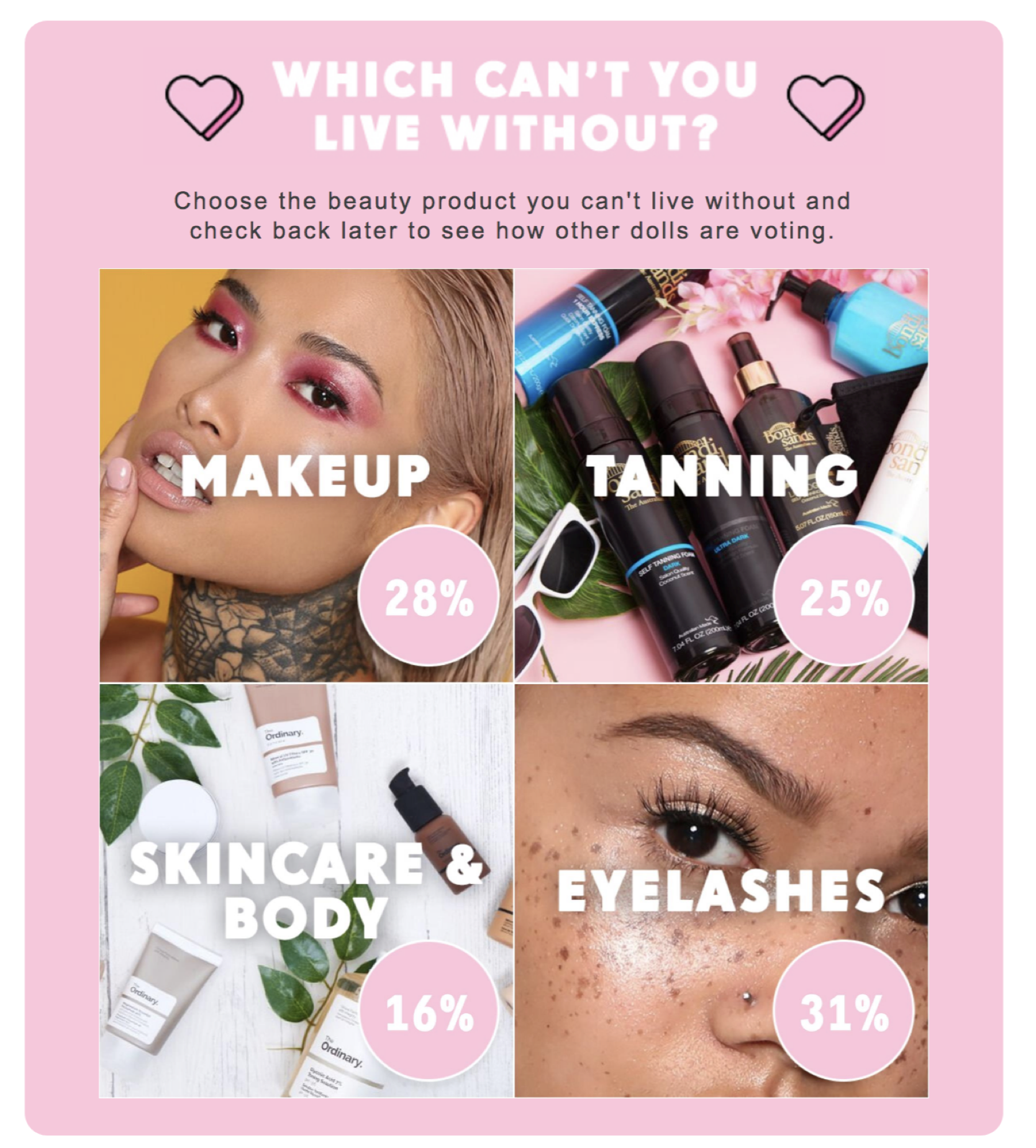 Social signals
We're all used to seeing the number of views or purchases over products on websites, but it's far less common in the inbox. Brands that use Kickdynamic to add social-proofing to emails (or Social Signals as we call it) have achieved over 70% increase in orders from email and increased AOV by almost 30%.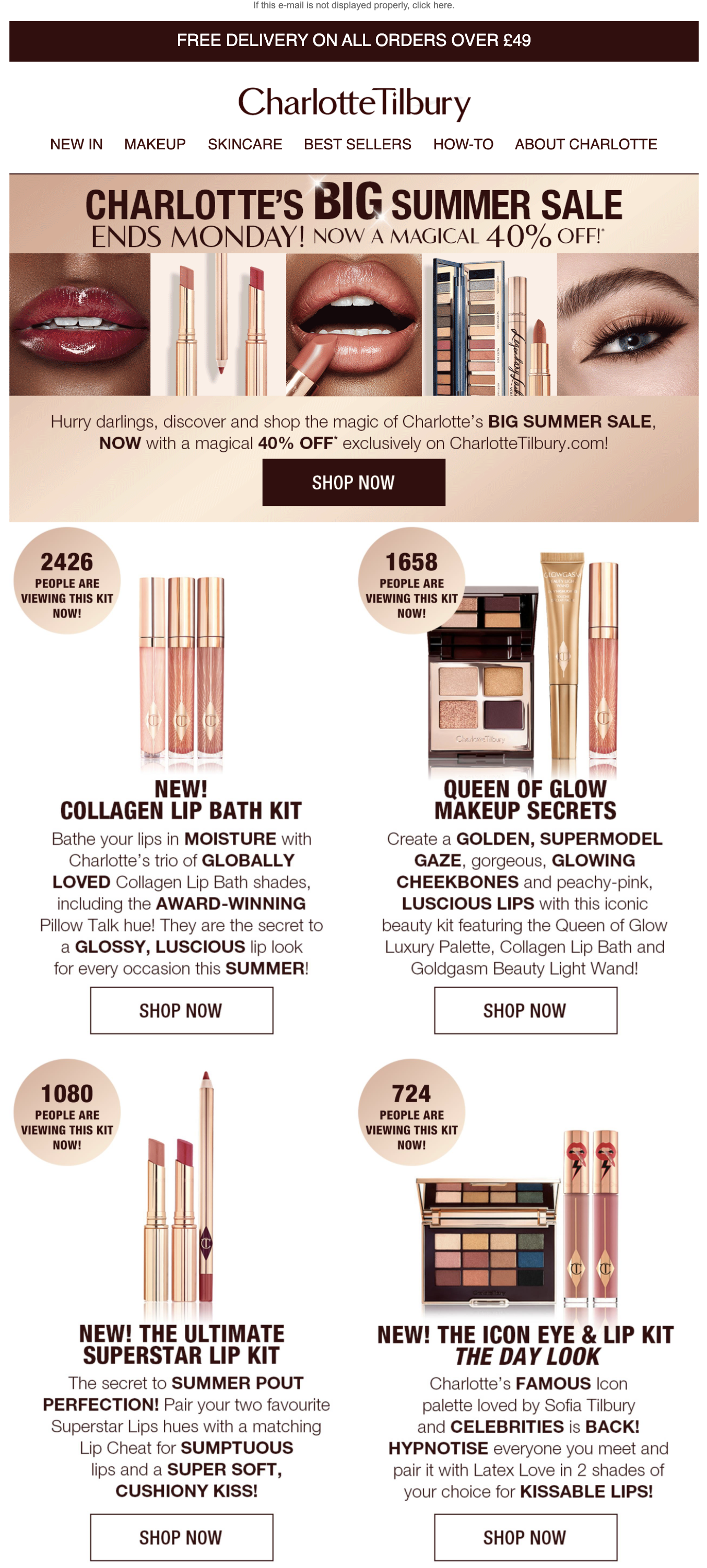 Live products & Personalization
Using product feeds to do the heavy lifting where content population and personalization are concerned is a must for busy beauty brands. One of our favourite campaigns last year was working with a well-known brand to personalize email based on skin-tone. Each subscriber received an email with products perfectly personalized to their skin tone. This level of personalization is a must for brands that want to provide exceptional experiences to their customers. Whether it's skin tone, brand, or product preference personalization, you can expect to see serious results!
One brand we work with saw a 1058% increase in clicks when adding personalized products into an email!
Personalized Images
Finally, a pretty personalized image is always a hit with openers. Adding name or other data to an image in an eye-catching way will increase engagement. One brand reported almost 40% more traffic from an email with a personalized image vs. a version without it.

All of these are tried and tested ways for beauty brands to add live content into email (and to get great results). If you'd like more information – get in touch!