Our mid-2020 roundup of the best UGC strategies
Back in 2014, Forrester published a study about brand trust which found that only 14% of U.S. consumers trusted a brand advert, compared to 48% of users who trusted content (reviews, pictures, videos) posted by other consumers. In the 6 years between the study being published and now, I'd be willing to bet that the latter figure has skyrocketed. Consumers are aware that this content is available, and we do our research before making a purchase. Brands can show prospective consumers what customers say about them, but it's much better to actually show them how much customers like the products.
Authentic reviews, pictures from real people and their words hold a lot of validity. It gives a sense of what that product is like in the real world, what it's like to wear / hold / feel / look at that product. According to SEMrush, user generated photos published on social media can have a powerful impact on shopping experiences. They report:
74% of shoppers prefer reviews with pictures or videos

Instagram-style UGC pics increase conversion by 25% over professional photography

40% of shoppers have purchased a product they found on Instagram

72% of customers say seeing Instagram pics of a product increases the change of buying
Hopefully you can see the potential power of UGC content, so how can you use it and how can you encourage sharing?
Here's some brilliant brand examples of user generated campaigns that have worked wonders….
1. Image Gallery
MatchesFashion
Matches Fashion have built a community platform where UGC images from Instagram are featured on site. Customers are encouraged to share content on Instagram, and tag @MATCHESFASHION. A curated stream of images is then fed through onto site. Clicking on each photo displays the user image alongside shopable content.
2. Social Responsibility
Aerie
You con't get far researching UGC and not see #AerieReal pop up. With the fashion industry regularly coming under fire for excessive photoshopping and editing, this campaign from Aerie was a breath of fresh air. Aerie made a promise to stop retouching photos of models in their swimsuits. Not only that, but they went even further and encouraged customers to share unedited photos of themselves in their swimming costumes. They donate $1 to the National Eating Disorders Association for every picture uploaded. UGC with social responsibility is awesome!
3. Competitions & Giveaways
Starbucks and their red cups
Whether you love 'em or hate 'em, you'll be aware of Starbucks and their festive red cups. On the lead up to Christmas, Starbucks swap their normal cups to red ones and what follows? A tidal wave of posts on social media, tagged with #redcupcontest. See it's not just about the red cups! Starbucks know how iconic their cups are so they launched a contest asking customers to submit photos of their coffees to be in with a chance of winning a gift card. The results are obvious, with tens of thousands of snaps tagged with this hashtag on social platforms. The brand exposure is clear, but also users have to buy a coffee to participate in the first place, resulting in a nice bump in sales.
4. In Email
Email is an incredible tool to promote, recommend and persuade customers to share content. Dedicating sections of your email to encourage sharing is important. Even better? Add a live stream of customer images in the gallery - customers could see themselves or their pics in the email! Here's a few examples:
Fat Face
The White Company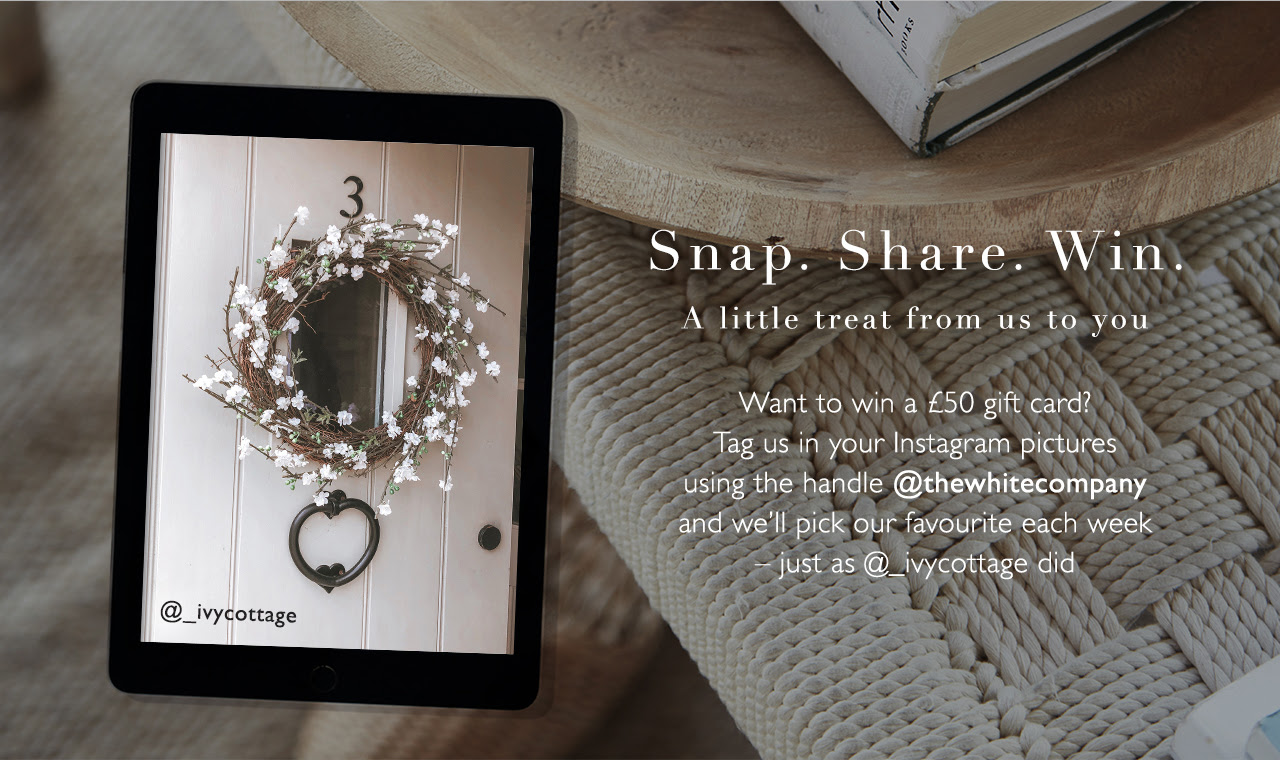 Ted Baker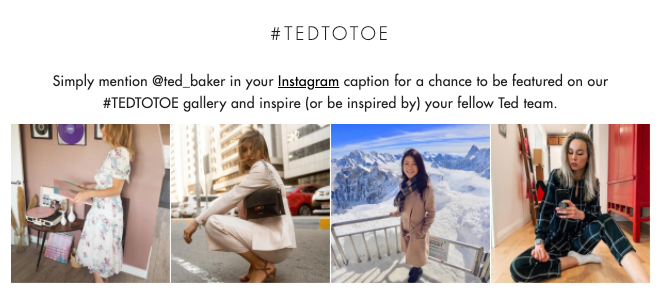 Serena & Lily
Gorgeous homeware brand Serena & Lily do UGC well and have used it in email as well as onsite. The social gallery on their site is full of stunning images posted on Instagram by their customers. It provides all the style inspiration you'll ever need whilst providing the option to shop the products featured in the picture. They also use UGC across their emails too. We recently showcased their welcome email in on of our Feature Friday videos - watch as Jess runs you through the email:
There's lots of different ways to encourage customers to get involved with your community and share their experiences.
Include a social sharing CTA on site and in BAU email for maximum exposure.

Make sure to include reminders in key transactional emails - post-purchase and post-delivery / review emails should have prominent reminders!

Make sure that the instructions are really clear - choose a hashtag and stick with it. Keep reminding subscribers and web visitors that the images in the UGC gallery are real images from real customers.

Make sure it's easy - easy to remember, easy hashtag, easy to leave a review.

Finally, make sure you participate too. This conversation isn't one-sided. Leave comments, ask questions and engage your content sharers with useful, helpful and insightful comments and feedback.
The examples in this blog post encourage customers to post images on Instagram with a hashtag to create a connected community. There's lots of other types of user generated content to explore such as reviews and videos. Look out for blogs on these topics over the coming weeks!