Product Recommendations and where to use them
Everyday hundreds, thousands, or perhaps millions of activities take place on your website and in email. Each user that lands on your site has a look around. They view products, categories, add items to their basket, and hopefully they checkout and complete their purchase. This wealth of behavioural data, both at the individual and site level, can be used alongside CRM data to give customers relevant product recommendations.
Bestsellers
Provide your customers with easy inspiration and improve your product discoverability by adding a row of 'bestsellers' into welcome, post-purchase, or abandonment emails. Bestsellers are identified as the most purchased products on-site and can be collective (i.e. the most sold products overall) or top in category (i.e. the most sold dresses). Set the time frame to suit you - 24 hours, 7 days, 30 days, or any time frame you'd like!
Bestselling, or trending products, are a brilliant addition to sale emails (don't forget to add stock rules so you only show bestsellers that are in stock!) and to gifting emails to provide customers with ideas for what to buy!
Here's a great example that includes low in stock badges powered by stock level: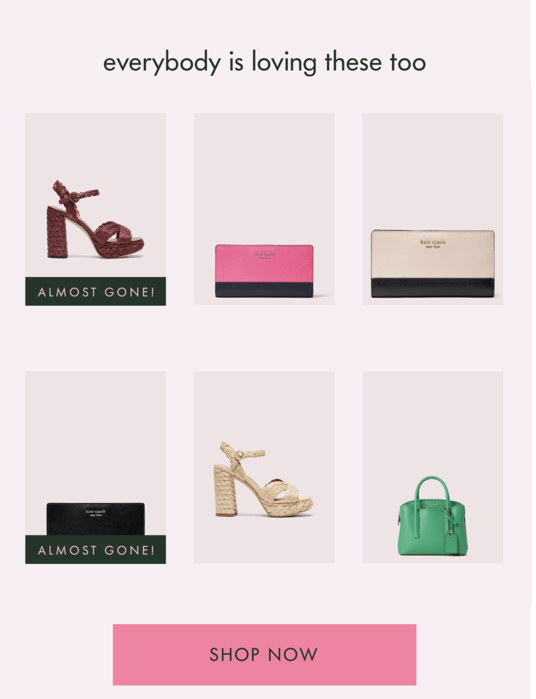 Most Viewed
Adding the most viewed products into email is a good strategy to create interest and showcase popular products. Most viewed works particularly well for 'themed' emails, for example, if a fashion retailer has a promotion on dresses, add the most viewed dresses into the email with the live number of views overlaid. This is a strong strategy to pique interest and the social proofing element really increases engagement.
You may also want to consider creating an 'end of month' round up with the most viewed products on-site – the product content can be fully automated, so this is a light touch, quick win email idea!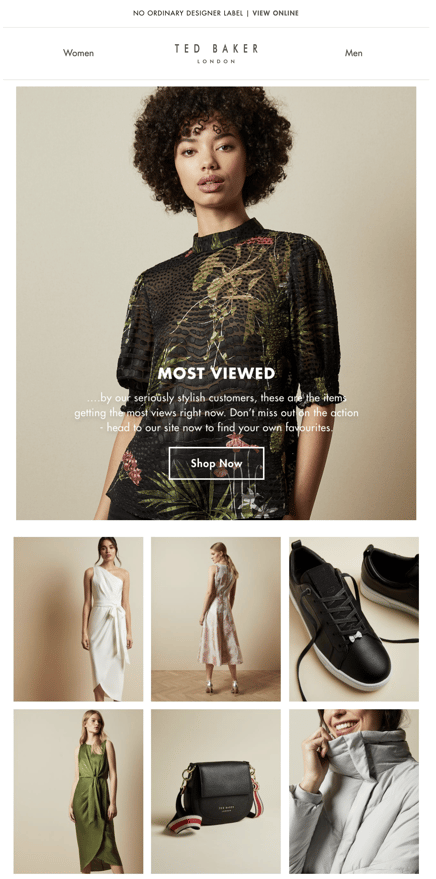 New In
To reduce manual HTML management and provide compelling content to customers, consider adding a row of New In products to automated or triggered email programs. If you want to go the extra mile, automate your weekly or monthly new in sends. The latest products added to your feed will display every time the email is opened – so you don't need to pause the program and make time-consuming, manual updates. Display the newest products from a selection of categories or combine with CRM data to display new products from the recipient's preferred category or last purchased category.
New in products are particularly powerful for fashion, beauty, and e-commerce retailers where newness is important. Here's an example of a fully automated new in email:

Similar items
A perfect addition to cart recovery and post-purchase email is showcasing 'similar' products. Perhaps a customer has abandoned a purchase and not converted from the first abandonment email. An idea is to change tact and show the product they left in their basket alongside a handful of products that are similar! By 'similar' we mean products that have very similar attributes (from the product data in the feed) to the abandoned product – perhaps they want to buy a black t-shirt but they didn't find the black t-shirt they were looking for. Showing a range of similar alternatives can help customers to find what they're looking for.
Similarly (see what I did there?), if your BAU emails centre around a set hero product, you could display a row of similar products as supporting content.
Frequently bought together
Frequently bought together needs no introduction. If you've ever shopped on Amazon (who hasn't?) – those handy product bundles make it so easy to find what you're looking for. FBT recommendations are particularly powerful as they're familiar (or linked) to a product the individual has already purchased or expressed an interest in doing so. If you've just bought a new phone, receiving a post-purchase email with the accessories frequently bought for that handset is really useful.
Frequently bought together logic can be added to almost any email – BAU, post-purchase, browse abandonment, cart recovery – the list goes on. I particularly like seeing FBT items in browse abandonment or cart recovery triggers – the upsell opportunity is strong and the familiarity of the products catches attention and increases the likelihood of click-through. Expect to see increased conversions and higher-order values.
Now let's get down to the individualized recommendations – this isn't based on personas or segments; this is based on each individual user and their behaviour. Our recommendation system ingests on-site behaviour and provides AI-powered recommendations in real-time.
Recently viewed
First up, recognising the products an individual recently viewed and adding these to an email is a strong strategy. Adding recently viewed items to BAU email alongside messaging to take another look drives site traffic. It also makes it easy for your customers to pick up where they left off, and they might return and complete the purchase.
Individual Recommendations
Every visitor to your site is an individual and should be treated as such. They weave a unique journey through your site. The data collected can be ingested by recommendation engines which can then make very powerful, accurate recommendations for every individual based on their behaviour, preferences, and intent. Customers are shown their own personal shop window in the email filled with products they'll love.
Recommendations should be collected, computed, and served in real-time. In doing so, the recommendations are immediate, consider availability, and use up-to-the-minute data so customers won't be shown products that they've recently purchased or that are out of stock. Use individualized recommendations in any email - however, you choose to position them. Here are some examples...
Example 1: Just for you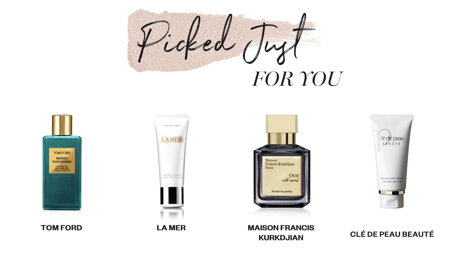 Example 2: We know you'll love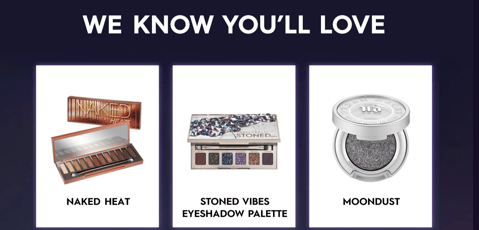 Where to start?
Product recommendations in email have been underwhelming for a long time. Frequently I see products recommended to me that I've previously purchased or I click through on a recommendation to find it's out of stock. As an email marketer, I have lots of email accounts and I often see recommendations 'Just for Me' that are the same across my many inboxes. They're not recommendations, they're products dressed up like them! There's a big opportunity for retailers to get product recommendations right. 2021 is going to be a big year for e-commerce and the ability to make real, intelligent, live recommendations for customers will be what sets retailers apart from the competition. Product personalization at scale is achievable – and easily. Find out how to get started here.