Top tips for a kickass welcome email
In recent weeks we've been discussing welcome programmes a fair amount, particularly around what they should include, the messaging and the opportunity they present for you to 'bond' with your new subscriber.
From an email marketer's point of view, I understand that welcome emails/programmes can be a pain. They require a lot of love and attention to keep the content up-to-date and in-season. That aside, they're not just a formality, they are really important. Minutes before that email lands in their inbox, that subscriber has been wowed enough by you to give you their deets. As an email marketer, it's your moment to shine and capitalise on that sign-up momentum.
Before you jump in and start creating welcome email messages, you need to know what the objective of this first email is. Most welcome emails are similar; they aim to encourage new subscribers to take one or more of the following actions:
Brand loyalty
Update your subscription preferences
Shop now
Follow our social accounts
Use this coupon code or offer
Whitelist our email address
Once you know what you need the email to do, you can get cracking on the content!. Here's the basic recipe for what that first email should include:
Well, it needs a nice welcome message
A note about what to expect
Perhaps some strong brand imagery
And of course, a call-to-action
Here's a great example from Airbnb who have nailed these 4 points:

Another great welcome email example comes from MatchesFashion. Throughout the sign-up process, you've more than likely collected some information about the subscriber so, as Matches have, I'd recommend that you make sure to use whatever you have to enhance that first email interaction.
Personally, I'm a huge fan of this first welcome email from MatchesFashion: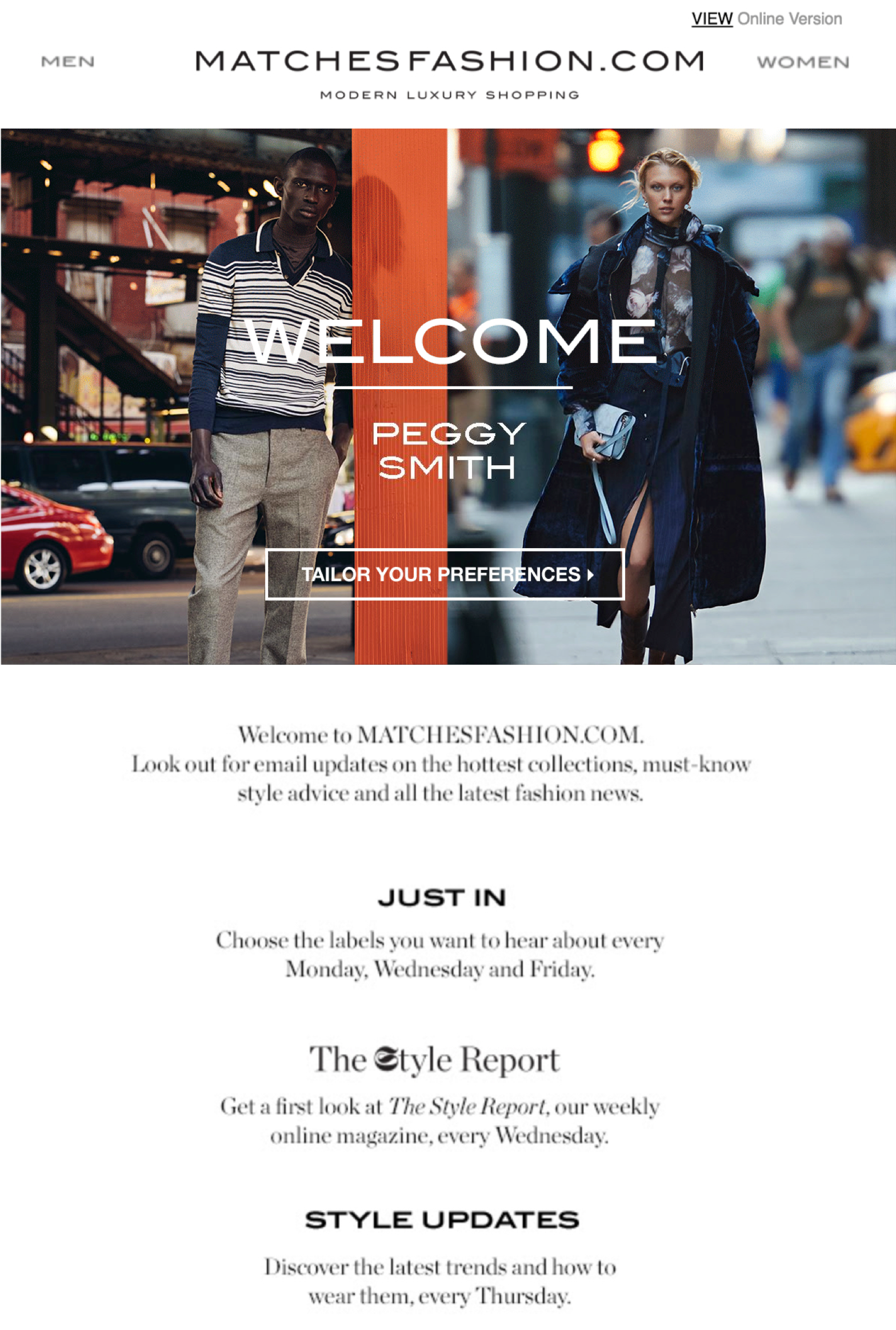 The personalized image in this email gives the content a real high-end, personal feel. It's eye-catching too and a great way to start the relationship and boost the chances of engagement. The CTA encourages new subscribers to update their preferences so that they can receive high quality, tailored emails in the future.
On this note, personalizing content to the individual is important in your welcome emails too. It sets the tone for your relationship. Use the information you have about the customer – their name, preferences or browse behaviour – and include content that is relevant to them. Very few brands personalize content in their welcome series; because of this there's a real opportunity to be exceptional here, provide an epic customer experience and lead the way.
I also love the second email in MatchesFashion's welcome series, which features their latest Instagram and Twitter content to encourage cross-channel engagement.

One of the highlights of this email is that they use open time tech (shout out to us) to keep the content up-to-date. The Instagram and Twitter content updates live every time the email is opened, hugely reducing the amount of love and attention it takes the team to keep this email fresh.
Finally, make sure that your welcome email is packed full of your brand personality. Nobody likes average. I LOVE this email from Chubbies:

It's fun, it's friendly and it screams of their brand. It contains all the important things: A thank you (subject: Thanks for joining the party), a welcome message (We're damn glad to have ya), an intro to their brand and some big calls to action. The Chubfounders look like pretty fun guys too.
The product CTAs are engaging – rather than just showing 'shop shorts or trunks' etc, they've given the product links a fresh twist and injected heaps of personality using funny lines like 'Finest swim trunks money can buy' or 'Delightfully non-business casual shirts' – who wouldn't want to click though and find out what they're talking about? So 'Whether it's Tuesday at 3, or Friday at 5….' I'll open their emails, because this welcome blew my socks off!
As ever, content is king, especially in this crucial 'getting to know each other' phase. Make sure you do everything in your power to provide a marvellous customer experience throughout your welcome programme so that you maximise your chances of making it official – whether that's convincing them to shop, visit, book or anything else. Make a solid foundation from day 1 and you'll have an excellent, engaged customer base moving forward.