Our three core areas: Automation, Personalization and Relevancy
We have been going through an evolution of our branding here at Kickdynamic over the last few months. This includes more clear and concise language of what it is we actually do, bold imagery and new mono-styling to represent the growth of our brand.
Something we worked through as part of this was to try to simplify the amazing power that the Kickdynamic platform can bring to your email marketing campaigns. There is so much you can do in the platform it was becoming overwhelming to our customers and brands. The results of this are 3 core areas where our platform drives results for our customers, what we are now abbreviating (we know you marketers love an abbreviation) as APR:
Automation
Personalization
Relevancy
If you would prefer to see my wonderful face explain this, I also made a video: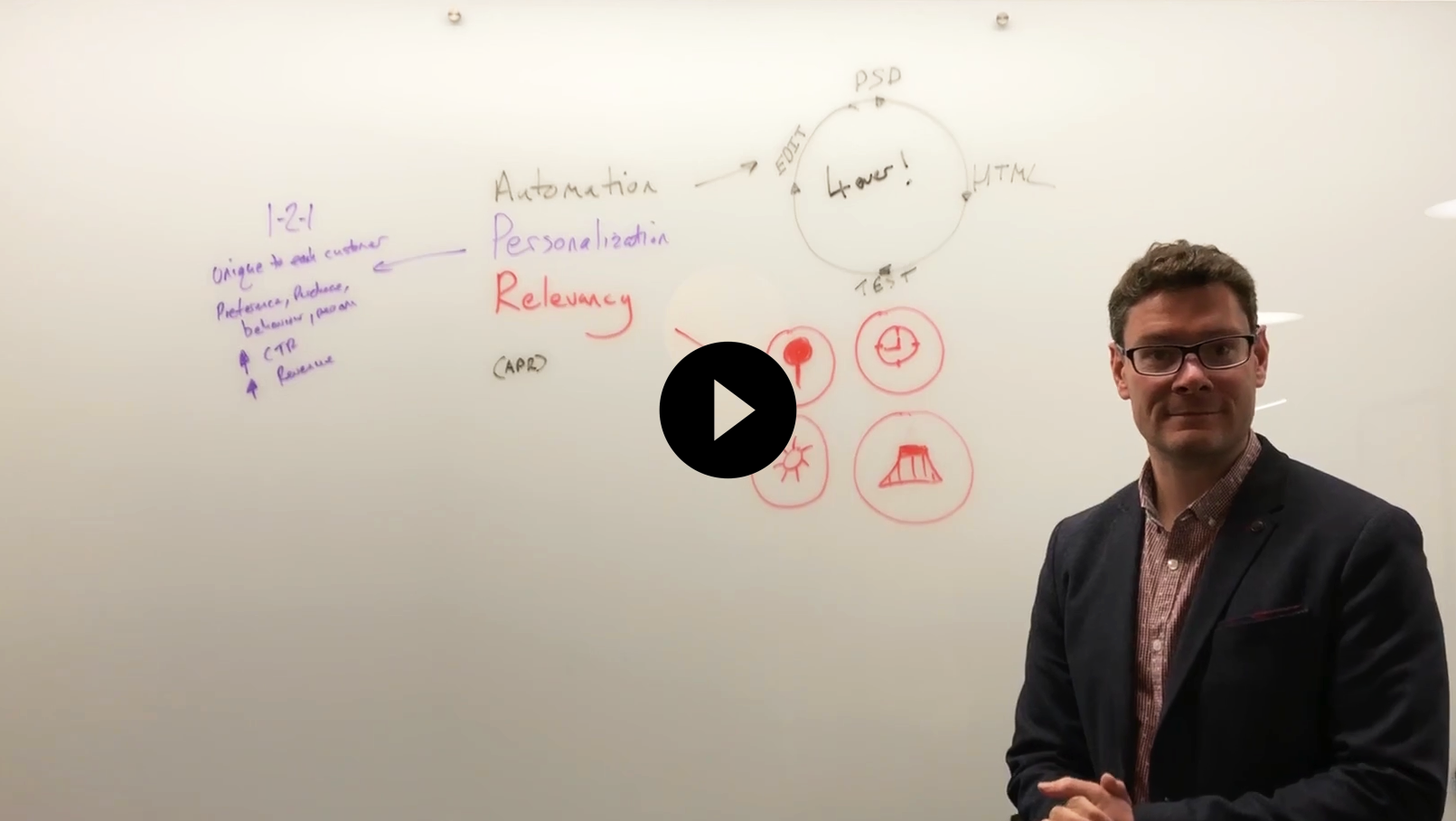 Automation:
True email personalization cannot be achieved without automation. Fact. Delivering messages and content personalized to each of your customers based on something you know about them can't be done manually. You must automate.
At Kickdynamic, we automate using our Open Time technology. When we serve images at the time of open, they automatically fetch the latest content every time. So, with one image you can automate content indefinitely for millions of recipients.
If your email build process looks like this:
Designer creates a full email in Photoshop for sign off

HTML coders chop the Photoshop into email-ready HTML

Testing happens

Something changes e.g. a product goes out of stock! Goes back to the designer for changes...

Then back to coder...

Then back to testing….

Repeat until the end of time!
Please get in touch so we can show you a better way to do email.
Personalization:
Personalization to Kickdynamic is when each individual recipient receives content unique to them based on their preference, behaviour, purchase or persona (or your definition). You can also call it 1-2-1 personalization if you like. Examples include product recommendations, new-in based on brand or category preference, products based on personas etc.
It is not Dear Matt, first name personalization.
It is not segmentation based on a menswear or womenswear preference selection.
Relevancy
Although how we define relevancy may be something unique to Kickdynamic, we believe it is a great way to explain something that often gets disguised as personalization. Relevancy to us is when a group of recipients see the same content or get the same message, but the content is relevant to them at the time of open.
Examples include showing content based on the time someone opens the message, the location or the device used. Any level of segmentation is really relevancy and not personalization. If you send a separate email based on a womenswear, menswear or childrenswear preference, this is relevancy, not personalization.
Relevancy is great. It is an excellent way to move from one-size-fits all, bland and boring email, to something better.
A consistently high-performing email programme is one that contains a good level of 1-2-1 personalization - when and where data is ready - mixed with well thought out, relevant content.
Consistently being personal, is not possible without automating parts of your programme. You are not going to automate it all (merchandising won't let you) but you can automate at least 50%.