The Thoughtful Marketing Movement
A lot of brands claim they 'put the customer first' however when it comes down to it, do you really put your customer first?
Last year saw Bloom & Wild's unprecedented Mother's Day email opt-out campaign, whereby the brand truly put the care and wellbeing of their customers first. This campaign had a huge impact, praised by customers and brands, so this year Bloom & Wild are on an even bigger mission; to encourage more brands to follow in their footsteps and spread thoughtfulness to all their customers (what could be better than that?!).
Say hello to 'The Thoughtful Marketing Movement'.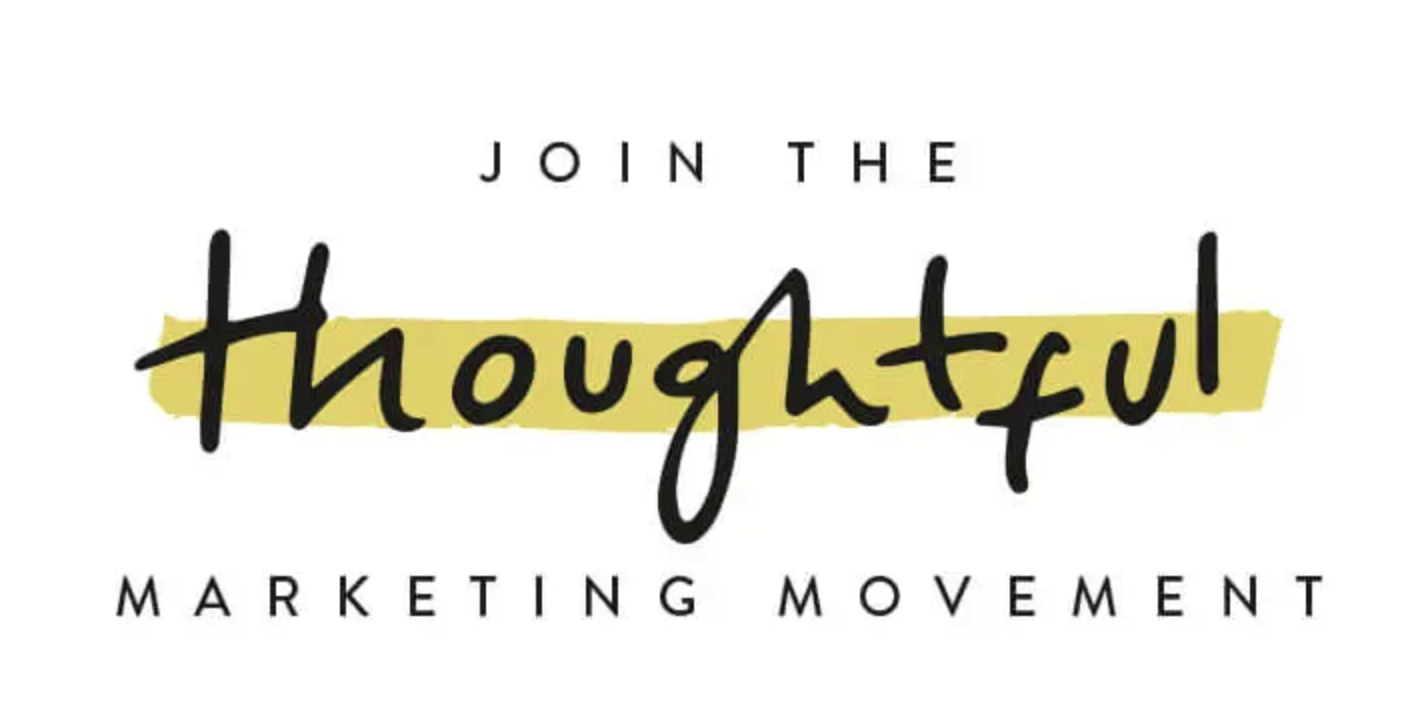 2020 has seen the launch of 'The Thoughtful Marketing Movement', led by Bloom & Wild, it is a mission to bring like-minded brands together in a pledge to do more thoughtful marketing. Something you would believe is a given right? Sadly not.
The difference this wonderful movement will make is huge, and despite Mother's Day fuelling it, brands are now starting to think about being more considerate around other dates in the calendar such as Valentines Day and Father's day, whereby receiving marketing messages may be difficult for some customers.
The movement by Bloom & Wild encouraging an opt-out method around sensitive dates has even gained recognition to be mentioned in parliament with Matt Warman, MP saying:
"If other companies were to follow suit, the dread—and I do mean dread—around this day might be mitigated for many people."
It's really heartwarming to see conversations opening up encouraging organisations to take forward steps in making bereavement in general more bearable and in the theme of this movement, to make Mother's Day or Father's Day less difficult for those who have experienced loss.
So if you're wondering how to join 'The Thoughtful Marketing Movement',
it requires a brand to agree to just two things:
Set up opt-out emails
Talk to your opted-out audience
And don't forget to register here
Show your commitment by signing up and you will join a community of other brands who want to harness the essence of true customer-centric marketing. And to help you share the word, you will also receive The Thoughtfulness Marketing Movement logo to display across your digital marketing channels.
Another fantastic thing to note is that in pioneering this movement, Bloom & Wild have also ensured that those who have opted out wont find anything Mother's Day related on their site when they log in - how fantastic is that?
The outcome? Display a conscientious approach to your marketing and your customers will love you even more (I promise).
Speaking from my own experience, these times of year can be really tough for those who have suffered the loss of a loved one so implementing a simple change such as a tick box or opt out option will have a hugely positive impact on both the customer's wellbeing and your brand. You will see increased brand loyalty and drive an even better rapport with with your customers - it really is better all round.
So if you haven't thought about it before I really encourage you to join 'The Thoughtful Marketing Movement' because at the end of the day - we're all human.
If you need some inspiration on how to communicate this message, here are some fantastic examples of how easy it is;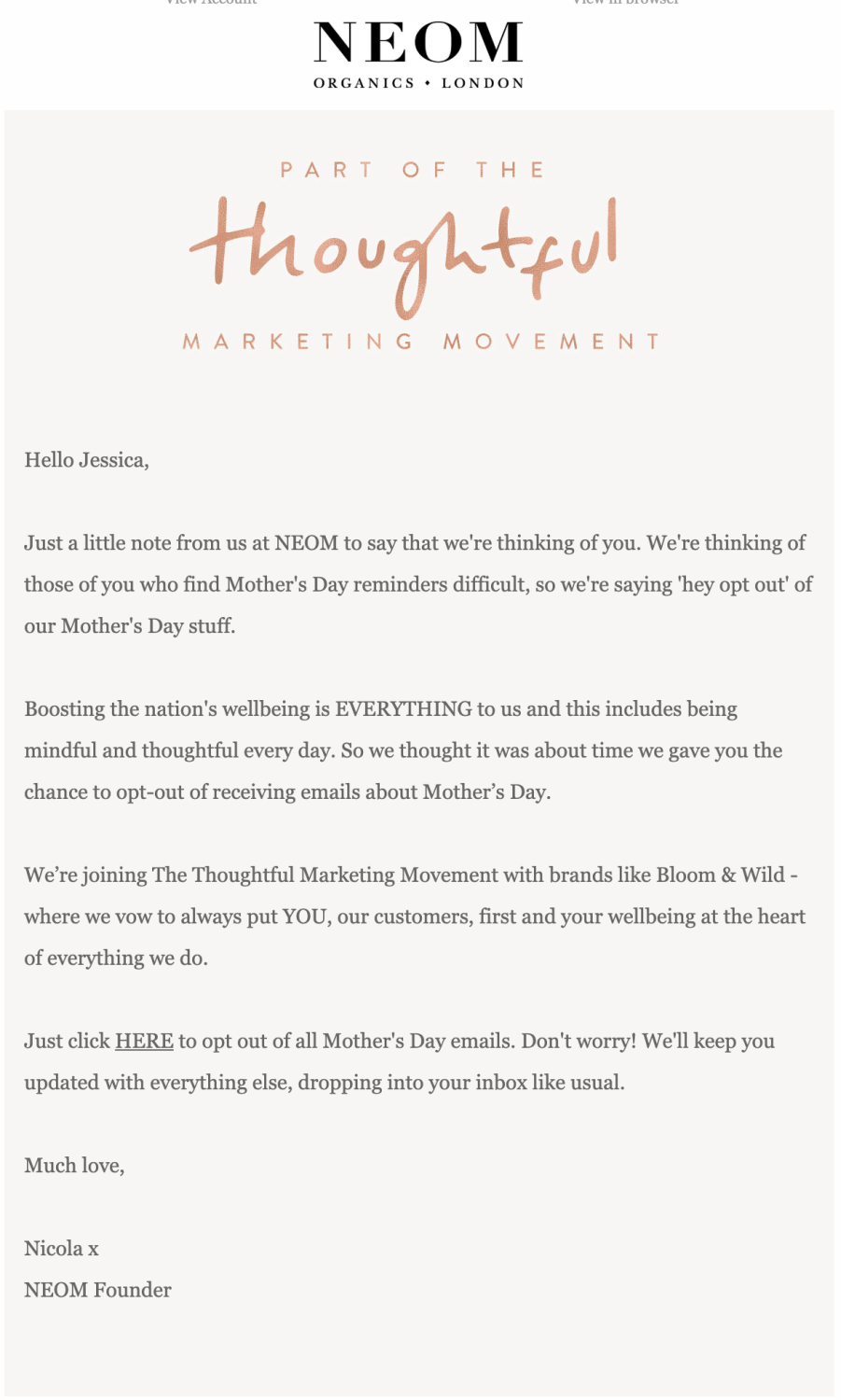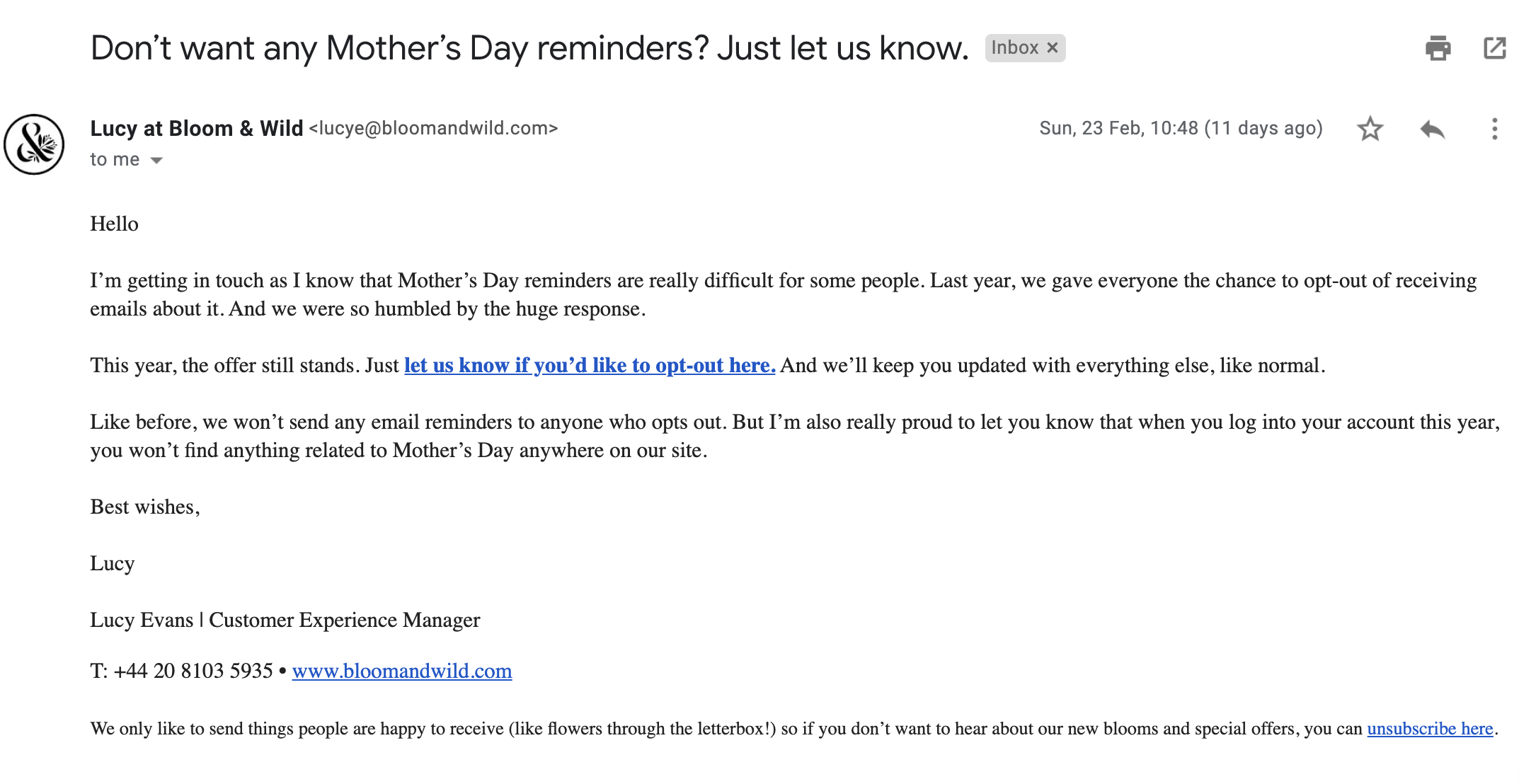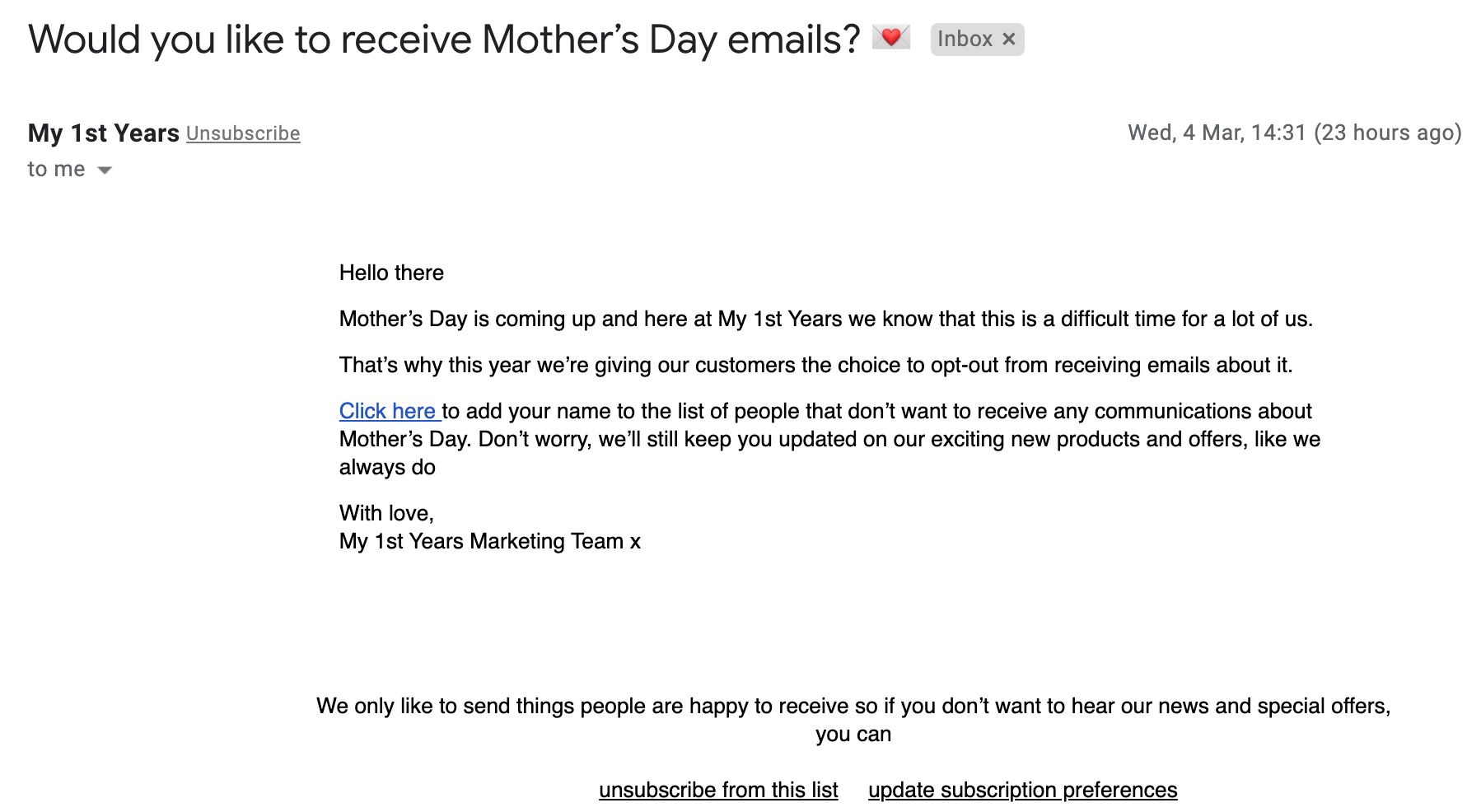 Thank you for reading, I'm really looking forward to seeing more brands sign up to this fantastic movement.