The Power of Personalizing Images in Email
Personalization is a top priority for email marketers; from contextual levels to more obvious name or product specific personalization, there are many different ways to do this. Send highly targeted, well personalized emails to your subscribers and you will see an increase in your opens, and better conversion rates. Ultimately you'll build a better relationship between your brand and your subscribers, however, despite all of these benefits and the many methods of personalizing email, a huge 60% of marketers admit that they struggle when it comes to personalizing content in real-time.
A prime example of this is a recent email which I received from British fashion retailer OASIS with the subject line:

Working in this industry, it instantly caught my attention (not just because I'm on the lookout for a personalized clutch bag) but also because I was intrigued at how they may have personalized this email. With such a specific subject line, I presumed SURELY there would be some sort of individual personalization happening…
I was wrong...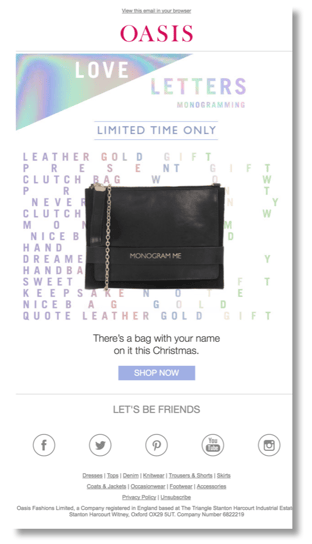 Now, I doubt I was the only person in OASIS' subscriber list who was disappointed upon opening this email. What a wasted opportunity!
As well as the lack of personalization within the email, there is also no obvious indication of how limited this 'limited' time is for.
This would have been an absolutely perfect time to add a personalized name to the image to actually show potential customers exactly how their bag could look.
With a few simple customizations, this email could have really stood out of the inbox and enticed more readers to purchase the product.
Firstly, this would have been a perfect opportunity to personalize the image to show readers what their bag would look like. Using a Kickdynamic Tag, this is easy to set up and implement and has a great impact on readers.
Secondly, to create the sense of urgency of the limited time this product is available, it would have been a great addition to include a countdown timer within the email. The urgency of the offer would be driven by the seconds counting down live. Additionally, when this offer/option has expired, swapping the image to an 'after' image, or showing a 1x1 gif in place of the timer, would ensure the content is relevant and always up to date. Ensuring the most up to date offer information is shown to the recipient will improve their customer experience and affiliation with the brand.
From this: To this: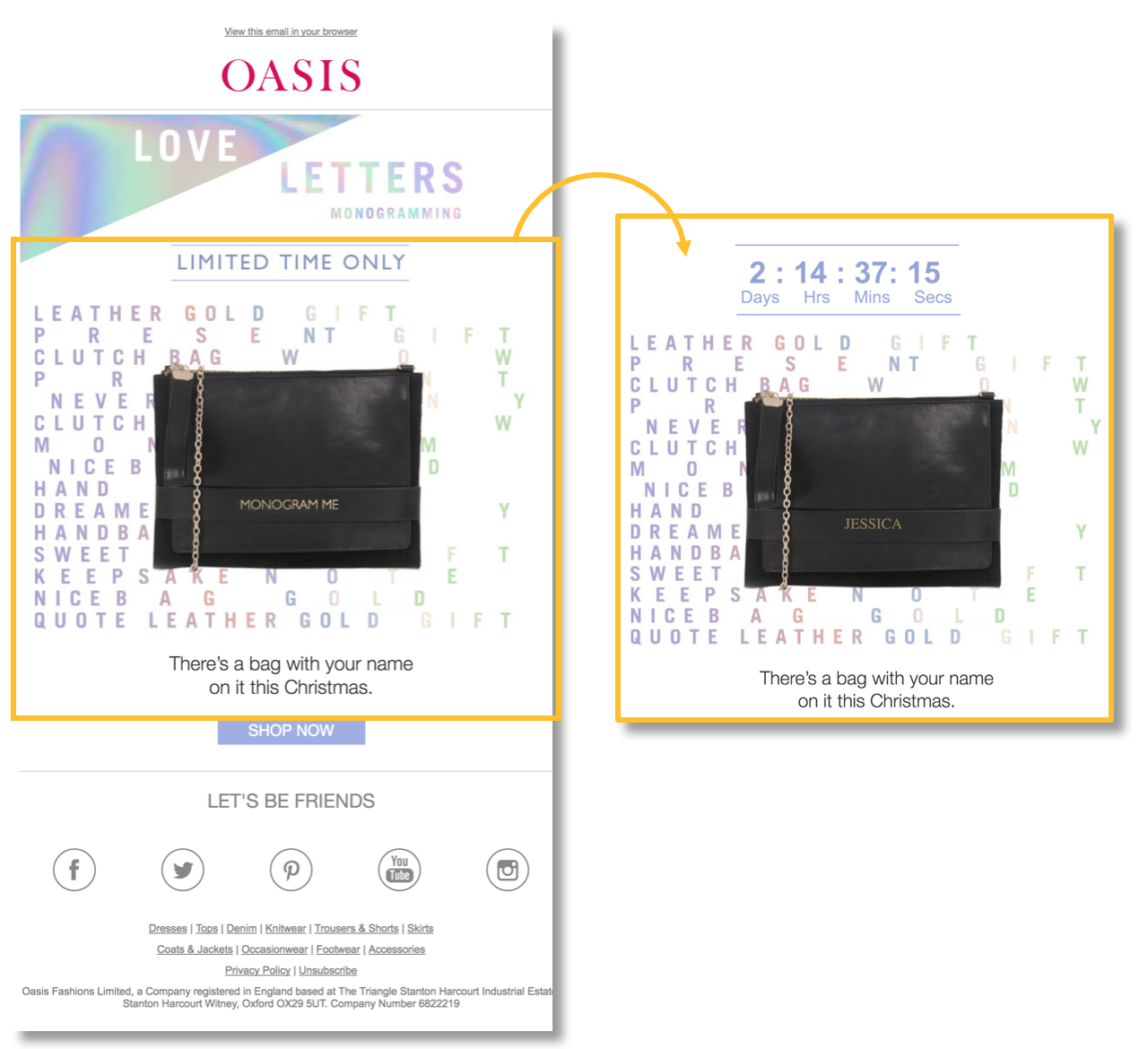 What do you think? Would seeing your name or initials over the product image have encouraged you to click through and complete a purchase?