The state of fashion email marketing
Ahead of our 2019 annual event, we asked some friends of Kickdynamic their thoughts on fashion email. The general consensus was that as a whole, the emails that fashion retailers are sending are rather underwhelming.
Here's the feedback: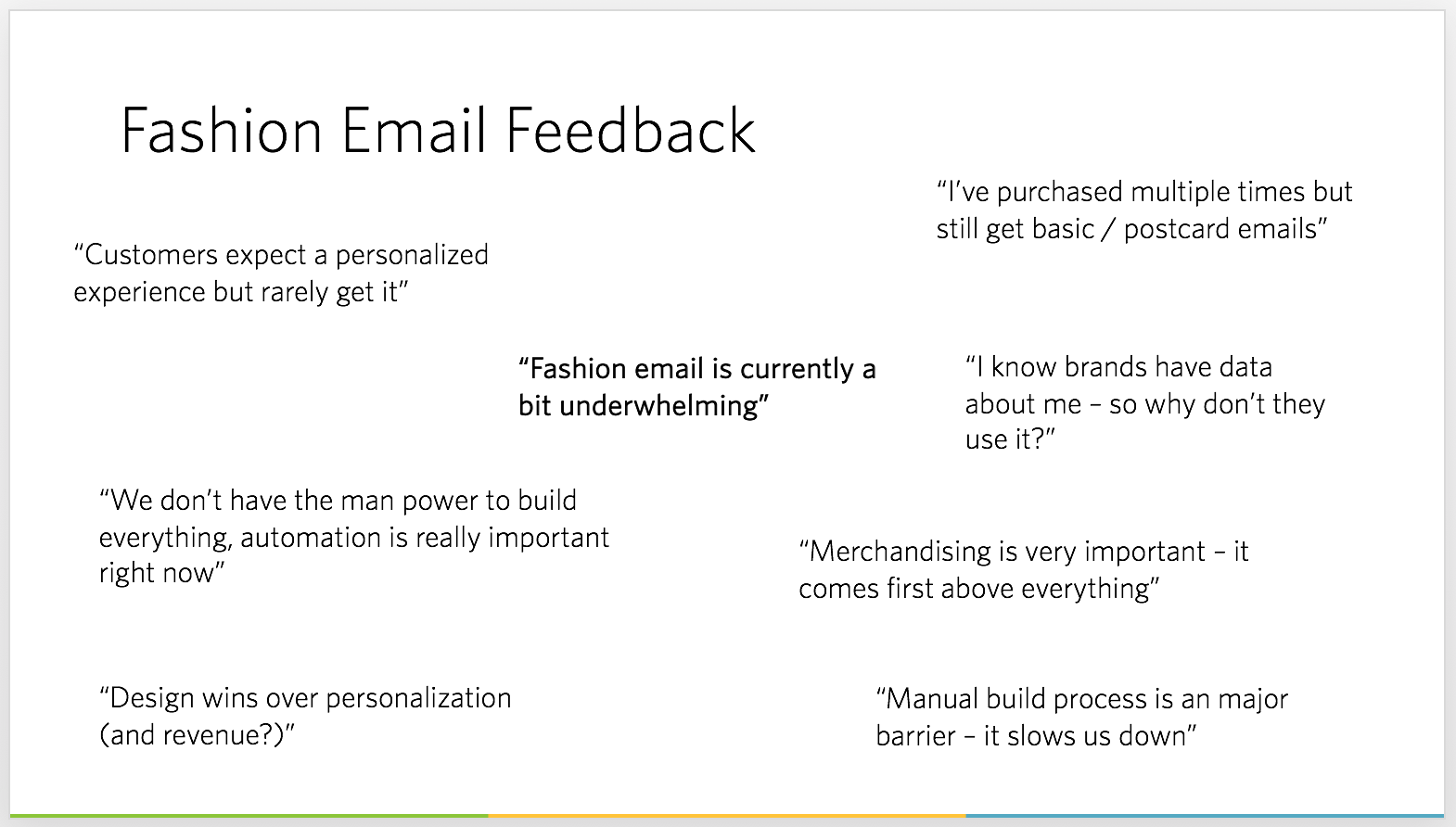 All of the feedback on this slide has the same undertone. It's particularly poignant to see this feedback when digital is being hailed as the saviour of the high street. Every fashion brand is in a deep stage of refocus and is consistently pouring their energy into digital. So how can brands do fashion email better? How can fashion houses better satisfy their consumer expectations?
Having worked with a lot of fashion brands over the years I understand that there can sometimes be a melee between the email team, the merchandising team and the design team. The design team want the email to be pixel perfect and beautiful, the merchandising team want their products to be featured (whether they look beautiful next to each other or not) and the email team want to show the products that the subscriber is interested in, not what merchandising want to push.
Looking at the feedback above, we shouldn't be hearing "Merchandising comes first above everything" OR "Design wins over personalization and revenue." Delivering content that consumers want must be the priority from here on out. For fashion email to progress (and for brands to surpass revenue targets), there needs to be a combined effort from all of these teams to deliver beautiful emails with personalized and merchandised content. When this happens, fashion email will start to truly deliver both revenue-wise AND for the subscriber.
Thankfully, I'm starting to see this synergy making its way into my inbox. There's one brand in particular that has caught my eye. Zalando's emails have changed over the last few months - and what a welcome change it's been. They've moved from heavily designed, merchandised email content to a far more stripped back, simplistic design. The email is all about the content, not about the beauty. I love that they're delivering the content I want to my inbox - not the content they want to deliver.
At this moment in time my summer is choc-a-bloc with weddings and I have been researching products for my walking holiday. This means I've been browsing some random products on their site (i.e. wedges and walking boots). I was overjoyed when I received this beauty of an email:
SL: Selected for you - six new favourites

Products I'm actually interested in based on my browse behaviour alongside each other in an email even though they would never naturally sit alongside each other in a curated email. In my experience clunky walking boots next to designer wedges wouldn't stand a chance at getting signed off. This logic needs to be parked. Put the content I want in the email and I will buy it. For shopping fans like me, it's a pleasure to receive emails that contain the stuff I want, I don't much care how it looks or what products are alongside each other if they're just for me.
Zalando also send other personalized emails based on category and brand browsed. Recently every email I've received from them has been personalized and relevant to me. They've set the bar and I hope that other brands will follow suit. Here's an email I received recently after browsing 'Nike':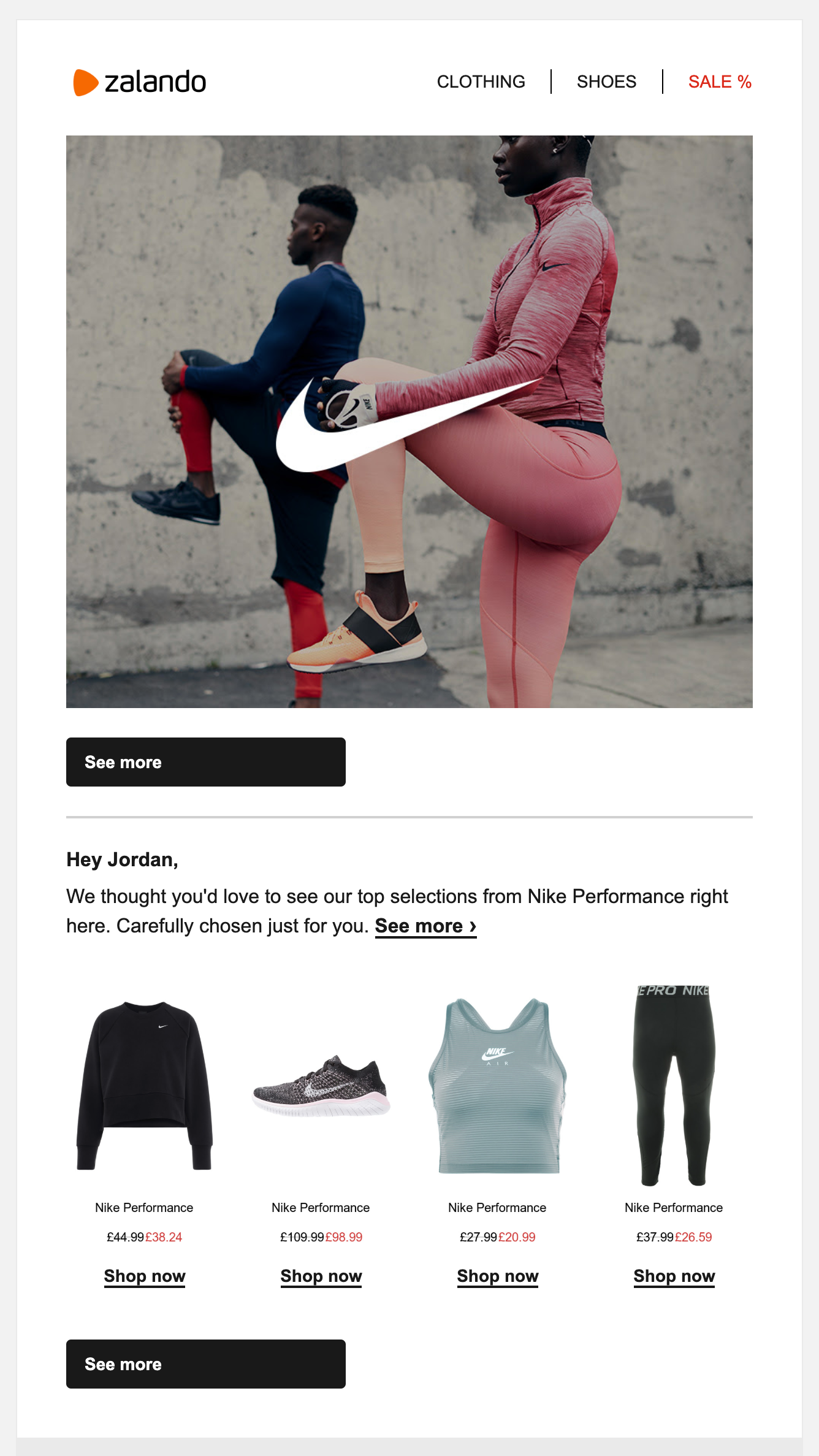 All the stats out there, all the reports, all the insight, everything makes it clear that consumers want a personalized email experience.
One bit of feedback we received that struck a chord was "I've purchased multiple times but still get basic / postcard emails" - why? Retailers have so much data about me as a subscriber especially if I've purchased multiple times, this should be used if you're going to email me. I'd like to see that you've made a bit of an effort. Simple things like adding product content to a postcard email (new in or best sellers, perhaps in a category I've purchased from) is a great way to pique my interest in what you have to offer.
Results show that in an A/B split test of postcard emails vs postcard with products, 80% revenue for the send came from the version with the products. What I'm trying to say is if you're going to email me, make it worth your while, and mine.
I believe fashion email is in a transition period right now. I can see changes in my inbox. For some brands, the content is getting more personalized, more fun and more relevant. Those riding the wave will be successful. Those behind the curve need to start making strides towards giving customers what they want. We're over here and we're shouting from the rooftops that we want personalized email!
Check out our Fashion Email Marketing webpage for real brand examples and inspiration.