The Six Nations: Getting us through Dry January!
Excitement for this year's Six Nations is rising here at Kickdynamic with Matt and Christian planning their own tournament on who is going to drink the most Guinness…
With the 2018 championship approaching, it's got us thinking about the many ways to use email to promote brands. Whether you're the CRM Manager for a sports club, a broadcaster or a gambling company, major sporting events such as the Six Nations offer huge opportunity to communicate with your customers, by sending them relevant and personalized content.
Here are our top 3 ideas for some inspiration…
1. Live schedules and leader boards
Feature live schedules and league tables in your emails to keep fans up-to-date with upcoming games and the latest results. At every open, the schedule or leader board will update automatically.
Using Content Automation, Washington Post included a live TV schedule which updated at every open to show up-to-the-minute schedules and TV coverage. In the same email, they displayed a medal table which also updated live on each open.
Live TV schedule and medal table: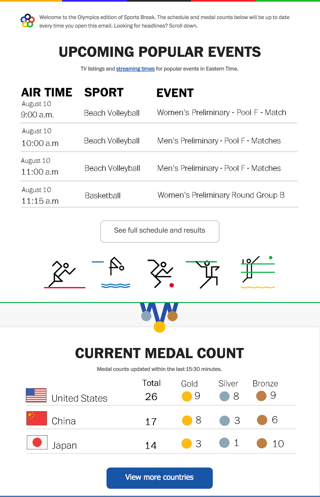 2. Live odds or scores
If you are a sports or gambling company you are able to display in email the latest live odds and live scores at every open. For example, during a big match or race, you can update the live score to encourage more in-game betting, whilst sharing the latest odds.
PokerStars automated live odds in their emails by connecting the Kickdynamic platform to their API to update in real-time, so their customers only see live information, at the time of each open.
Live odds example:
3. Deliver personalized content to each customer.
Another great addition to your email marketing is image personalization. It grabs attention and creates a one-to-one feeling. Use the images in the email and the recipient's name to stand out of the inbox.
Using a Kickdynamic Tag, build the email once and it will then be automatically personalized to each recipient. You can personalize any image such as a large header or a more subtle image. You could think about adding the person's name to a shirt, a seat or a season ticket. This is a perfect addition to any welcome, transactional or promotional campaign.
We worked with Wolves Football Club to add their customers' surname on images of their new season home shirt to drive pre-orders. They could also share their personalized shirt on Facebook and Twitter.
Personalized shirt: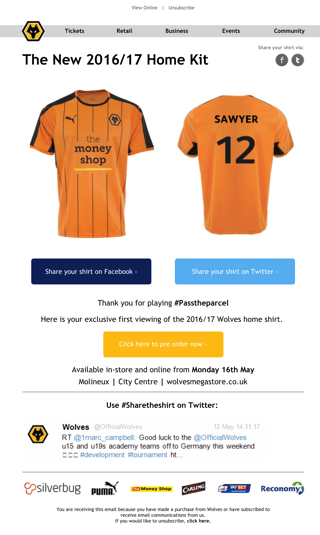 The ability to quickly and easily integrate live content into your emails means that your subscribers receive valuable, relevant and up-to-date content removing the need to send additional update emails throughout the day as events unfold.
Get in touch with us to find out more, we'd love to hear from you!