The Rugby World Cup is here!
The much anticipated 2019 Rugby World Cup has arrived.
The teams have been announced, the excitement is building... and just like that we're into the final week before the Rugby World Cup kicks off! I'm an avid rugby fan and with Scottish blood, I'm loyal to Scotland. So whilst I'm excited about Japan 2019, there's also the slightly cutting reality of the tournament; my team probably isn't going to take the glory. Despite that, I'm still ready to go!
Scouring through my inbox on a daily basis I've seen many brands talking about this huge, international tournament. One article in particular caught my eye. According to EY, the commercial value for the 2015 Rugby World Cup came in at a staggering £2.3 billion! With that in mind I thought it might be nice to jump in and look at how contextual and relevant content could add a little bit of pizazz to those looking to have fun with World Cup content in email.
Countdown Timers
Although timers aren't a new thing, they're still a great way to generate urgency and when used correctly, they're very effective.
Countdown to the Opening Ceremony, the Tournament K.O., your chosen team's next Group Game, the end of the tournament - the applications are nearly endless. Whatever a brand's campaign strategy, countdown timers are a perfect tool for events to take advantage of the zeitgeist. Here's how long there is until England's first game against Tonga:
Live Polling
I've told you mine, not you tell me yours! So who is your favourite team? Who's going to score the most tries? Favourite Team who isn't your home team? Pick for Player of the Tournament? Best/Worst Kit?
These questions are going to be asked tenfold in in pubs and living rooms across the world for the next 2 months. How can you get in on the action? With a live vote in email.
With results updating in real-time as the votes roll in, this is not only a great tool to utilise during the tournament but live polls also allow you to use the votes to personalize the experience your voters receive in the future. By tracking click data, you can follow up with your voters with products and content which match their interests - a perfect opportunity to listen to your subscriber base, build your profile on them and respond in a personal manner which requires absolutely no data.
Personalized Imagery
If you still haven't received the call from Eddie Jones and your residency for (insert country here) hasn't come in, don't stress, you can still get your name on the back of the 1st XV shirt.
For any sport retailers out there, this is a great opportunity to standout and increase customer experience (and revenue). Use name data in your CRM to provide a personalized experience in email for your subscribers. As a player and a fan, I love feeling like part of the team so seeing my name / initials on boots, shorts, training shirts makes me feel included. Imagine how cool it would be to receive an email where your name was overlaid on each of the products you love. It would certainly catch your eye!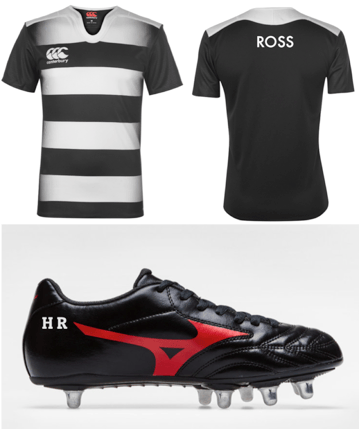 Live Media (News API)
With the eyes of the world on Japan and the odds in favour of this tournament breaking the 1 billion viewers record, keeping content in email up-to-date with the latest news is a must.
The hyper-connected nature of international sports gives brands a perfect opportunity to utilise this 24 hour news cycle into their email series. By connecting to the various news APIs available, you're able to bring in that 'hot of the press' take on the games as they take place. Connect to an API, design an image and embed a tag into your email and voilà! The latest World Cup news at every open.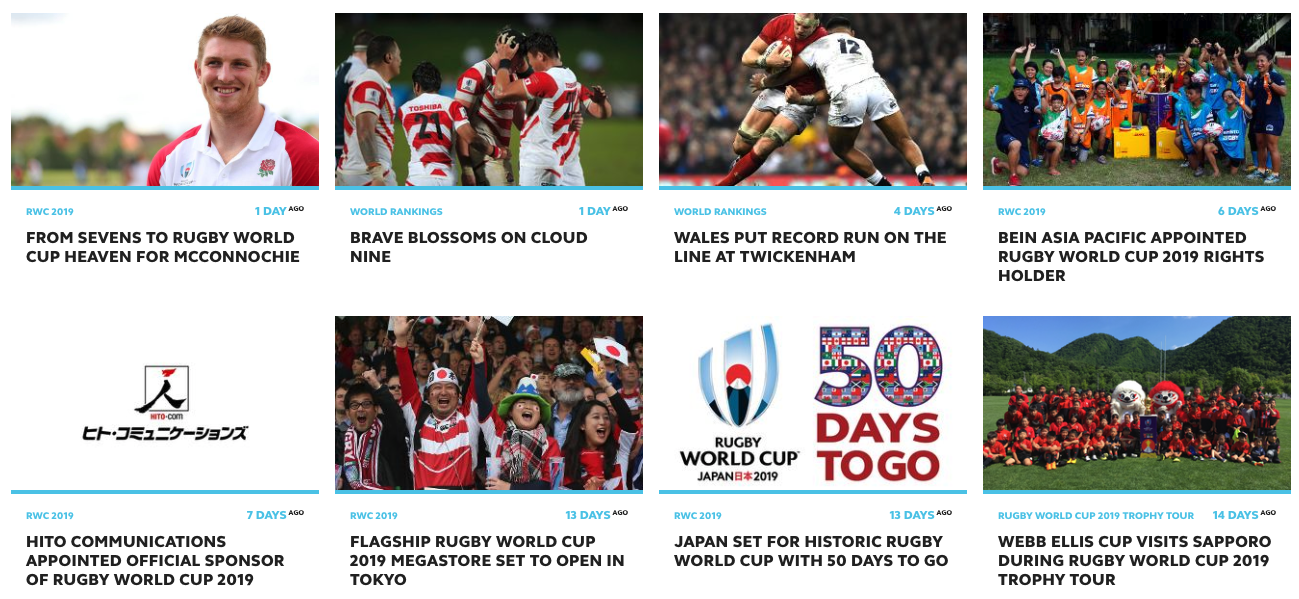 Let's get Social
The last World Cup was the most socially connected Rugby event of all time with #RWC2015 used twice-per-second and 2.8 million downloads of the official app, over the course of the tournament.
With so much fresh content created moment by moment, it's a good idea to have your emails keep up! Use the Twitter API to pull in your latest Twitter content - filter by hashtags to display the most relevant content to recipients i.e. #England, #Mizuno, #Harlequins or #RiekoIoane.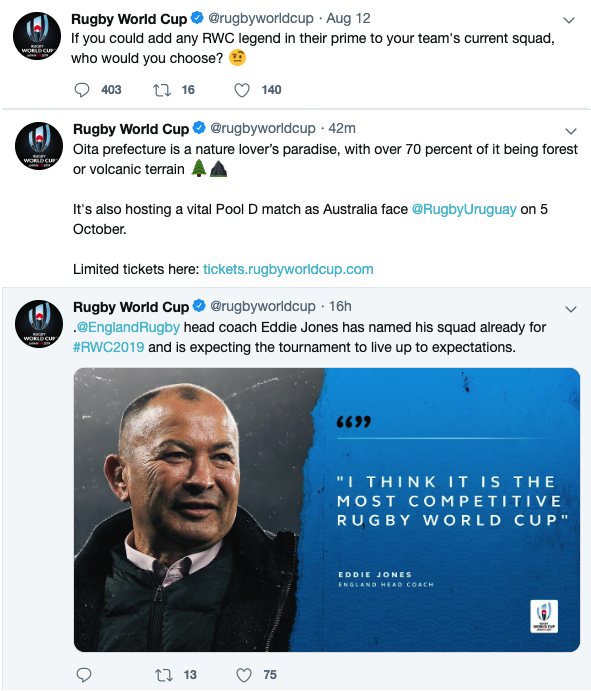 And why stop at Twitter? For a great email experience, pull the latest Instagram posts into email, with live likes and comments. It'll help to increase your follower base too.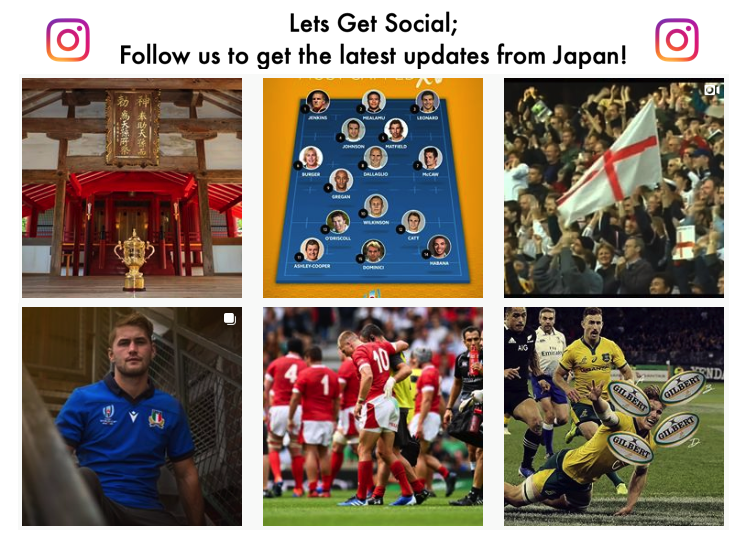 Weather
September in Japan is likely to be a bit more pleasant than here in the UK - but why not provide some fun, relevant content by displaying the forecast at open location for the game and the forecast for the game! Highlighting the weather at each game or stadium is a great way to offer additional information and providing the forecast at open location helps people to decide on whether it's a BBQ opportunity or more a beer in front of the fire type game!

TV & Game Schedules
Use open time content to keep schedules and game info up-to-date at every open for the ultimate inbox experience. Sending an email on Saturday with the games for the weekend would usually mean the content is out of date for anybody that opens on Monday. Instead, make the content live and it'll update every time the email is opened with the upcoming matches.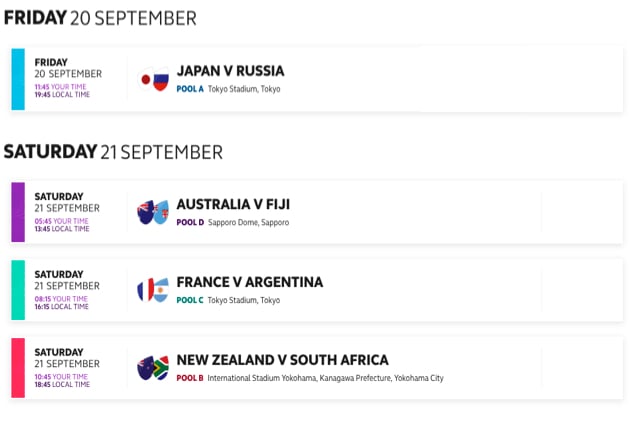 Live Odds
A lot of us are partial to a flutter every now and then and with total stakes increasing 30-40% at major sports events, the gambling industry are ready to take your 'sure things' and 'outside hopes'. With the fixtures coming thick and fast, static emails' inability to change dynamically to new information, updated odds becomes a hinderance to potential performance.
The Stars Group overcomes this issue by using APIs to display the live odds at every open. The odds in the email match the latest odds on site at every open. Here's an example of the same email showing different odds when it's opened:

As you can see, I'm really excited about the upcoming tournament but I'm equally as interested to see what emails I receive in the next few weeks. It's a once-every-four-years experience and I'm ready to get involved and spend my money to be part of something bigger. I hope to see some of these examples in email over the coming weeks because, as we all know, building a relationship with your customers is so important. Relevant and personal emails are the way to do that.