Three ideas for relevant content with little, or no, customer data
In this video and blog, I'm going to give you three ideas on how you can send better emails with more relevant content when you have little, or even no data, on your customers.
Here's a link to my video if you prefer to watch, or carry on reading below...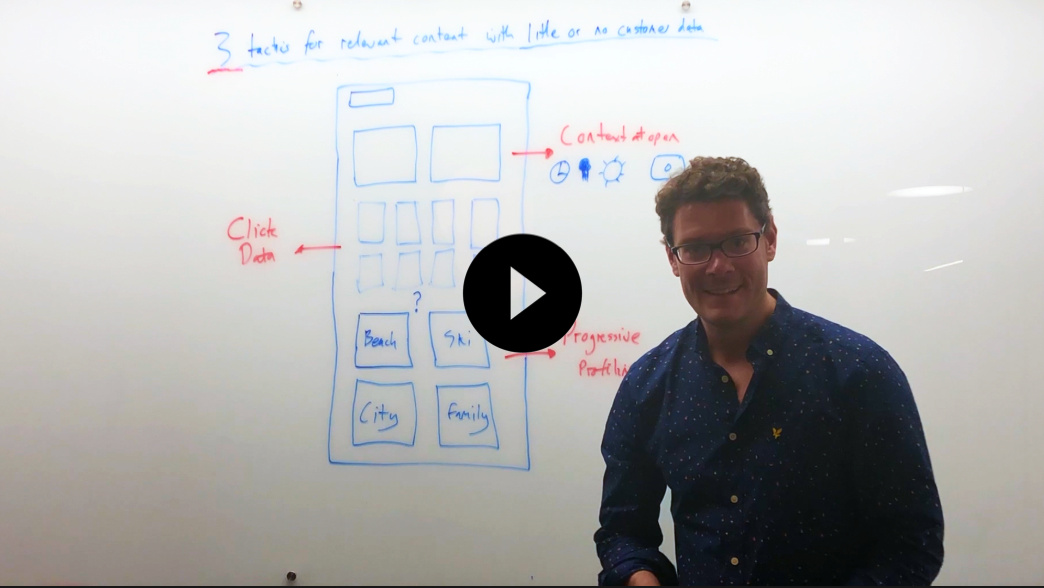 So, why would you have no data about a recipient?
You may be struggling to use the data you have about your customers in your ESP. Or, you may have a new subscriber so you may not have had the chance to collect data about them yet.
Here are my three ideas for you to ensure you're sending your subscribers relevant content.
Idea one: Context at open
This detects your recipient's context at the moment they open your email which you can easily use to display relevant content. If their context changes and they reopen your email, the content will update, always being instantly relevant.
The main areas of context you can detect are:
Time of open - show different content in your email depending on what time the email is opened

Location - change the content depending on where a recipient opens your email e.g. a different city or country

Weather - detect the weather at the open location so you can show different content or products depending on whether it's sunny or raining, as an example

Social - you can pull the latest content from your social channels, Instagram and Twitter, to keep subscribers up-to-date
You don't need to know anything about an individual in order to provide this level of relevancy in your emails.
Idea two: Click data
Collect data based on where an individual has clicked in your email. This may be a certain category, brand or story you've featured in the email. Use this click data for future emails to increase the relevancy of your content based on what an individual has shown an interest in.
Idea three: Progressive profiling
Progressive profiling tends to be a question in your email asking a recipient what they like, what their preference is or what they'd like to learn more about.
For example, if you're a travel brand, you could ask your recipients what type of holiday they would like to go on next, such as; beach, ski, city break or family. Going forward, you can then use this data to send them relevant holiday ideas and/or deals to inspire and encourage them to book with you.
So there you have it. Three ideas for how to send relevant content to your recipients and customers, even if you don't have any data about them and how to start collecting data and building a persona so you can further enhance your future communication.