Standout email marketing during a predicted record breaking Christmas
With online shopping on the up, it's no surprise that the number of people visiting the high street vs last year was down 8% by midday on the 24th December 2019.
Many factors are contributing to this, making the future of the high street questionable but one thing that's for sure is that spending is on the up. So what's the message here? The importance of how brands connect digitally with their prospective customers is vital to the success of a brand.
Over the Christmas period, our inboxes are more flooded than ever with sales starting (what seems like) even earlier this year. Despite sales starting earlier, new research has shown that Christmas day 2019 is set to be a record breaker with a spending forecast of £1.19bn! I'm sure most people spend the day in and out of food-induced sofa snoozes, however a massive 11 million shoppers were predicted to head online (Centre for Retail Research).
To put this in perspective, this prediction is 10 times bigger than a decade ago when in 2009, what seems like a mere £120m was spent on 25th December!
So with Christmas day 2019 spending predicted to break records, I was interested to see how brands leveraged email to communicate with their customers. Who was going to go sale and purchase focused and who was going to opt for the softer approach and use it as an opportunity to wish their customers a wonderful day.
I have sifted through my (100's of) emails from Christmas Day to show you the approach of some brands.
WHISTLES
It's not very often you see non-fashion related content from clothing brands so this email really caught my eye. A Merry Christmas message coupled with Christmas cocktail inspiration. Who wouldn't want a recipe for the most delicious looking hot toddy I've ever seen?!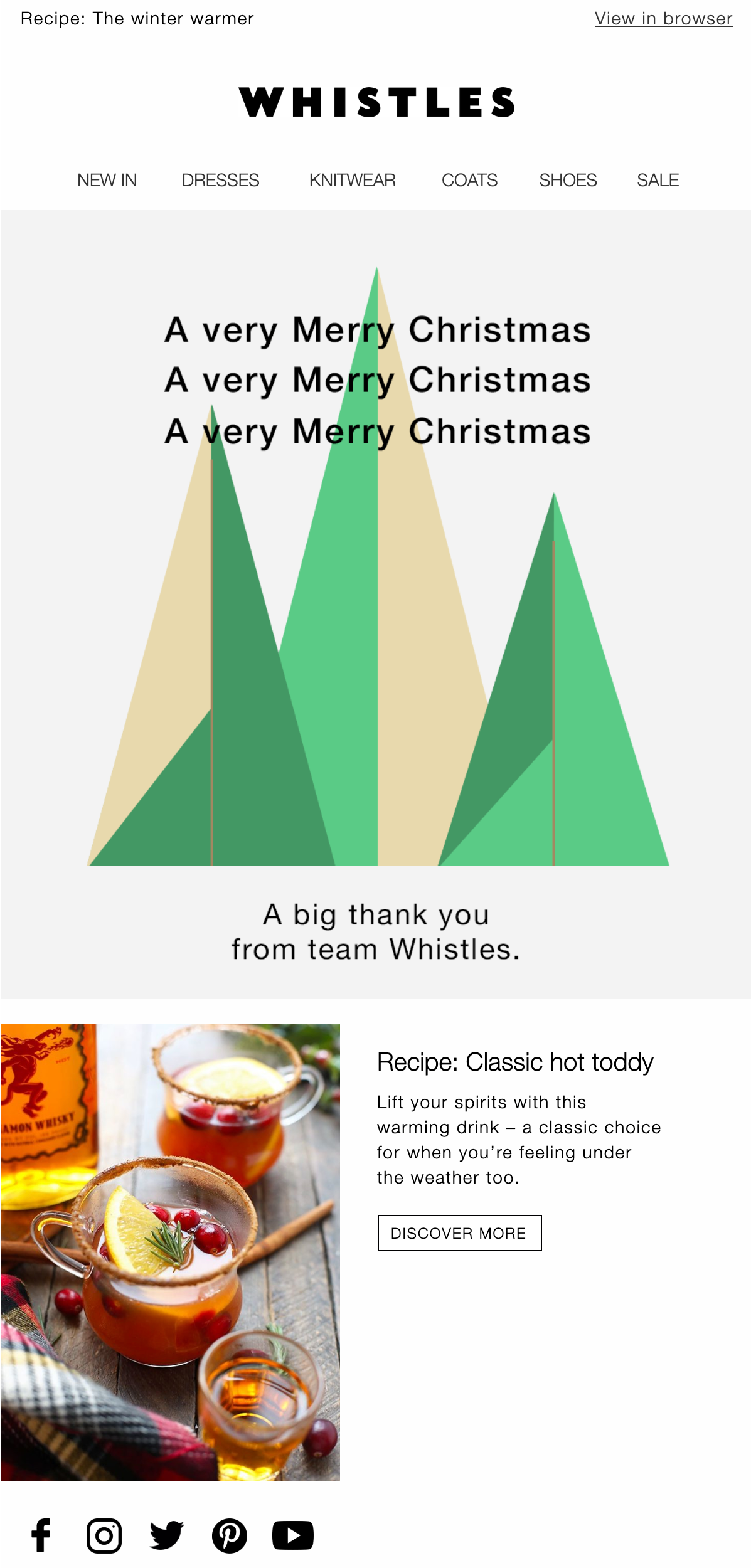 CHARLES TYRWHITT
I know Charles Tyrwhitt but I can't say I'm overly familiar with the story of the brand, so in receiving this email I was instantly drawn to open the email from the subject line:

And I'm so glad I did. Inside was what felt like a very personalized message from the Charles Tyrwhitt's founder, Nick, giving recipients an insight into Christmas at the house he shares with this wife Mrs Wheeler, founder of The White Company. It was lighthearted, funny and full of Christmas spirit.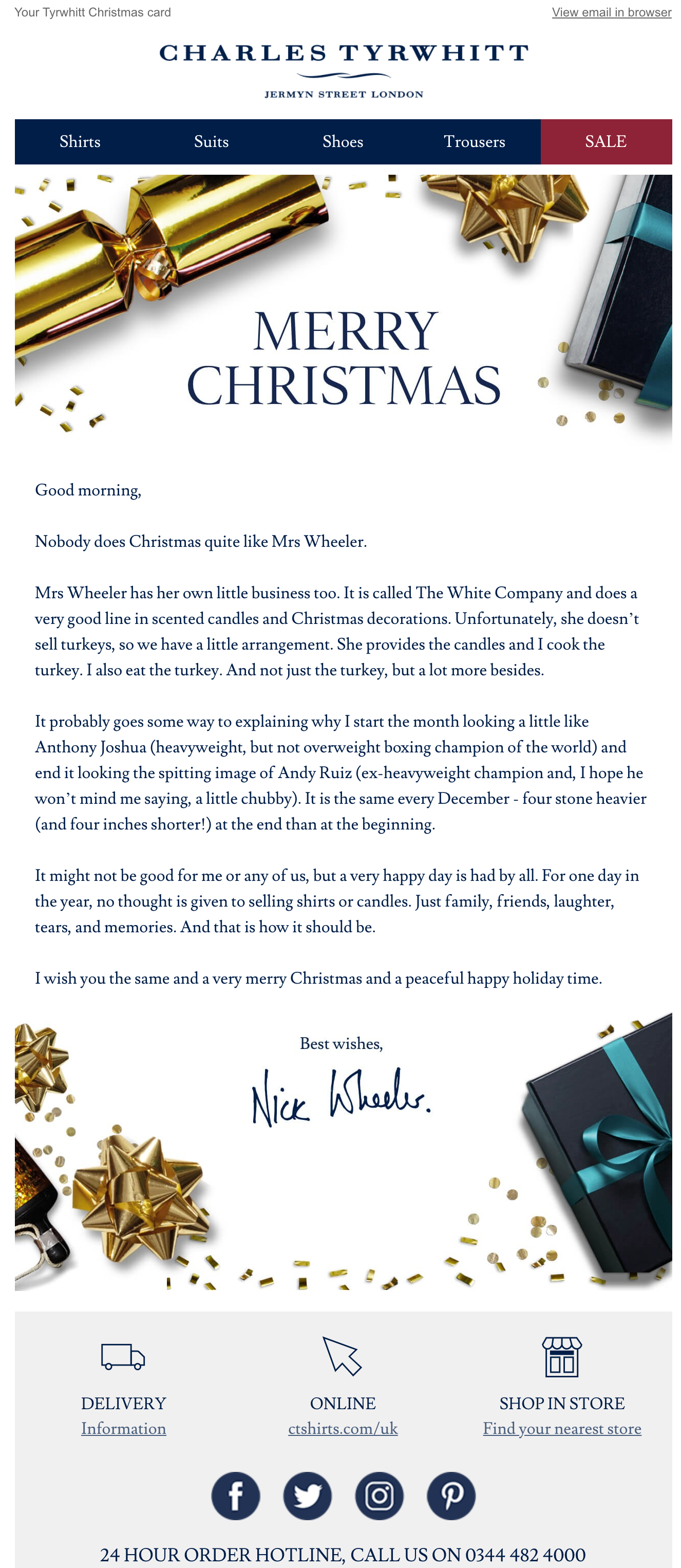 WAREHOUSE
This email had a slightly different approach and played on the humour of finally getting to Christmas day with a subject line of 'You made it.'
I'm giving kudos to this email because it has the right balance of everything; an offer code exclusive to Christmas day shoppers, a Merry Christmas message from the team, information on delivery in time for NYE and some UGC thrown in too. Well done Warehouse.

SNOWSHOE MOUNTAIN
This email caught my eye as it's something different but definitely worth mentioning. Aimed at keen skiers, it provides a daily snow report. For those lucky enough to be covering some piste on Christmas day, the real value in this email is the live ski, weather and resort updates. Powered by the same feeds which relay information across their resort, Snowshoe ensure their customers have the very best day providing them with all the information they could need in the palm of their hand.
It's also worth noting that all of the Alterra Mountain resorts are leading the way in ski resort email marketing featuring live content and we think it's brilliant!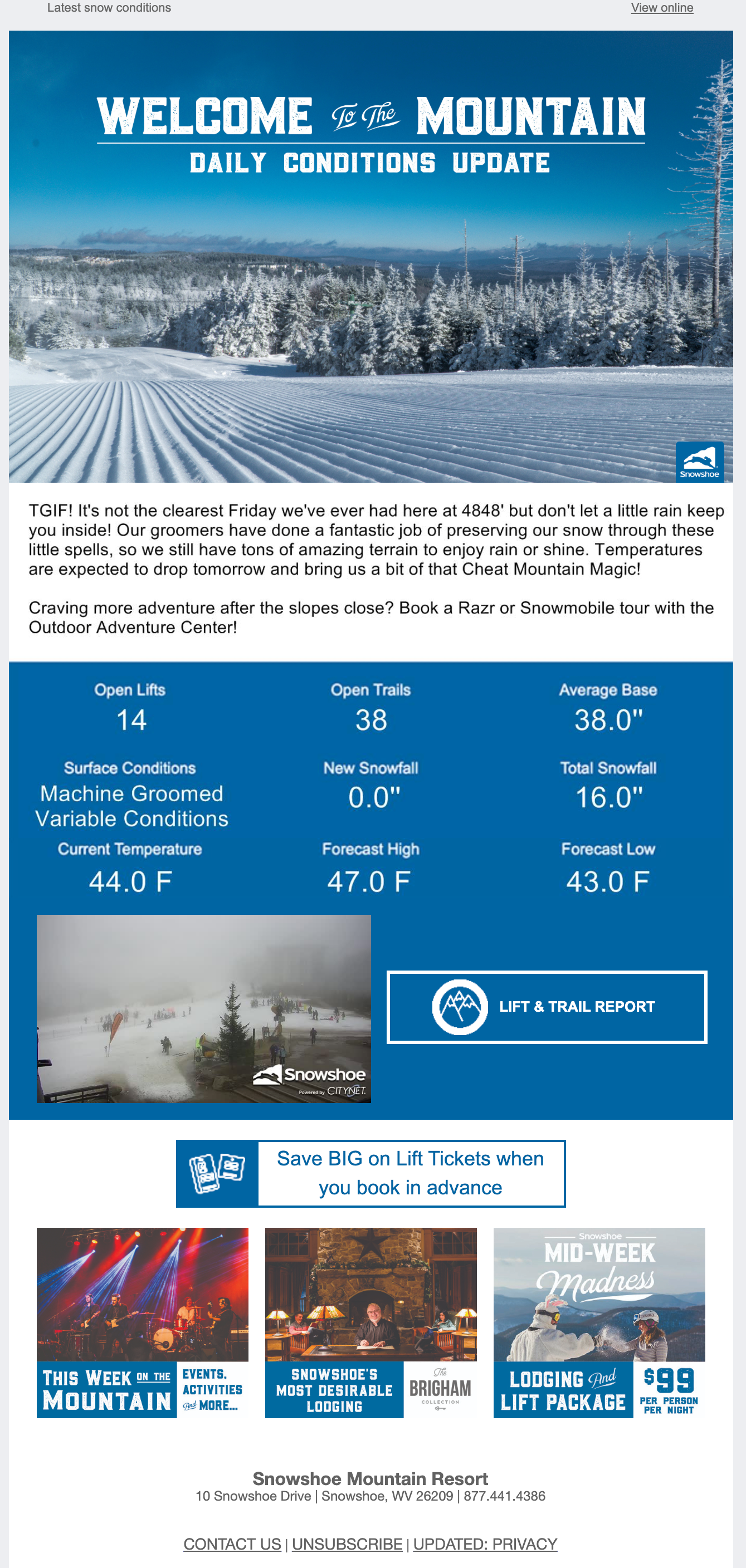 ASPINAL OF LONDON
Aspinal of London featured a good mix of Christmas wishes whilst also including a good array of products which were newly on sale. The design is relatively simple, not too over the top but works really well in terms of product discoverability. My only recommendation here would be that the email is screaming out for some personalization. Even basic first name personalization in the hero would have elevated this email to stand out even further in the inbox.

In summary, out of the hundreds of emails I received, there were some that stood out more than others. Despite this, my overwhelming feeling is that personalization as a whole was lacking. The large majority of emails featured no personalization at all. Where were the items I had been browsing all through December, where was may name over pretty images, where was my context related messaging and where was the gamification? This is what I would like, and to an extent, expect to see. Perhaps brands are resting on the fact that it's a time of year when people generally spend more but I can't help thinking that if records are being smashed with little to no personalization in emails, think of how well brands could do with some smart personalization to make the experience as memorable as the Christmas celebrations their recipients are enjoying...