Purchased on site, live in email; you should be doing this!
There's so many ways to use live images in your email programs to keep content fresh and to reduce email build time. Increasingly email marketers are turning to user generated content for its flexibility for keeping content automatically up-to-date and on-trend. Live Instagram and Twitter feeds are becoming a more prevalent and commonly used feature in email for the latest automated content. User Generated feeds such as curated hashtag specific Instagram posts are starting to filter into email too as they provide a fantastic way to bring word-of-mouth to life in email. In the next few months keep an eye out for live hashtag sections in email; they'll probably look something like this:
Whilst these fantastic examples of open time email content are really starting to become standard email components, especially in automated campaigns, there's one great open time opportunity for retailers to feature in email but it's not something that I've seen anybody do just yet.
Check out the homepages of many retail websites you'll notice a live feed of products that have just been purchased on site. Most recently I've noticed it on the Net-a-porter site: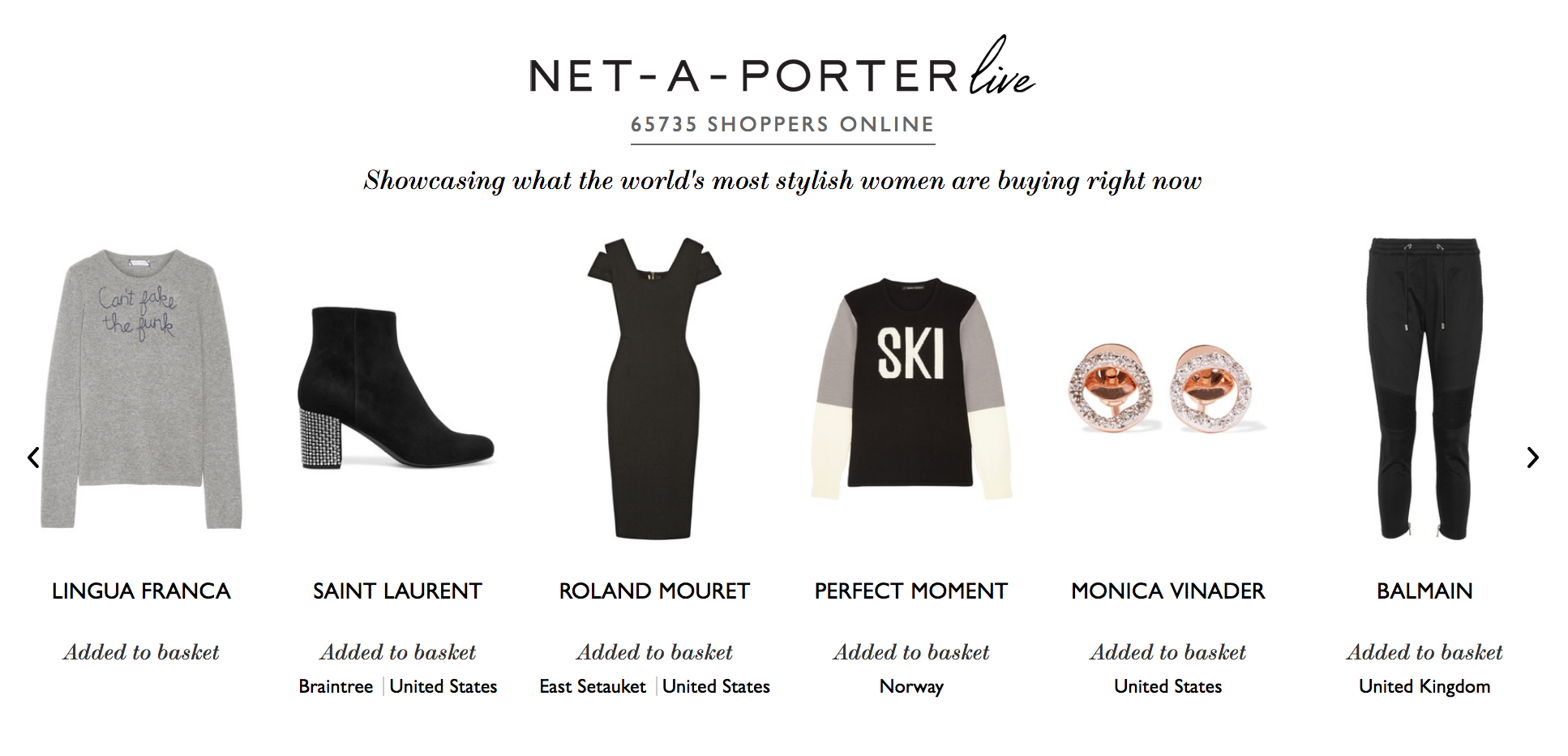 And on the Oasis homepage:

Personally, I'd love to see real-time website purchases feature in email, leveraging open time technology to show the latest products purchased on the site every time an email is opened. Not only is this a new and innovative way to add live, socially driven content to an email, it's also really quite easy to achieve.
Aside from the fact that visually it's very strong and lends itself well to email, 'purchased on site right now' also has a wide range of additional benefits. First up is the opportunity to extend your range of discoverable products. Typically, email is limited to a certain number of products – there's only so many products you can feature in one email. Usually this is around 20ish products. Incorporating live images based on web sell-through data massively increases the number of products that are discoverable from your email, even displaying products that might never have been visible previously.
Use case: At open time, the most recently purchased products are displayed, the recipient may not be interested in those, but if they check back in with the email at a later date, different products will be visible and they may be of interest.
It's also a great inspirational piece, particularly around peak periods in the year. Take Christmas for example. We're all after that great gift for that one tricky person. Showing the latest purchases from your site, in email, will provide ideas, inspiration and show off more products than you could hope to display in one email.
Top tip: Throughout peak, think about including a 'trending right now' or 'what customers are buying' section in your Christmas product level emails.
It's also a great way to build your recipient's trust in your brand. We're all suckers for social signals and word of mouth, so displaying what other people have purchased on your site in-email will increase trustability, not only in your brand but in your products too. A live purchased product feed is instant social proof that you're a reputable source; it'll go a long way in convincing recipients to click through and complete a purchase.
Although this isn't something I've seen in email before, it is easy to get setup and running. The great news is that once you've set it up, you can use the live images in multiple emails and automated programs. You only need to set it up once for live products at open. All you need is a 'purchased product feed' from your site. Many websites have this available, it's just a case of surfacing it. Once you've got the feed, connect it to a content automation template, design your live image and then generate a tag to add to the html. Each time the email is opened the latest products that have been purchased will be shown live in the email. Each product image can click through to the individual product page to make adding the product to the customer's basket quick and easy.
This Christmas and into 2017, retailers should be looking for new and innovative ways to automate email content and to make it live without any additional resource. Next year is going to be the year where markers push the boundaries of open time technology to diversity product visibility and bring a real on-site experience to life in email. As a result, more customers will convert from email programs with no additional strain on resource.
in content automation, data feeds, Email Strategy, emailmarketing, innovative email automation, innovative email marketing, Live email, live email content, live emails, live feed of products in email, product discoverability in email, real-time website purchases, real-time website purchases in email, Retail, retail email marketing, retail ugc email examples, trending right now in email