Our favourite deal reveals & countdown timers
Deal reveals are a great way to keep customers engaged and returning to emails. Everyone loves a great deal, so adding deal reveals and countdown timers into emails is a great way to entice customers to purchase.
bulk™
Ahead of gyms reopening in the UK, bulk™ sent a deal reveal email with upcoming deals for that week. They displayed the deal of the day in the main header, with a countdown timer showing how long was left to shop that deal. Beneath the header, they encouraged customers to check back on the email for upcoming deals, which were displayed in pods that were locked, then revealed to the customers once the deal was available to shop.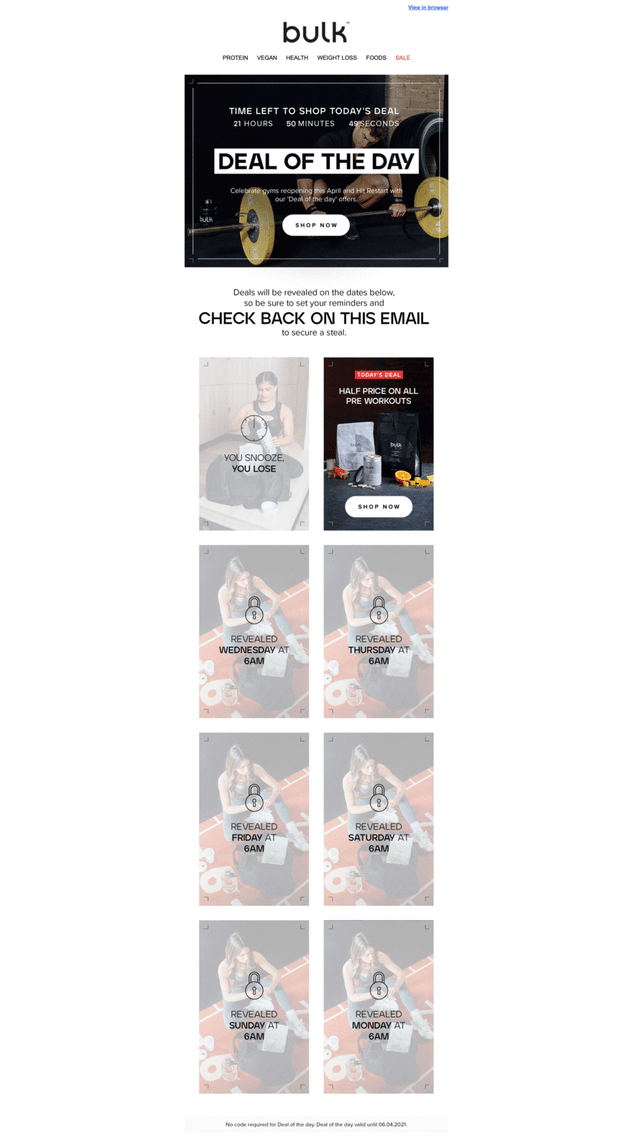 Want to know more about this email? Check out our #FeatureFriday video here.
Boohoo
Boohoo did a great campaign of 6 offers in 6 hours, all in one live email. They displayed the current offer in the first pod, enticing people to shop. Next to the first pod, they displayed a countdown of how long was left on that particular offer. Beneath the current offer, they had a pod with the upcoming offer, so their customers would come back to claim that offer when it was live and shopable. Once the offers were finished a "time's up" message was displayed.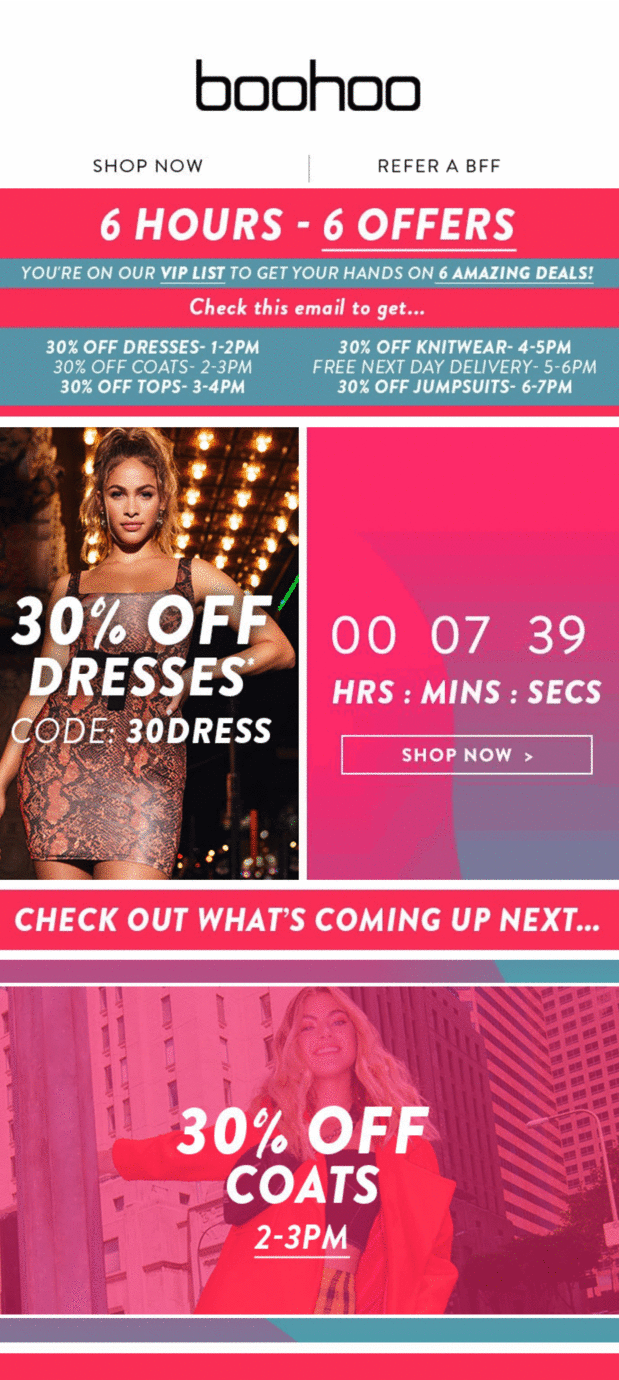 Topman
Topman used a deal reveal to build the hype around Black Friday. They created locked pods with a message that let the customer know when the deal would be unlocked. Once the deals became available these pods "unlocked" and allowed the customers to shop the deals.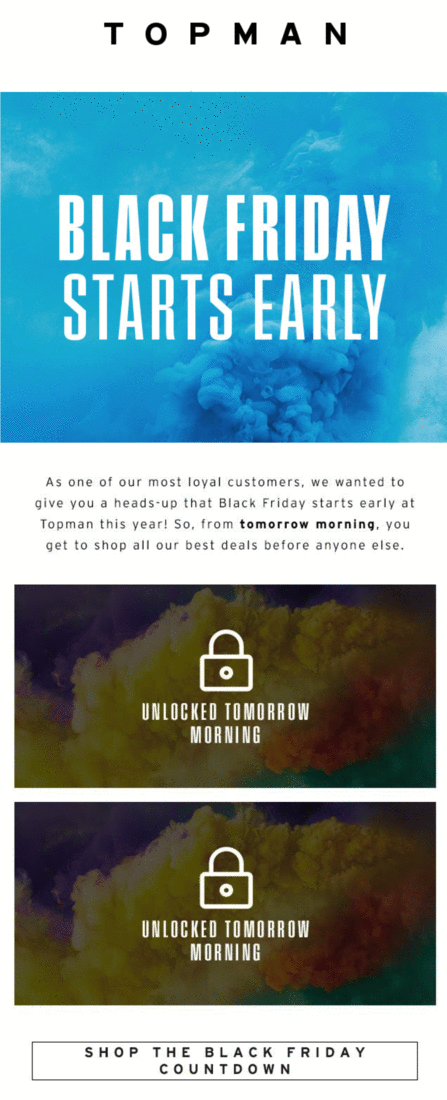 New Look
New Look created an email with a countdown & deal of the day in the header. Each day this would automatically update to reveal the deal of the day and the countdown timer reset to show how long was left to shop that deal.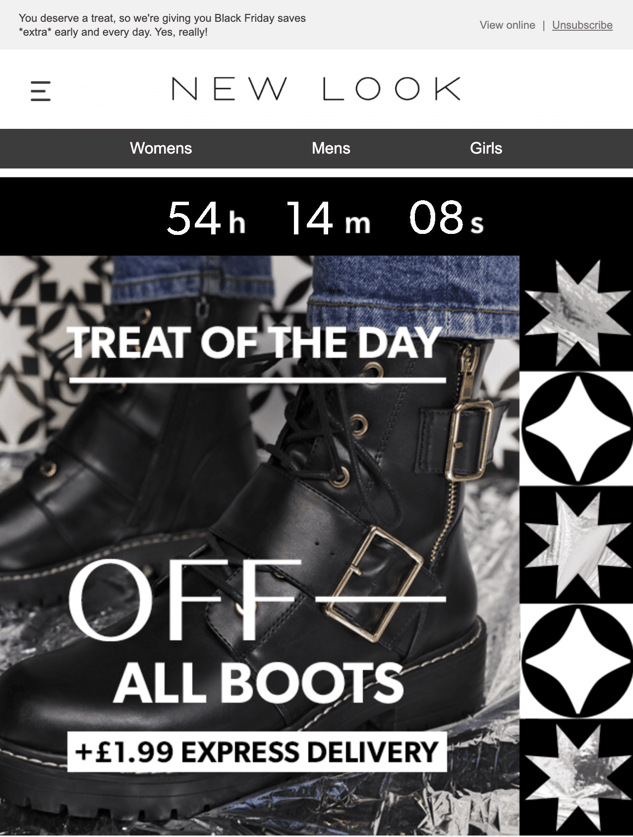 iClothing
For Black Friday iClothing did several lightning deals, offering a new deal every 2 hours. The live email would automatically update every 2 hours to display the new offer, whilst updating the header to reflect the new offer.

Deal reveals are great for retailers that have multiple deals coming up over a set period of time - be that every hour, day or week! Showing locked content in the email or teasing upcoming deals builds excitement for consumers and encourages them to check back into the email for the next deal. The email works harder and provides better results - more opens, clicks and revenue are to be expected. This is a great quick win!