Rio Olympics: The Open-Time Guide
Olympians; They're fast. They're strong. They're finely tuned. And they're at the top of their game. Can the same be said for your emails?
Whilst none of us are likely to ever overtake Usain Bolt on the track, there's no reason why our emails during the Olympic games (and for ever after) can't be flying past the competition into top spot.
As with all major sporting tournaments and events, things change quickly. News breaks, schedules change, results unfold and the medal tables change. In the past, the inclusion of this ever-changing content in email has been tricky – it's almost guaranteed to be out-of-date by the time it lands in the inbox. Now, with Open-Time marketing that's not the case. You can send email with content that's live at the exact moment the email is opened. With the games fast approaching, here's a few suggestions for how you can use Open Time marketing throughout the Olympics.
Countdown to the games
With the games just around the corner, many people will be wondering how long there is until the opening ceremony. With that in mind, consider adding a countdown timer into your campaigns. Use the rule builder to swap to a different image once the games have begun.
Live what's on
Using the rule builder, or a feed, it's easy to create a live 'what's on right now' section within your email campaign. If you have an API feed with details of what's on, you can use Content Automation to automatically show what's on at the point in time when the email is opened. If there aren't any competitions on at that precise moment, no problem! Using the visibility rules in the template editor you can chose to hide the entire section of the email, or show an image with details of what's coming up next.
Here's an example from Washington Post who featured a live TV schedule in their Sport Break emails throughout the games: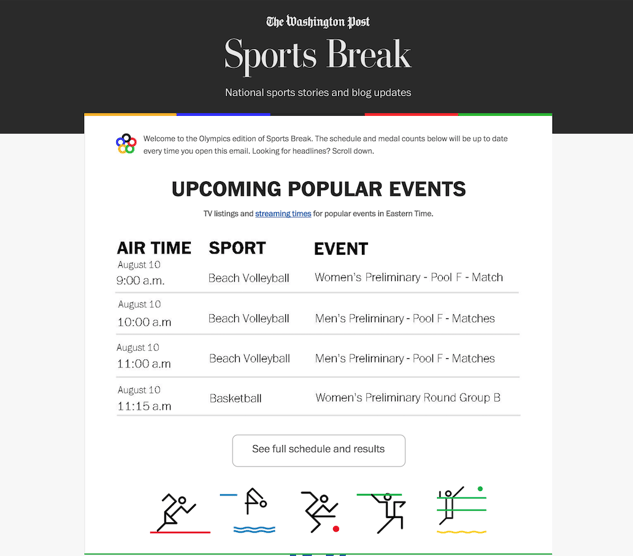 Alternatively, if you don't have a feed you can design images for each event you wish to display and then upload these into the rule builder. Using the DateTime conditions you can then build rules to display the right images at the right time.
Live medal Table
Throughout the Olympics there's a heavy focus on the medal tables – which country is in the lead, who's got the most gold medals and so on. Before Open-Time Content Automation marketers would have to manually update any medal tables before sending a campaign. Although it's a great touch in include a medal table in an email, traditionally it's resource heavy and time consuming, requiring frequent, manual updates. The email would also require some kind of date stamp i.e. "Medal standings as of…" to make sure the information wasn't misleading. After all that, if the email wasn't opened immediately the content would probably no-longer be accurate.
Now, it is possible to connect an API data feed to an image and build a medal table that is totally live at every open! Each time the email is opened, we'll return the latest medal table. You can design this to look however you'd like and it can be setup, right now, in your Kickdynamic account – no customisation required.
Here's the Tag- it was live throughout the games: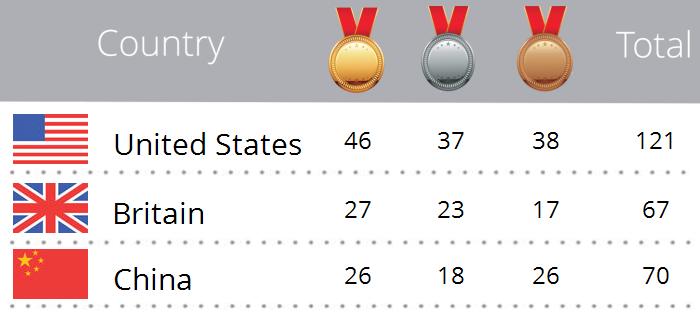 Washington Post featured a live medal table in their emails alongside the live TV Schedule: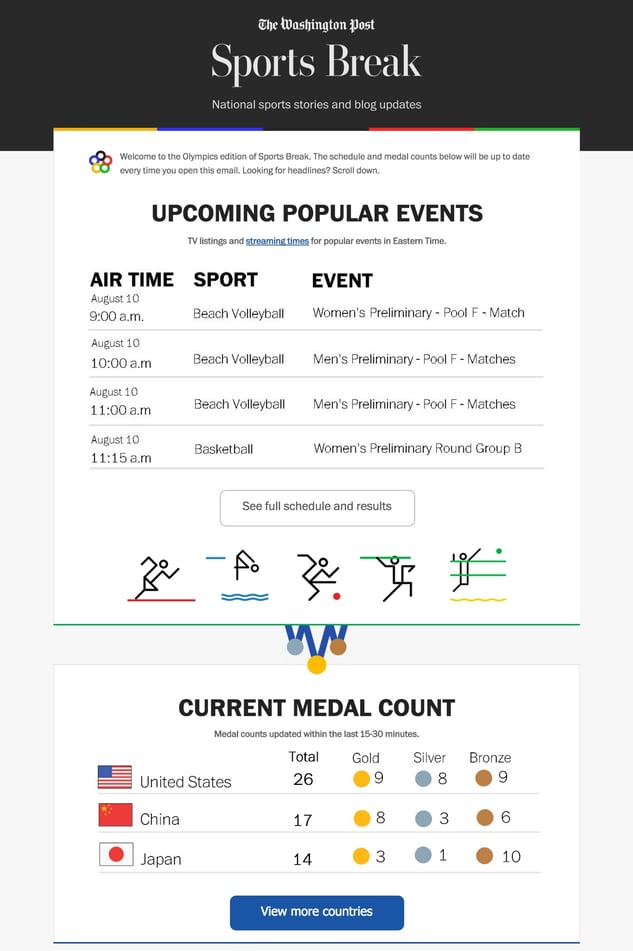 Live Olympic Updates/News
Have you got a page on your site, or a news feed, dedicated to what's going on at the Olympics? If the answer is yes, then you could use Content Automation to display this live, up-to-date and pre-approved information in your email. At Open Time our tag will retrieve the latest information and serve it into the email ensuring your email content is always up-to-date.
Hashtag Marketing
Predicting hashtag,s and then using them to promote important content or products ahead of time, is a first-class strategy. Start using the hashtag #RioOlympics2016 when you tweet from now on and throughout the games.
If you're sending out Olympic themed emails to your database, include a Kickdynamic Twitter tag to pull the latest tweets from your timeline that contain #RioOlympics2016. Not only will the content in your email be live at open time, it will be up-to-date with what's going on at the games.
Here's an example in action:

If you read all the way to the end, here's some quick fire stats for this year's games. You never know, they might just come up at the next pub quiz!
Over 10,500 athletes
206 National Olympic Committees competing
306 sets of medals
301 gold medals are at stake at the Rio 2016
28 Olympic Sports
Across 38 venues
First ever Summer Olympics to be held during the host countries winter!