Make your emails do the hard work.
You need to personalize email content but it's only possible if you have data. Whilst most brands collect preference on sign-up, and track on-site behaviour and interests, how can email activity be used to build out a wider profile for each subscriber that's more real-time?
We know that personalization is required to boost email performance; customers no longer accept generic content as the norm, they expect a good experience and solid, consistently personalized, and relevant content. On top of that, we know that personalized emails perform better – that's a fact. Our customers achieving email personalization at scale are seeing up to 57% higher revenue per email!
Many email marketers I speak to say that they collect their preference info by asking newbies to fill out forms when signing up, purchasing, creating an account, and so on. After sign up, the brand will send sporadic 'update your preference emails' in the hope that a recipient will take it upon themselves to tell you what they want to receive.
On one hand, we keep seeing stats around subscribers demanding better content in the emails they receive but, let's be honest - very few people update their preferences throughout a relationship with a brand.
What a subscriber was interested in 5 years ago when they were added to your mailing list is probably not what they want now.
I often wonder how many people are put into a segment pot on sign up and then stay in that segment for the rest of their lives as subscribers. How many brands are nailing fluidity across their different segments? It's a difficult task, especially when the audience is not likely to take the time to openly tell you what they want to receive in your regular emails. So, in short, encouraging updating of preferences is great, but how can you collect even more information to help you personalize email content? You can start by leveraging your email content to make it work for you.
Marketers want and need accurate and up-to-date customer data. The more you know about each contact in your database, the better you can target them. And I don't just mean knowing somebody's preferred gender or their most recent purchase. I mean actionable data that you've collected in real-time that you can use in tomorrow's email send.
It's time to seriously consider progressive profiling as a means to overcome preference challenges. Instead of collecting information via a form or using data that you've had for years, use your email content to progressively build a picture of each individual based on their engagement behaviour over time. You can gradually gather and add preference data incrementally over a number of interactions with a customer without them feeling overwhelmed with questions or forms. Every interaction provides you with valuable data that can be used in future communications to power personalization.
Very few brands use indirect profiling (clicks in email as interest indicators) in a meaningful way. No direct questions are asked, you're simply offering the option for a customer to click through on the most relevant piece of content to them. This email from Dorothy Perkins is a great example of an email that could have provided a HUGE opportunity: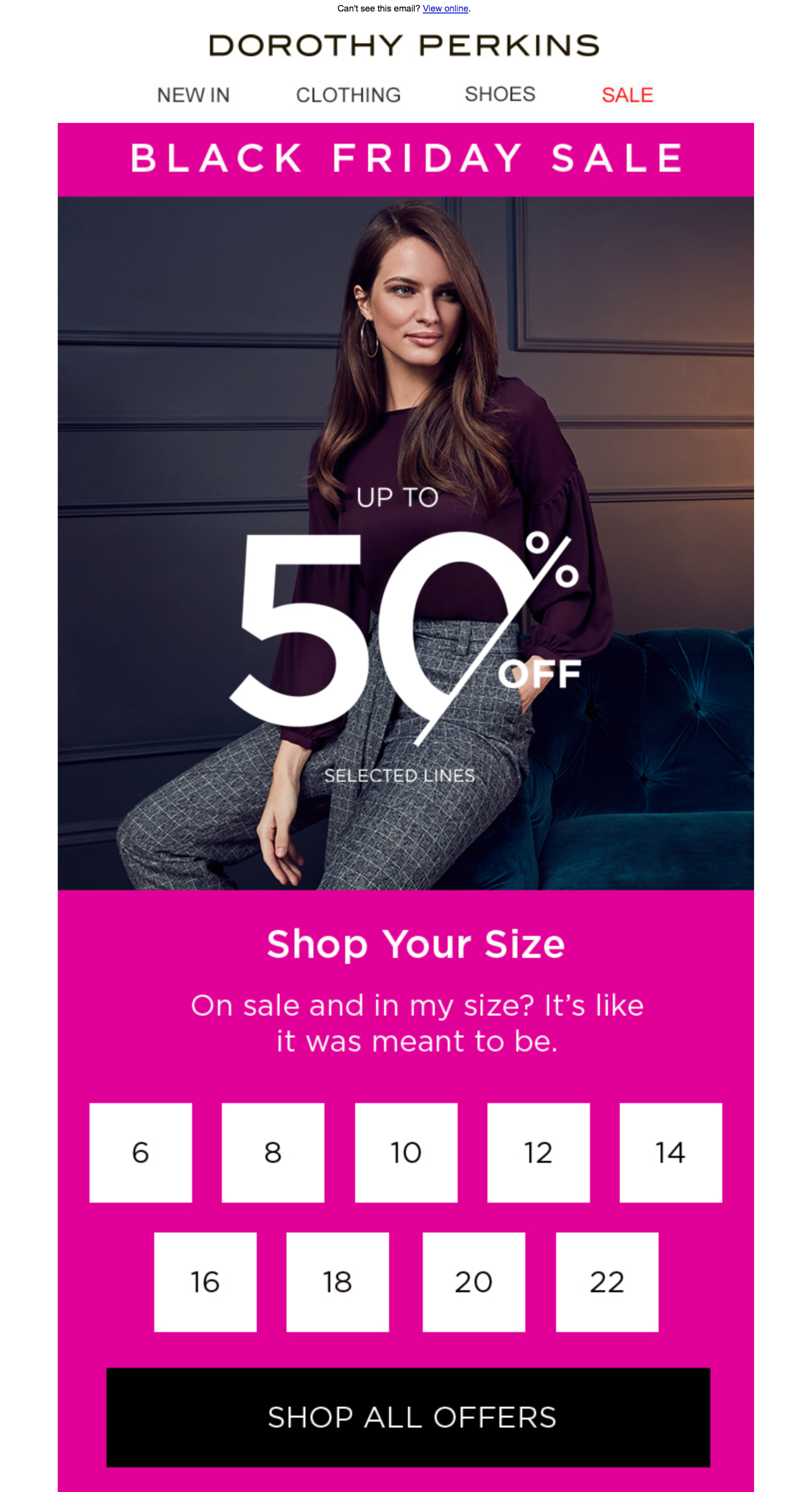 Providing 'shop your size' content in email is a huge opportunity. On click, you have the most up-to-date indicator of the recipient's size. Leveraging progressive profiling, and Kickdynamic's content automation, you can easily send a follow-up email featuring live products to every person that clicked on a size. Each recipient could then receive an email a day or so later with the latest products available that are in stock in their size. Not only is this a great revenue opportunity, it's also a fantastic customer experience.
You can also take this principle and apply it to anything. Here's a category based example - use the click category and personalize the content in the next email to that category: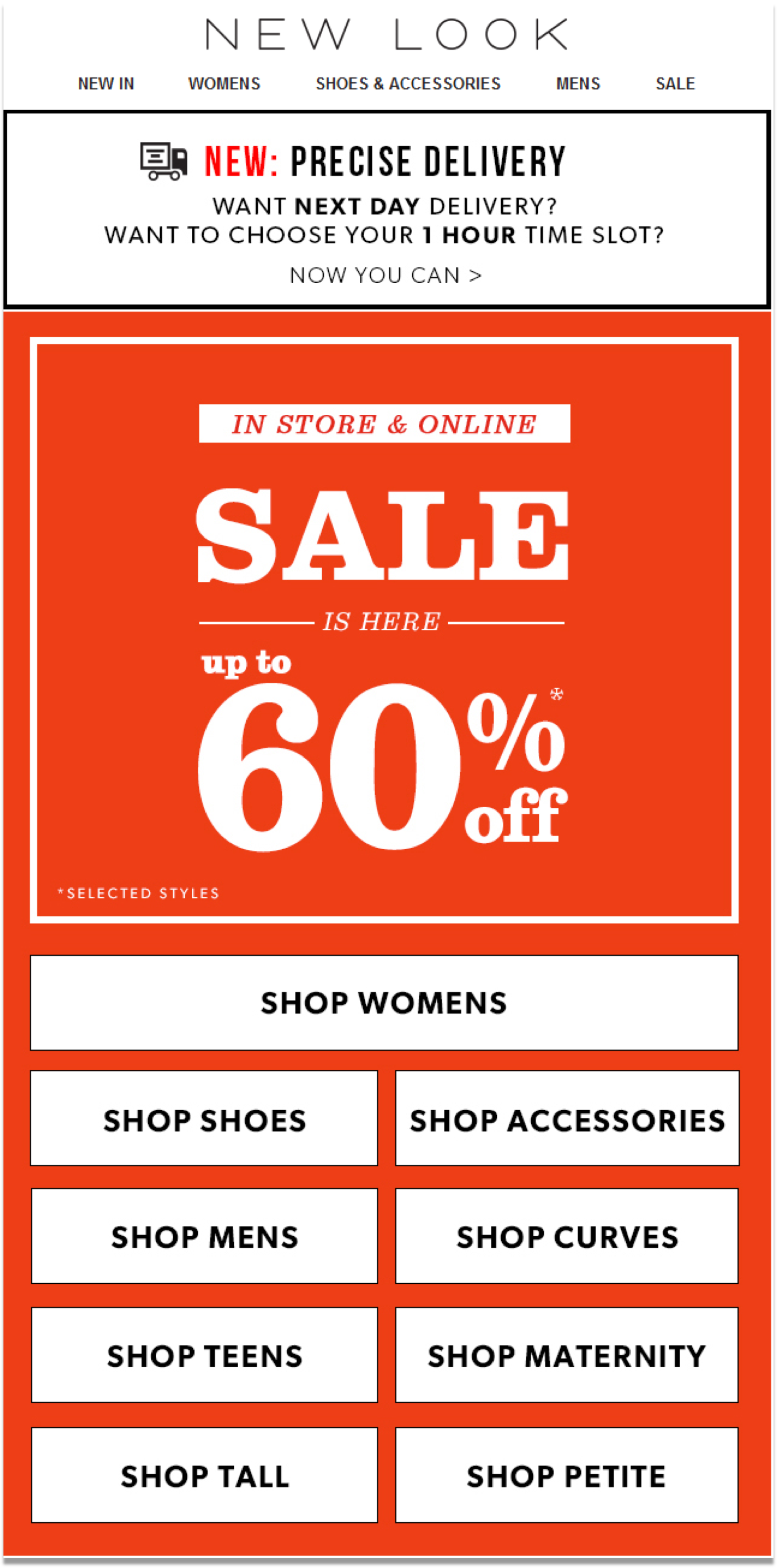 You can also do this for persona-type personalization:

Using click data and feeding it back into your CRM is a splendid opportunity to capture real-time engagement and use it in a meaningful way. Over time you can collect masses of data that you can then use it to personalize email content across every send. Picture this:
Recipient A:
Clothing Size 10 | Shoe Size 6| Bags | Mulberry | Dresses | Gucci | Shoes | Valentino |
You can now very easily send Recipient A an email containing Gucci dresses in a size 10, Valentino shoes in a size 6, and Mulberry handbags. With this data, you can personalize offers, create specific email journeys and send recipients content that is truly just for them. The ultimate goal is to be able to target based on a combination of recent activity, behaviour, and attitudinal data. By investing in getting to know your customers on their journey with your brand, you can deliver content specifically for them. It's a fresh approach to collecting data and one that really works.