The Power of Live Products
We've all been in the situation where we've received an email, loved a product that's featured, clicked through and the product is out-of-stock. It's both a blessing and a curse that products in email tend to sell out. They land in the inbox; there's a flurry of activity and the products are snapped up. If you don't open right away when the email lands, there's a good chance the products will have limited availability or be sold out completely when a recipient engages later on.
What happens when somebody clicks through on a product that's out-of-stock? They land on the product page, see the out of stock sign and bounce right off the site. Opportunity over.
This is where live products can really save the day. By connecting a product feed that updates regularly (your Google Shopping feed for example), products can be served into the email when it's opened – taking into consideration the stock level and availability at that moment. This makes for a far better email experience. Products that are out-of-stock, or that fall below the stock level threshold you've set, are automatically replaced with a product that's available.
In this example, the brand actually chose to keep sold out products in the email but display a sold out banner over the product!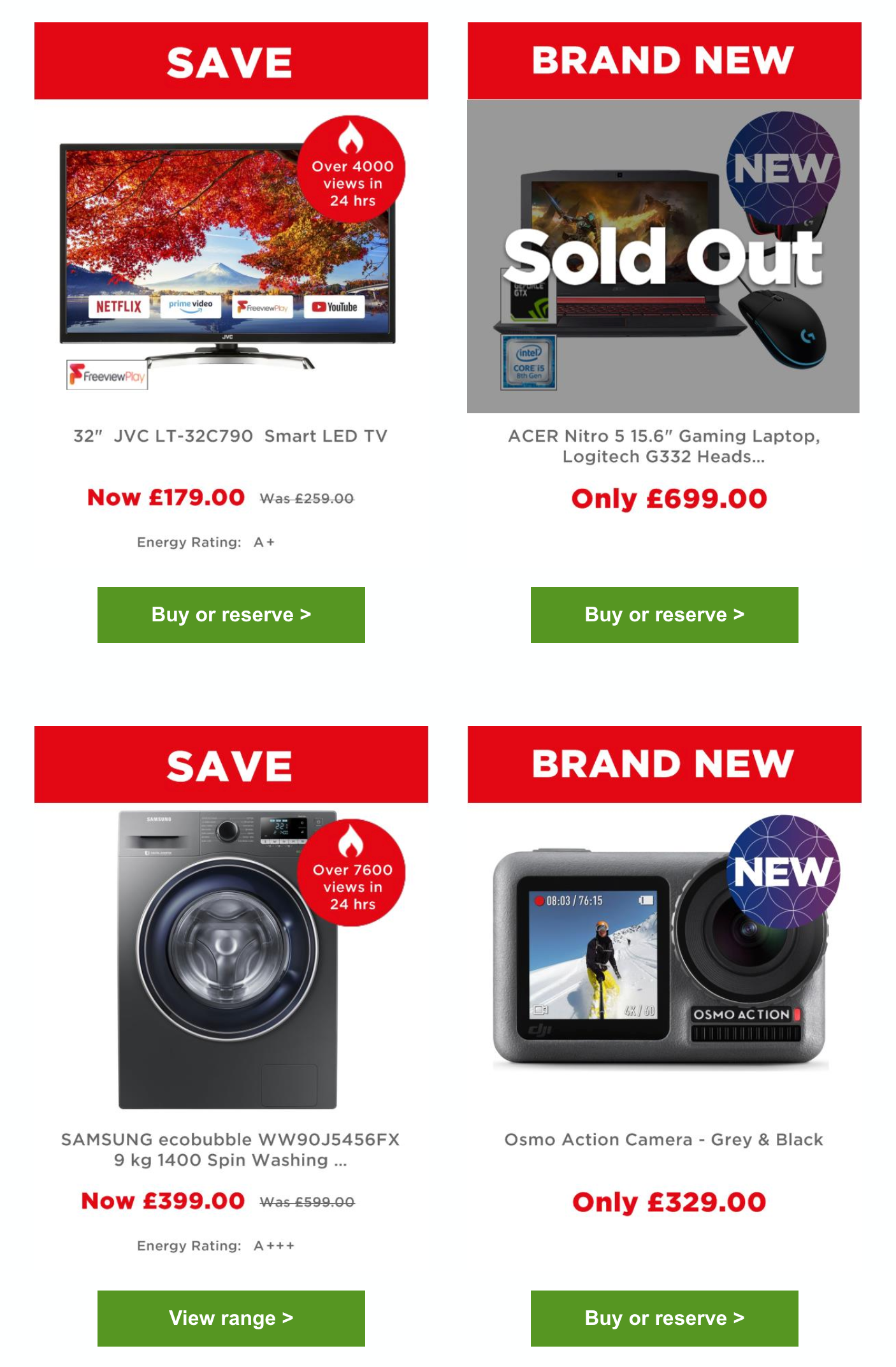 The benefits of using live products are numerous. Inventory challenges are resolved as unavailable products can be replaced with available ones, maximising product discoverability and the revenue opportunity for the email is increased.
Live product data can also be used to enhance the inbox experience above and beyond standard products. The data in the product feed can used in conjunction with visibility layers – live stock levels can be overlaid on a product (for example only 5 left). Alternatively, for a more subtle approach, badges (e.g. almost gone) can be set to become visible when the stock level reaches a pre-defined number: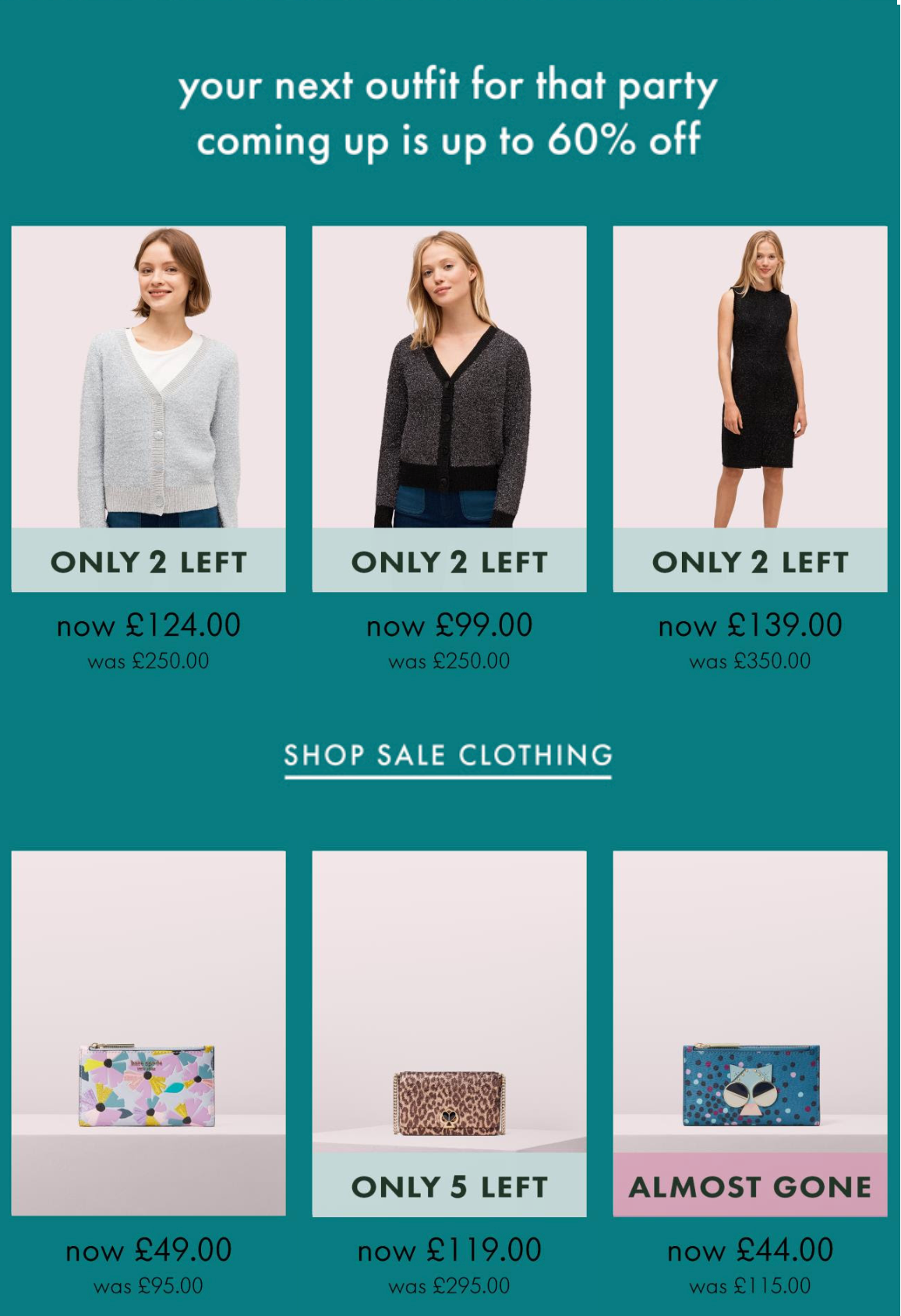 Both of these are great ways to drive urgency and provide useful information to the customer. Live stock levels are a particularly useful edition to encourage purchase in re-marketing emails.
Likewise, live pricing can be powerful, particularly during sale, or if a brand is very discount led or has competitive pricing. Pricing and offers can change and fluctuate throughout the day and live products keep up with this. The latest deal onsite is exactly mirrored in the email even if it updates after the email has been sent. In this example, the pricing updates throughout the day, as do the discount percentages and the labelling on the products. This is all done automatically based on the product data: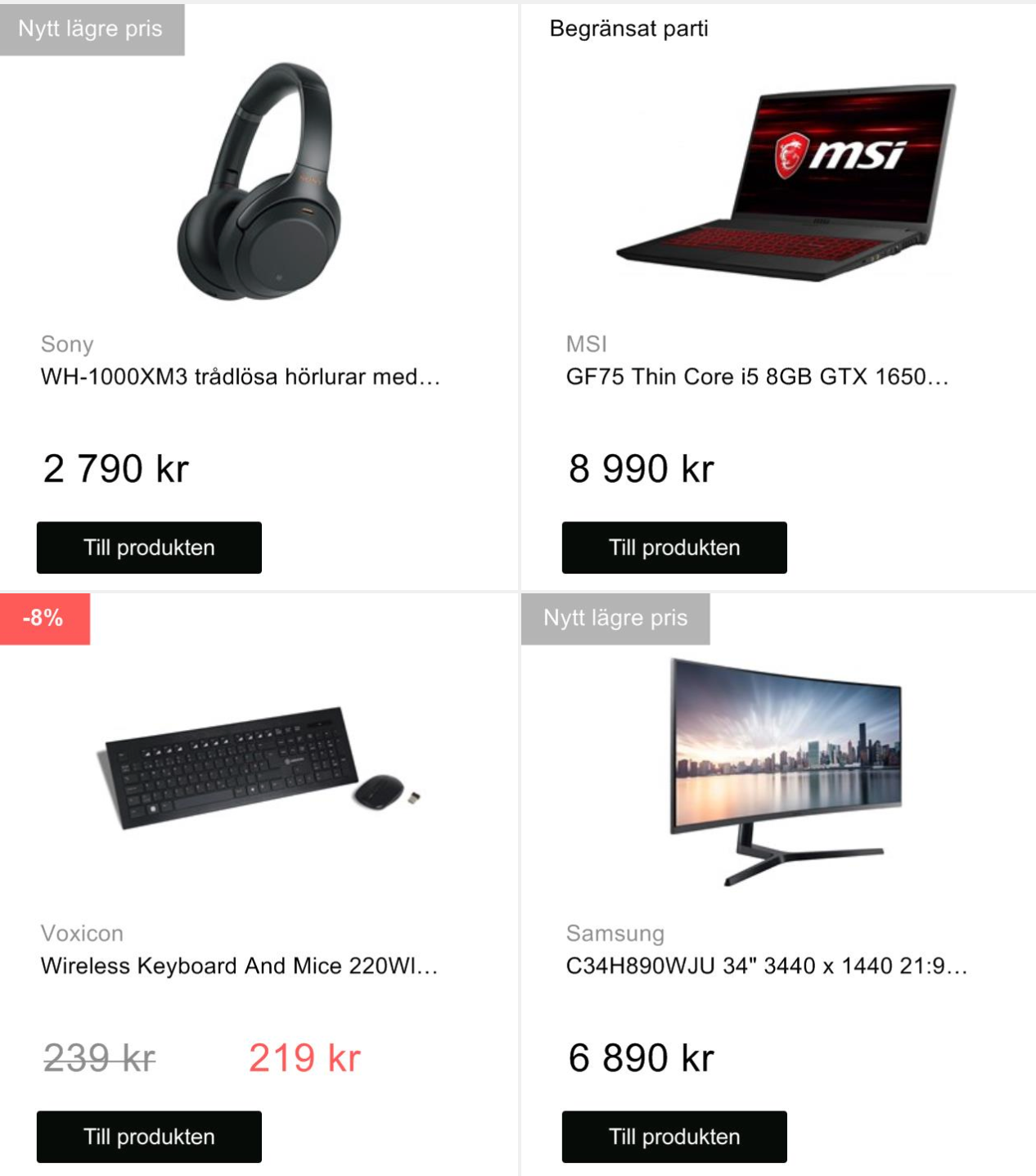 Live products also enable easy product personalization. Merge CRM data into the live image tag at send time to automate personalized product content. If you want to personalize an email to the last category purchased (perhaps there's 100 product categories on your site), you don't need to build 100 email versions. Add live products to the email and merge in CRM data, if dresses is merged into the tag, we'll find the latest in-stock dresses to display on open:

Using live products in email doesn't mean there has to be a compromise in pixel prefect design. In fact, it's quite the opposite. Live products offer enhanced design capabilities and unlock the power of product data in a highly designed and powerful way.
Combining the power of product feeds and email content automation provides a streamlined and resource effective way to build email, whilst providing a top notch, good-looking and compelling experience in the inbox. Live products are long-term revenue driving solution that marketing teams love and customers respond to.