5 Fun Live Content Strategies for Christmas
Christmas is just round the corner. I've bought my Christmas tree, I've got the decorations out and I *might* be listening to Christmas playlists on Spotify. In short, I'M EXCITED.
With the current situation (thanks 2020) & various on-going lockdowns (let's not mention it again), Christmas shoppers will have to do most of their shopping online. Retailers that normally split their revenue between stores and online are ploughing their effort into their digital channels to hit their targets. Email is a big player when it comes to capturing attention and getting sales.
With that in mind, emails need to be bigger, bolder, brighter and sparklier than ever. Customer expectations have never been so high, emails have never been under the spotlight as much. Experience is everything. Here's some ways to add some sparkle and magic to your holiday emails.... May the best CRM team win.
1. Last Delivery Slots
⏰
Clear, precise messaging certainly adds sparkle (and useful content) to your emails. Using countdown timers, or a series of timers, to tick your merry way to the last delivery dates is a strong way to visually show how long is left for guaranteed delivery in time for the big day. When the delivery window is over, switch the timer to an image wishing your subscribers a happy Christmas. Implementing a timer in this scenario can bring in some last minute revenue from those last minute shoppers. If you've already done all your Xmas shopping, well, then you're sleigh-ing it.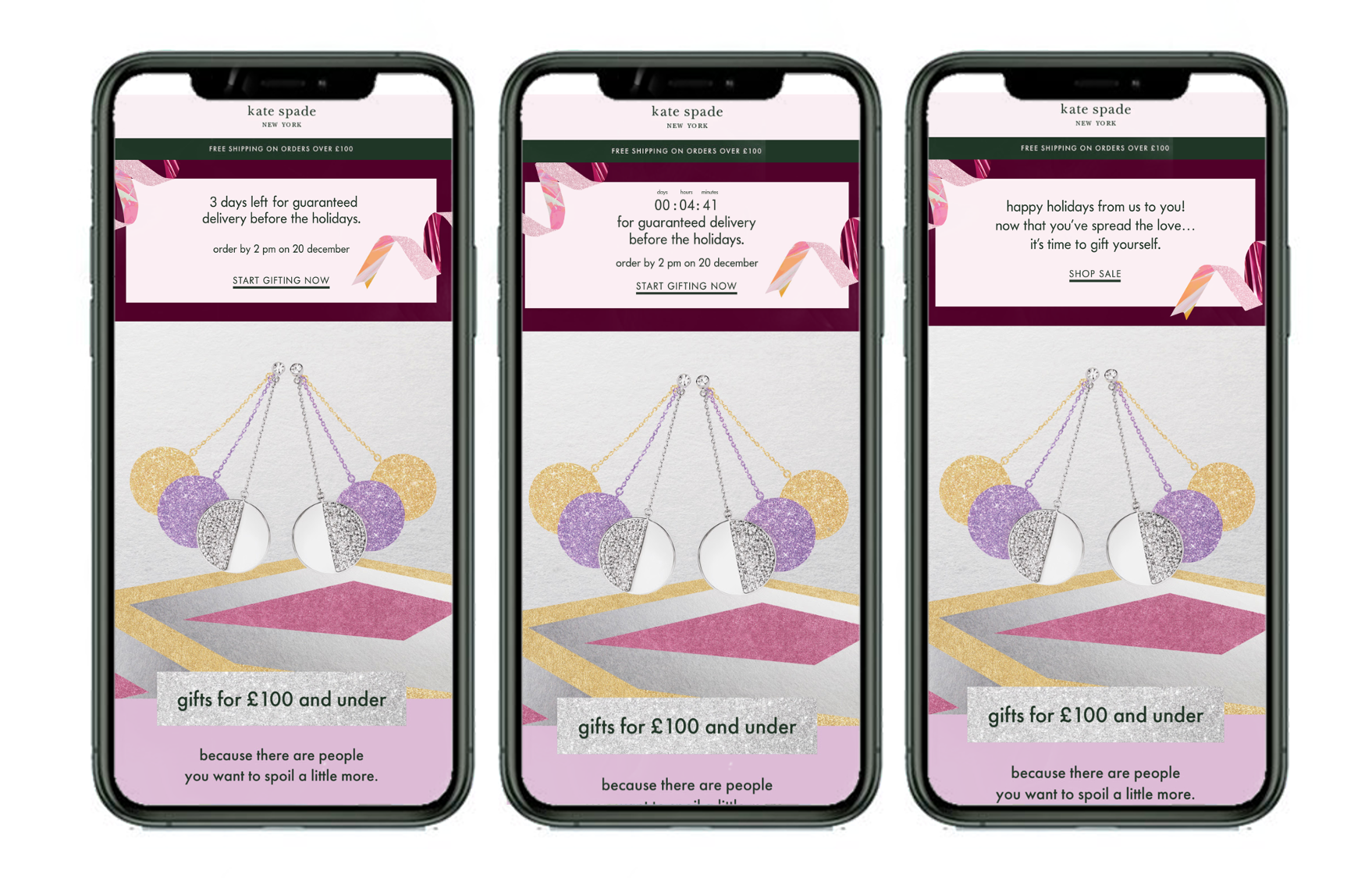 Fancy a simple countdown to the big day? Here's some fun examples, including some jazzy candy-cane font: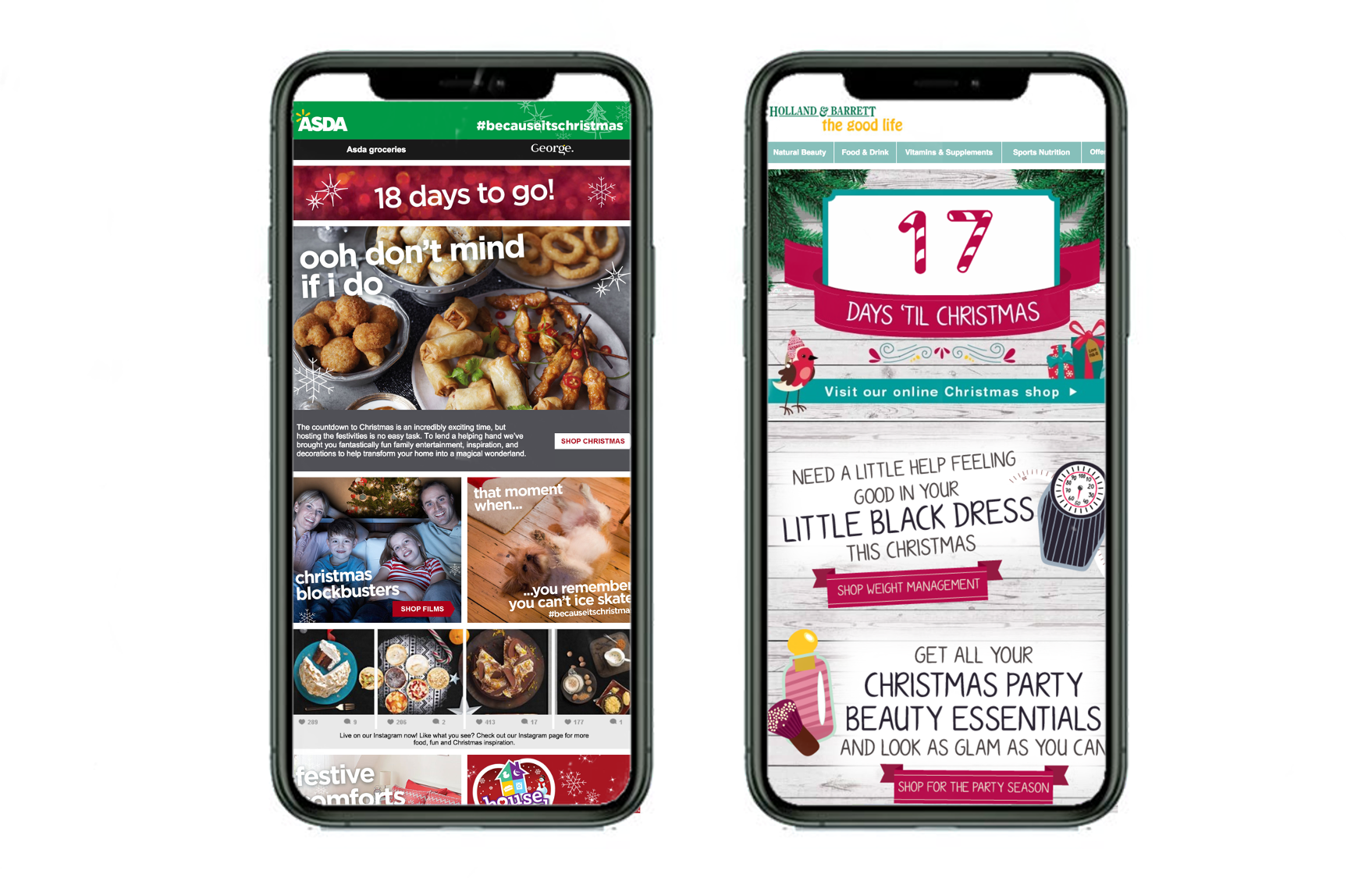 2. Rebel without a Claus 🎅
Wishing your loyal and most faithful subscribers a Merry Christmas & Happy New Year is a must. It's all about that personal touch. Make your efforts stand out more by adding their first name over a festive, fun creative. It's the small things that can make the biggest difference.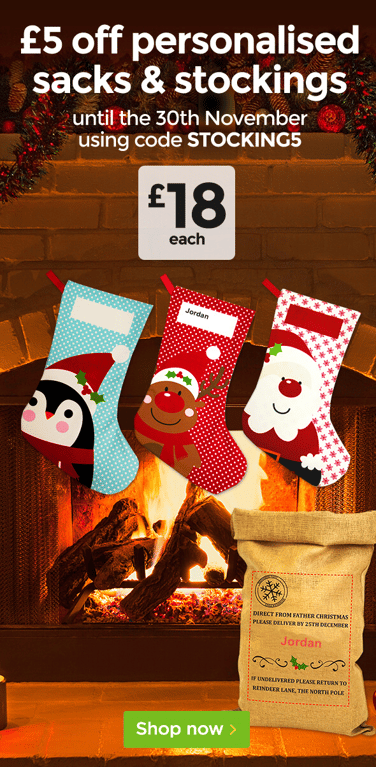 Be it names on cards, stockings, sacks from Santa, gift labels - it's sure to spread some festive cheer. Here's two more examples we love too: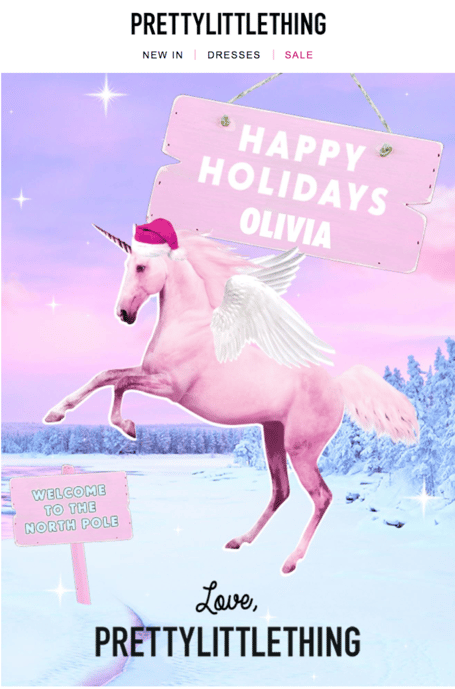 And this cute, subtle gift tag from the folks over at ASDA: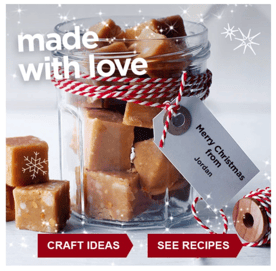 3. Be the Queen of the (North) Poll 👑
Who's left to buy for on your present list? Yule be sorry not to capture preference data using a live poll. Finding out if your customers are shopping for Christmas yet and who they're buying for means you can use the data in a relevant follow up email to show them you mean business.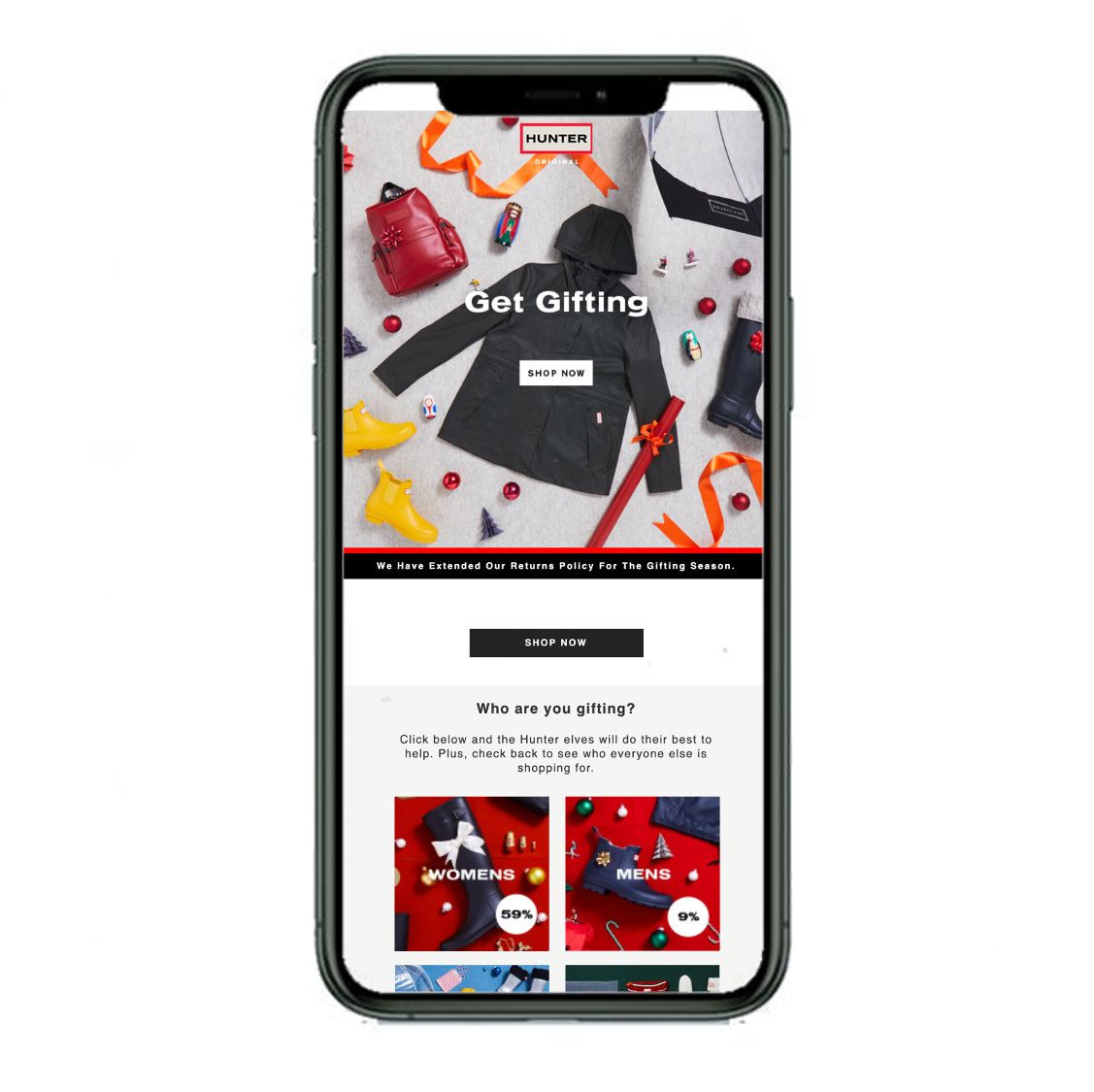 You might also want to figure out whether you're sending to Santa himself or the Grinch so you can tailor messages accordingly. This poll from Studio.co.uk was a great way to Kick off Christmas to see how recipients felt about it wayyyy back in August: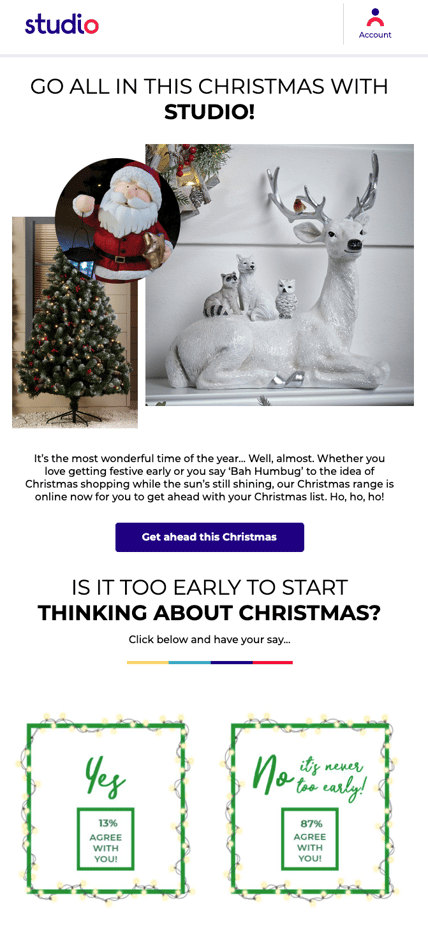 Since then, Studio.co.uk have used polls to understand how much Christmas a recipient can tolerate - luckily 76% of openers clicked on the correct answer...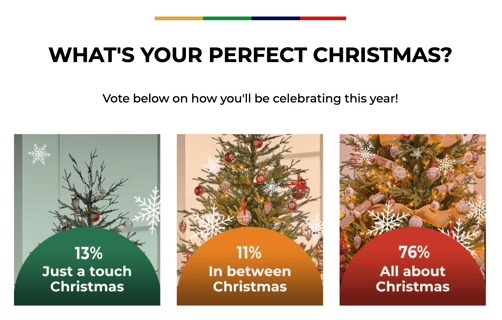 4. Advent Calendar 📆
Although I love a physical advent calendar (gin or chocolate behind each window please and thanks)… I do also love an advent calendar in an email, especially if it updates daily and if there's a special offer, exclusive discount or present idea behind each door! Any of my customers will know that I'm all about efficiency, which is why I love that you can use an advent calendar banner again and again with a one-time only setup. Winning!
Here's an example of a calendar that a customer sent for the 12 days of Christmas - 12 offers for 12 days after Christmas. Each image displayed automatically on the correct day.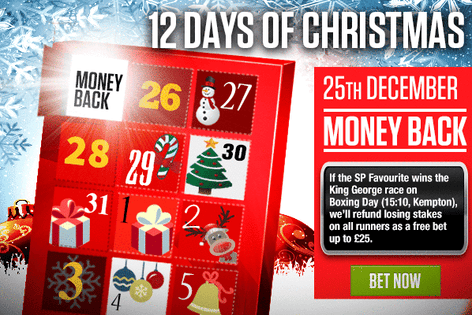 5. Trending Products ⚡
Enjoy that glass of your favourite tipple (or two) in peace whilst using our Product Recommendations for Email. Products displayed in your email stay:
✔️ In Stock
✔️ Merchandised - e.g. show womenswear products over £20 (get rid of the socks)
✔️ Don't display previously purchased products
✔️ AND reflect the top trending products onsite, whether the most viewed or most purchased.
Updating live so you can comfortably put your feet up over the festive break. Find out more about our Product Recommendations for Email here.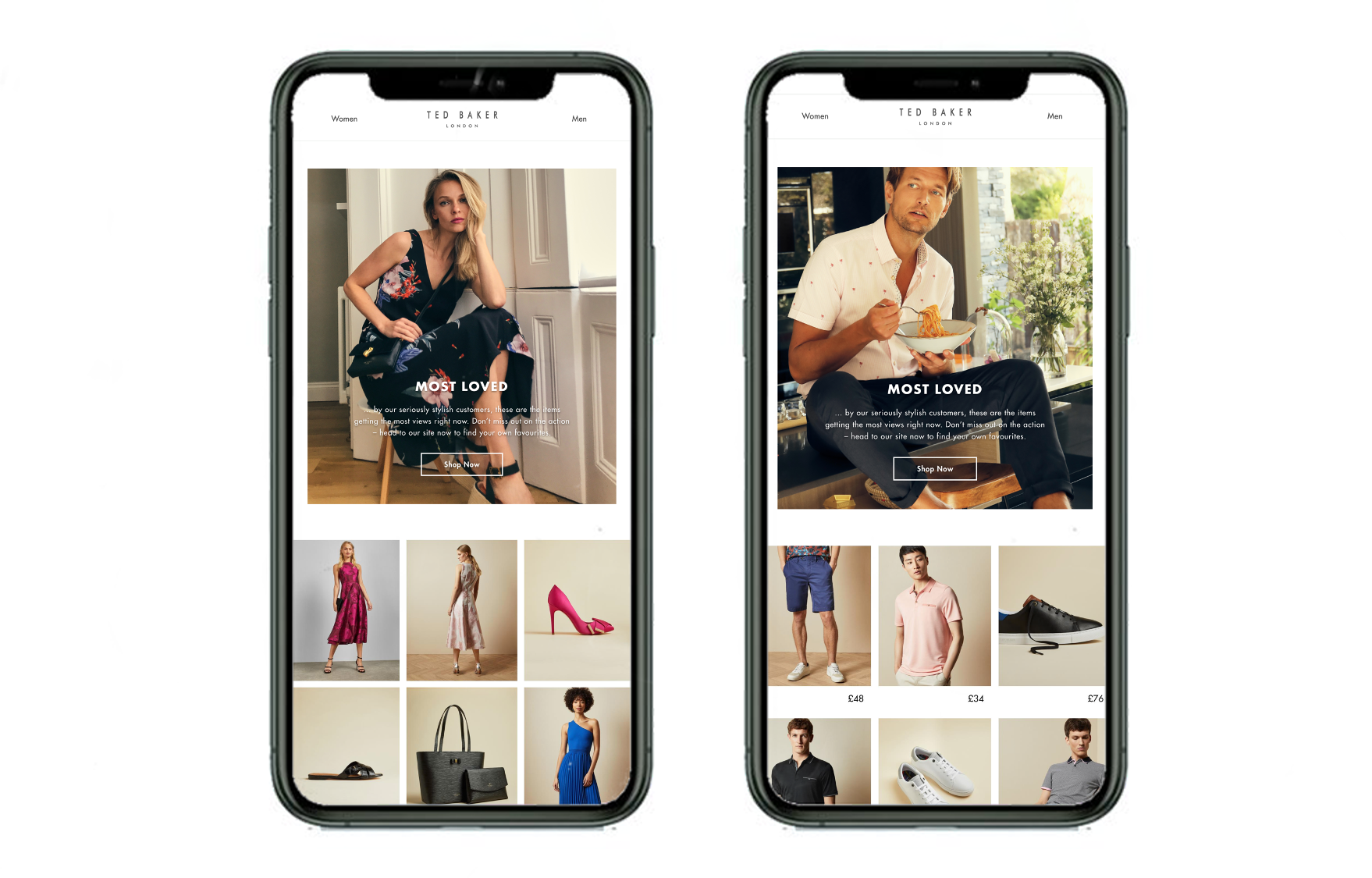 All in all some great Christmas strategies that add simple touches to elevate existing campaigns. Don't forget to be bold, be daring, be fabulous - And if you want more festive ideas, checkout our live content ideas for the holidays.