Let's share the love this Valentine's Day
It seems people's stance on Valentine's day is a bit like Marmite, you either love or hate it (personally I'm a believer that you should share the love all year round but a bit extra never hurt anyone!). However, regardless of your opinion, it is a great opportunity to spread some love and make your customers feel that extra bit special.
If you haven't started your V Day planning, then you better get moving as it's fast approaching! In the hope of getting your creative juices flowing, I've rounded up some great campaigns for inspiration, whilst also throwing in ideas of how you could spruce up your emails even further to really make sure they stand out of the inbox.
1. Date night v Galentines
This email from PrettyLittleThing asked recipients if they were choosing dates or mates this year with this poll. The number of votes updated live at every open showing PLT's commitment to social encouraging engagement in this fun way.

Take it one step further...
Polls are a great way to gather data on your recipients. Sending a targeted follow up based on an individual's click increases the relevancy of your communication.
2. You spin my head right round…
This email was definitely one that caught my eye with Boohoo treating their customers to an exclusive mystery offer code. Customers could only see the discount amount at checkout which was bound to drive conversion.

Take it one step further…
To drive urgency and encourage recipients to redeem their code, combine with a countdown timer and use timed images as the offer gets closer to expiry.
Additionally, a great way to add extra personalization is to use unique offer codes. These can feature on top of an image which means there is no limit to how creative you can be! Use a field from your CRM, merge in at the time of send and show truly unique offer codes to your recipients for that extra bit of love from you to them!
3. Get creative
No matter what your product, you can get really creative with your email designs. I like products placed in a heart shape as not only does it look pretty and is hugely relevant to Valentine's Day, but it also gives you the opportunity to showcase your best gift/product inspiration.
Take it one step further…
Know a recipient's previous browse or purchase history? Personalize the content by displaying products they have a higher propensity to buy. It's a no brainer and guaranteed to drive higher revenue because we all know showing personalized content works!
4. Make shopping easy!
Regardless of the occasion, there are always some of us who fall into the 'last-minute shopper category' (#guilty). If you're planning on sending some inspirational gift ideas ahead of Valentine's day, be sure to include all the necessary information to make the shopping experience seamless. This example from Waterstones usefully informs recipients that 'click & collect is available in as little as 2 hours' and 'free returns online and in store' – all good to know but I can't help but think that this email could have been improved with a couple of tweaks.

Take it one step further…
Provide a subtle prompt to your customer of your delivery cut off dates and times (personally I always find this very useful as I'll often star an email to return to later). This can be done through time-targeted banners and images or even an understated countdown of days. Countdown timers don't always need to include ticking seconds, sometimes less is more.
Secondly you could add a live nearest store locator to allow recipients to see the stores closest to them when they open the email. On the click, they see directions from their current location right to your store door. Perfect for those last minute shoppers who have missed the delivery cut off!
5. Because everyone deserves to treat themselves!
I'm sure we are all likely to receive lots of similar offer emails to this one from Dorothy Perkins, because after all, Valentine's Day is a great way to reward your loyal customers.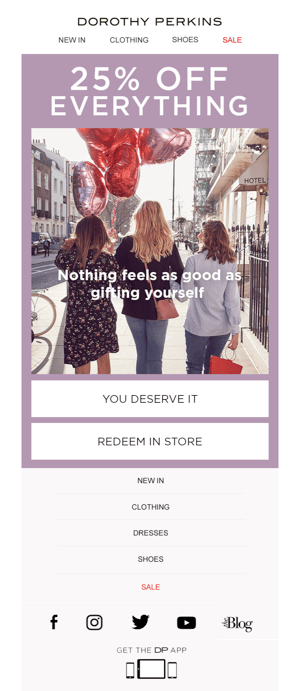 Take it one step further…
If you're going to entice your customers to treat themselves, it's great to send an email a few days before asking them exactly what they would like as a V-Day treat. Include a live poll and encourage recipients to click on the category they'd most like to shop. Live polling always hugely increases engagement whilst giving you the ability to use the results strategically to send personalized, targeted treats on the day.
Give your customers a discount code coupled with some inspiration from their preferred category and they'll love you even more. You're welcome.
6. Love letters for that personalized touch
I really like the simplicity of this email from Need Supply Co. With no products or busy design, they've gone bold and it really works.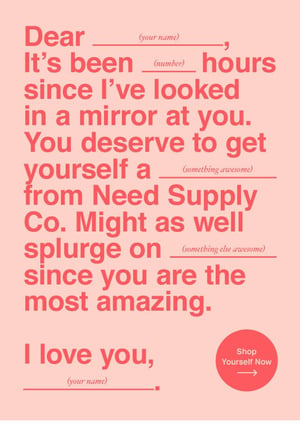 Take it one step further…
If your messaging is directed at the recipient rather than gifting for their loved ones, be sure to include a personalized first name image (this email is crying out for one!). It's a great touch for that extra bit of personalization, it can be seamlessly added to your main hero image and better still, you're not limited to web-safe fonts and it's super easy to set up!
Our gift to you 🎁
Here's two bonus quick and simple ideas for your email content to really stand out on one of the most romantic days of the year:
Date night vibes - display your latest date-worthy outfits to feel good for any date
Delivery countdown - feature a live countdown to the latest time to shop to guarantee delivery before the big night
I hope you've found my ideas on how you can take your Valentine's Day emails to the next level useful. While not an occasion everyone is on board with, it's a nice excuse to treat your customers and encourage them to treat their loved ones too. I can't wait to see them land in my inbox, let's share the love!