Here's what we learnt from the last dotlive
On Wednesday myself and Lucy Self were invited to share the #dotlive spotlight with the wonderful team over at dotdigital. With standing room only, we delved into an email design session, sharing best practices, fresh ideas and innovation to boost performance. The underlying message – good design is good business.
Toby Godfrey, Head of Client Services at dotdigital, kicked off the morning sharing his wisdom on clearing out the clutter to increase clicks. With people spending between 8 to 11 seconds reading an email (depending on whether you're talking to the people over at Microsoft or Litmus), simplifying the message feels like a good place to start. After all, the time it takes to make a decision increases with the number and complexity of choices.
Tips here included simple calls to action with interesting words. Use emotive words to actually call recipients to action. For a webinar, what's more interesting:
Reserve a place or Book my spot!
Using one call to action and repeating it through an email can be a really good way to reinforce a message and prompt action too. You might also want to use a really big button here and there if something is really important.
Next, Toby looked at space. White space to be specific. We shouldn't be afraid of it. Clear, uncluttered content with white space makes the email easy to read and the action the reader is asked to take is clear. Toby also looked at ways to draw the eye down the email to the CTA or the most important content. Using imagery to draw the eye is powerful as is centring and funnelling the text (into a kind of triangle shape) to subliminally draw the eye down the email and encourage scrolling.
Lucy and I then jumped into our part of the morning. First up, we asked the audience what content they thought their recipients want to receive. Here's what they said:
Up to date content
Personalized content
Inspiring content
Real content
Easy experiences (no friction!)
Relevant content
We then asked what email marketers want – the resounding answer?
An easy life!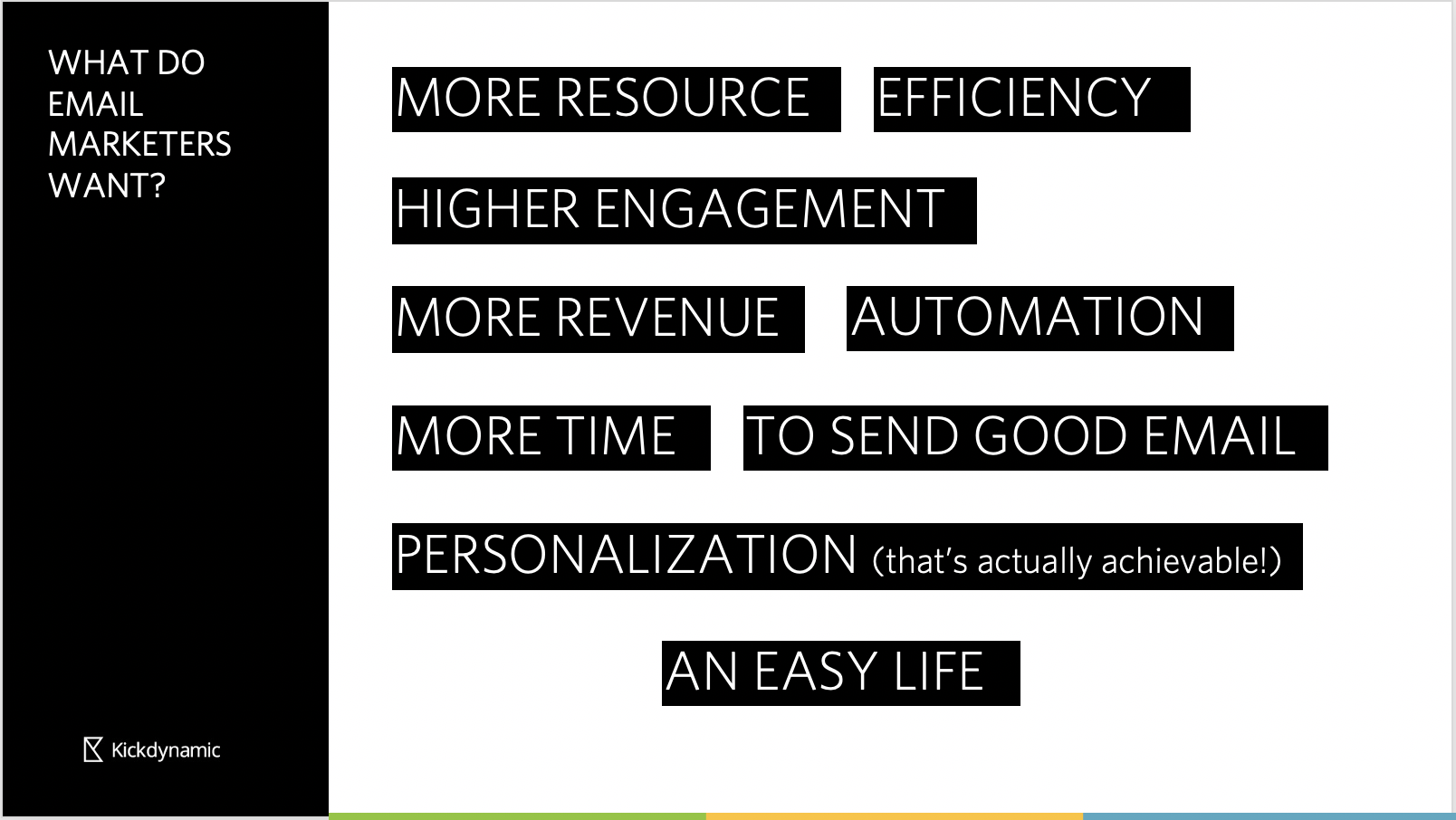 After that, Lucy and I launched into our real life examples that delivered the experiences recipients want but also make our lives as email marketers easier! Our top tips included:
Introduce powerful personalized images into key emails (welcome emails are a great start!). Pull through firstname over an image for an eye-catching in-email experience.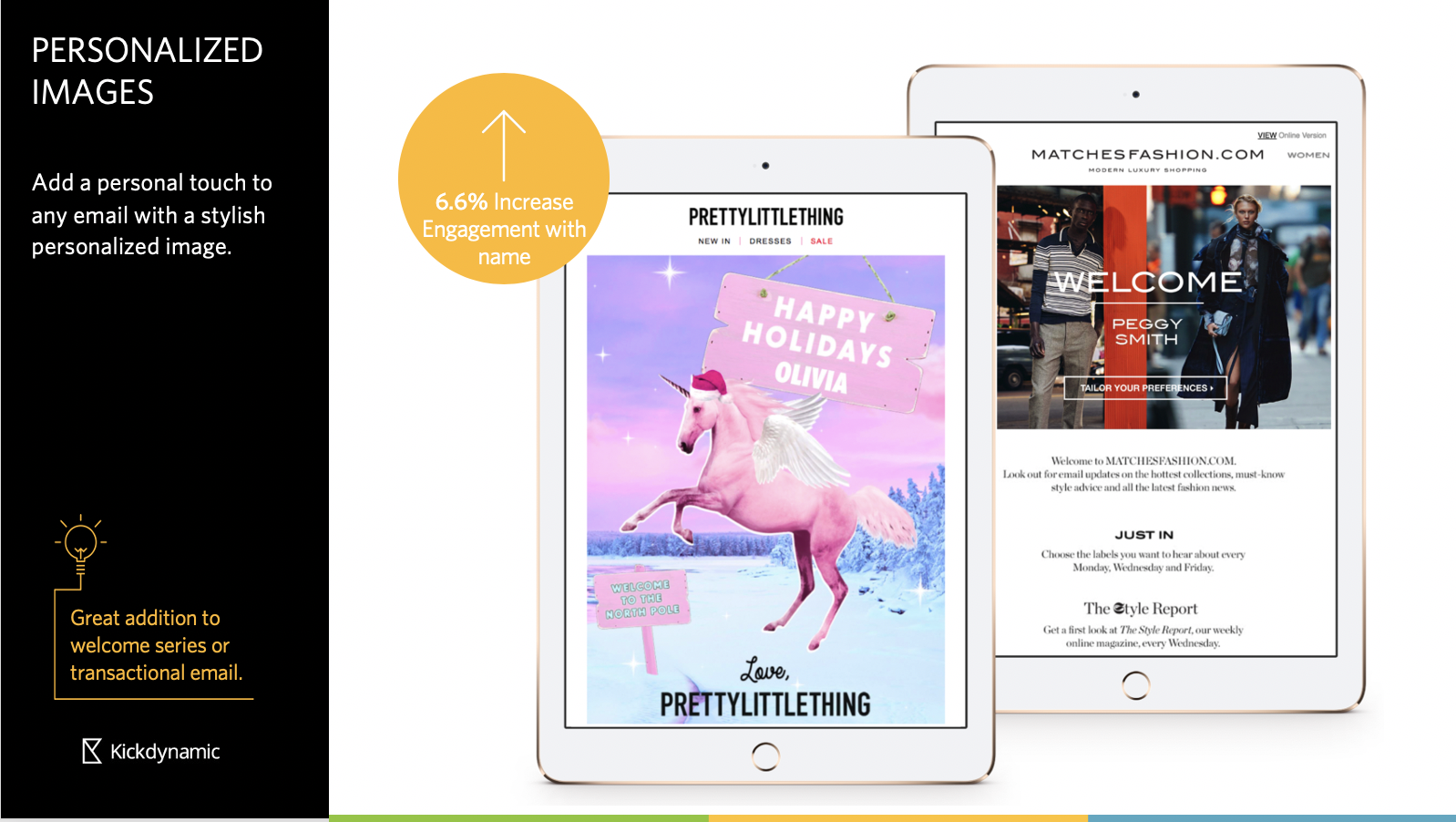 If you're using countdown timers in email make sure the content framing the timer is clear. Display the time labels (without the hours/mins/secs labels timers can be a little abstract!), provide the end time closeby e.g. ends midnight on Friday!, and include a call to action close by. Timers get a lot of clicks so a handy CTA close by will drive even more traffic to site. Another big timer tip is to swap the timer to a different image when the timer ends. Rather than displaying 00:00:00 time left to shop, swap the timer to a different image to provide a relevant experience to those long tail openers. Here's an example of this that we love: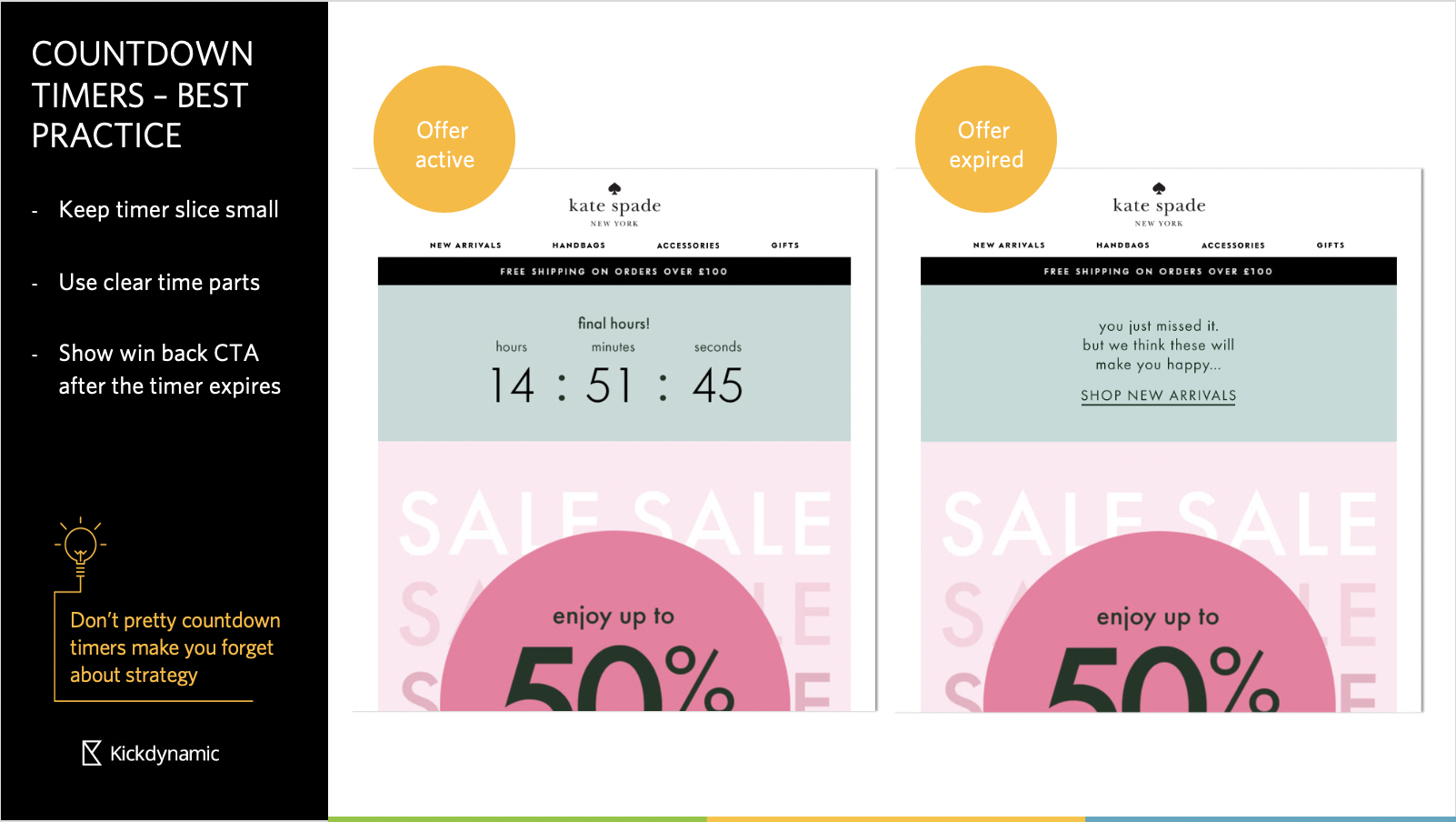 We then looked at automation and discussed why design doesn't have to be compromised because the content is automated. We then really looked at the power of automation and the design enhancements it offers alongside open time content. For example, we looked at ways to use product feed data to enhance product creative by layering over beautifully creative roundels and stock levels. Powerful designs alongside useful content (think only 3 left type messaging) really is useful information for recipients. Here's a couple of examples where product creative has been enhanced using product feed content: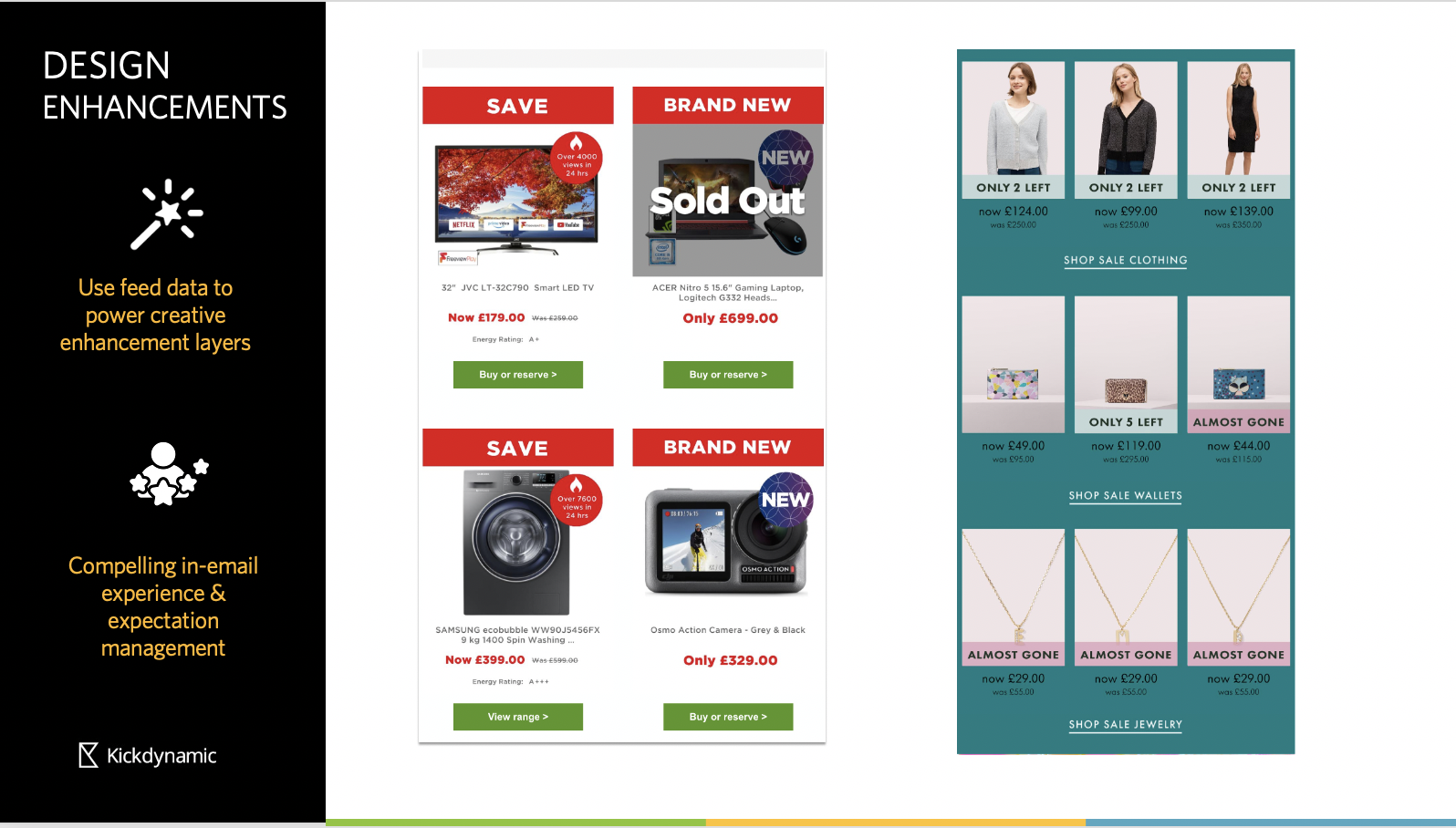 We rounded off the session with our email wish list, which looks like this: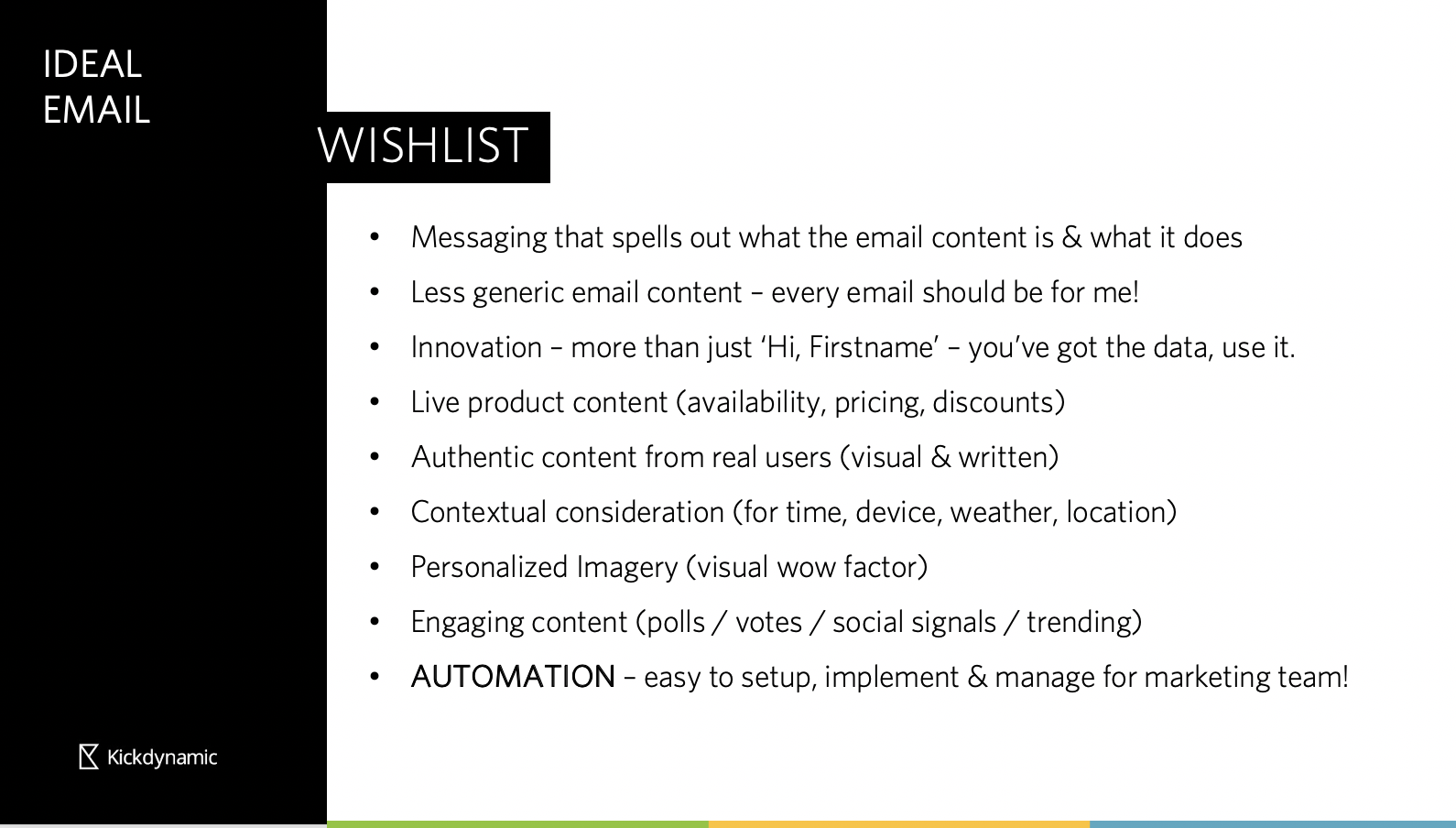 We'll be following up this session with a webinar very soon. Lucy and I will be digging into more of our favourite designs, email creatives and ideas that really pack a punch!
All that's left to say is thanks to dotdigital for having us, and thanks to all those that attended!