A round up of all the best bits from the Kickdynamic Event
Email marketers came away with very positive impressions from the Kickdynamic event held at the Soho Hotel on May 17th. Here are some snippets:
"I came away thinking about using live Weather at destination (via a Kickdynamic Tag) to send customers maybe a day before travel" Adam Gadene, P&O Ferries.
"It was very interesting to hear how other sectors are using the technology. I think we can take it a step further and use Kickdynamic to send personalised content to our assumed preferences segments" Carrie-Ann Rice, Holland & Barrett
"I particularly liked the examples of personalisation, especially from Matches Fashion. Getting the dynamic content into the emails was amazing" Danielle Allen, Selfridges
There were some recurring themes to the event. One of which was, that we are all still sending and receiving a lot of 'One size fits all' or 'batch and blast' email. The reasons for this were many and included 'revenue pressure' and the 'expectations' of the business. One point that Stasha Strazisar of MATCHESFASION.COM brought out was that there is sometimes a conflict between what you want to achieve through personalisation and the requirements to stay 'on brand' visually: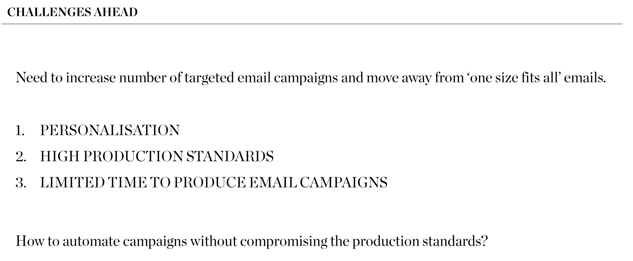 It was also really helpful to see how different businesses approached proving return on investment. Jens Borqvist of Dustin gave particularly detailed information: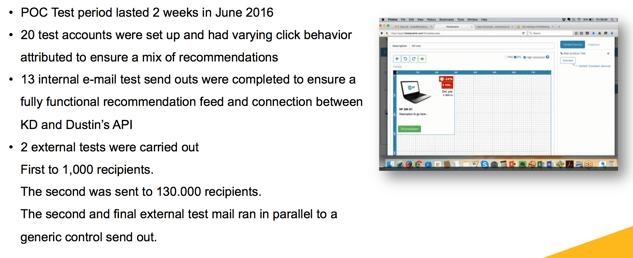 Lucy Bramwell from Asda gave compelling examples as to how Kickdynamic had saved them huge amounts of production time:
'With a large emphasis on personalisation one of the main focuses was to connect our email technology with our CRM database and kick dynamic's live content capability was the bridge to this gap.


Using Kickdynamic we can merge CRM data into Live tags to automatically show the right content to the right person based on what our database is telling us.'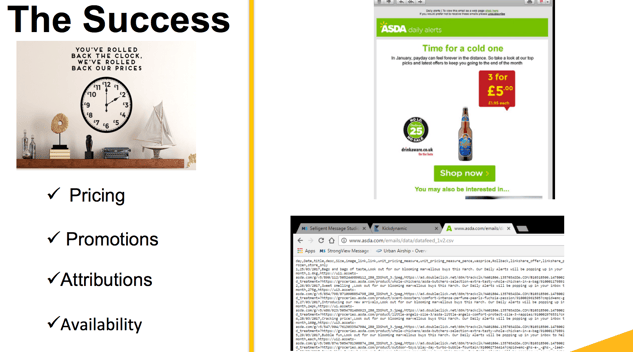 Any questions, please give us a shout.