More information and tactics for Apple's iOS15 Mail Privacy Protection
Since the first round of posts about Apple's Mail Privacy Protection hit the news in June, we now know a lot more about how things will look come September. Here are the key updates for users after downloading iOS15.
Opening the mail app for the first time, users will see a message asking them to select whether to "Protect Mail activity" or "Don't protect Mail activity." It's likely that most people will choose to protect their Mail activity, but the important thing is that it is a choice, this isn't turned on by default. As with all software updates, not everyone will update immediately, it will ramp up over time.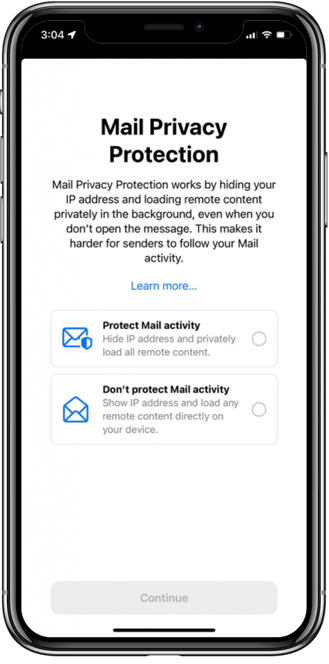 When 'Protect Mail activity' is selected Apple will pre-load all email content (via a proxy server). This will include Kickdynamic images and tracking pixels. Apple will request the images in the email and create their own copy. Emails will appear as open, even if they haven't been. Kickdynamic's images will be requested at that point, not at the moment the subscriber physically opens the email. At the moment of open, images will instead be retrieved from Apple's cache. This will affect open rates too, they'll likely be a lot higher than you're used to. According to Litmus' latest testing, they're predicting an inflated Apple Mail open rate of around 75%. Initially, it was expected that 100% of emails would show as opened however the 'pre-load' requires the user to be connected to WIFI with the mail app running in the background.
As we know, detecting the location of email open is also affected by this update. As Apple creates its version of each image to store in the cache, the location of open is now the Apple Privacy Cache. The IP address is assigned to the general location (region or country) instead of their more specific geo-location.
The above is true for any email opened in the Apple Mail app on any device – regardless of whether it's a Gmail, Hotmail, yahoo, a business domain, or any other.
As we learn more about this update, it's important that email strategies evolve to remain relevant to those opening in Apple Mail. It will be necessary to adapt your email strategy. We'll be placing more emphasis on your data and will suggest displaying alternative content in Apple Mail when the experience will be affected by the new 'pre-load' caching.
The good news is that we know when an email is 'opened' in Apple Mail, so we can build rules to display alternative, suitable content in this scenario.
Countdown Timers
Countdown timers won't be updated at the moment the email is opened by the recipient, instead, the timer requested during the 'pre-load' will be retrieved from Apple's cache. This means the timer will not show an accurate time remaining. For a better experience, we recommend using the rule builder to display alternative content in place of the timer for Apple Mail. A good alternative content would be to create an animated gif that looks like a timer ticking through some numbers with an end frame that contains the message (sale ends at), the end date and time information, and a strong call to action. The timer tag will continue to work as it does now, updating live at open, in every other environment.
For timed images, we recommend setting up your campaigns as you would usually but create an appealing alternative that will be displayed to Apple Mail openers.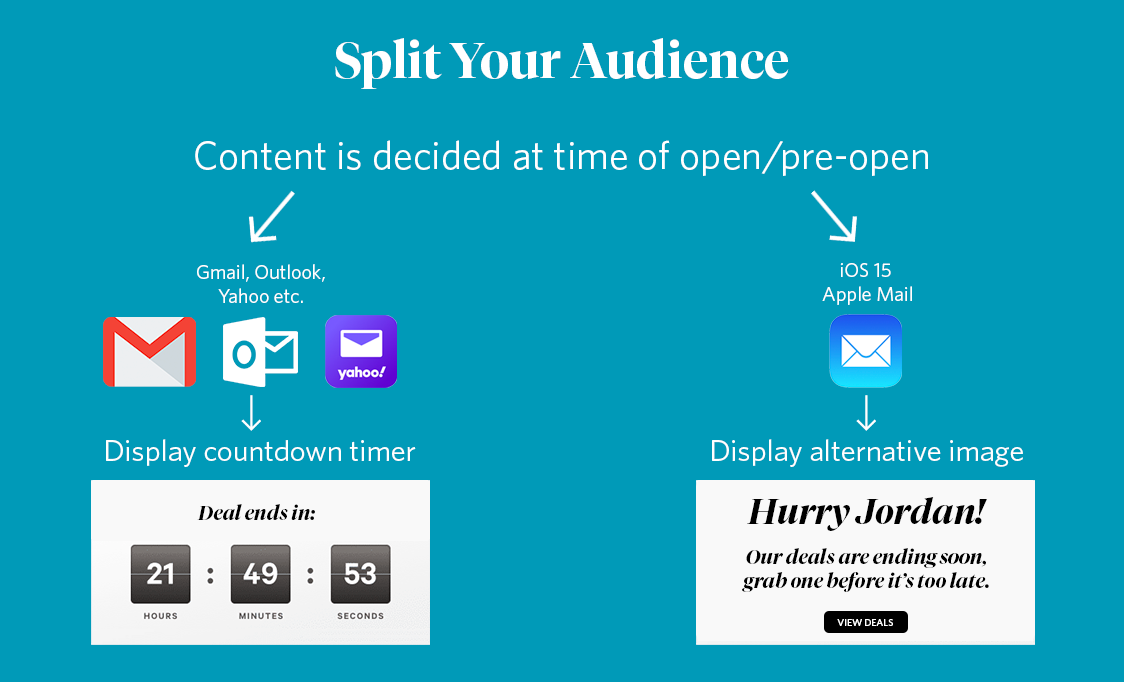 Weather & Location
As we will no longer know the GeoIP of the open for Apple Mail and given that Gmail also doesn't provide location information, we recommend leveraging first-party data in your CRM. Instead of detecting location, let's use your location data to provide personalized weather and location experiences.
Nearest Store maps can be powered using postcode data (display stores closest to the recipient's postcode), store IDs can be used to display the recipient's preferred (or last shopped in) store.
You can also create dynamic content rules using CRM data to display specific content based on the recipient's city. For example, if you wish to promote an event happening in London, you can use city address data to display the content to anybody with 'London' in their address. Similarly, you can merge a city name into a weather forecast to display the weather at that location.
Polling
Polls will continue to be a high-engagement content piece in the inbox. With polls, the percentages stabilize pretty quickly so we believe polls will be relatively unaffected by this update. However, we recommend throttling sends or sending to a small subset before the main send. This will allow the poll to unfold/stabilize. A similar approach should be taken for social signals.
Automated content
Automated content is less affected as the 'open-time' nature is less important. If you consider blog content or social content, it is enough that it updates daily. Similarly, automated products rely on data from a product feed that updates daily or every 4-8 hours, so the caching affects these tags far less. The efficiency and the benefit of automated personalization and behavioural content continues to be a huge opportunity.
As ever, we are dedicated to ensuring our customer's success. Our Account Managers are working with our customers to create personalized action plans to manage these changes. We will of course be keeping a close eye on all of the above as the update rolls out and we will be sharing our insight and knowledge as we find out more.