Hypergrowth 2019 Highlights
This year was the first time Hypergrowth, Drift's annual not-so-typical marketing event, has come to London. Over 900 marketers were welcomed to the Old Billingsgate for a day of inspirational speakers, complete with beatboxing, all the neon lights and incredible graffiti. This blog gives you a run down of my highlights.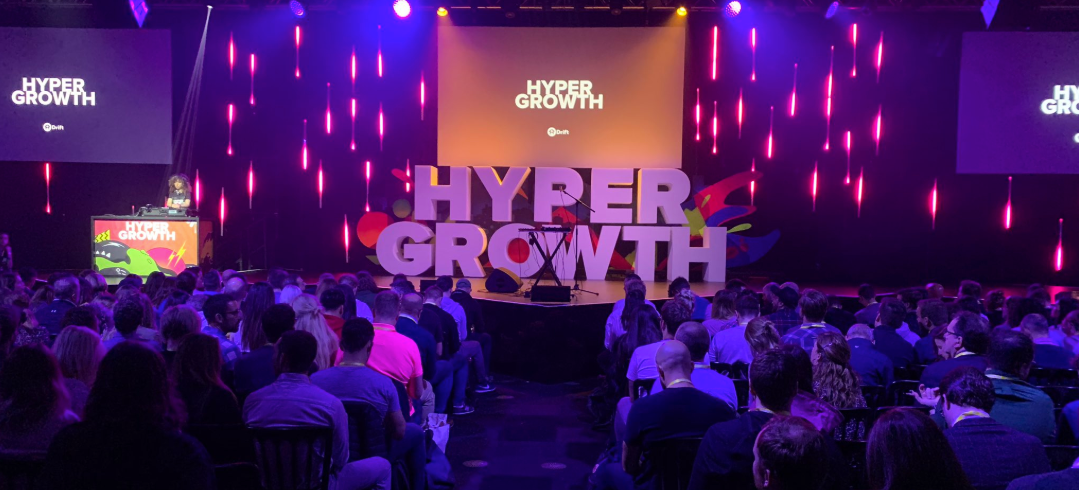 Morning coffee was not required with a performance from 4-times Beatboxing World Champion Grace Savage waking everyone up and energising the room on a very bleak Monday morning. Here's a glimpse of her performance for you! https://twitter.com/i/status/1137999596620255235
Victoria Pendleton, World and Olympic Sprint Champion in Cycling, Jockey and all round British legend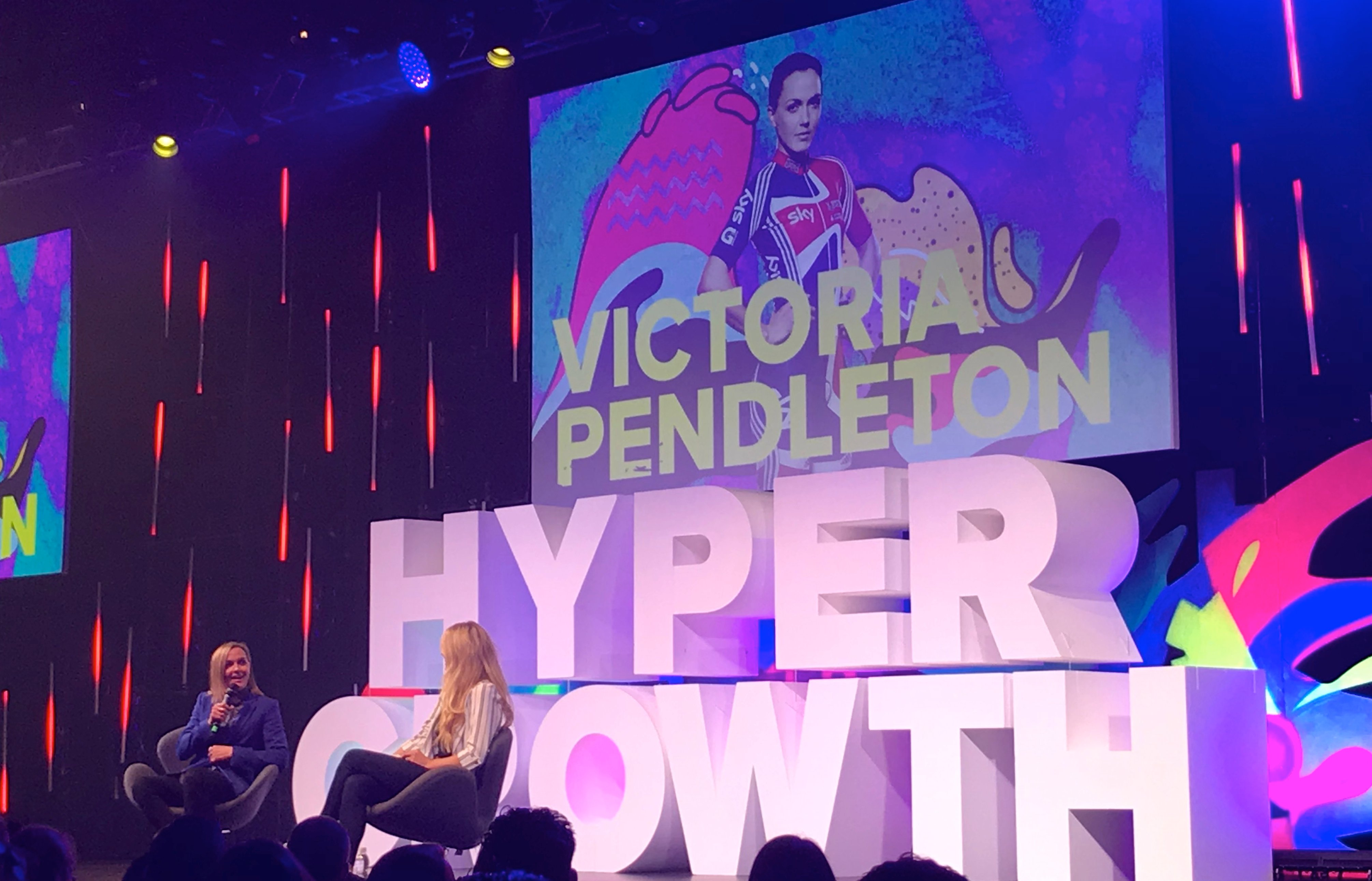 The event kicked off with an interview with Victoria Pendleton and what an inspiration she is. From cycling World Champion to becoming a professional jockey to completing SAS: Who Dares Wins, she is always looking to challenge herself.
She was very open about her personal and professional struggles, having to prove herself as a petite, female cyclist and only believing she was actually pretty good when she won her first World Championship at the age of 25. After an extremely successful cycling career including two Olympic golds, she wasn't going to stop there. She learnt to become a professional jockey within just one year, climbed Mount Everest and then signed up for SAS: Who Dares Wins, where she was mentally and physically pushed to her limits but completed the challenge, not an easy feat!
Victoria had a lot of advice for people in the room who were contemplating taking a big risk. One piece of advice was 'to be courageous' which really stood out for me. She said "Courage is not something you're born with, it's there for the taking. Claim it. Own it. Wear it." The interview ended with Victoria saying our time on this planet is limited, we should make the most of every moment we have.
Charlotte Pearce, CEO & Founder at Inkpact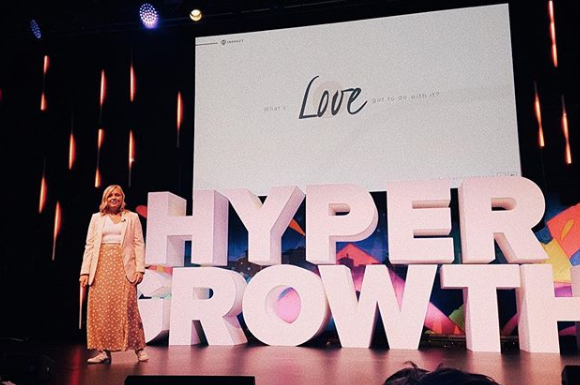 Following Victoria, Charlotte told an empowering story of what it really means to put your customer first, at the heart of your company through love, thoughtfulness and meaningful connections.
In her own words, "AR, VR, blah blah" technology will come and go, but truly making your customers feel special will forever be key to your success. You cannot survive without your customers, so they should be treated that way. Marketing has changed, customers are now at the beginning of the marketing funnel, defining strategies, not an output from it.
Charlotte summarised with the saying "people will forget what you did and what you said, but not how you made them feel". Communication must go back to the basics, after all it's human to human.
Ryan Deiss, Founder & CEO of DigitalMarketer.com
Next up, Ryan had a very different approach. He told the audience that one marketer cannot do everything and "should not be a spork" as sporks are trying to do two things at the same time and are ultimately, crap. He advised we must build teams that complement each other with different skills so we cover all bases. He said marketers should have a wide knowledge of all areas of marketing but specialise and become an expert in one or two areas and talked us through the importance of being a 'T-shaped marketer', image below.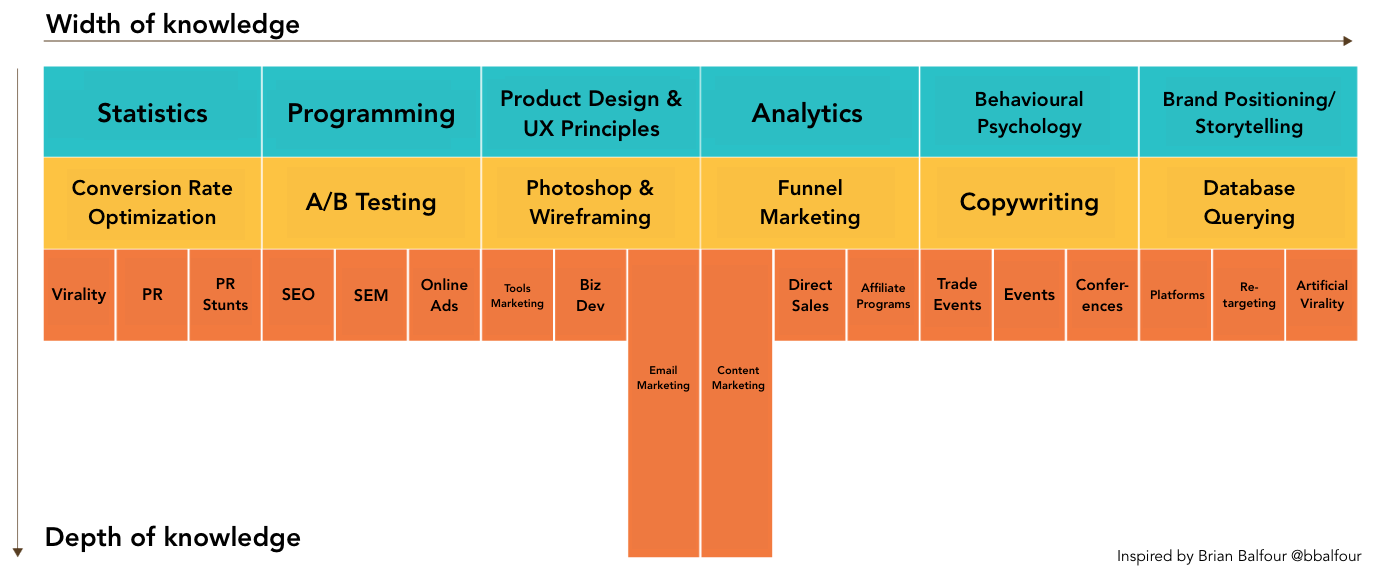 He gave his perspective on how marketers may get caught up in the next cool thing, but said we should "not be interested in what marketers think is cool but what our customers think is cool." We should keep up to date with new trends, but not waste our time with them if ultimately our customers are not interested.
Brian Halligan, CEO of HubSpot & David Cancel, CEO of Drift
After lunch, there was a fireside chat with Brian and David, a very interesting dynamic as Brian is an ex-manager of David's. The conversation was filled with valuable information with Brian talking through his experience of leading HubSpot from start-up to scale-up. Previously, HubSpot relied heavily on three main customer personas but when it came to scaling up, they realised they needed to pick just one, to focus wholeheartedly on 'Mary Marketer' and her wants and needs.
Brian believes today when starting a company, it's the first great experience that wins, not the product. He gave examples of his daily routine of waking up on his Caspar Mattress, shaving with Dollar Shave Club and getting a Lyft to work, all startups he uses because of the experience they provide.
One of the key takeaways for me was that the barrier to entry for startups is really low today, but the barrier to scale is really high. You must be a customer experience disruptor as much as a technology disruptor to survive and excel.
Sarah Kennedy, VP Global Marketing at Marketo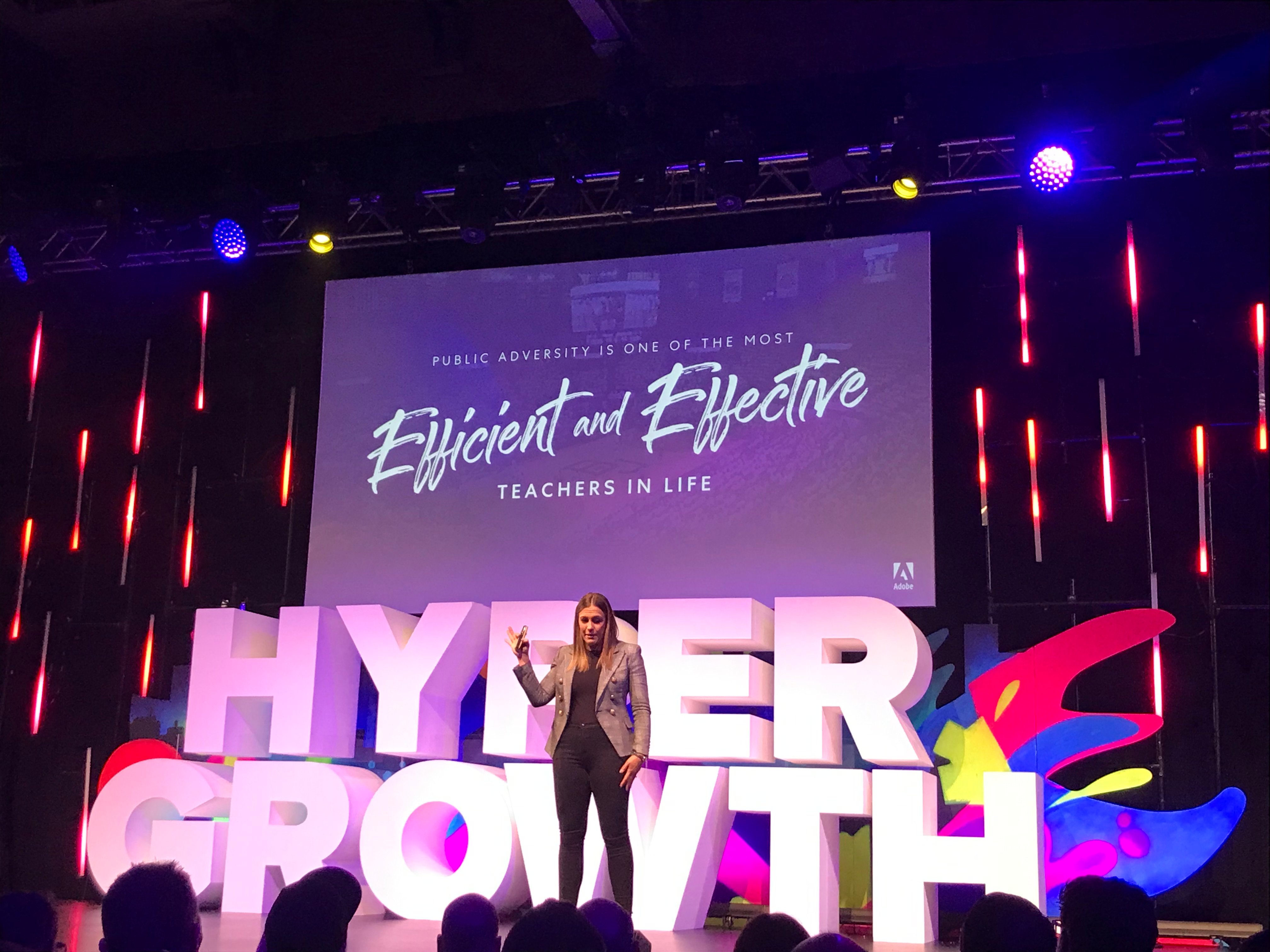 Sarah took to the stage to give her advice on how to lead through change and her top ten lessons in her rise to CMO and what she's learnt along the way. I won't go into all ten but the ones that really stood out for me were:
When you start a job, you are seen as the average of all those before you - You must overcome all of the failures of those people that came before you

No CMO has ever been fired for (justifiably) going over budget and you're not saved for coming under budget either

Work ethic and trust are more important than your intelligence, you need to call out things that are not working and change them

A CMO's number one job is change management, but you must not forget to do your job of being a marketer!

Prove yourself loudly, boldly, fearlessly and never leave any doubt!
Jimmy Chin, professional climber, photographer, and film director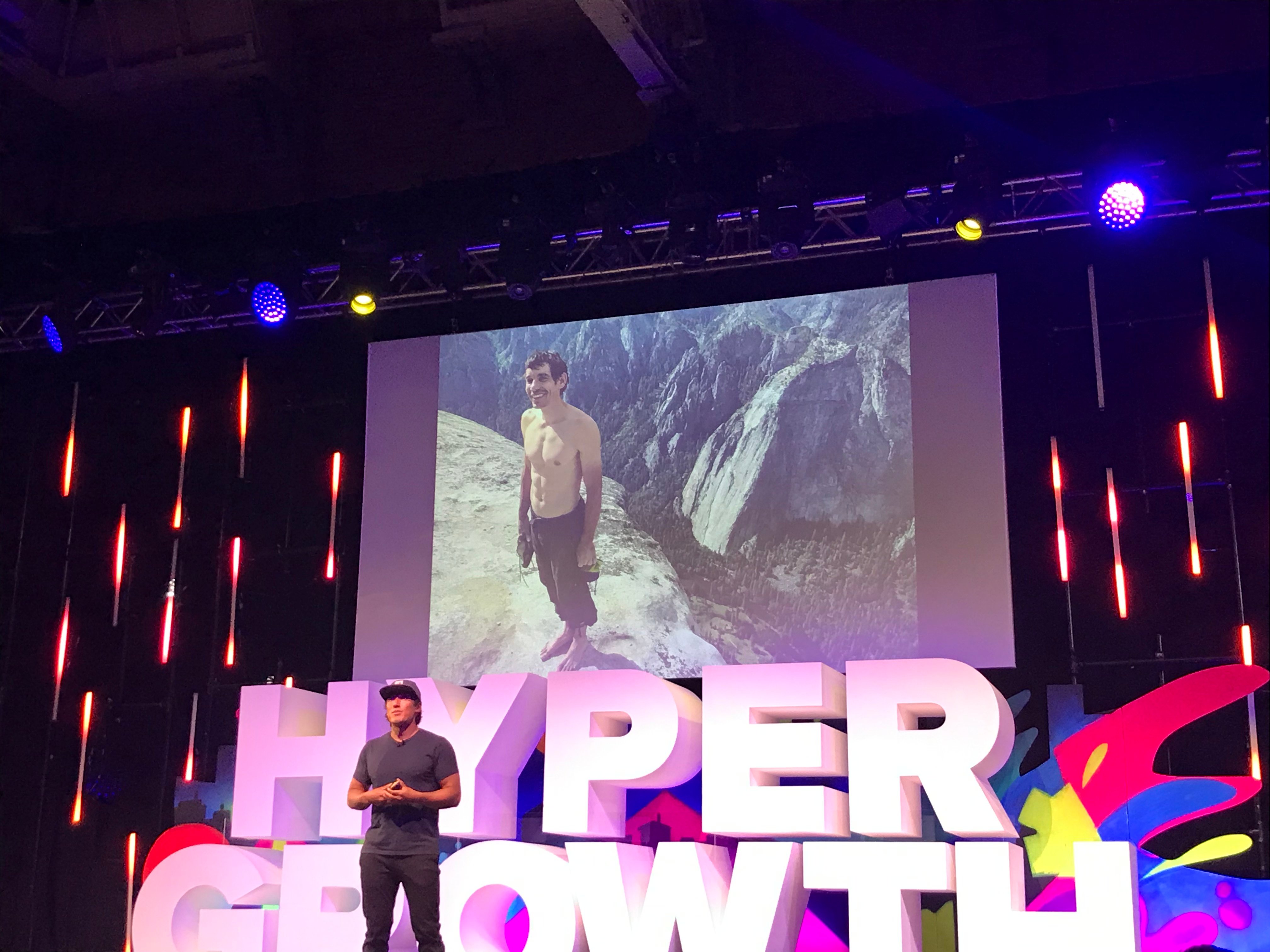 The day concluded with an incredible, breathtaking presentation from Jimmy Chin. From living in his car in a cave in Yosemite for SEVEN years, to becoming one of the best climbers in the world and then an Oscar-winning film director, the whole room was captivated. His photography is sensational and the clip of his film Free Solo had me on the edge of my seat. I will certainly be watching it as soon as I can!
The film depicts Alex Honnold's climb of Yosemite's 3,000 foot El Capitan with NO ROPES in a record-breaking ascent of just 3 hours 56 minutes.
Mic drop.
A big thank you to Drift for a great event, we hope to be back next year!