Gmail in 2019 - the low down!
Gmail recently rolled out major changes to their inbox and whilst I'm yet to see it in my account, I'm assured that it's live for all Gmail mobile app users on Android and iOS. The web client will follow in early 2019.
These changes provide an interesting insight into the way that Gmail views email and how, as the leading inbox, they are shaping the way email marketers connect and communicate with recipients. At the heart of the change is Gmail's desire to make their inbox experience richer, more visual and more useful for each individual user.
"The new Gmail promotions tab strengthens the future of personal email: amplifying the most valuable parts of the best B2C email." Jordan Grossman, Product Manager, Gmail.
Cast your mind back to sometime in 2013. Our Gmail inboxes were one generic, chronological inbox where all emails were treated the same, whether they were from your mum, brother or your supermarket. You'd send an email and it would show right up in the user's inbox.
Thinking about it now, it must have be one hectic mish-mash of emails! Gmail's answer to this was to create 'tabs' – and towards the end of 2013 Primary, Social and Promotion tabs were born. Users no longer had a chronological inbox with all emails in one place. It shook the email world in a BIG way with pretty much every email marketer asking the question "How do we get out of the promotions tab?"
Fast forward five years and it's now the norm. We're all used to the promotions tab and how it works. But Gmail will be Gmail, so now they want to elevate this tabular experience. And so, once again they are about the shake up the inbox to give email marketers everywhere something new to think about in 2019.
In the name of an 'enriched email experience' and in answer to the question: 'how can Gmail create more value for users AND for email marketers?', big changes are coming to how emails are ordered and grouped within the promotions tab.
Rather than being chronological, the new Gmail promotions tab will reward brands that provide the most value to their subscribers with a more prominent position. Emails will also be 'bundled' together based on email type. Any emails containing limited time offers will be grouped into an 'expiring soon' bundle, emails relating to shopping will be grouped into a 'Shopping' bundle, and entertainment emails will, you guessed it, be added to an 'Entertainment' bundle and so on.
According to Jordan Grossman (Product Manager at Gmail), they will use fancy machine learning to get all the best stuff to the top. These bundles are billed as Gmail making it easier for subscribers to find the most valuable messages in the promotions tab. So, in short, Gmail will now find the best emails and surface them. The goal is to unlock more value inside the promotions tab.
*Top tip*
Key learnings from my research suggest that time sensitive offers and deals provide a real opportunity. Setting an expiry date/time for any promotional email will create two opportunities for emails to get featured at the top in a bundle:
When it's first sent
Before the offer expires
Theses are two opportunities for your subscribers to engage before the offer is over.
Part of this giant project is to create visual experiences in the inbox (read: make emails look sexy when they arrive) – regardless of whether a recipient opens the email or not, they'll be treated to a little preview of the content. Now this bit, personally, I find to be an exciting update. Using a snippet of JSON code, email marketers can customise how the email 'preview' looks in the inbox. Gone are the days of a 'from' name, subject line and pre-header. You're now able to customise your logo, add elements like deal badges, coupon codes, expiration dates and excitingly, single image previews! All of this is fully customisable.
[Image: Litmus]
As I said, this is exciting! The single image preview opens a world of opportunity to use live images in this preview. Personalized images and countdown timers are PERFECT for this! Use clever messaging over the image to entice action. This change enables us to get inspiring images in front of customers before they even open the email. Here's an example: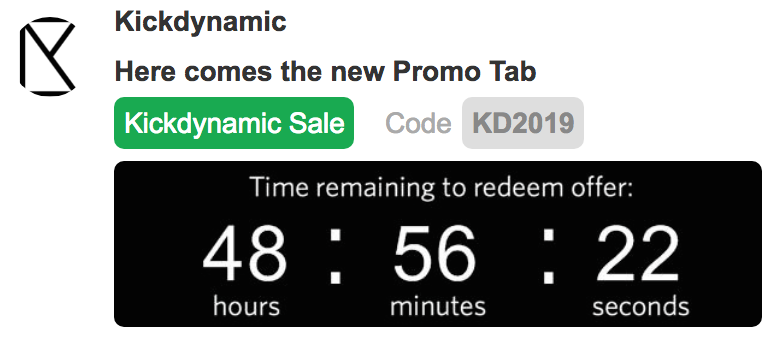 What could these changes mean?
I think there will definitely be some widespread panic across the industry when the 'bundles' come fully into play. Questions around emails being lost/deemed less valuable than competitor emails will have to be addressed. Email content will have to be 'deemed' valuable so brands need to have a great content strategy to build value and engagement.
I'm also interested to see what effect the enhanced preview will have on email open rates and email discount code redemption. If the content can be accessed without opening the email, will codes still be redeemed? In my mind this makes unique redemption codes a real priority for 2019 as this will give brands the ability to see who is opening email and using the code vs. not opening the email but being exposed to the redemption code in Gmail and using it.
So, whilst the bundles will take some figuring out, the content of emails and engagement rates are sure to be figured into the machine learning. I'd expect brands that provide compelling email experiences to rank highly in the bundles.
Finally, now is a great time to start investigating the Gmail 'preview' feature and have it all worked out ahead of time so that you've got the edge over competitor brands when the changes are rolled out everywhere. Make sure you are leading the Gmail visual experience!
If you're interested to know more, check out Jordan's Gmail Promotions tab presentation at the DDMA Email Marketing Summit for more information: