Last-minute Father's Day email inspiration!
With Father's Day right around the corner, our inboxes have been filling up with brands offering gift ideas and deals. In this blog, we have chosen a few of our favourite emails celebrating the main man. we've also given a few suggestions on how each email could be taken to the next level by, incorporating live content to stand out among the crowd.
Notonthehighstreet.com

A banner reminder to all of us who leave it last minute that Father's Day is this Sunday (20th June!)
We really like the clean design of this email. The message is simple and the content is engaging promoting personalized gifts.
Take it one step further...
To improve the email and encourage click-through, Notonthehighstreet.com could have added a live element to the email, for example including live pricing next to each of the offerings. They could have also added a bestsellers section featuring products at different price points to encourage conversion.
Grovemade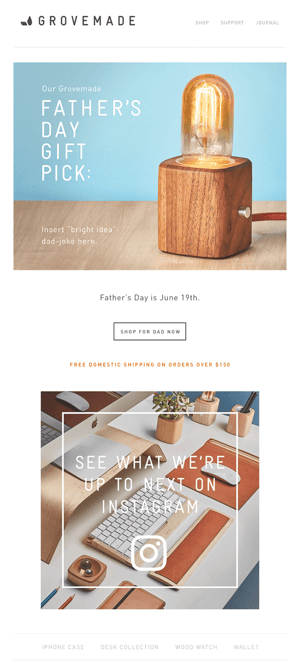 This is another email putting design first with a clean and crisp header image which really reflects the Grovemade brand.
Take it one step further...
To increase engagement, Grovemade could have made the call to action specific to the open device. For example, if opened on a mobile device, the CTA would change to "Tap to shop".
This is a really nice Instagram design. To take this further, this could be a live feed featuring the latest images from their channel.
AllSaints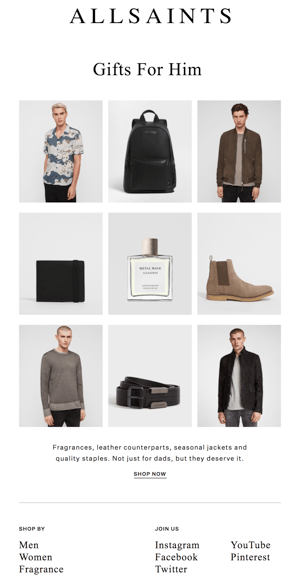 There is definitely a theme of nicely designed emails in this blog! This email from AllSaints is no exception with very simple, consistent product images in a clean design.
Take it one step further...
If AllSaints were to use live content in this email, they could update the products based on what is selling well and if a product were to go out of stock, it would be automatically swapped out so only products that are available to buy would be shown.
My 1st Years

We're sure Father's Day is a key date in My 1st Years calendar. This email stood out for us with the use of emotive imagery!
Take it one step further...
As they are promoting a time-sensitive offer, this email is calling out for a timer counting down to the end of the sale to instill a sense of urgency to make the most of the discount.
These products could be automated to show the bestsellers for recipients to see what is popular with other customers. Before and after prices can be automated and update live if they were to change again.
This blog content can also be automated to update as the content does. If a new blog is added to the site, this would automatically be displayed in email to show the most up to date content automatically.
Golfbreaks.com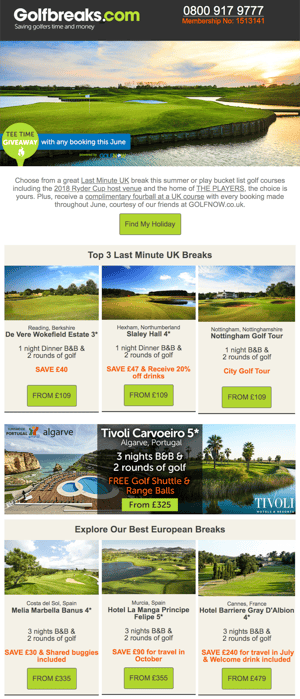 Now a gift from Golfbreaks.com would certainly make any dad's day! There are lots of deals in this email to choose from!
Take it one step further...
When featuring offers in email, Golfbreaks.com could automate the deals to show live pricing - including the was and now costs and to only feature those that are still available. If a deal sells out, it would no longer be shown in the email.
To provide a more personal experience, Golfbreaks.com could tailor the deals based on a recipient's location and show the top deals from their nearest airport.
If you'd like to find out more about how you can improve your Father's Day or any other campaigns you have coming up, feel free to get in touch!