Lights, camera, email! Ideas ahead of Fashion Week
Fashion Week prep is well and truly under way as the leading fashion houses get ready for the Spring/Summer 2020 shows.
The experts over at Fashion World are predicting nature-inspired colour palettes to dominate as consumers rethink habits and become more aware of their environmental impact. Apparently we're all ready to wear our desire to reconnect with nature and go back to the basics.
Whilst the experts over here at Kickdynamic predict that when it comes to email, brands will be stripping design back to basics. Clean, fresh style with the email content reflecting this and keeping up-to-date with the styles hitting the runway. And if you'd rather being watching the shows than building email, you're in the right place. We've compiled a few simple ideas to keep your content as fresh as the looks hitting the runway.
Live social feeds
We all know fashion is all about Social. We consume fashion on Instagram. And Fashion Week is the event of the year for influencers and fashion houses. It's the few days they have to broadcast their latest creations to the entire world. We all follow our fave brands on Insta and we're probably signed up to their emails too. So mould the two together and showcase 'live from the show' in your emails, straight from your Insta. The latest posts (plus no. of comments/likes) live in your email at every single open. If that's not good enough, how about the fact you only need to set it up once and let it run? The latest looks at every. single. open. throughout the duration of Fashion Week.
You can even filter your Insta to only show images with specific hashtags, of the most liked looks to keep the content super relevant. Now this isn't exactly new, it's already been used for many a Fashion Week email by the trailblazer that is Net-a-Porter. They include live Instagram images and Tweets in their Fashion Week emails to keep their subscribers updated throughout the shows. Neat, eh?
Example 1 (featuring Insta & Twitter):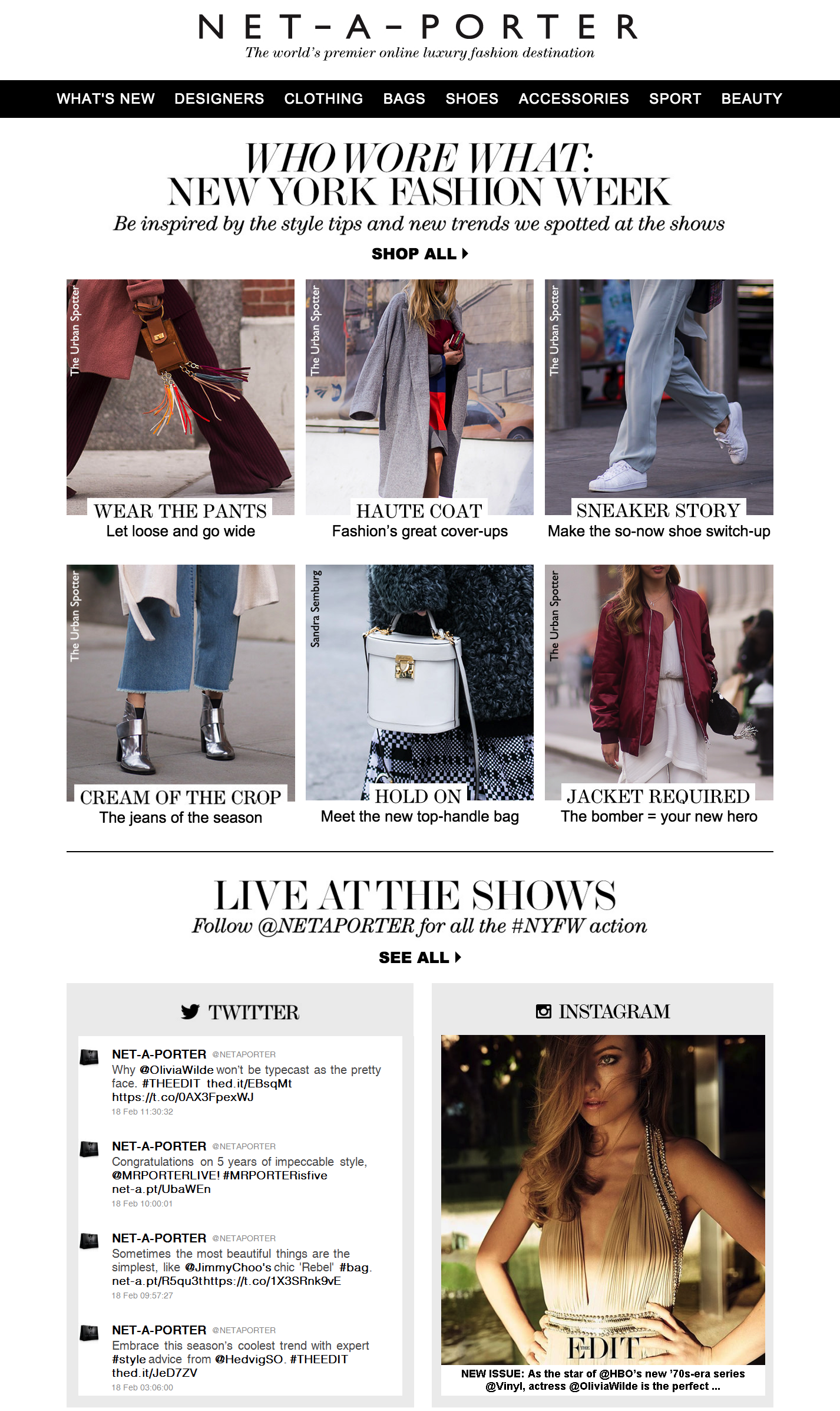 Example 2 (Live at the shows on Instagram):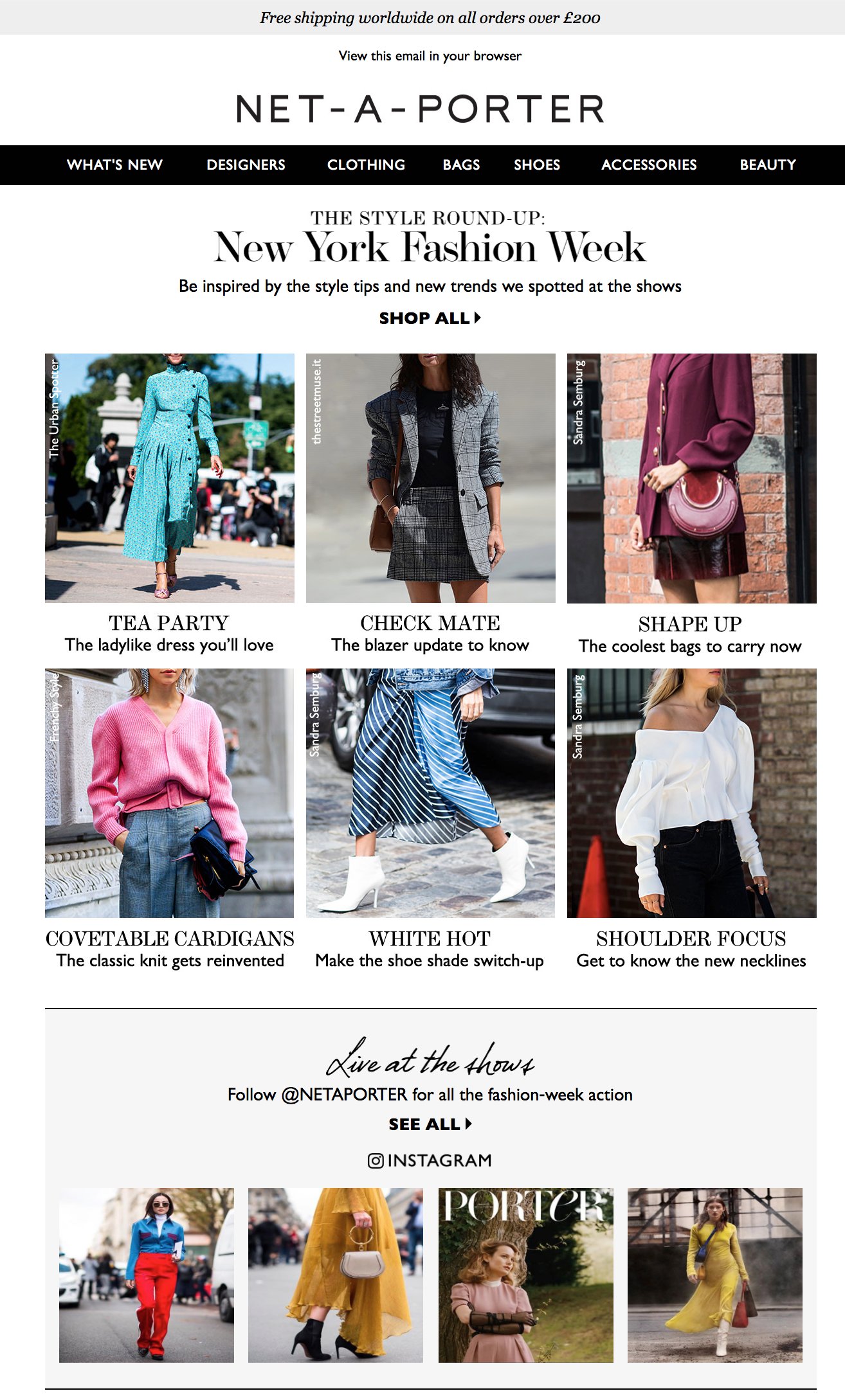 Live trending products
As the shows unfold and consumers are inspired, why not showcase trending or 'hot' products in your email. Bestsellers are a great way to increase engagement and conversion as subscribers see the social proof that their purchase is a good one.
This Kate Spade example showcases live bestsellers in a bright, fun tropical themed email. Everybody is loving those products and we're loving this email.

Shop the Look
Shop the Look is an amazing addition to include in Fashion Week emails. Build up the excitement, make the most of your influencer content and showcase the latest product information alongside.
This example from Marks & Spencer caught my eye instantly! By showing an image of the product alongside a styled version, it's a powerful way to encourage conversion whilst also increasing M&S' social following.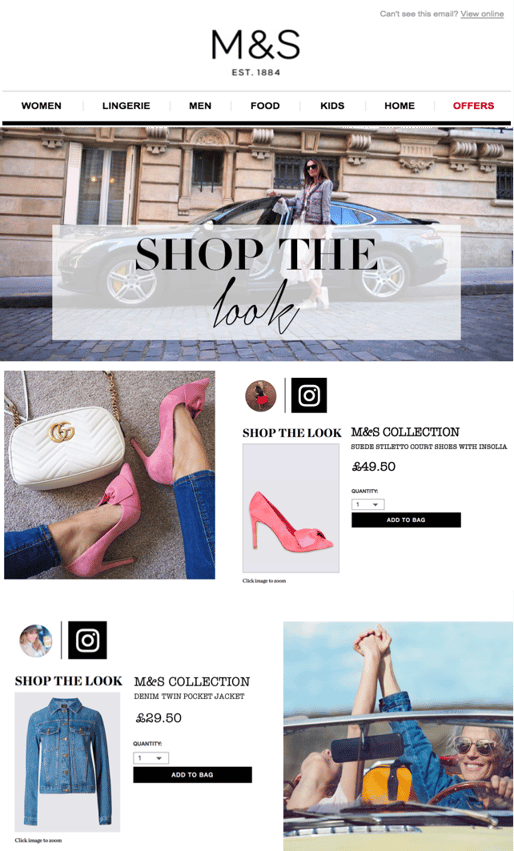 Countdown to the show
Built the hype, create a buzz. Use a live countdown timer in email to count down to the start of Fashion Week, or to the start of your show. When the show starts, switch out the content! Here's a great example from Anya Hindmarch: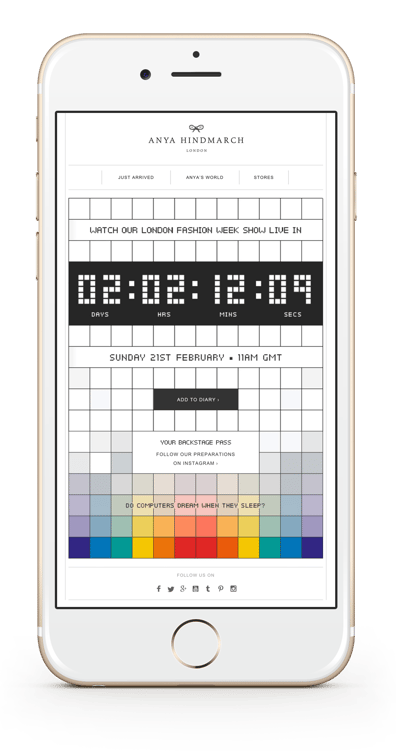 I hope these ideas inspire you ahead of the Fashion Week season. Live content in email around popular events increases relevancy and keeps you bang on trend. And after all, isn't that what Fashion Week is all about?!
Keep your eyes peeled for all the Fashion Week highlights as the shows unfold on these dates:
New York Fashion Week: 6-14th September
London Fashion Week: 13-17th September
Milan Fashion Week: 17-23rd September
Paris Fashion Week: 23rd September - 1st October
And that's a wrap!
If you'd like more ideas for your emails, check out our dedicated page for Fashion email marketers.