What results can fashion retailers expect from live email content?
Over the last 4.5 years I've been lucky enough to work with some of the biggest fashion brands in the UK and around the world, helping them to improve their email content with live images. The results have been truly remarkable. So what could you expect to achieve by making your email content live?
Countdown timers
The simplest, every-body-starts-here, widget. Done properly you can expect to see around a 10% increase in CTR. Clients have also reported an increase in orders (5-10%) and an increase in revenue of up to 30%. Interestingly timers also have a tendency to increase average order value, most likely because they build a sense of urgency in the inbox and are often paired with time sensitive offers which encourage customers to click through and buy the products they want before it's too late.
Top Tips: Show hours, mins, secs on the timer. Place a CTA close by & make the timer itself clickable. Swap the timer to an alternative image when it reaches zero.

Device Targeted CTAs
Displaying a 'Tap' CTA to openers on a mobile or tablet is a quick and easy way to boost CTR in fashion email. Our clients report increases of between 8-15% when using device specific messaging in CTAs. A quick win for a little boost in engagement.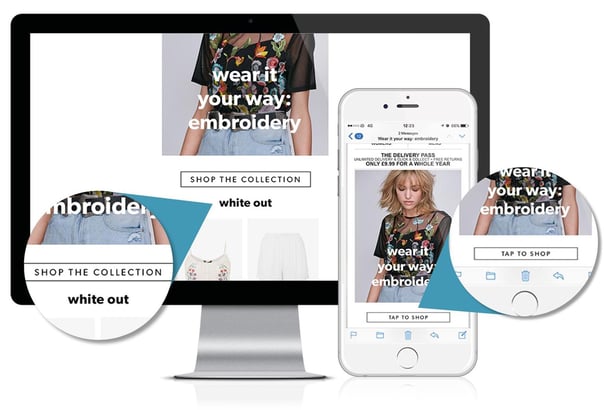 Image Personalization
We all love to see our name on stuff, and email images are no different. Adding a name over a highly designed image works wonders to drive clicks. Expect to see a 5-10% increase in CTR. Don't forget that personalized images don't have to use 'name', they can be used for anything – points balances, discount codes, store names are just a few examples.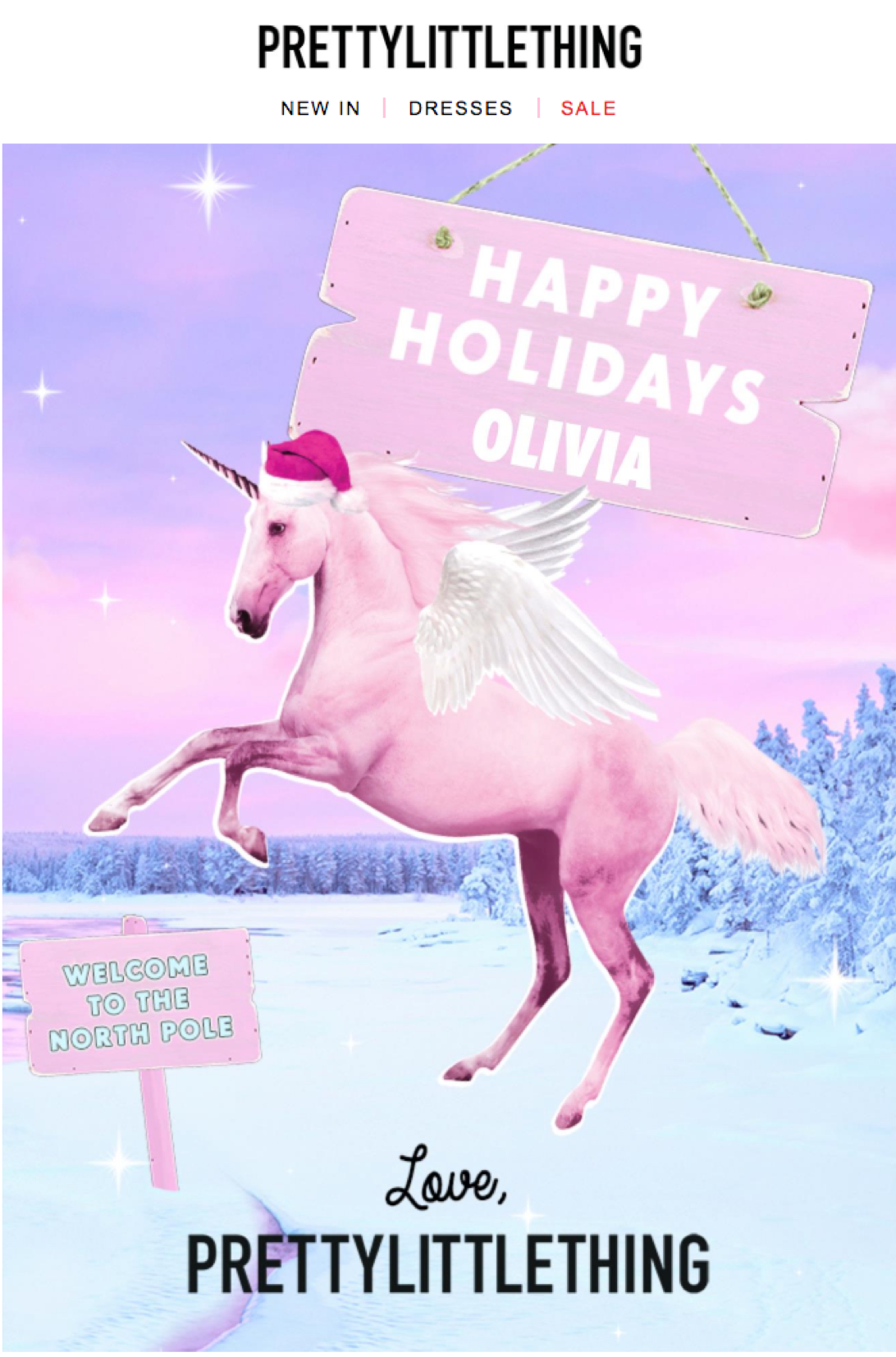 Live Polls
Whether it's voting for a preferred category or style, or asking customers to tell you want they'd like more of, one thing is for sure – recipients love to have their say. Live polls are a big engagement driver – expect to see way more opens and clicks. Fashion retailers have reported over 80% increase in CTR and almost 50% higher revenue in email versions that contain the poll.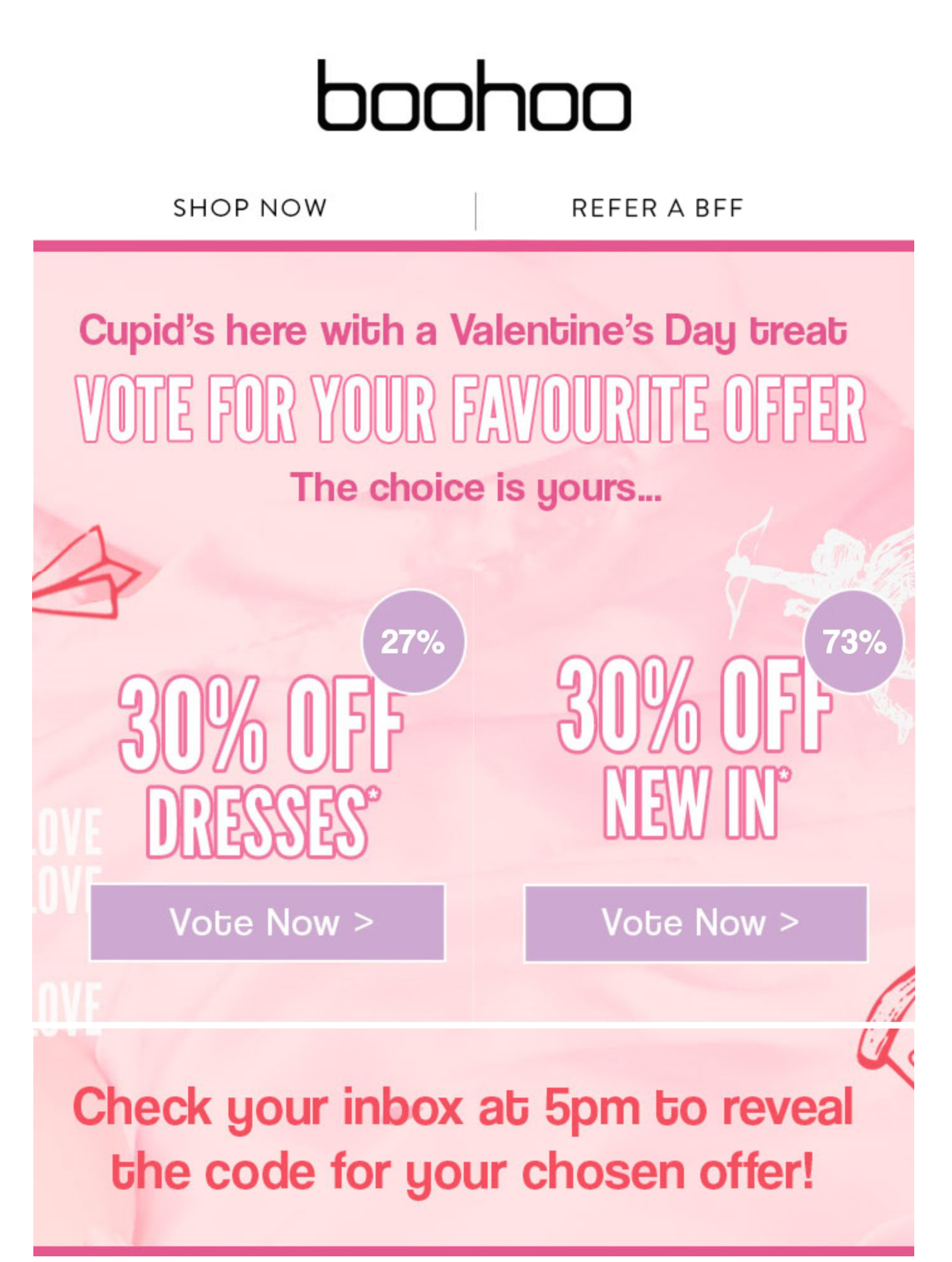 Where possible, use click data from polls to send timely follow up emails to really maximise the revenue potential. Here's a great example from New Look.
Social Signals
This awesome Social Signal example from T.M. Lewin was incredibly successful, increasing CTR by 116%. The email featured the live number of email clicks for different looks live in the inbox. On top of the CTR increase, AOV increased by over 28% and email revenue increased by almost 12%. Other customers using social signals have boasted similar results with significant increases in revenue being the most widely reported.
Content Automation
Widely regarded as the best email widget since sliced bread, Content Automation is the used to take content from a feed and automatically add it into the email. At every email open the latest information is retrieved from the feed, built into the image the user has designed and served into the email. Price changes and stock availability are reflected live.
On top of saving email teams a tonne of time, and making them super-efficient, Content Automation sets the bar high for results. When A/B split testing live product automation, live versions can often drive upwards of 50% higher revenue, over 30% higher conversion rates and 30% higher AOV.
Using content automation to power brand personalization drove over 200% increase in revenue per send for one brand and another brand reported a 300% increase in CTR when using category personalization.
Weather
Weather relevant content is a great strategy to ensure banners, content and messaging in an email are relevant. With countries like Australia and the US, weather can differ hugely depending on where you are. Changing weather based on conditions (sunny / raining / snowing) or based on temperature can ensure content is contextually relevant. In an A/B split test a weather targeted version of an email can drive over 100% higher engagement.
Find out how PrettyLittleThing use weather relevancy here.
Nearest Store
Finally, let's talk location. Nearest store modules in email may not be the highest engaging pieces but they do provide a good experience and help to drive footfall into store. Increases in clicks can be expected (up to 5% as they usually feature right at the bottom of an email). They're not really a trackable revenue driver as there's no way to measure whether somebody goes to the store and makes a purchase. That said, they're a good experience booster and help your customers to find you.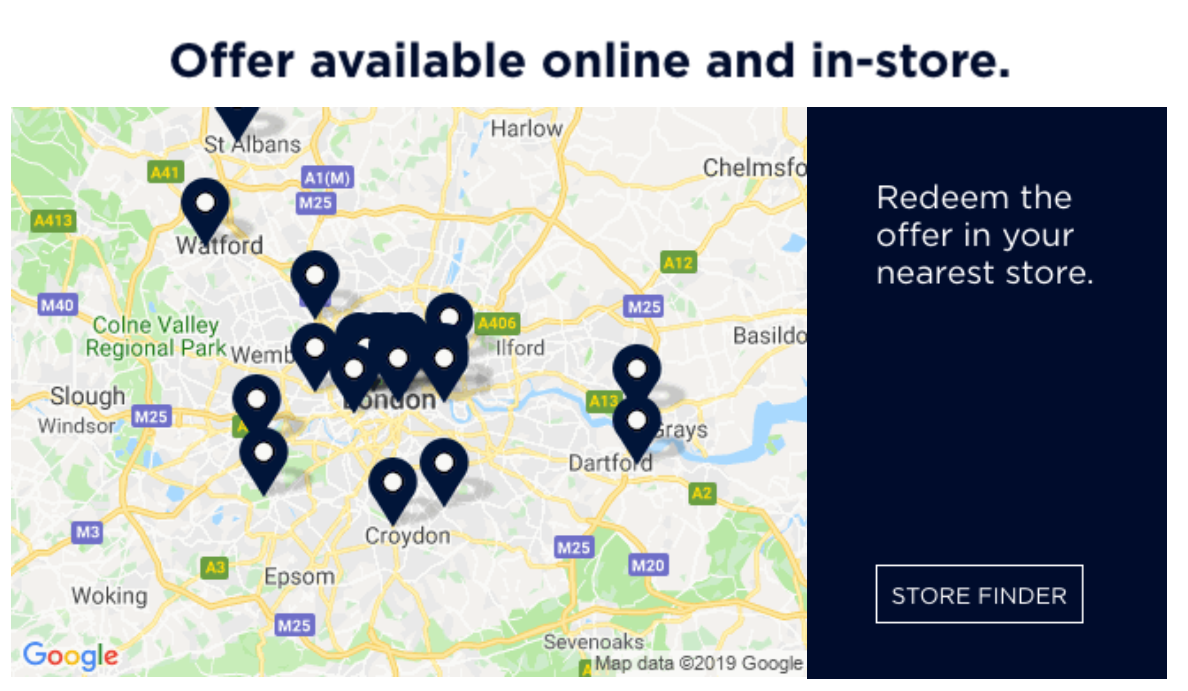 The results featured above are all real customer results. These are just the tip of the iceberg of what's possible. There are hundreds, if not thousands, of ways to use live email content to engage customers and prompt them to take action. Some are quick wins, others form long-term strategies that gain momentum over time. The ability to provide up-to-date content (no clicking through on out of stock products), and the flexibility to change content at the click of your mouse or because it's sunny where the recipient opens, means that your emails are spot on whenever, wherever and on whatever device they're opened on.