Fashion Panel Insights - Favourite Fashion Emails
The last session on the agenda at our 2019 event was a fashion insight panel featuring Jordan and Jess from the Kickdynamic team and the lovely Victoria van Buuren (Tor) from Clos19, Louis Vuitton Moët Hennessy. The panel gave an insight into fashion email marketing and the future of fashion email while showcasing some of their favourite fashion email examples.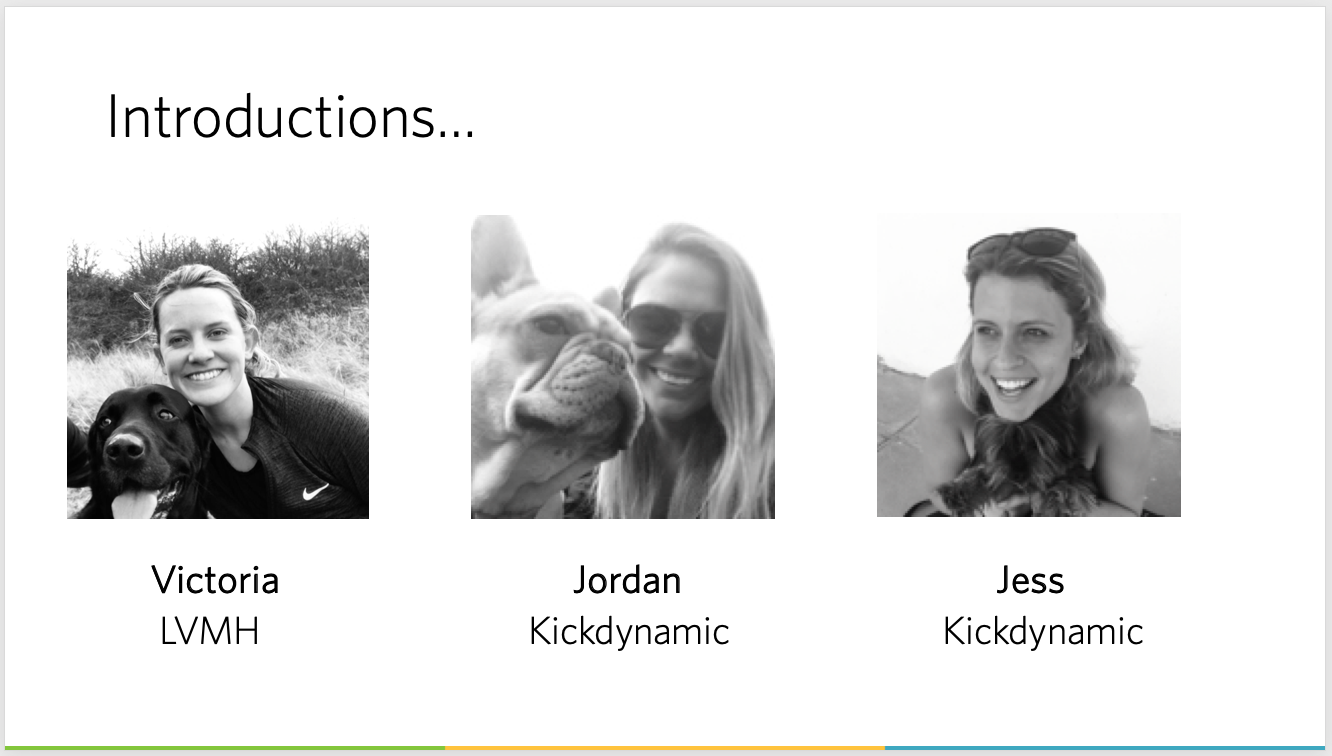 As a starting point, they jumped into discussing some feedback they have received from friends and clients of Kickdynamic about their experiences and opinions of fashion email today.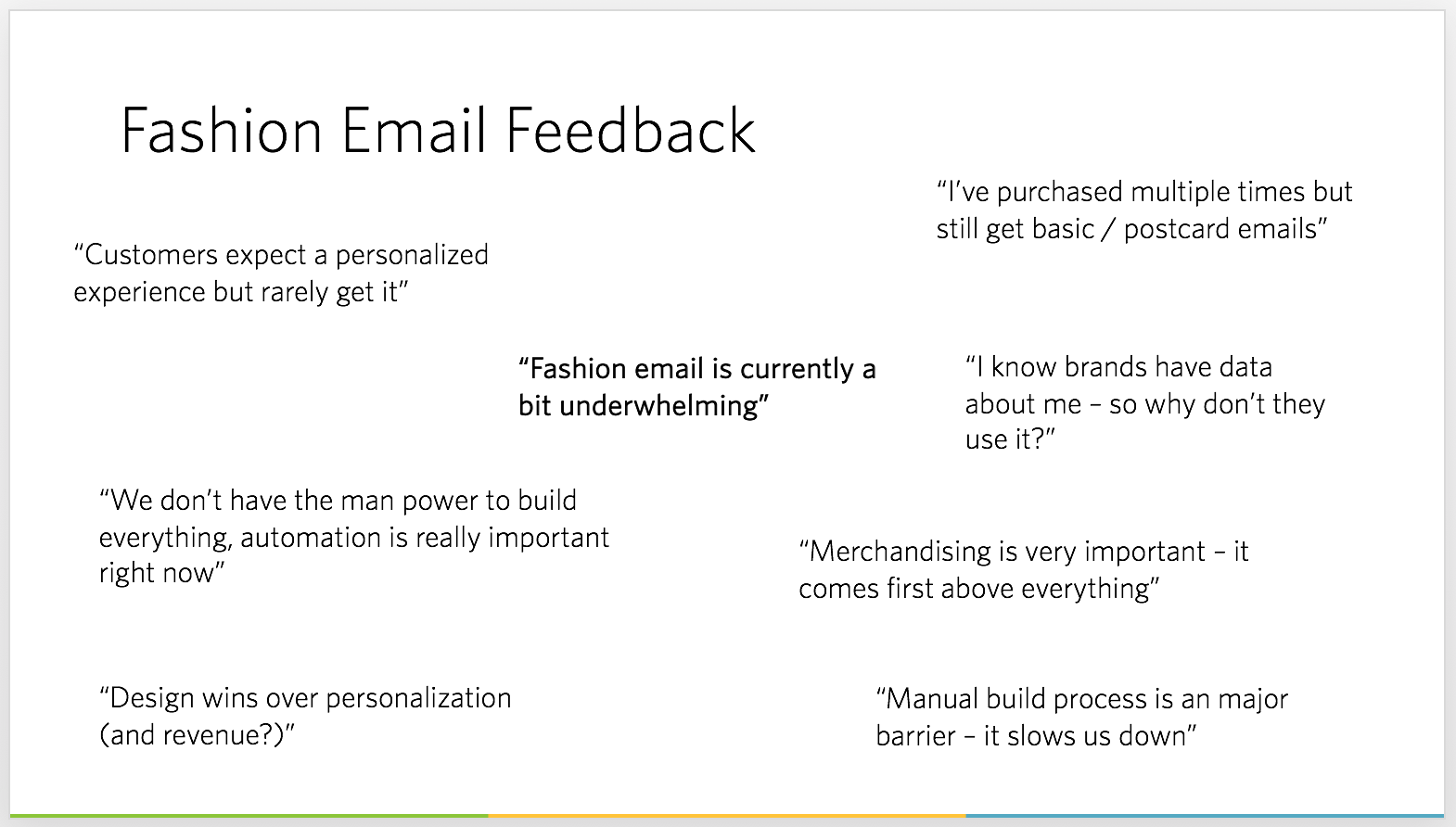 We found the general consensus was that there's so much data and technology available to fashion brands but we're consistently seeing unpersonalized, bland and rather underwhelming emails coming through to our inboxes. This moved the conversation forward to look at those fashion brands that are doing email well.
First up, Tor took us through one of her favourites...
MatchesFashion.com
Overview: When signing up for MatchesFashion.com you are taken to their comprehensive preference centre where you can select all of your brand preferences. After that, the weekly 'Just In' email rolls in. If there are brands matching your designer preferences you'll see them at the top of the email. The email design is simple yet gorgeous and really shows off their lovely products.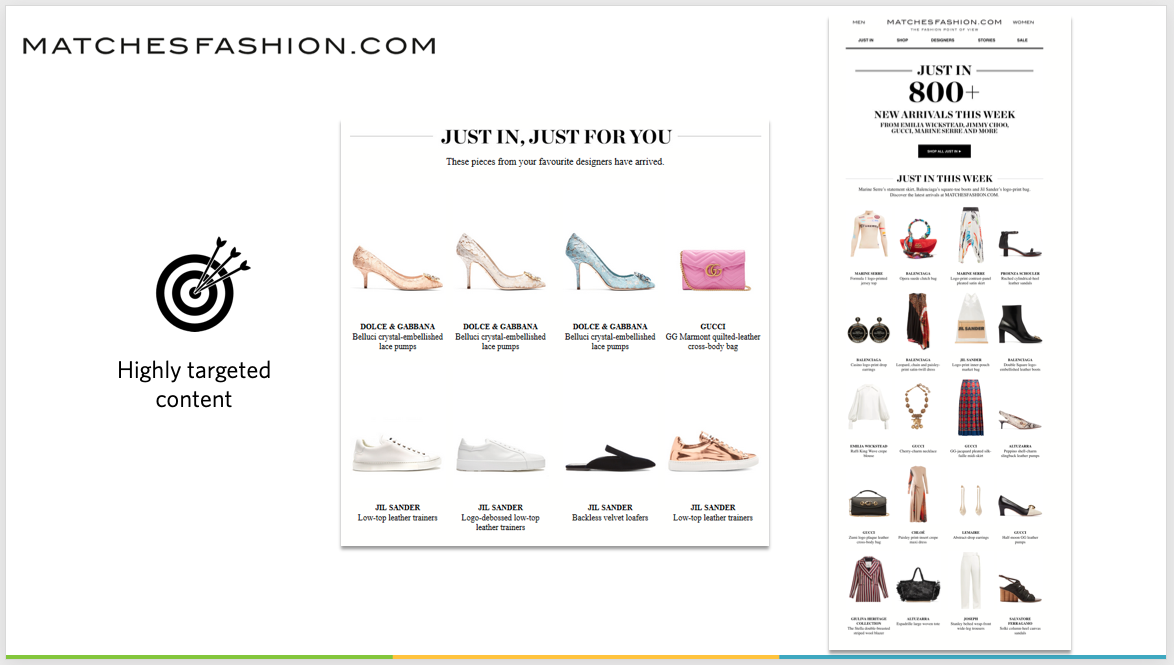 Kate Spade
Overview: Kate Spade are focusing on making their email content super relevant. Whenever they feature a countdown timer, they're really good at switching the timer out to an alternative, more relevant message when it reaches zero rather than simply showing an expired clock. The bold design, clever messaging and use of live tech to make the content relevant makes this a great example.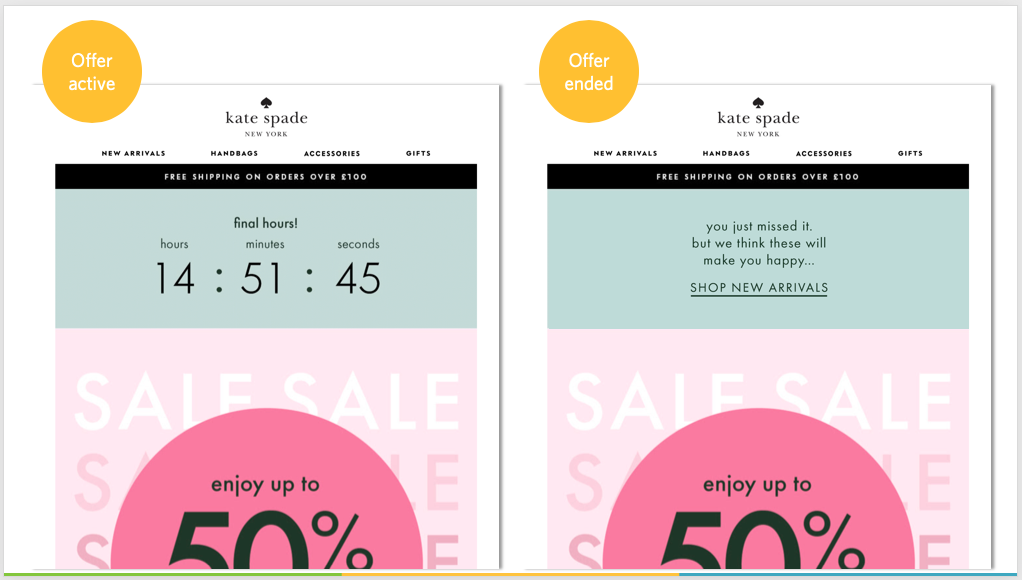 Jordan was next in line to share some of her favourite emails.
New Look
Overview: New Look are doing some really fun stuff in their emails at the moment. Recently they've added a live bestseller product row into their emails (live trending products at every open!) and have made their new in email products live (and always in stock). I love the live products from an experience perspective - they're all available to buy at every open maximising product discoverability and revenue opportunity. They've also added a weather forecast to some of their emails to add something a little different and used messaging like 'Dress for the weather', I really like this fun approach. They're also using live social feeds and location-based nearest store functionality so recipients can locate their nearest store (and get directions) wherever they are.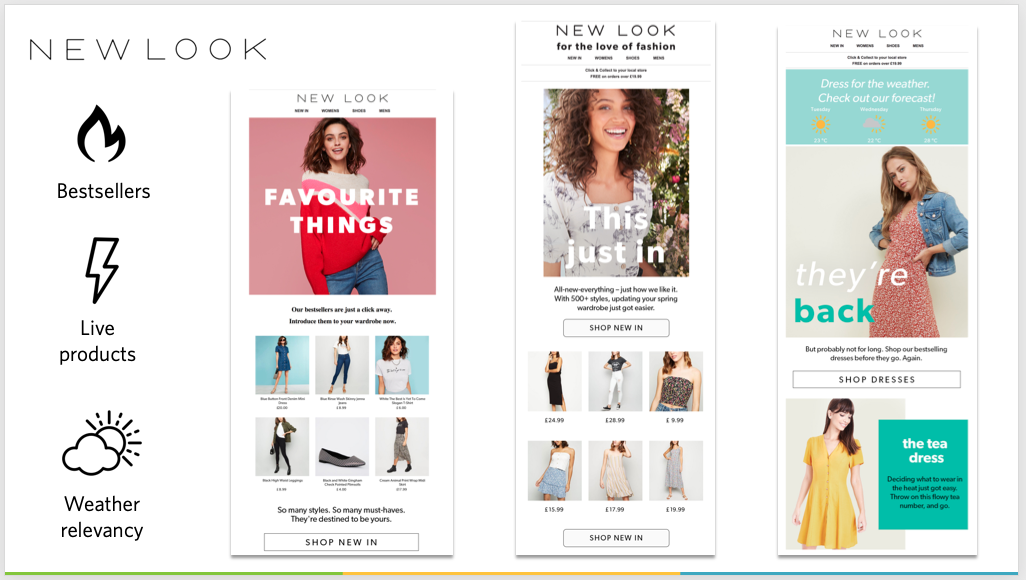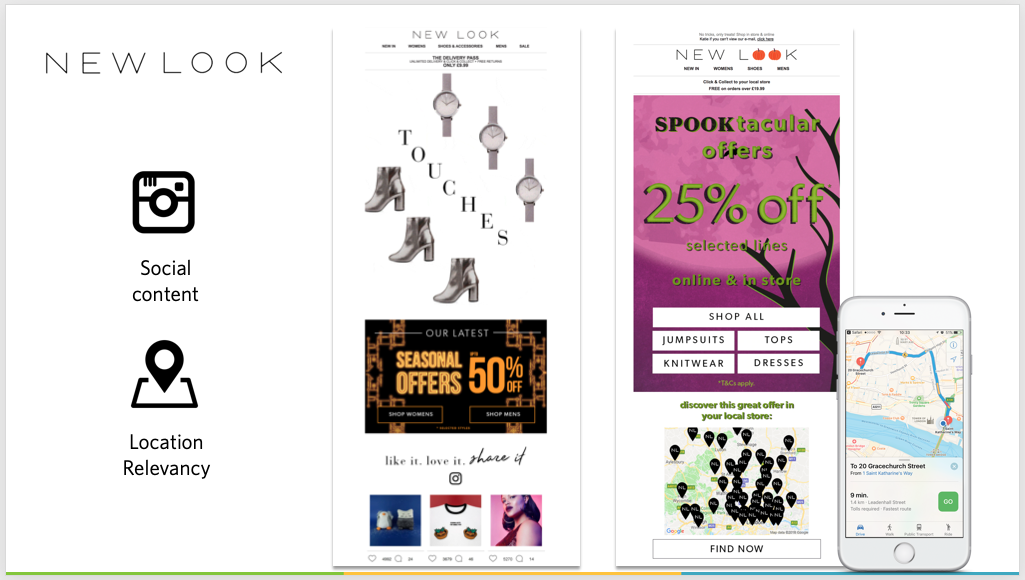 Zalando
Overview: Over the last few months I've really noticed a change in Zalando's emails. They've moved from a design-led approach to a definite personalization led strategy. Emails have become stripped back and all about the products featured. And the product content is super personalized. This email example below features products I've browsed (designer wedges and walking shoes - after searching for weddings and an upcoming walking holiday) alongside each other in the same email even though they would never naturally sit alongside each other in a curated email. Zalando also send a lot of personalized emails based on category browsed and brand preference.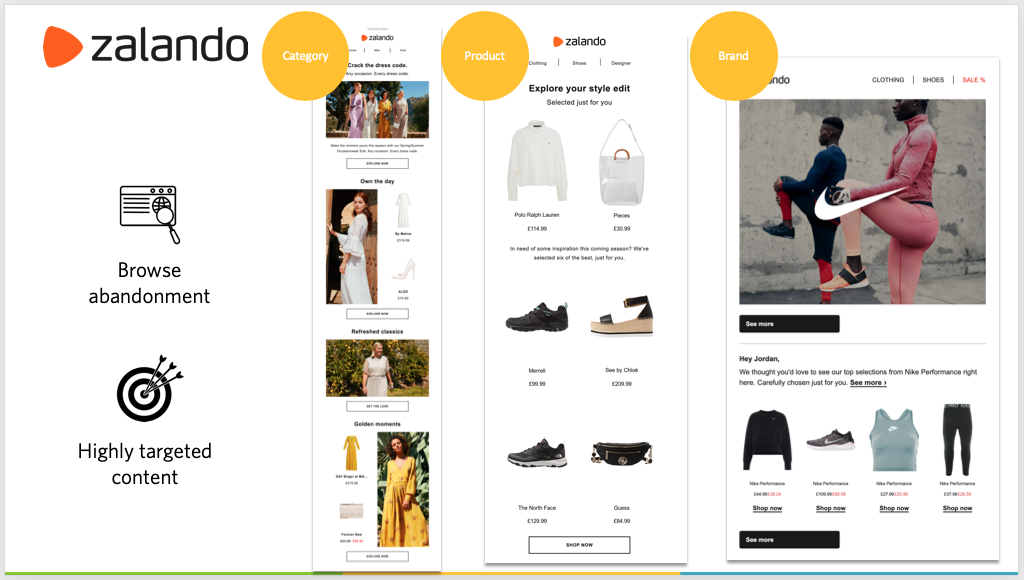 Jess then talked through some of her favourite emails.
PrettyLittleThing
Overview: In the world of a fast growing, fast fashion brand with fast moving stock, PrettyLittleThing use open time tech to feature the same deals in email that are on their site, updating in real time. PLT also use tactics for increasing engagement such as personalized images and live polls.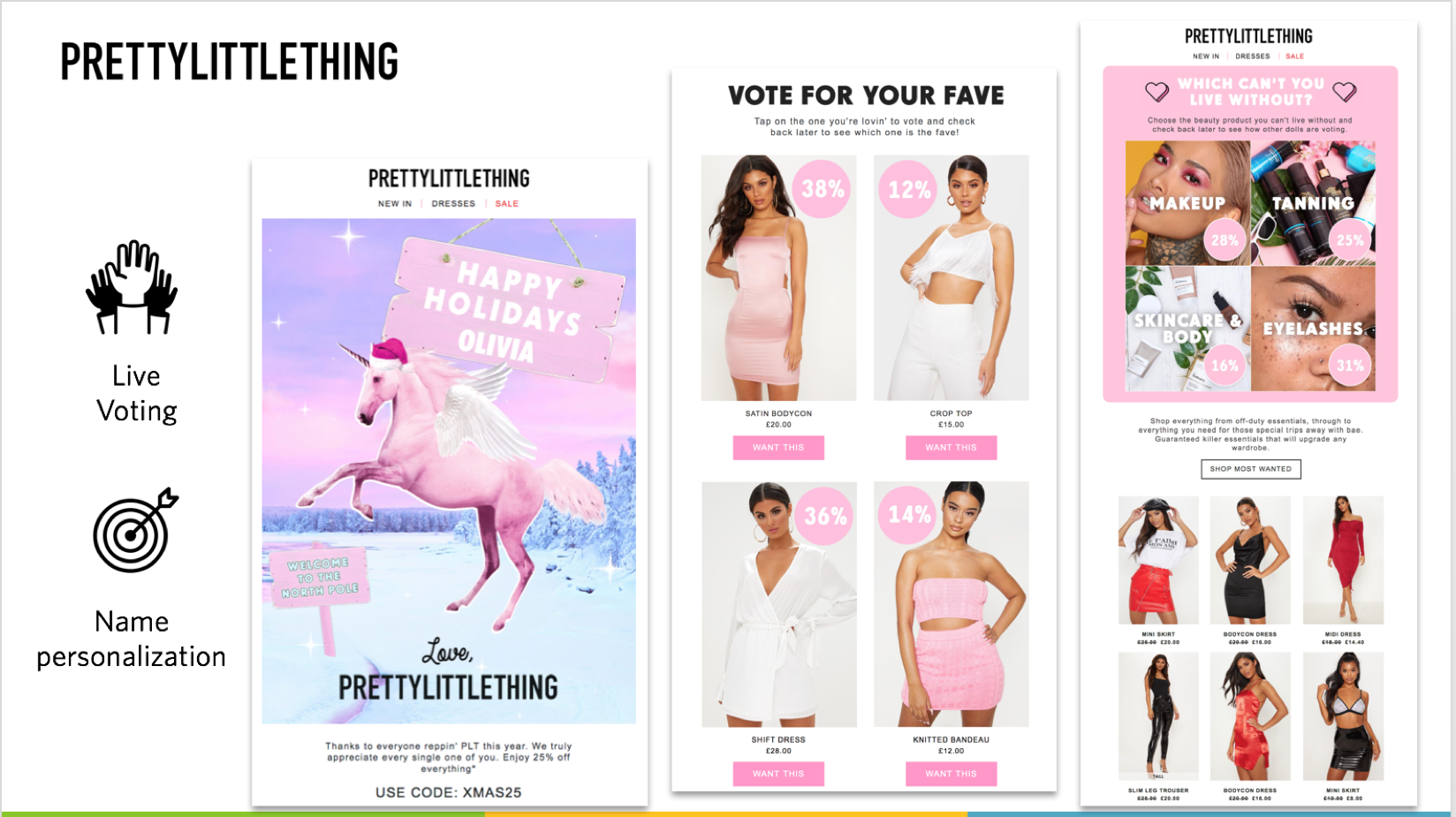 Boohoo
Overview: Similar to PLT, Boohoo are competing in the same fast fashion market and have increased customer engagement in some of their program emails using live polls. Using the data captured from their polls, they're able to send tailored follow up content to their subscribers based on their vote.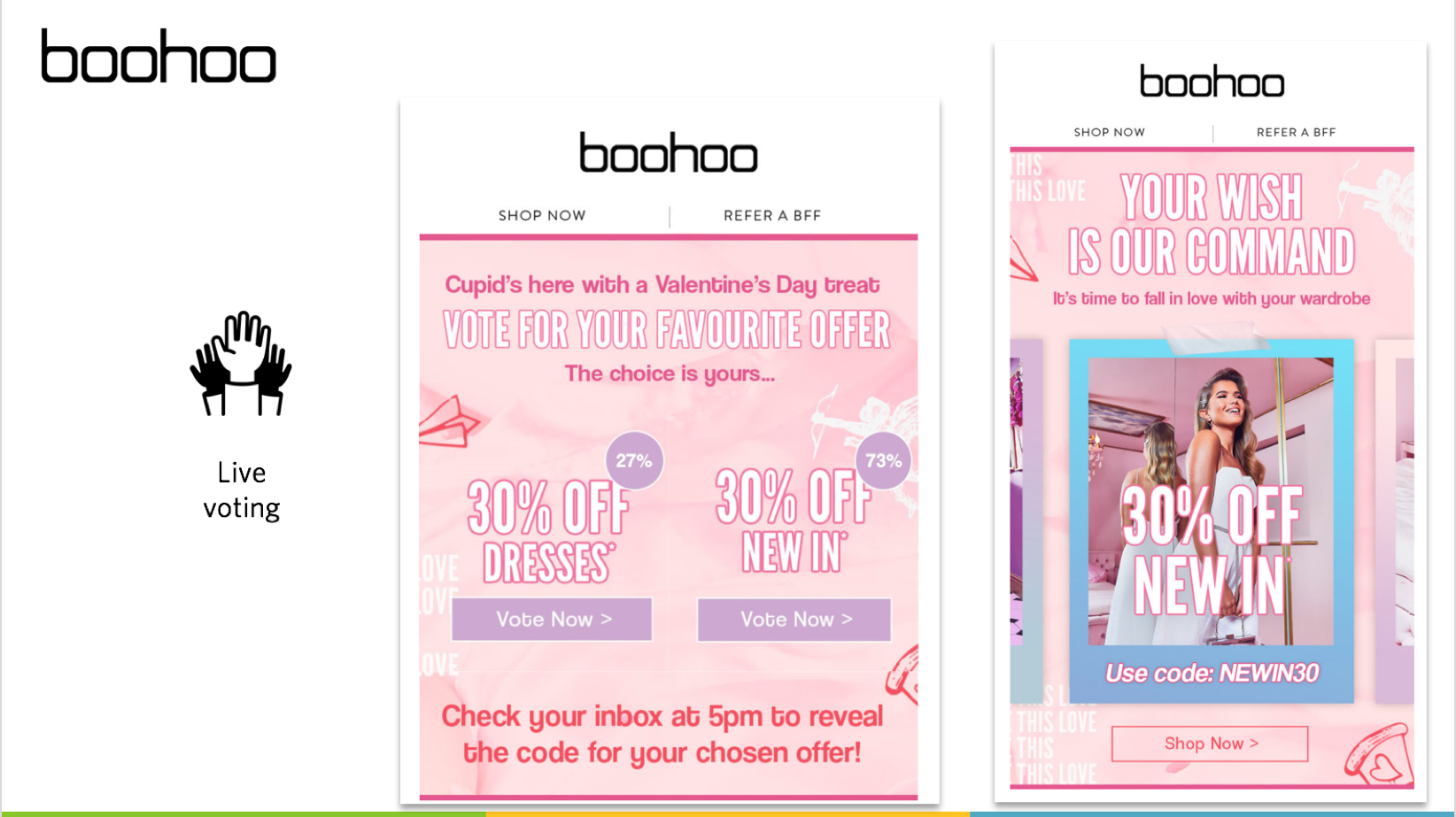 BrandAlley
Overview: BrandAlley are a brand using browse abandonment emails very well. Within half an hour of Jess abandoning a dress for the races she had received an email featuring the exact dress alongside others she had viewed. Taking this further, they also displayed similar dresses she may be interested in.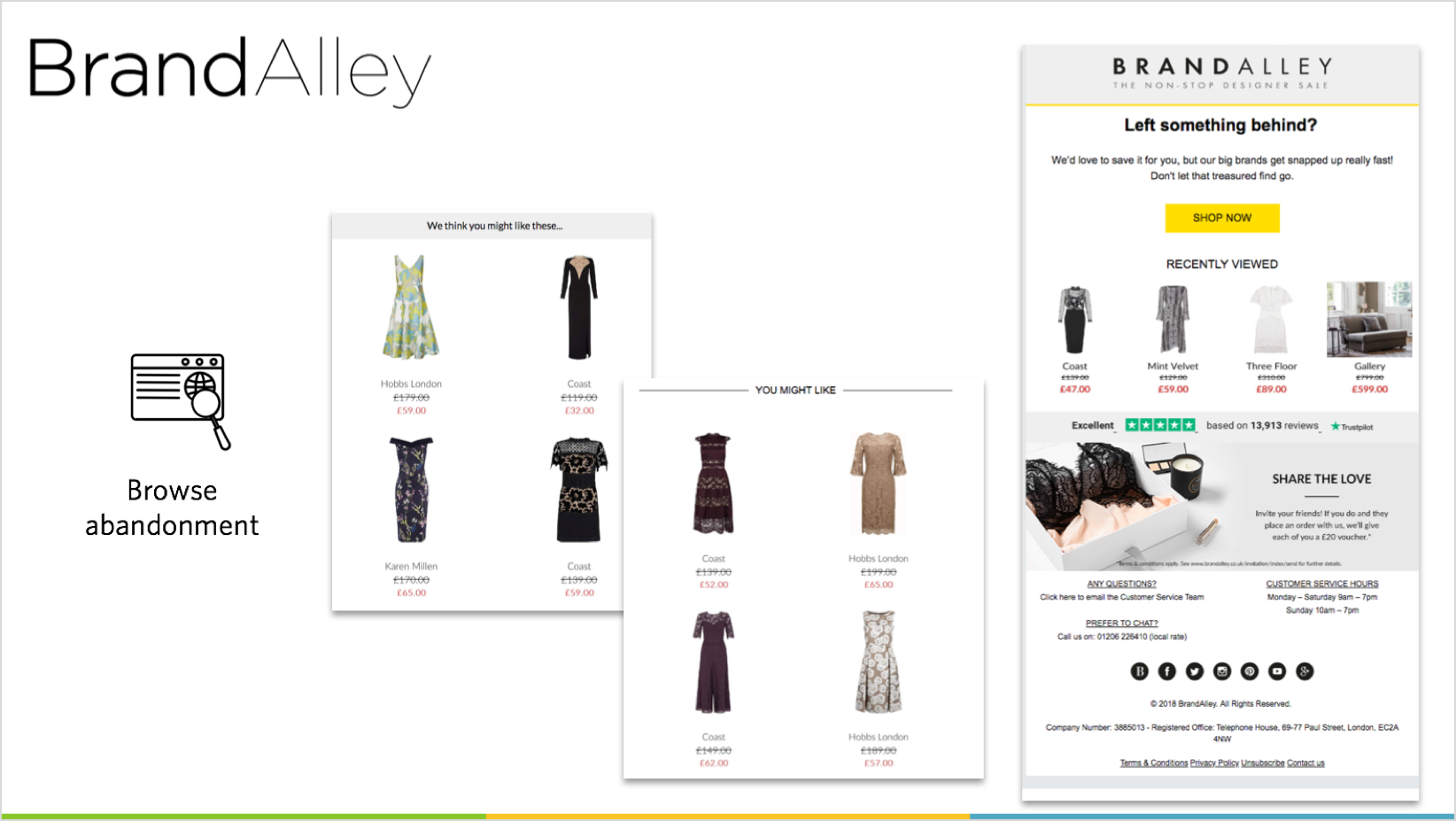 Maje
Overview: For the final example, Tor shared her reasons for loving the emails she receives from Maje, especially those featuring user generated content and social targeting. This specific email features their Instagram feed updating live as they post. By featuring this content, it connects their channels, making a complete campaign which really resonates with their subscribers.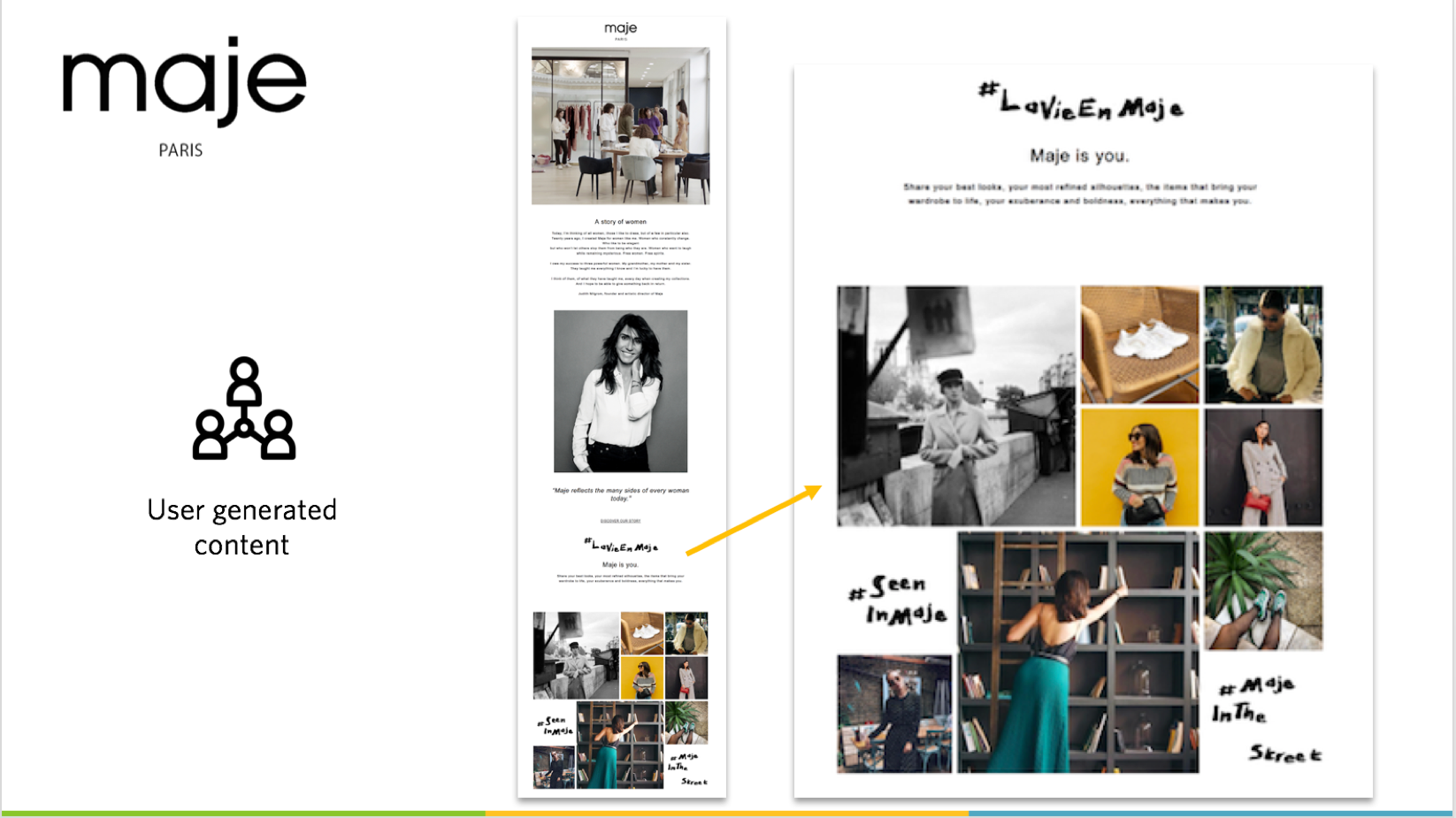 The panel closed with the panelists' top predictions for Fashion email. Highlights included more automation to be able to show the latest, most relevant content to subscribers at the moment of engagement (not send!), product personalization and how to ensure to continue increasing engagement across every channel.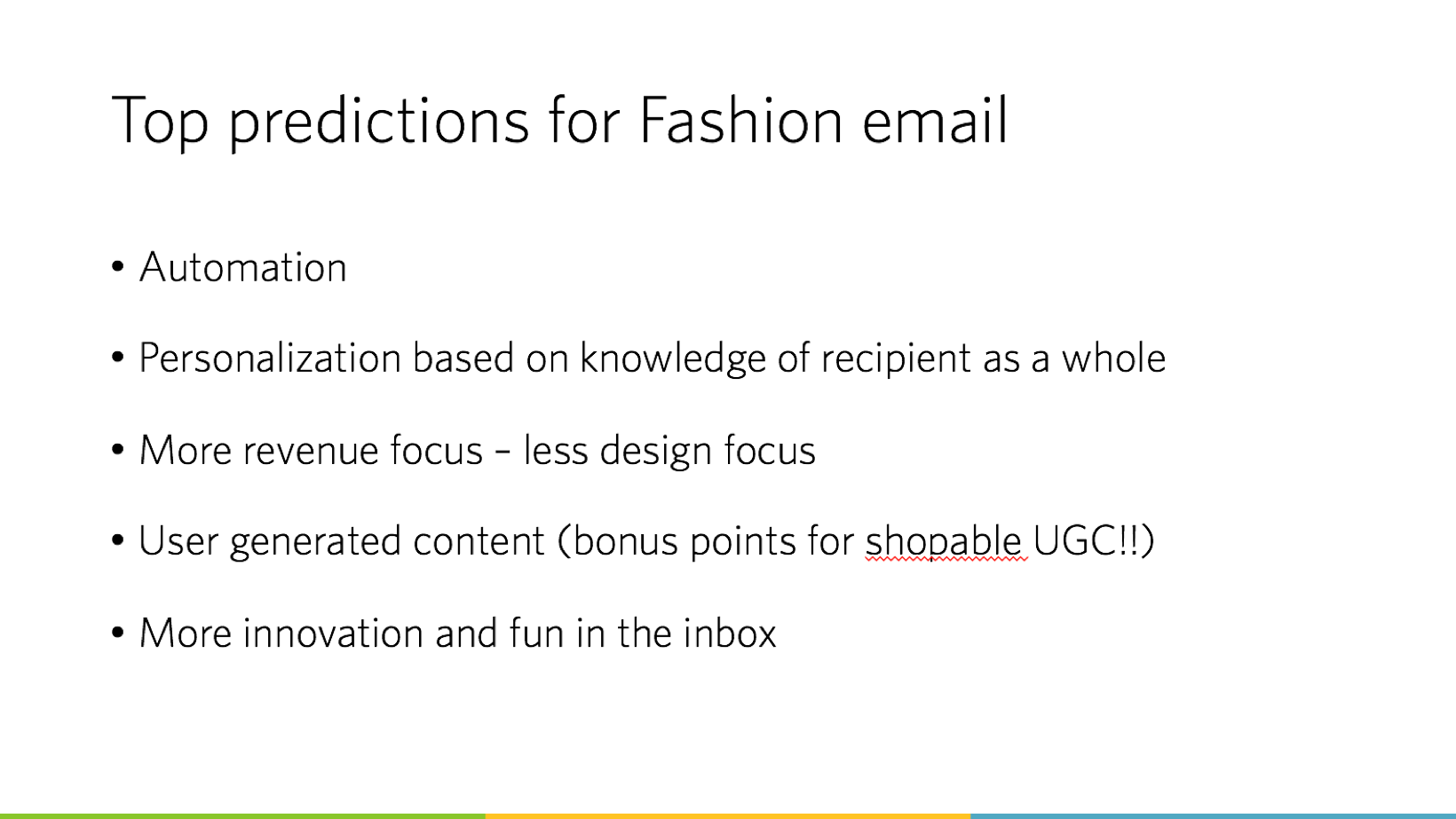 For a rundown of all of our event content, check out this blog post.
If you have any questions about any of the content, please get in touch! Or wander over to our Fashion Email webpage for our latest brand examples and content inspiration.