Noticed anything different in fashion emails?
Put your hand up if you've noticed a change in fashion emails over the last two months.
I certainly have 🙋‍♀️
There seems to be a split in the type of content brands are sending. Some brands have carried on pretty much as normal with highly stylised, photoshoot content (I assume from their archives or shot months ago). Some of this imagery is way off base – vacation photoshoots with all the swimming costumes and holiday 'essentials' or a group of people hanging out together looking candid and cool.
Then there's the other brands. These are the brands I'm here for. The brands that have ditched their once rigid plans and could be described as 'winging it'. Having front line access to the email teams from some of the UKs biggest fashion retailers, I've seeing a lot of changes. There's more opportunity to try something new. The ideal of the 'perfect' email has shifted.
Right now, there's not a huge library of gorgeously shot, photoshoot content for brands to use. Or there is, but it's on a beach somewhere fabulous that none of us can get to. Or it's at a party with lots of people around. Brands are very conscious that these images aren't suitable right now. There may be a shortage of imagery, but the email show must go on.
I'm loving seeing fashion brands use all the 'real' content they can get their hands on. Gone are the perfect, not a hair out of place models, replaced with real people, at home showing of their new purchases. Two weeks ago, I sat down with David Blake, Senior CRM Manager at New Look, to discuss how they're coping during Covid-19. He said:
"We had a real challenge in sourcing our own imagery for our emails. With Covid we can't have models, we can't have shoots, we don't have any imagery. So, a lot of the time we've done our own UGC (user generated content). We've all modelled our own clothes, we're on our own emails."
How awesome is that? The people building and sending the emails are actually featuring in them!
More and more fashion brands are following suit. Perhaps they're not using their email team as the heroes of their email, but many are using their customer content in a staring role. Lots of retailers are using user generated content in their email to showcase products, where previously a model shot would have been used. This adds a real, authentic feel to the content, and I hope it's something that continues long-term.
Until now, I've not seen a tonne of UGC popping up in email. I wonder if that's due to the fact that there wasn't a huge need to use it, or whether it's a design decision. Perhaps the content wasn't shot exactly how the studio want for example. Here's a couple of email snippets that have focused on User Generated Content in the last few weeks.
Topshop
Topshop emails have contained this majestic pod pulling through customer images uploaded to Instagram and tagged with #TopshopStyle.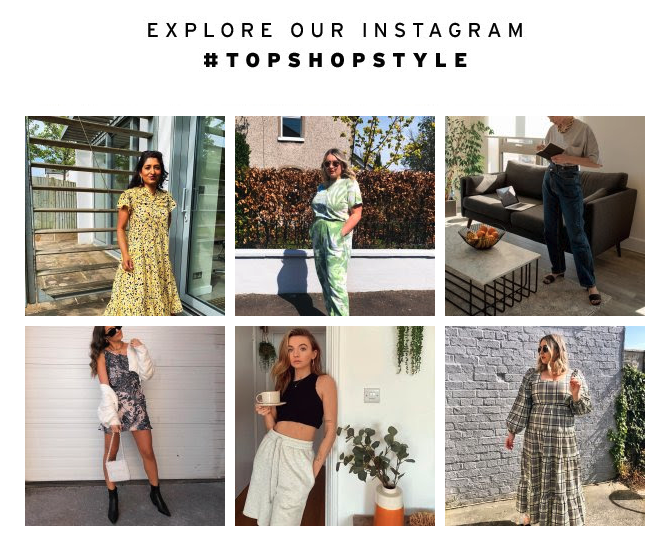 Ted Baker
Ted Baker have added this live feed of customers sharing their snaps with the hashtag #TEDTOTOE. On open the latest images are pulled through keeping the email fresh.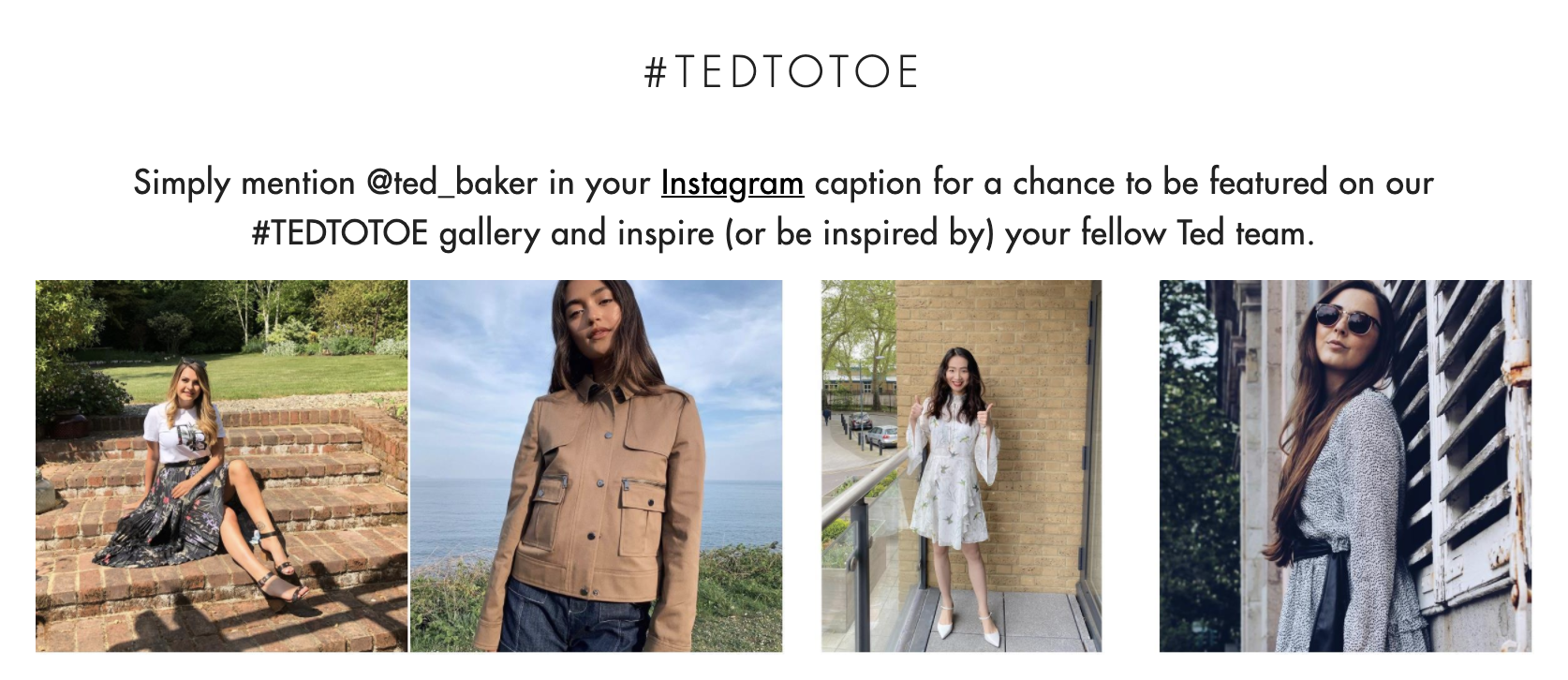 New Look
The one where the email team were the stars of the email.

From what I'm seeing in my inbox, I believe email teams have been given more flexibility in the content they can showcase. Understanding customers are at home and using email to mirror that with content that resonates is grand.
It's not just the change in imagery that I've noticed. Content and messaging have changed noticeably too, and customers are responding. CRM teams have been granted more flexibility, there's more room to test ideas and there's a willingness internally to be curious and try something different. You might not have expected wifi tips from T.M. Lewin but it was very useful. I've seen lots of emails from retailers I'd consider 'hard sellers' change tact and share content about books they think their audience would like, ted talks they loved, and tips for optimising working from home.
There's been somewhat of a shift for many brands – they're focusing on content that instils confidence in the brand and keeps subscribers engaged. Whether that's showing real people, who are really at home, in their emails or whether it's super handy content that is useful for everybody. As consumers we're loving seeing the people behind the emails, the real people wearing the clothes and all the tips and tricks to keep us going strong at this time.
Something David said on our Inside Insights podcast really resonated with me:
"Everything doesn't have to be perfect. Don't let the perfect be the enemy of the good."
I think, in the past, that there's been a huge focus on perfection in email. Sometimes to the point that it stifles creativity and progress. If this past two months has taught me anything, it's that it's the time to try new things, play around, see what works, see what your customers love. I've certainly enjoyed fresh ideas and content hitting my inbox. I'm opening more of the emails I receive because I'm genuinely interested in what they contain, not because I'm an email marketer.
So, to the 'other brands' thanks for breaking the safe mould. Keep showing us real people, using human content and sharing useful stuff with us. You do that, and we'll all keep opening.