57% opens on mobile devices - opportunity or threat?
Here at Kickdynamic, we recently analysed a sample of 100 million email opens across multiple customers, business sectors and geographies. The results for reading environment were as follows:
57% - Mobile
27% - Webmail
16% - Desktop
When we investigated the Mobile segment further we found the following breakdown:
51% iPhone
33% iPad
14% Android
1% Galaxy Tab
1% other
The overall results will not surprise many email marketers, we all know that most of our opens are now on a mobile device. Then, Apple dominates the mobile email world. This is striking. We must remember that Android devices do not download images by default, so perhaps the 14% should be given slightly more weight because they have been explicitly requested. The fact remains that Apple devices are downloading the vast majority of the images sent over email and images are vital to engagement and conversion.
How should email marketing best practice evolve to keep pace with the new reading environment reality?
The first change I recommend is: proof read all of your email marketing content on an iPhone before anything else. Email marketers work in a desktop environment, recipients read their output on mobile devices. All the processes around email production are desktop based, that's how the brief is written, that's how the designer works on images and that's how the mail gets tested, signed off and approved.
There is a fundamental mismatch between production and reception. We invited hundreds of email marketers to our recent Kickdynamic customer event in London, the device analysis for our email communications to attendees bears out my previous point:
Desktop 95.7%
Mobile 4.3%
The second change I recommend is: create content specifically for a mobile environment. By this, I don't mean responsive design, I mean content specific to mobile, content that does not get shown on a desktop. If you are a retailer, that content should encourage the recipient to complete a purchase there and then on the phone. Here is an example from Dune London:
Email viewed on an iPhone: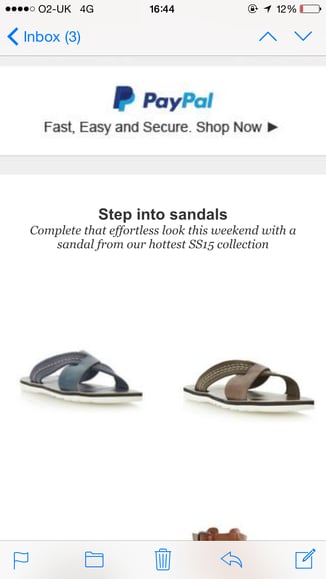 and now the same email viewed in webmail on a desktop: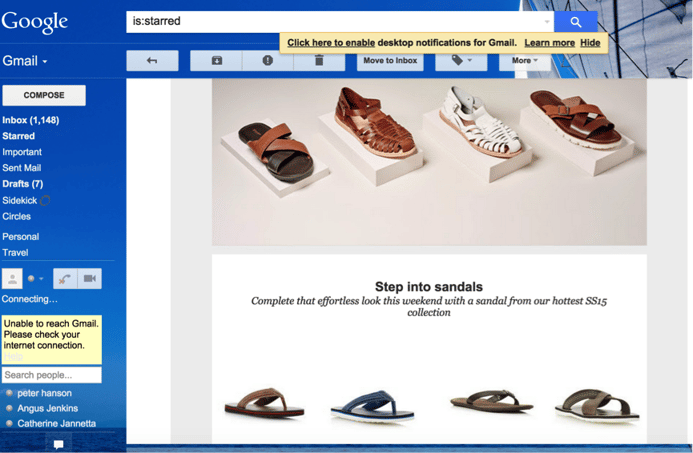 This is achieved by using Kickdynamic's context rule engine. The Paypal image is set to appear only on an iPhone reading environment.
Email marketers are concerned about the conversion rate on mobile devices, particularly phones. The big shift from desktop to mobile is cutting revenues, because conversion rates are so low on phones. Why is conversion harder on phones? The traditional arguments are that customers do not feel the phone is as secure as a desktop or that they find putting credit card details into a phone interface cumbersome.
These are valid points. However, the move to transact with our phones is gathering pace.
If a retailer offers a one-click check out solution, such as Amazon's platform offering or Paypal, there is no reason why a phone should be more cumbersome than a desktop, when it comes to checking out. The advantages of being able to buy when you need to and have the time start to outweigh the limitations of a phone interface.