Our top takeaways from Emarsys Evolution
There was standing room only at this year's Emarsys Evolution! It was a jam-packed afternoon of content followed by a rooftop BBQ to see us into summer (finally!) Here are my top takeaways from the speaker sessions.
Orlebar Brown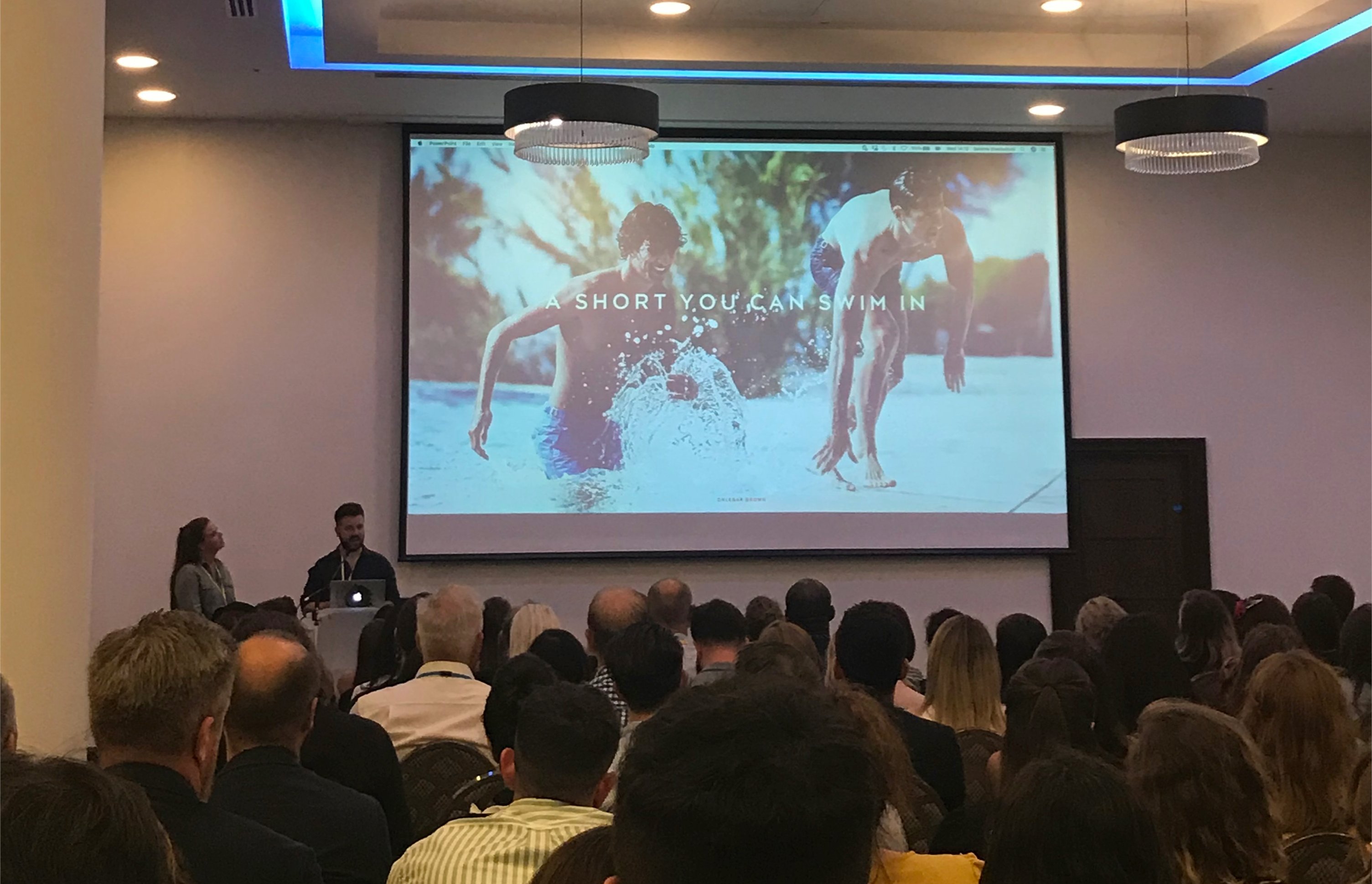 Sebastiano Elia, Head of CRM and Customer Insight and Amelia Johnson, Campaign Manager, talked about the importance of identifying your top-spending customers and treating them like VIPs to ensure they keep coming back to your brand and are not swayed towards the competition. Tactics the Orlebar Brown team use to build long-lasting relationships include personalized direct mail and email, new collection gifts and personalized notes in every order placed by a VIP customer.
Facebook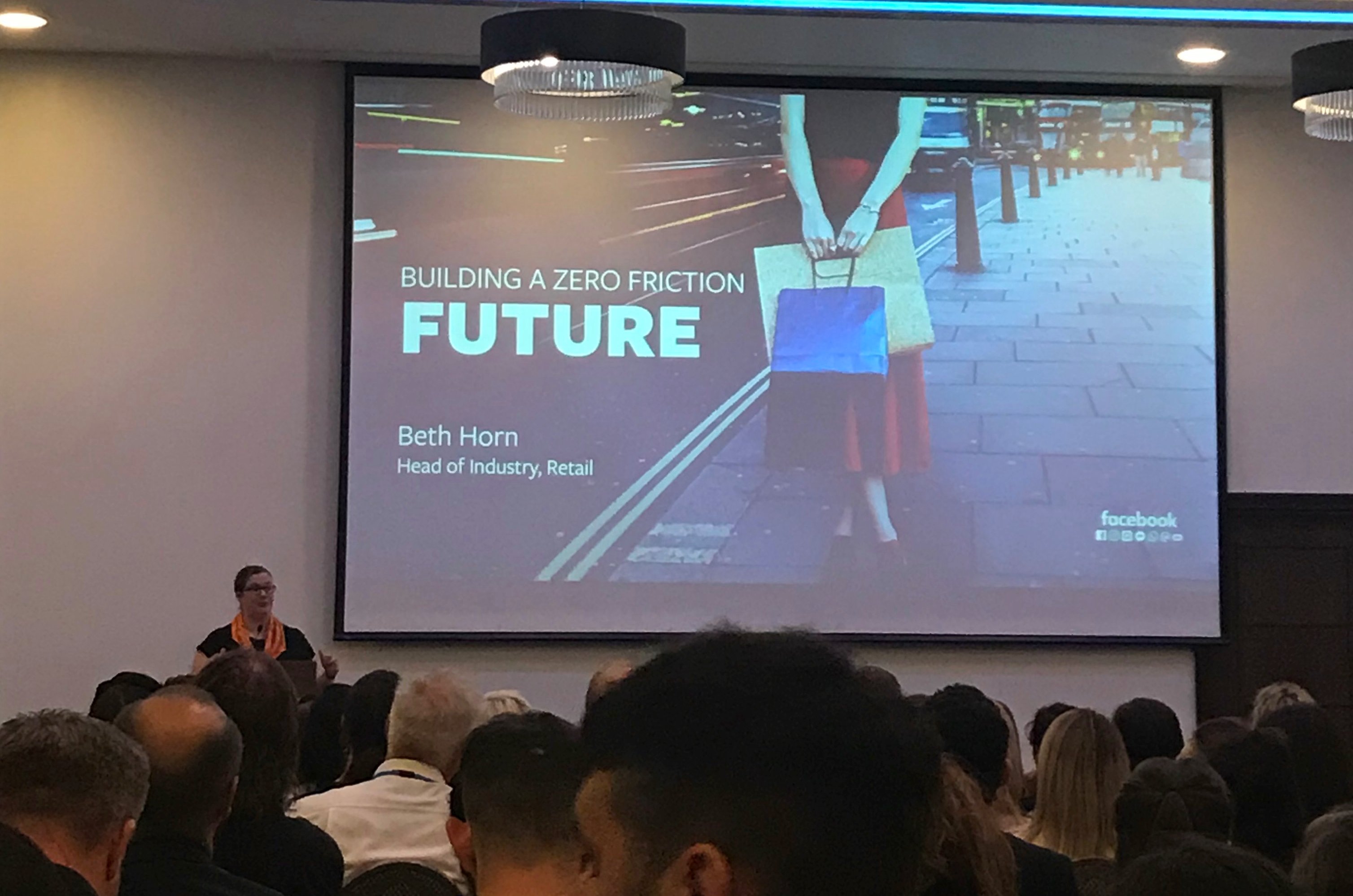 As a team, we were captivated by Beth Horn - Facebook's Head of Industry, Retail. Her powerful message was this: removing friction in the purchase journey is crucial. Make it easy, AS EASY AS PHYSICALLY POSSIBLE, for your customers to buy from you. Every additional, unnecessary step added to any journey is friction.
Shoppers today want three things - speed, simplicity and convenience. If your competitors offer a faster, easier experience at any touchpoint they are exceeding your customer's expectations. If you don't provide the same experience you'll lose those people to your competitor.
As a brand, strive to exceed customer expectations with delightful experiences. Marketers must find moments that delight them as consumers themselves then apply those moments to their own brand and shopping experience.
If I had to pick one defining moment from Beth's presentation (out of some pretty excellent content) - it would have to be this:
"When a brand gives me something that's my style, in my size, that's in-stock that I can buy there and then easily - that's a brand I'm going to shop with!"
Well, that's pretty on point for us Kickdynamic-ers. We help brands achieve that in email, day in, day out. That was our mic drop moment right there. Thanks Beth!
Bulk Powders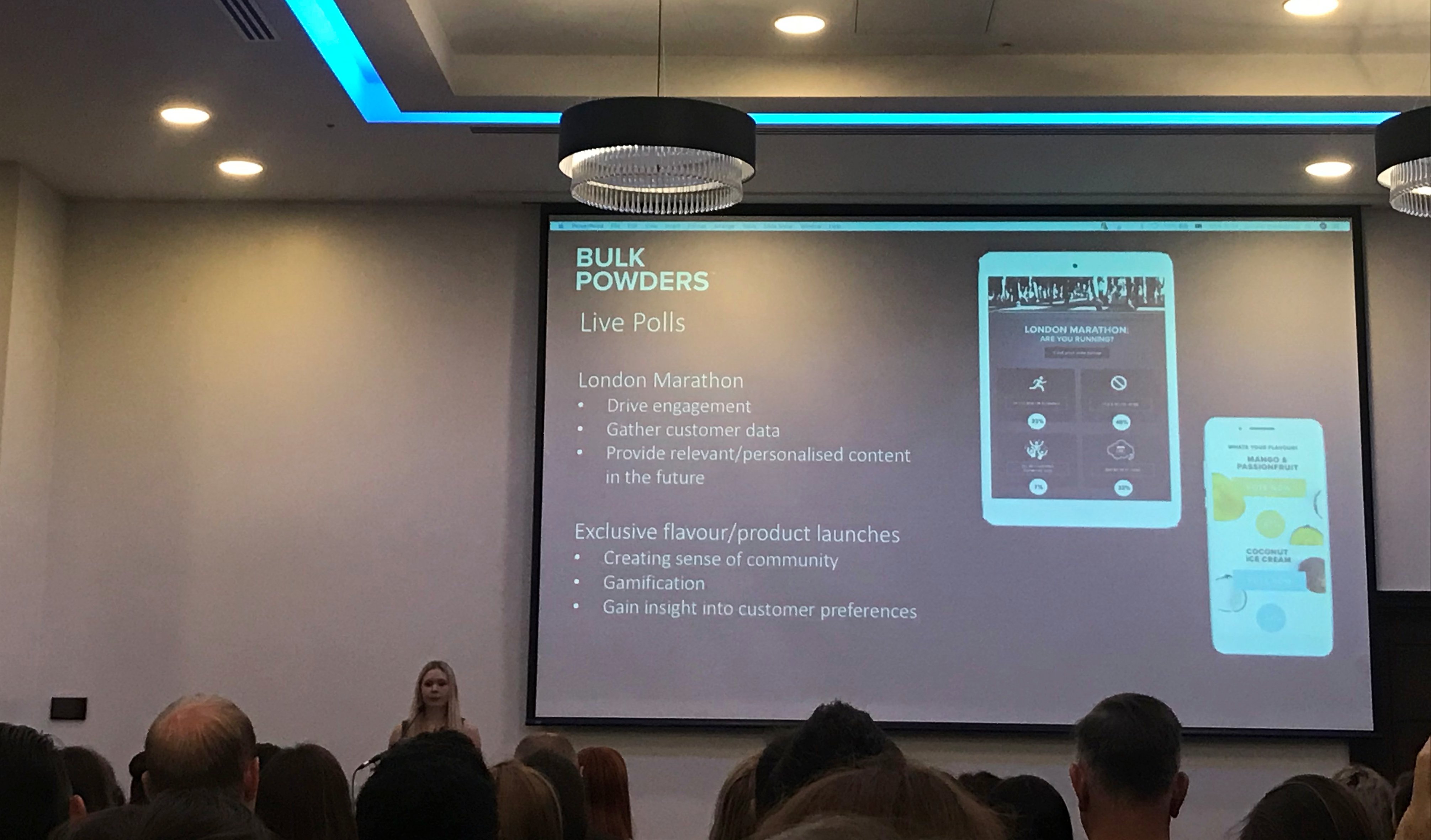 Amy Smith, Head of CRM delivered an awesome insight into Bulk Powders' challenges. As a brand operating in a highly competitive market the major players have come to be in a discount-led price war of sorts. Bulk Powders are using technology to provide exceptional email experiences for their customers to drive brand loyalty and recognition to help them move away from discounting.
A key part of this strategy is to include great content instead of hammering sale content. They're using innovative techniques to send engaging, personalized content while also gathering information about their subscribers to use for future email. Some campaign examples Amy discussed included their London Marathon live poll to discover valuable data about subscribers then sending tailored follow up content including training tips and a personalized good luck message to those taking part.
The team are also using content automation to increase their internal efficiencies. They are a small team of four, creating emails and content for 12 territories in 12 languages. Through automation they are able to connect their feed to templates that once setup, run themselves. We're excited to see what new strategies the team come up with!
Trustpilot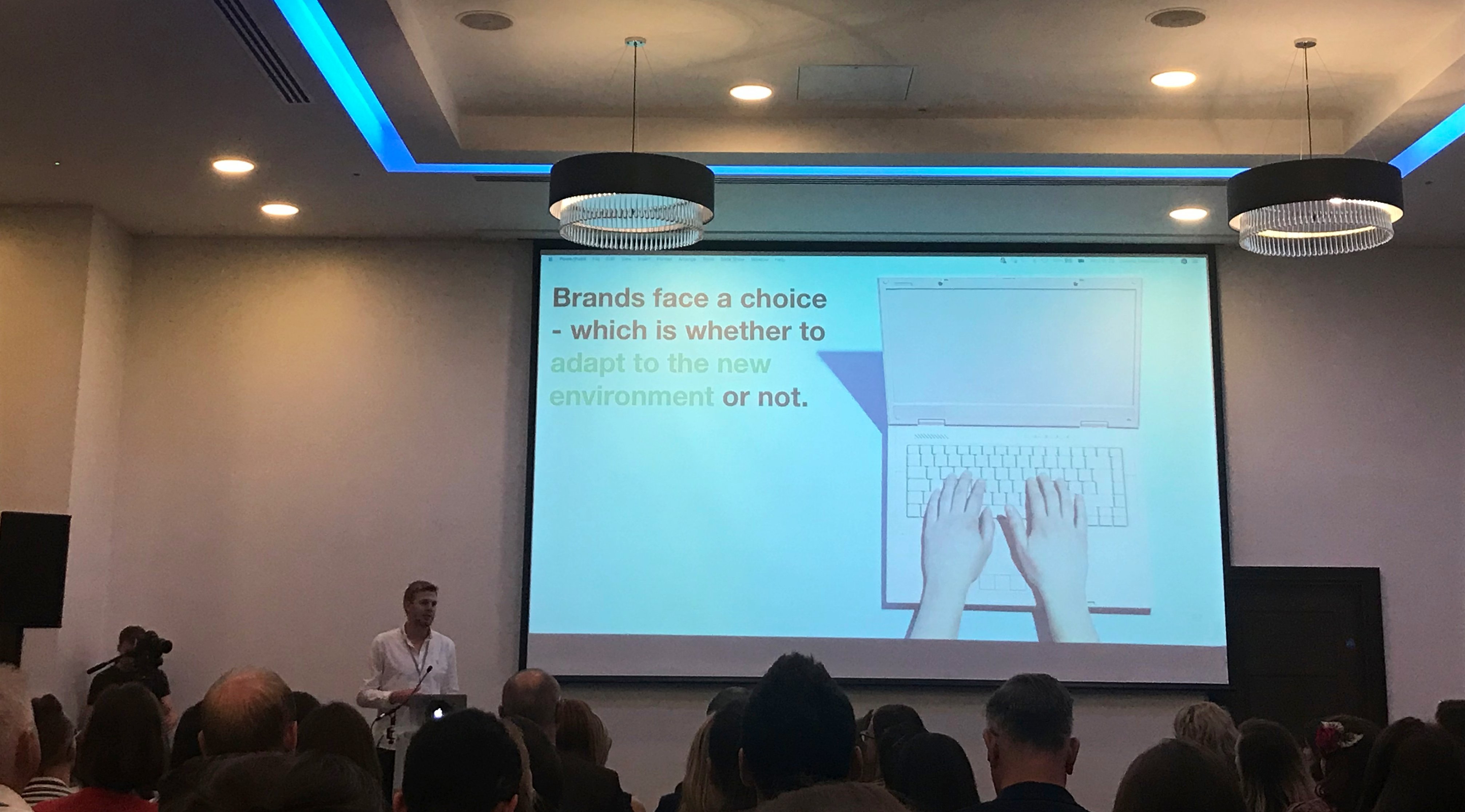 Danny Foster gave the audience a look into the growing world of reviews. On Trustpilot there are over 65 million reviews of more than 290,000 companies! They see a 56% YOY growth in the number of reviews left on their site and this is all available for brands to highlight their customer experience and increase trust. It is reported that 91% consumers look at reviews before a purchase, they want reassurance that their purchase is a good idea and reviews are social proof of this. Danny emphasised that marketing must become consumer-led and not brand-led to compete today.
Emarsys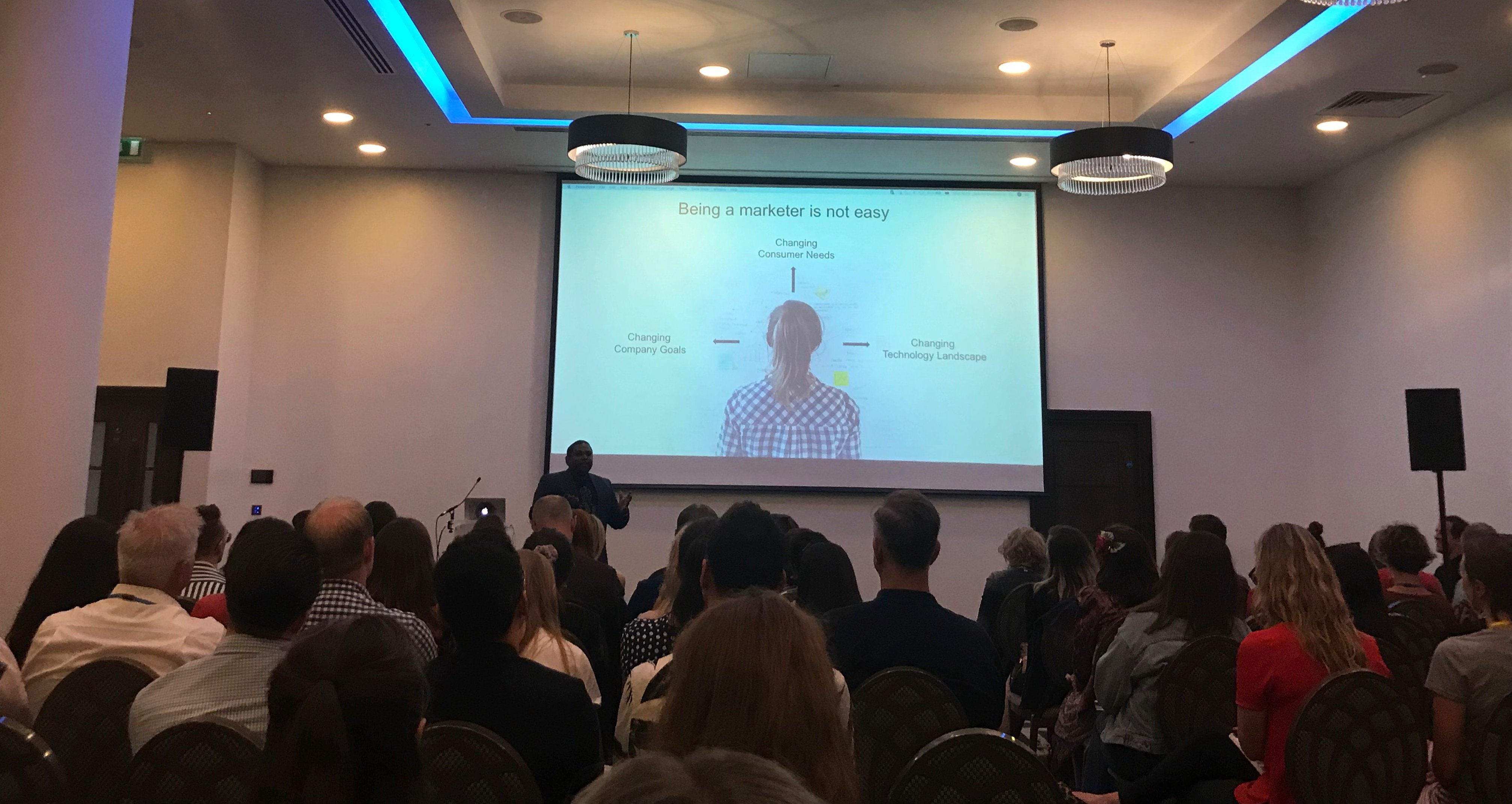 The event concluded with a presentation from Raj Balasundaram, SVP of Artificial Intelligence, who gave a preview into MAX-AI from Emarsys. He began by expressing that being a marketer is not easy. It is becoming increasingly difficult to make sense of the huge amount of data now available and turn that into actionable insights to reach your customers. He explained there has been a shift and that marketers should evolve from being reactive to proactive and now even further, predictive. That's where AI can help and when AI is used well, you shouldn't even know it's there working away in the background.
A rooftop BBQ was an excellent end to an informative day. A big thanks to the Emarsys team for having us!