2015 was the personalization warmup; 2016 is game time
There's no excuse for not personalising email any more. In the past marketers have been held back by data – they haven't got enough, it's too complex to segment, the data needs to be cleansed/sorted/restructured before it's usable. Whatever the reason may be, marketers haven't been personalising email content as much as they could. But this year is the year that's going to change.
Personalisation is way more than just personalising an email's subject line to the recipient or greeting them by first name. With Open Time Marketing (and absolutely no data apart from email address) you can quickly and EASILY send highly personalised email content using information detected at the point of email open. This information can then determine what content is displayed to the recipient, giving them a personalised, relevant and engaging email experience every time they open. Increasingly, throughout 2016 we expect to see more and more emails personalised to location, language, currency, device and time.

I know that on many occasions I have opened an email containing numerous offers only to click through to the website to find the offer has already ended. Using the time of email open and Open Time Marketing, marketers can personalise email content to the time of open to show the latest content at the moment of open. Instead of showing the offers that have expired, or products that have sold out, marketers can display current offers and products with stock availability or that are the latest at that point in time. It's not personalisation in a traditional sense but you're going to be seeing more and more of it.

This year I think we're likely to see nearest store become a constant feature in almost every email send, especially for the retail sector. With competition between bricks and mortar stores at an all time high and customer loyalty becoming more challenging, retailers are looking for more ways to drive customers into store. Nearest store functionality, or geotargeting, has long been a feature 'in app' but it's use in email has been relatively sparse in comparison. This year, expect to see retailers showing pins over a map depicting the nearest stores to the location of open; upon clicking through recipients can be given personalised directions from their location to the door of your store (powered by GPS). Personalising nearest store to open location and providing directions resonates with customers and makes it so easy for them to find you over your competitors.

There are also other, clever, ways to personalise email using location. Do you have a big event happening in a certain location? Or maybe a new store opening in Manchester? Set a radius around the event and only show the content in the email if the person opening the email is within that radius. Again, this is a different way of personalising content, but what you're providing is content that is only relevant to those opening in the correct area. Anybody else outside of that area won't see that content. You're personalising content based on open location.

Don't just personalise content based on location though. There's heaps of things you can do using the context of open to personalise email content, which brings me nicely on to mobile. Mobile, mobile, mobile.
Everywhere you turn and every blog post you read you'll be seeing and hearing about mobile. Quite simply, mobile is everywhere and marketers need to embrace it. Totally and completely. Especially in email. Personalise the content of the email to the device being used to read it. It's simple to do with Open Time Marketing Tags. Display device specific messaging for the device being used such as a mobile banner with a link to the correct version of your app in the correct app store. It's the perfect way to promote cross channel sales, app downloads and save messaging space. If you're promoting your mobile app, only show it to those using a mobile device – content personalised to the device that is relevant and useful. Device targeting ticks lots of boxes so it's sure to be a hit in 2016.

Similarly, you could use device recognition technology to hide content that is not relevant to the device being used. For example, nearest store probably isn't relevant to those opening the email on a desktop so chose not to display it. In contrast, it's super relevant for mobile openers who are on the go so show it to everybody opening on a mobile device to capitalise on recipients on the go.

I also think that image personalisation is going to be increasingly popular in 2016; I think we're going to see more of it across promotional, as well as lifecycle and transactional email. Fancy artwork with my name on it makes me want to click through. I enjoy the effort that the brand has gone to and it makes me feel a bit special!
Image personalisation does require some data but as long as you have first name then you're in business. Personalised images don't have to be big header banners with the name in lights though, subtle uses, such as the ASDA example below, will become more prevalent as marketers look for new ways to add personal touches in email.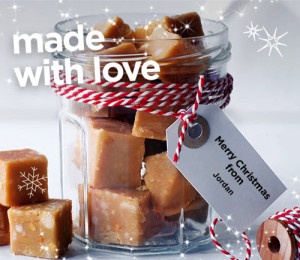 There are lots ways for marketers to take personalisation to the next level this year. Many of them are quick and easy to implement and require little, or no data. Personalising the content of an email at the moment of open with the latest information or to the device being used is the best way to do email this year. Give your recipients relevant, engaging content that's personalised to them every time you send an email.