Overall considerations (& adjustments you may want to make) during Covid-19
Email is one of the most important channels to communicate with customers at this time. Delivering your latest messages directly to their inbox is invaluable.
It's been reassuring to see many CEOs taking the time to write to customers at what can only be described as a stressful and worrying time. Email is being used to communicate what important steps brands are taking to keep their staff safe whilst maintaining their services and looking after customers. These emails are important and needed to be sent as they contained important information.
Here are a couple I have received over the last few days. First up, T.M.Lewin: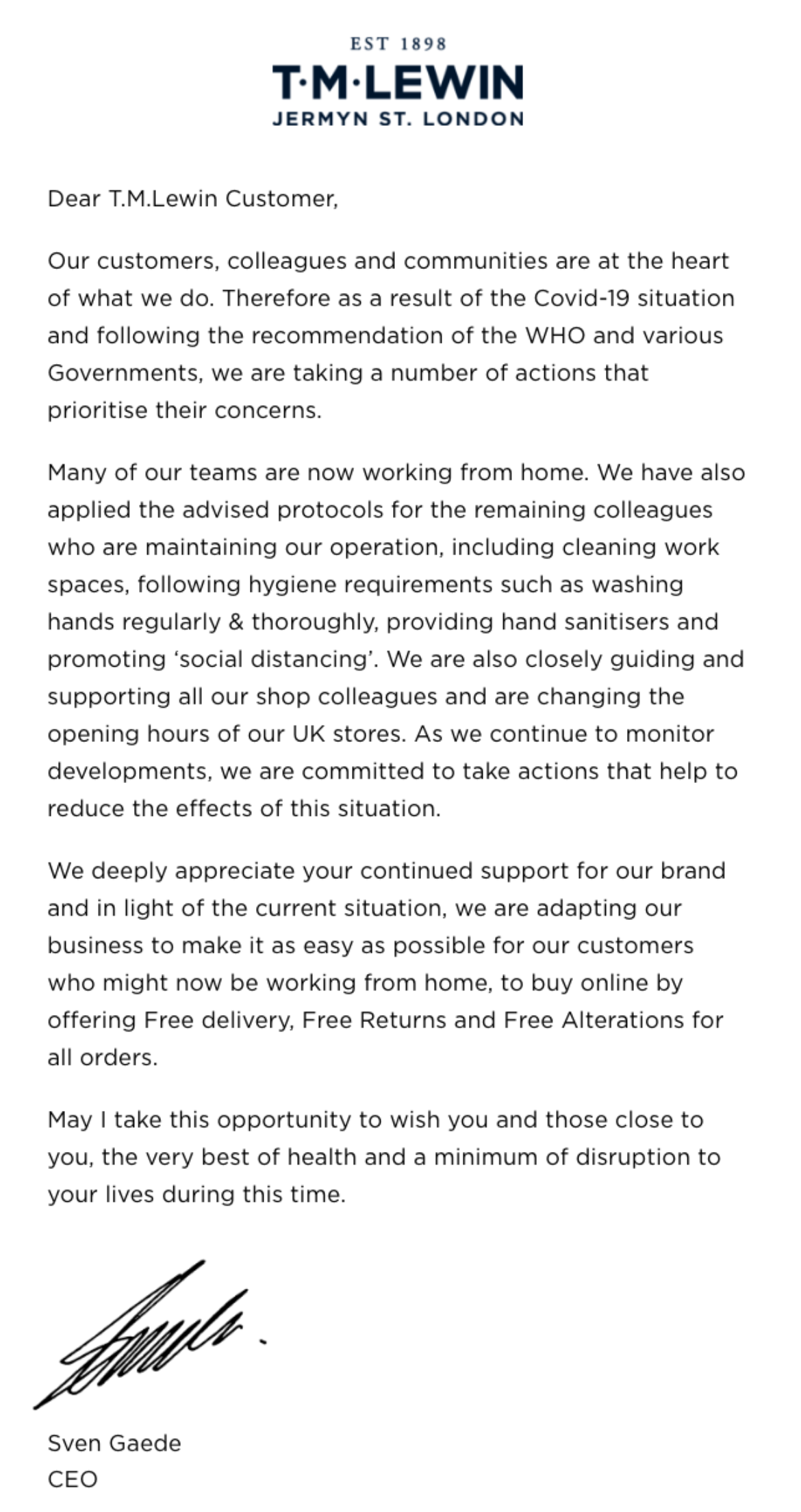 And one from New Look: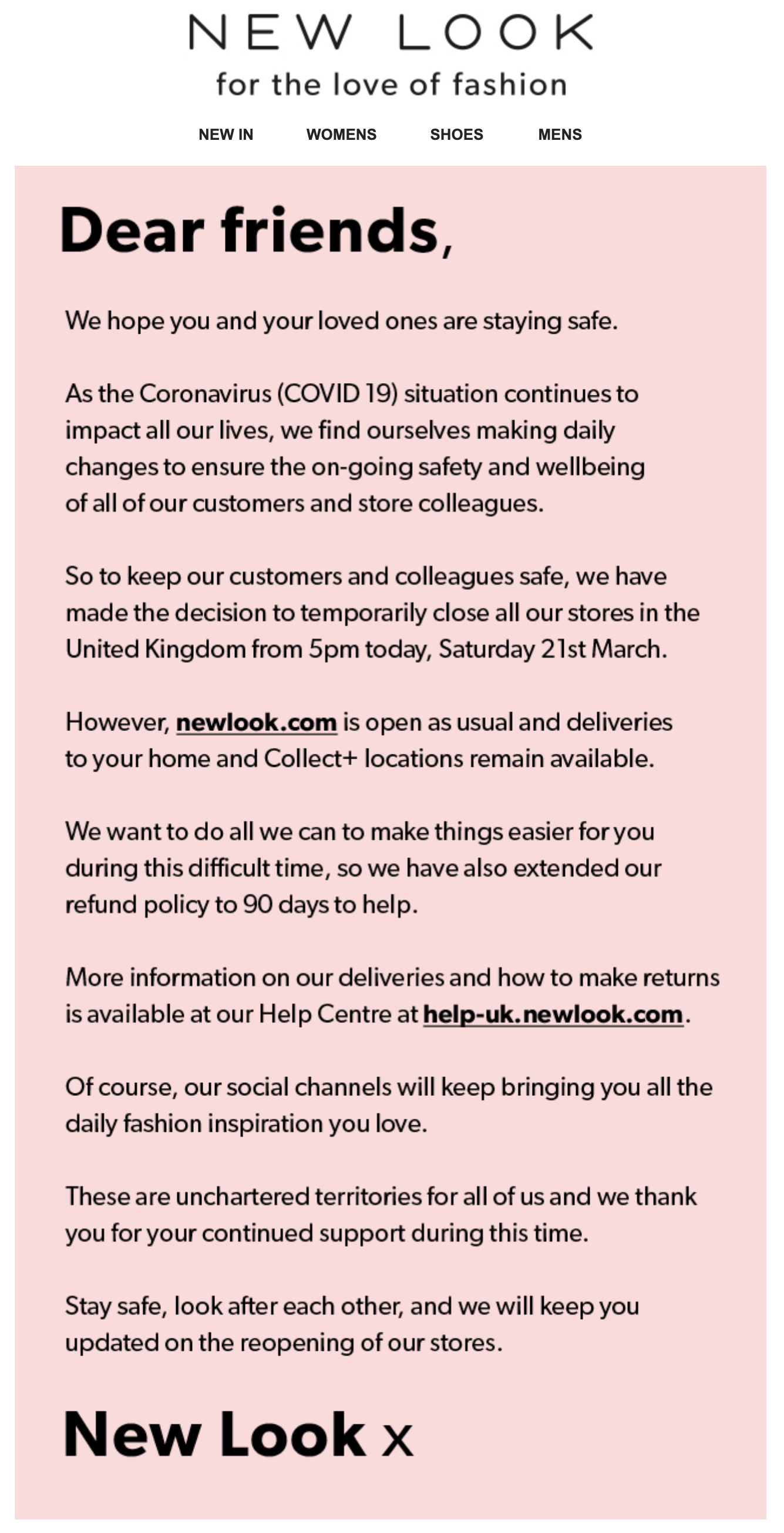 These emails were timely and considerate. With that in mind, now might be a good time to check-in with your other emails to make sure the same is true for them. Here's a few things you might want to check.
Content & messaging
With the vast majority of us socially distancing and not going out, messaging and content in emails needs to reflect this. The government have closed pubs, restaurants and venues and may weddings have been postponed, so it's smart to avoid messaging about shopping in store, party-wear or wedding outfits. Be clever with your messaging and use phrases like 'dress up for your big night in' – that way you're being socially responsible and relevant.
We're also in a period of uncertainty where anxiety levels are high so be mindful of the messaging you're using. Perhaps move towards a more holistic, uplifting positioning away from a sales or discounting focus. Try including more informative content and useful reminders that might be out of the box for your brand but will be useful for your subscribers. Here's a nice example from Topman, providing their subscribers with tips for working from home and including the 'social distancing' messaging in the creative:

Operations status
Looking at my inbox, retailers are still sending email and they're including information as to their current operating status. That's great and a really, really important message to include but what happens if that changes quickly? I'd recommend leveraging live tech if you have access to it. Simply making your content live gives you the flexibility to adapt and changes messages even after the email has been sent. This means that message content is always relevant, even if the email is opened two weeks (or longer) after it's been sent. This helps to make sure that customers will always know the latest and their experience and expectation will be managed from the moment of open.
Scheduled emails
Make sure to check-in with your email schedule and make sure your content is still relevant – this is particularly important for any emails you may have scheduled ahead of time. Where possible, update content and messaging to reflect the current situation.
Triggered emails
Do keep your triggered emails running but be mindful of the message. Welcome emails are just as important now – your new subscribers need to feel the love. Include updates about operations in these emails and what they can expect from you now and in the future.
I've seen a lot of talk online about birthday email suspension but I don't necessarily agree with this stance. Personally, as somebody with a big birthday coming up and all holiday plans cancelled, I'll be looking out for messages and emails from my favourite brands. However, I'll be really impressed if I see the latest government guidelines considered in these emails – don't encourage subscribers to go out or have a party. And remember to remove any shop in-store messaging for the foreseeable future.
Stay in and stay safe whilst celebrating should be the underlying message here.
Be topical
Don't be too rigid in your plans. If there's an opportunity to lift spirits and have some fun, that's OK. Almost everybody is working from home so acknowledge this and use it. This campaign from T.M. Lewin last week was brilliant and made a lot of people smile at the end of a tough week: