Customer expectations for email marketers
It's a well-known fact that customer expectations are at an all-time high. The more that companies fight for consumers' attention and with new tech constantly being released to help them achieve their goals, the markets in which brands operate are increasingly competitive.
While offering a superb product or service to your customers is essential to the success of your company, you now also need to ensure that the overall experience with your brand is top-notch as well. From initial search to purchase, a consumer's experience must be easy, seamless and importantly, now more than ever, meaningful.
Meaningful and personalized experiences must be consistent across your channels. From physical stores to your website, from social media to email. Your language, brand promise, messaging and services must work seamlessly together in order to meet a customer's expectations. Only then can you think about exceeding them for a competitive advantage.
According to McKinsey companies achieving personalization using product recommendations and triggered communications are driving up to 15% more revenue and up to 30% more marketing spend efficiency. However another study by Bain & Company found that while 80% of CEOs believe they deliver an excellent service, only 8% of their customers actually agree (Omnisend). It feels like there's some crossed wires here - and that gap needs to be considered and closed.
Brands need to focus better on delivering the best possible experience. We operate in the email world, where email is your shop window and needs to provide a really good experience. As we all know, the email channel incredibly versatile. A huge percentage of marketers, 81% in fact, view email as the best way to generate new customers and 80% view email as the best way to retain as well (eMarketer).
All brands need to be taking the aptly named 'customer experience email marketing' approach. And yes, it does what it says on the tin. Centre on building customer relationships instead of sending brand-focussed campaigns that push your own objectives to drive sales and grow profits. Of course, that is important and why we're all here, but efforts must be focussed on being subtle with your own goals and bold when creating long-term customer loyalty.
If you're looking for ways to improve your in-email experience, you're in the right place. Here are a few ideas, tips and steps to follow to get started.
Get off to a good start 👋
Welcome emails perform well, with open rates often reported as being around 50-60%. A consumer has given you their information and permission to contact them, you must respect this. It's a big thumbs up for your brand - they liked what they saw and they wanted to see more. A welcome email should start your relationship well, building trust and setting expectations from the beginning.
Some key considerations:
Collect useful data at sign up. Ask what they like, what they want to receive and other useful details like their name, birthday etc.
Send the welcome email immediately while you're at the forefront of a consumer's mind - don't wait. 48 hours later and you're not top of mind. It might feel a bit random.
Use personalization to give a meaningful welcome: use the data you've collected to personalize as much content as you can. There's so much more you can do than using their first name!
Limit the number of CTAs: don't bombard your subscribers with too much information, too many options and too many decisions. Don't ask too much of them when you're just starting out your relationship.
If you don't collect a lot of info at signup, don't be afraid to ask for more during this welcome phase. Add messages to your email to encourage them to tell you what they like. Use the click data for future personalization.
Layout from day one what they can expect from this relationship, and stick to it. Frequency and content are good places to start.
Here's a great example from Bulk Powders:

Celebrate subscribers' personal events 🎁
It's my birthday and I'll open your email if I want to! Birthday email is a great place to start to make your subscribers feel the love. Everyone likes to be treated on their birthday, no matter what some may say! Once a year you have a lovely opportunity make a subscriber feel special. Send an offer or a free gift. They will remember your generosity, and it's likely to be worthwhile.
If you don't have birthday data, don't worry - go for the anniversaries. Celebrate the years together. A year since sign up. A year since first purchase. Two great ways to leverage the data you have into a meaningful touch point. These little moments will show that you care to celebrate the little things - it won't harm your relationship, only build it.
Here's a lovely birthday email from New Look for some inspo: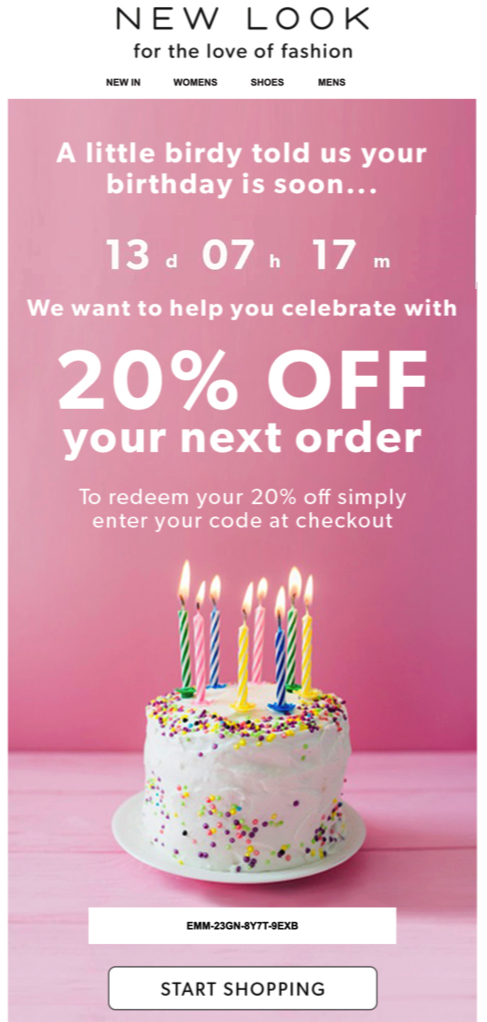 VIPs 👑
Recognising VIP customers and sending them special thanks or a reward can also be a winning strategy. Early access to a product launches or an invite to an event to makes them feel a part of an exclusive group of your top customers. People like to feel important.
If you're thinking something on a smaller scale, how about sending a personal thank you, a heartfelt message to show you care. If you're B2B like us, we like to give a shout out to a customer's great work in a special showcase section of our newsletter. It's just a nod of appreciation that we believe they like to be a part of, celebrating their hard work making the world of email more innovative and creative.
Be spontaneous and treat customers 🍪
You don't always need a reason to celebrate. Whilst the big occasions are great, sometimes a little 'just because' treat works wonders. You don't need an excuse to show customers you care about them. You can send special treat emails with discount codes but be careful not to do it too often. Make sure that discount codes are wrapped up nicely and aren't a brazen attempt to boost sales at the end of the month.
Every email is sent to an individual. Remember that and respect it. This goes back to my point about building trust from the off. A recent study by eMarketer found that personalized emails can lead to a 29% increase in open rate, 41% higher CTR and a huge 600% increase in revenue.
Personalization is way beyond using first name in your subject line and greeting (although this is still important!). Think bigger. Display personalized product recommendations based on past purchases, browse or intent. Displaying relevant, perosnalized content always helps you to stand out and capture your audience's attention. So few brands are doing this, they know they should be, but they're not. Your time is now.
This email from Harrods is personalized to a subscriber's preferred brand, in this case, Gucci: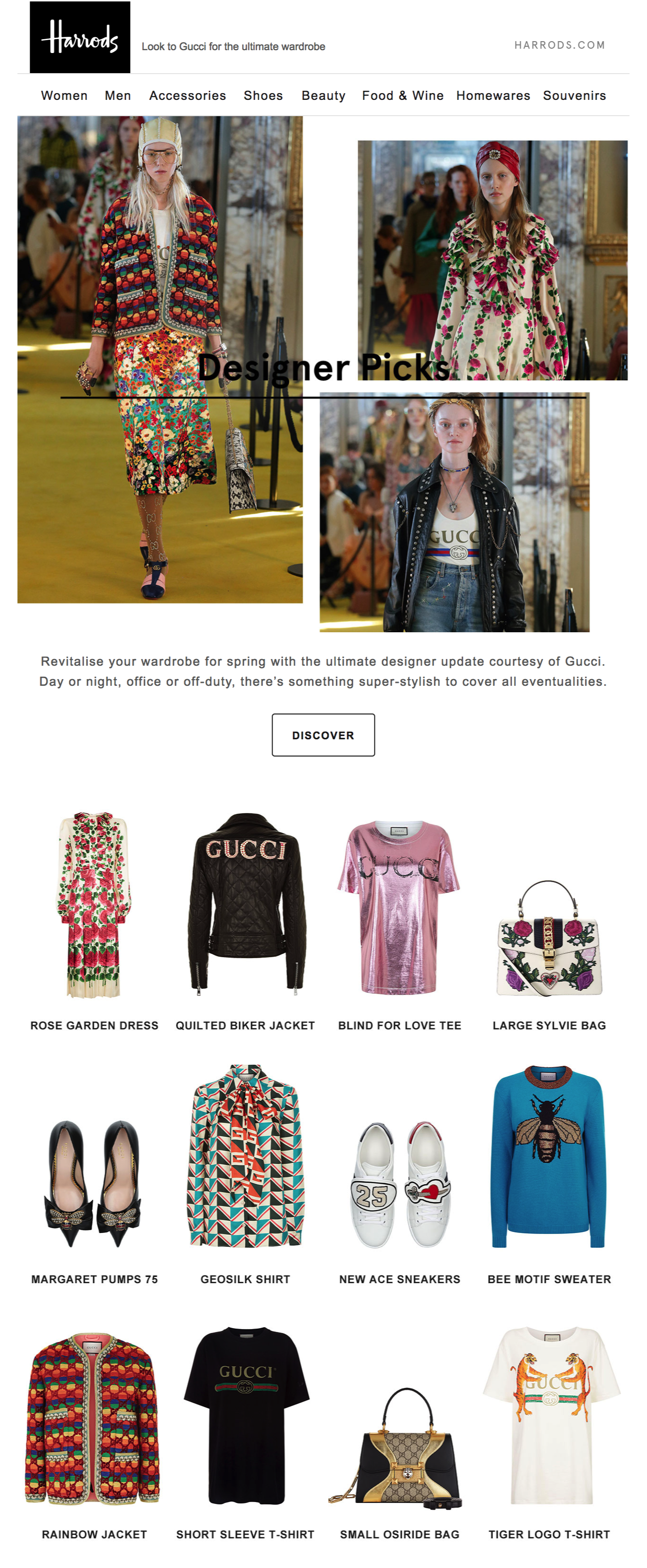 Show honesty and integrity in all your marketing 👍
Deliver what you promise
Don't bombard subscribers with irrelevant info: use the information they have given you
Be accessible: keep your email channel open in the event your customers need to contact support team. Most customers expect a reply within 24-48 hours of their initial email and expect their problem to be solved in one single reply
Ask customers for feedback regarding latest experience with your brand via email. This shows you care and that you want to continue providing for their needs, and identifies areas for your own improvement
A great example of honest marketing is Patagonia. Their emails regularly feature content that supports their brand mission and beliefs over pushing products.
Listen to your customers and send relevant comms 👂
Automating emails based on your customers' behaviours is a simple yet effective way to show you're listening. Trigger programs such as abandoned browse or cart emails perform very well. Content within these emails could offer a discount to encourage action, suggesting additional products that would add value or a simple reminder that they didn't complete the purchase.
By proactively engaging with your customers via email at various moments throughout your relationship – and for a variety of reasons – you maximise the potential of your brand remaining at the top of their minds as they go about their daily routine and when they're ready to make the purchase.
Here's an email from icelolly.com featuring a recommended deal automatically sent to a subscriber that abandoned a search of holidays in the Algarve: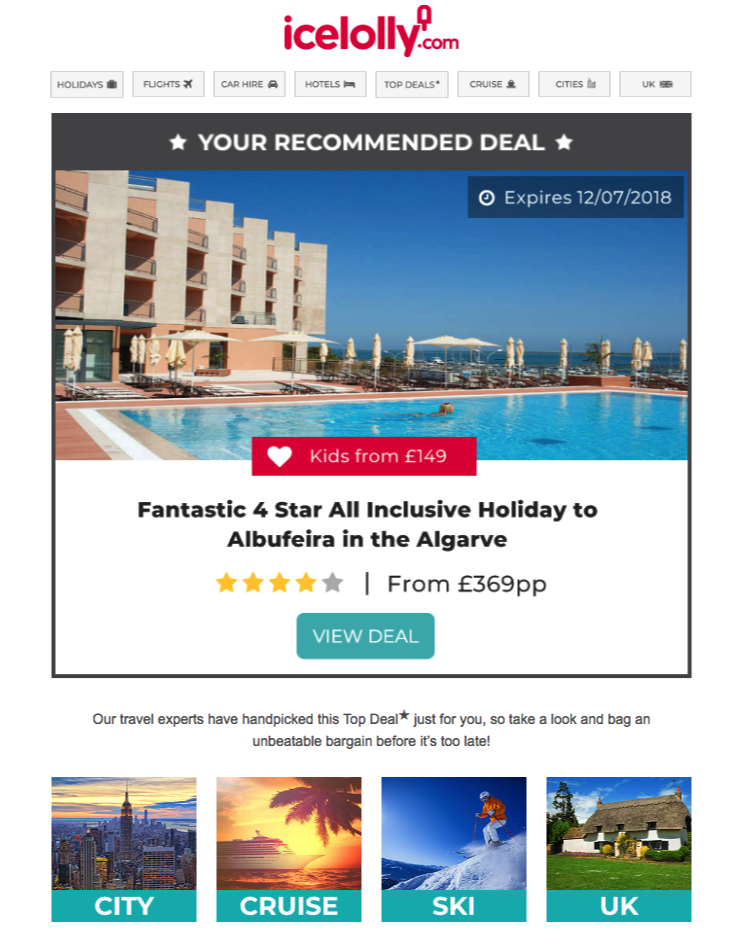 In summary, expectations are high and they aren't going to ever decrease. Brands focussing on improving their customer experience will gain advantage over their competitors. Shoppers are smarter and expect you to send relevant information to them based on the information they give you - it's the value exchange.