Ways to keep email content up-to-date during the Covid-19 period
To say the last few weeks have been strange would be an understatement. For most of us, the working world as we know it has been turned upside down and we're all navigating our new normal! Whilst it's been a tough time for everybody, there have been some positives. Having worked from home with my partner for the last week, we're still talking and I finally know what he does every day – it's only taken 7 years!
On a serious note, most of us are practicing social distancing, coming together with friends and team members virtually and watching the news regularly to stay up-to-date with the latest information.
At this stage information is critical to all of us. We don't know how long we'll be in this situation and we're all looking to be kept informed. With that in mind, I thought it might be useful to share a few ideas to make sure that your email content is able to update in line with the latest information. Keeping customers informed is important – and so is keeping email content relevant and up to date, particularly with the latest service information at this time.
Looking in my inbox, retailers are still sending email and they're including information as to their current operating status. That's great and a really, really important message to include but what happens if things change quickly? I'd recommend leveraging live tech here if you have access to it. Simply making this content live gives you the flexibility to adapt and change messages even after the email has been sent. This means that message content is always relevant, even if the email is opened two weeks (or longer) after it's been sent. This helps to make sure that customers will always know the latest and their experience and expectation will be managed from the moment of open.
Here's an example of a service message included in an email from Boohoo (they've been excellent at providing updates in every email):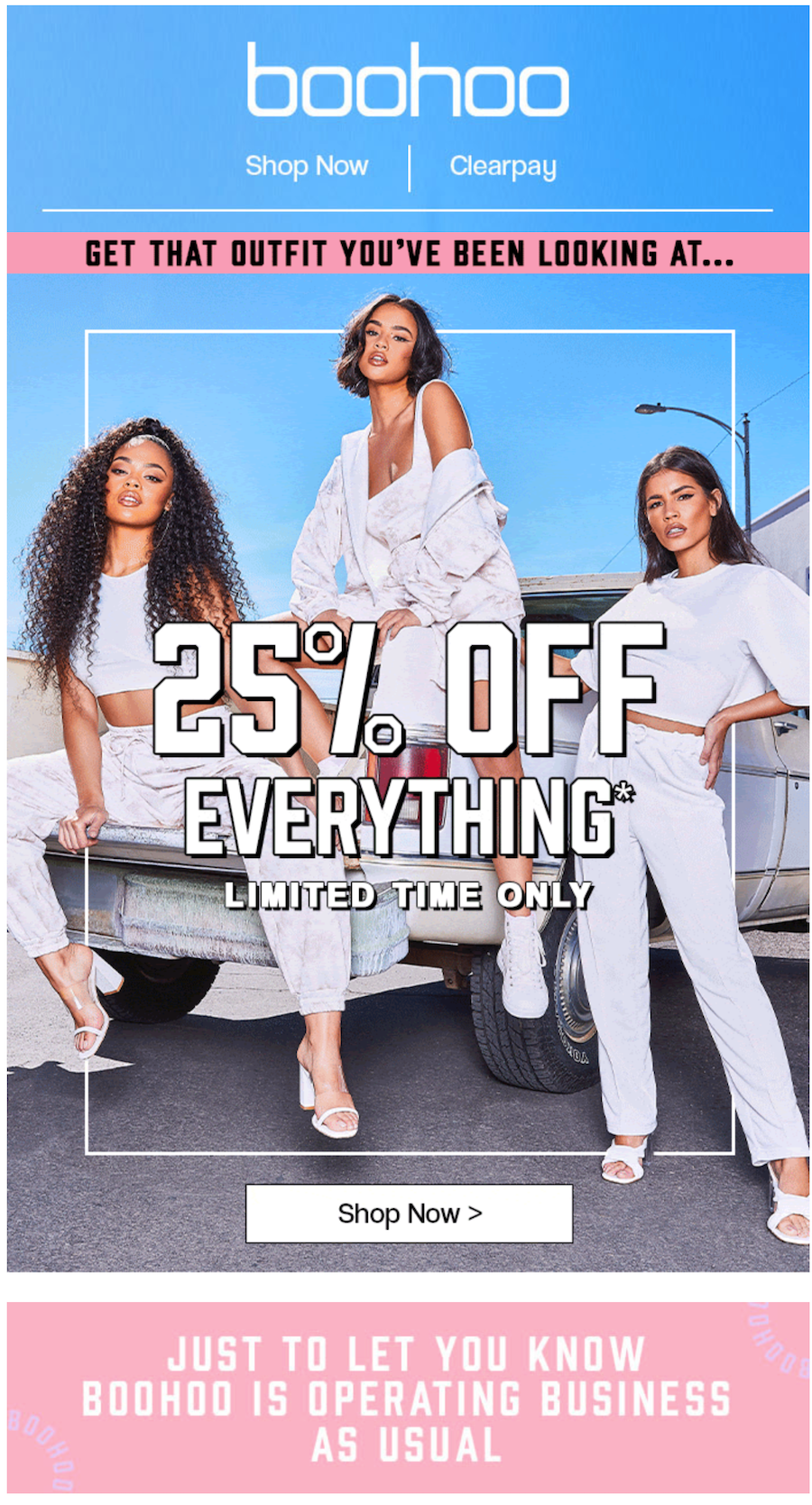 And another from Karen Millen: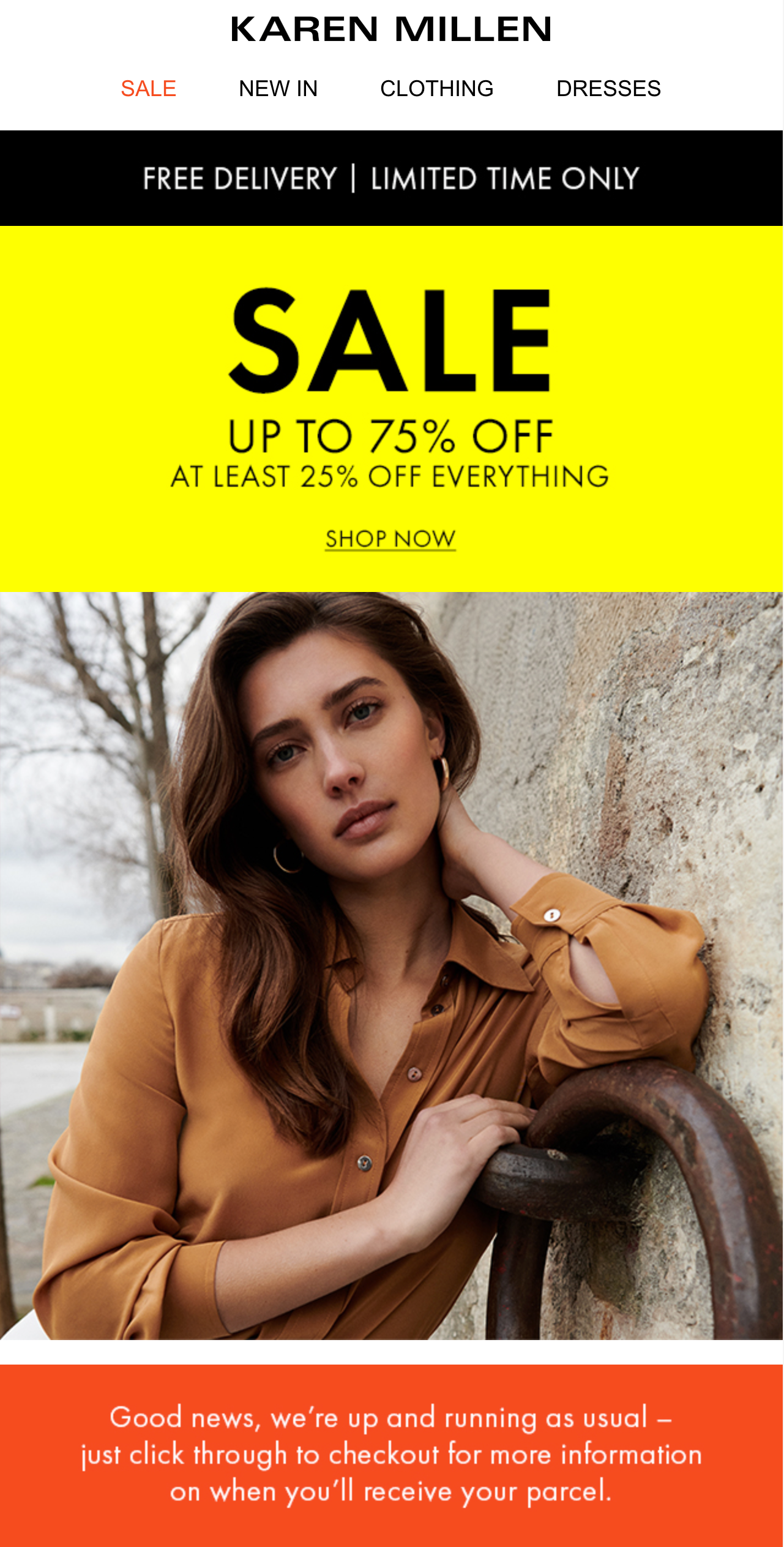 Another good idea is to include content specific to the day of the week. First up, we could probably do with a reminder about what day it is (!) and secondly it's a great way to add a bit of relevancy automation into your comms. It's particularly useful if you're sharing tips, ideas or blog content that's specific to the day of the week. For example, if you're a sports brand, you may want to automate your latest daily workout into the email. You could build this once and then, at every open, each day's workout is displayed – making it easy for customers to interact with the latest content.
Similarly craft retailers, or those providing daily content or activities, may want to switch out email content every day with new resources – think today's inspiration. This can be managed quickly with live email content with little coding or resource required from your team. A one-time setup that will provide a useful and positive customer experience at every open.
Alternatively, you may wish to surface how many people are interacting with your content. Overlaying social signals over resource content is a great way to visually display that recipients are engaging – for example, '633 people viewed this tutorial'. It's a nice way to build confidence in what you're offering.
Finally, you could ask customers what they want more of. Including a live poll in your email this week can help you with content direction for next week. Either take the poll winner and use this as the foundation for next week's content, or use the click data to personalize content next week for everyone who voted.
These are all simple, straightforward ways to provide your customers with reassurance during this strange period. Always keep in mind that things are changing and developing quickly, so email content may need to adapt to keep up and provide an accurate overview. If you're not sure what to send, ask your customers what they want – that way they won't be disappointed when they get your next email with the content they asked for in it.