Google Shopping feeds for email (and why you need to be using yours!)

When thinking about retail emails, you expect to see products. Some retailers have a sprinkling of products, perhaps 3 or 6 featured in an email. Last week I received an email that contained 71 products! That's a lot of HTML to populate and test. Of course, they could have been using a send time population tool but that meant that when I clicked through on the product I was interested in, it had gone out of stock. To me, that's a wasted opportunity for email and it's something that can be eliminated from the email experience by, you guessed it, using a google shopping feed.
Relying on a Google Shopping Feed that updates regularly and contains detailed information about all your products, can improve email in a big way. Feeds also make life a lot easier for email marketers. Automating product content from a feed makes a huge difference to efficiency, CRM data can be used in conjunction with the feed to achieve advanced segmentation and personalization, product creative can be significantly elevated, and the products update live at the moment of email open maximising your revenue opportunity and minimising customer experience friction.
There's a multitude of ways to incorporate live products in emails, from the latest products added to triggered programs, to individualised SKU retargeted or category-based personalization.
How does it work?
Google shopping feeds contain very detailed information about products. Commonly, this information includes:
SKU
Title
Description
Link
Image link
Price (full & current)
Gender
Product category (e.g. clothing/accessories/shoes)
Product type (e.g. dresses/tops/skirts)
Custom labels (e.g. denoting sale/new in/selling fast)
Date added to feed, or days in feed
Your product feed is connected in Kickdynamic and then you are able to easily connect it to a live image template, adding blocks for each of the data fields you need. Once you've designed your image, you create a snippet of HTML to add to your email code. You can choose to have straightforward automation (like newest products) or apply more advanced rules such as 'newest from preferred category over £50'.
You can also use your product feed to display individual product SKUs. These can be manually added to the tag or merged from your ESP at send time, perfect for product retargeting or post-purchase emails.
In your CRM system, you likely have information such as the recipient's preferred gender, preferred product category, or last purchase product type. You can match that data to the product feed to automatically show products from the preferred categories.
Elevated Experience
Live products improve experience all round. For the marketer, tags can be embedded into templates, and they'll always update, meaning they can be set up and left to run. A great use case for fashion retailers in New In. These emails can take ages to build, test, edit the products due to sold-out stock, retest, and then eventually send. This BAU new in Loop can be completely removed by leveraging the product feed to display the latest products added to the feed with gender/category rules applied. You can also add stock rules so that you only show in-stock products that are available to buy. Products that go out of stock, are automatically replaced with products that are available. This is great for product discoverability, revenue, and your customer's experience of your emails.
Elevated Creative
With live products, you're no longer reliant on your designers to create fancy product designs. Using Kickdynamic and your product feed you can create advanced designs with data-driven visibility layers. For example, display roundels for new in products was and now pricing (or saving amount) for sale products,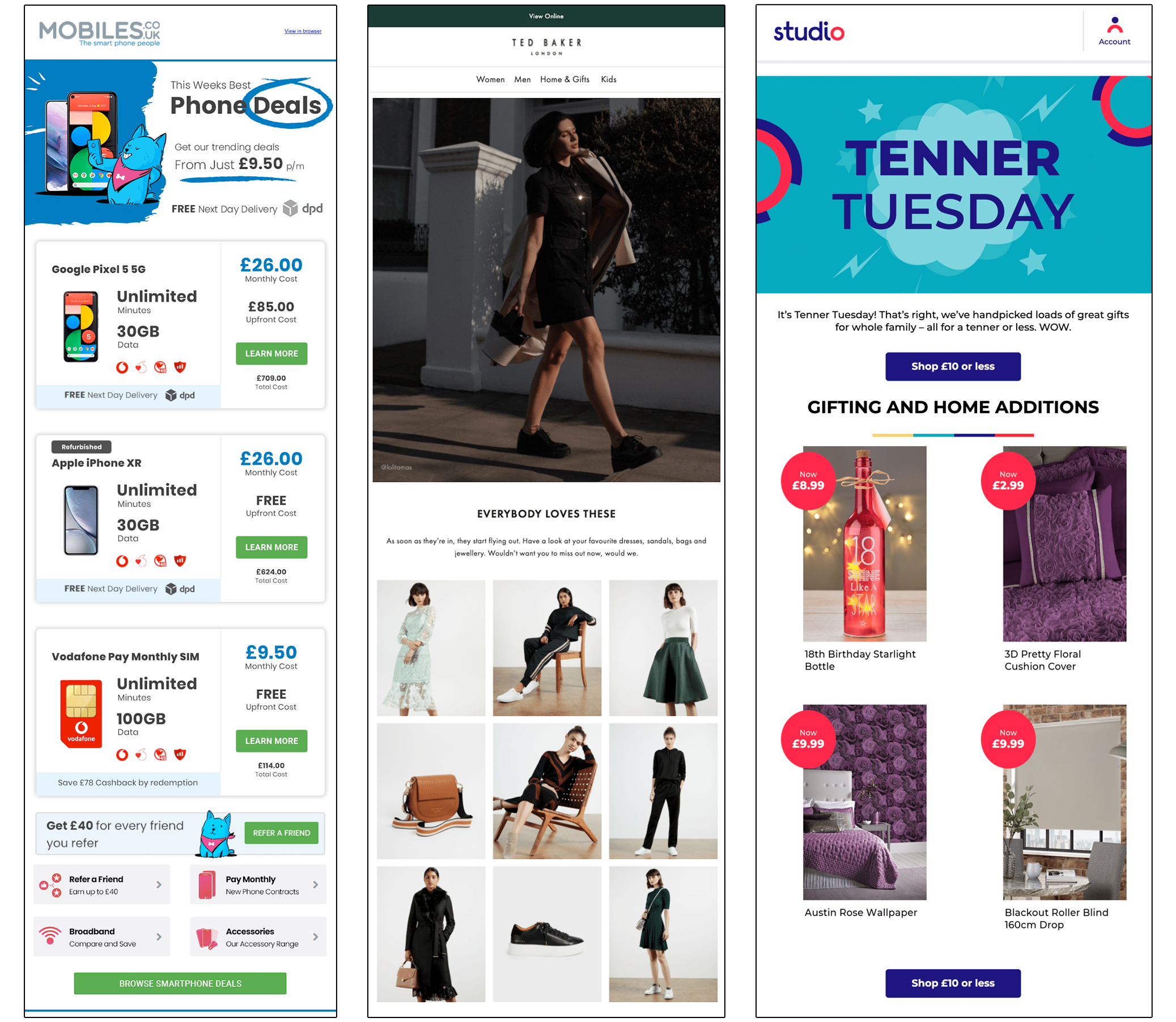 Our customers use their Google Shopping to improve their email performance and to be more efficient. Tags can be reused, so only need to be set up once. Replacing out-of-stock products provides a better experience for your customer and the data-driven visibility layers add more dimensions to your email, subsequently encouraging your customers to act.