Elevate engagement with User Generated Content

We come into contact with User Generated Content (UGC) on a daily basis, so much so that it's easy to forget that it's a form of advertising. By definition, UGC is any form of media content, from blogs to images, that has been created by users of a product or service which is made available freely usually via social media platforms. This translates into a huge amount of content that sees people like you and me promoting brands rather than brands promoting themselves.
As much as we don't always like to admit it, social media continues to be part of our everyday lives (if you disagree with me, I don't believe you!).
With the huge rise in social media, aided by the mass use of smartphones, there has been a noticeable shift in companies, particularly retailers, strategically utilizing the content produced by their customers (and why wouldn't you - it's free advertising).
Through the use of social media platforms like Twitter and Instagram, customers can jump on a hashtag and within hours produce numerous innovative, unique images which have the potential to reach a wider audience. It's no wonder retailers are then building these images into their advertising as a means to promote their products.
Why you should be using UGC...
As we move into a society where social proof and approval are high on agendas, as a marketing tool, UGC created by real-life customers is extremely powerful. It instantly allows both existing and potential customers to see how specific products look in everyday life, by everyday people. Consumers are gaining more influencing power over how a brand and its products are portrayed on social media. This content is highly successful because it shows a range of personalities and often provides inspiration for others.
When I'm online shopping, I see so much UGC built into websites, with customers showcasing their recent purchases. However, despite the abundance of incredible UGC available online, there is a lack of it making it to email and this hugely disappoints me.
Many companies that already have UGC displayed on their site are missing an easy opportunity by failing to roll this out in their emails.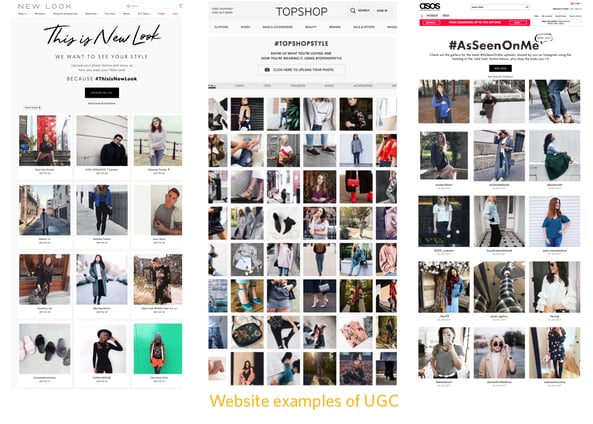 How to generate UGC...
If you are new to the UGC concept, there are tonnes of ways to encourage users to generate this content. A great idea is to run a special seasonal competition or giveaway. Who wouldn't take 5 mins to get creative and take a cool picture/selfie with the potential to win some goodies?!
Example: Birchbox
Birchbox, a monthly beauty subscription service, asked its customers to upload a picture with their most recent package for the chance to win £450 worth of beauty products. In doing this, over 25,000 images have been uploaded to Instagram. Whilst there are almost half a million images tagged with #Birchboxuk.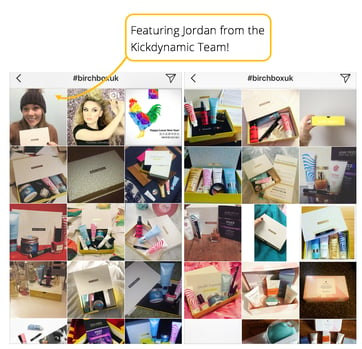 How you could be using UGC...
Now here's the best part... incorporating UGC into your email campaigns is not only extremely cost-effective, but it's also compelling, inspiring, and makes your brand, products, and services more relatable in your customers' eyes (basically it's a no brainer).
Make it Live!
Using a Kickdynamic Tag in your emails to display UGC will allow you to display automated, engaging content live at the time of open. If you already have UGC on your site, then typically the content has been monitored, filtered, and pre-approved. Kickdynamic serves images live at the point of open, as the UGC is approved and updated, it will appear within the email and update live, at the time of open.
It's as easy as 1,2,3 . . .
Identify your curated feed & connect in the Kickdynamic platform
Design your template to make on-brand
Generate Tag and insert into your HTML
This only requires a one-time setup and would ensure that the most recent images are displayed at the time of open.
---
Miss Selfridge, a British clothing brand, has great UGC on its website, however, it doesn't get used within their emails. I received this email recently and simply mocked up how they could add their UGC, which instantly makes the email more engaging.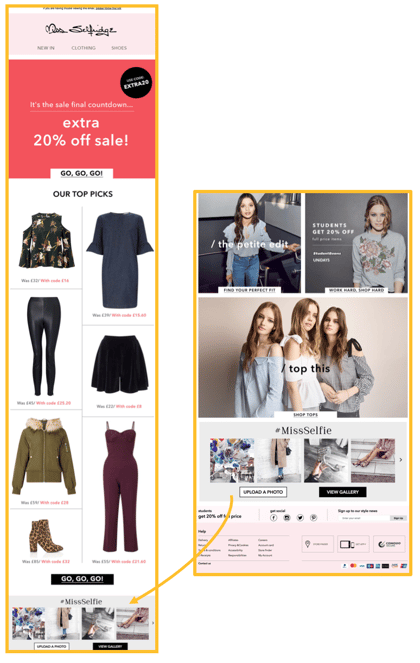 Top Tip: Inspire your email recipients to shop the looks/items other customers post. You can pull the content from a curated user-generated feed, or pull it straight from your site into your email to show the latest user-generated content, each and every time the email is opened.