The best dark mode resources
Like many people, I've fallen for dark mode. I didn't think I would like it. I thought I'd try it out on my phone for a couple of days as a work experiment, then I'd make a hasty retreat back to what I knew. I didn't expect to really like it.
💡Dark mode reduces the light emitted by device screens whist maintaining minimum colour contrast required for readability. It can help to reduce eye strain because screen glare is reduced (minimising flickering and blue light) and dark mode makes using your device much more comfortable at night or in dark environments. It also helps conserve battery. 💡
Towards the end of 2019 there was a boom in people talking about, and trying, dark mode. This was because iOS Mail introduced it and other major players including Gmail announced support for it. It felt like everybody was suddenly talking about it. With more and more people making the move over to the dark side, conversations about inbox implications started popping up everywhere. I wasn't surprised that people were talking about it…. As a dark mode user and email marketer, I noticed almost every email I opened wasn't built for dark mode.
Invisible logos, wonky padding, mismatched borders, clunky white backgrounds on images; lots of emails looked, well, a bit messy. A number of clients got in touch asking for tips and whilst our images are not affected, we wanted to help. With that in mind, I pulled together some of the most useful resources we turned to.
We can always trust the team over at Litmus to deliver the goods. In this blog, Alice Li takes a comprehensive look at dark mode. Alice delves into what email clients offer dark mode, how these settings impact email designs and actions to take to improve email experience. This is a very detailed post which is a must read for anybody looking to get to grips with dark mode.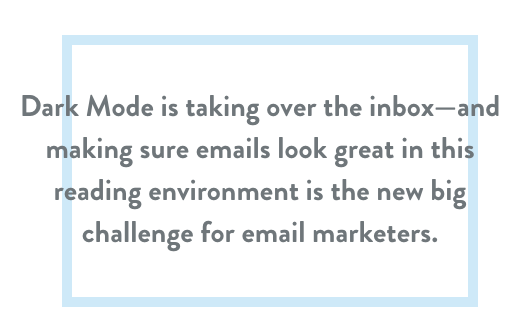 This is a great blog with loads of great image examples of emails in light vs. dark mode. There's a nice section with tips to optimise for dark mode which is super straightforward and handy.
This article from Kevin George contains useful stats and information about the benefits of dark mode and device usage. There's also a handy guide to compatibility in email and some quick wins to make email look better in dark mode. It's worth a look.
A detailed blog with lots of rending examples. Useful tips and examples of real emails in the inbox and the code used to enhance the dark mode experience.
I hope you found this content useful, if you have any other resources you think I should include here, get in touch or send me a message on LinkedIn.