Let's talk countdown timers - the wheres, whats & hows!
We all know what timers are and why they are used. They are a quick, effective way to boost engagement – whether that's sales or sign ups. Introducing urgency into the inbox, the literal ticking down of time, encourages email openers to take action. However, some timers work better than others. And some use cases work better than others. When should you use a timer? How many is too many? What should your timer look like? Read on and you'll find out…
Almost all brands have tested a timer at some point. They're common fixtures in the inbox but often they could be executed better. Here's what makes a good timer.
When to add a timer
Timers are versatile and can be used for many different things. In retail they're predominately used to countdown until the start or end of a promotion, they're also used a lot to visually show delivery information e.g. 2 hours left to shop for next day delivery. Fashion brands also use them for new launches, events and fashion shows. In travel, it might be a countdown until travel. Media outlets might use them to show the time left until your subscription expires. Whatever the use case they'll add something extra to your email.
A tip from me though is to not use them too frequently. You don't want your subscribers to become fatigued. Use them for big events, promotions or personal things like a birthday or holiday countdown. I'd also recommend not using timers when the promotion ends too far in the future, short bursts and short windows means openers are more inclined to take action. Here's more tips to maximise timer effectiveness:
Messaging
A timer without clear messaging is just a confusing waste of space. You may laugh but I've seen hundreds of emails that have a timer chucked at the top with absolutely nothing close by to explain what it's there for. Sure, there might be a big promo banner halfway down the email but that timer up top is ticking all by its lonesome. Be smart and out a very clear message close to the timer about what it's there for!
One of my favourite timers is this one from ASOS – the messaging is brilliant - There's no way you could've missed that giant countdown clock, right?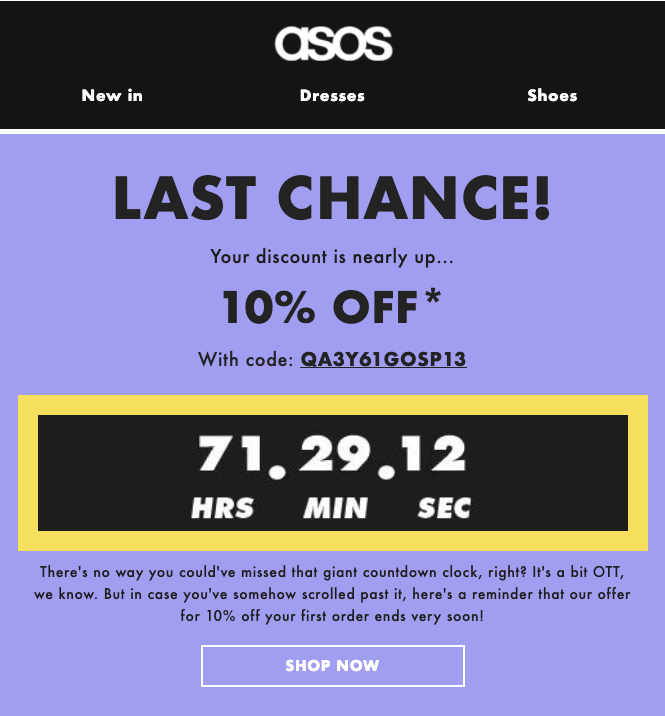 Labels
In the same vein, make sure you put time labels on the timer. I repeat, put time labels on the time parts of the timer. 23:45:59 really doesn't mean much at all. 23 hours, 45mins and 59 seconds does though! I've seen countless timers without this and really, they loose a lot of meaning.

Call to action
Next up – make sure you put a call to action close by. From our insider knowledge I can tell you that LOTS of people click on the timer within the email so make sure to incorporate a call to action in the design or place one close by.
Positioning
Positioning is important too. We always say the closer to the top of the email, the better. However, one customer added a timer to their email footer and 30% of all clicks on the email came from that timer – right at the bottom of the email! If the whole email is about the promotion, then having the timer at the top of the email makes sense. If the timer is more 'supporting content' i.e. it's in a banner within an email but not the core focus, then the timer doesn't need to be at the top.
Types of timers
There's lots of different types of timers and they serve the same and different purposes! Of course, they're all counting down to something but with differing degrees of urgency.
Day's left timers
Subtle timers that display the days left. Often these are a banner across the top of an email, think 'days left until Christmas'. Subtle, small and useful. Here's a few examples:
ASDA - Christmas days to go:

Ted Baker - days until launch: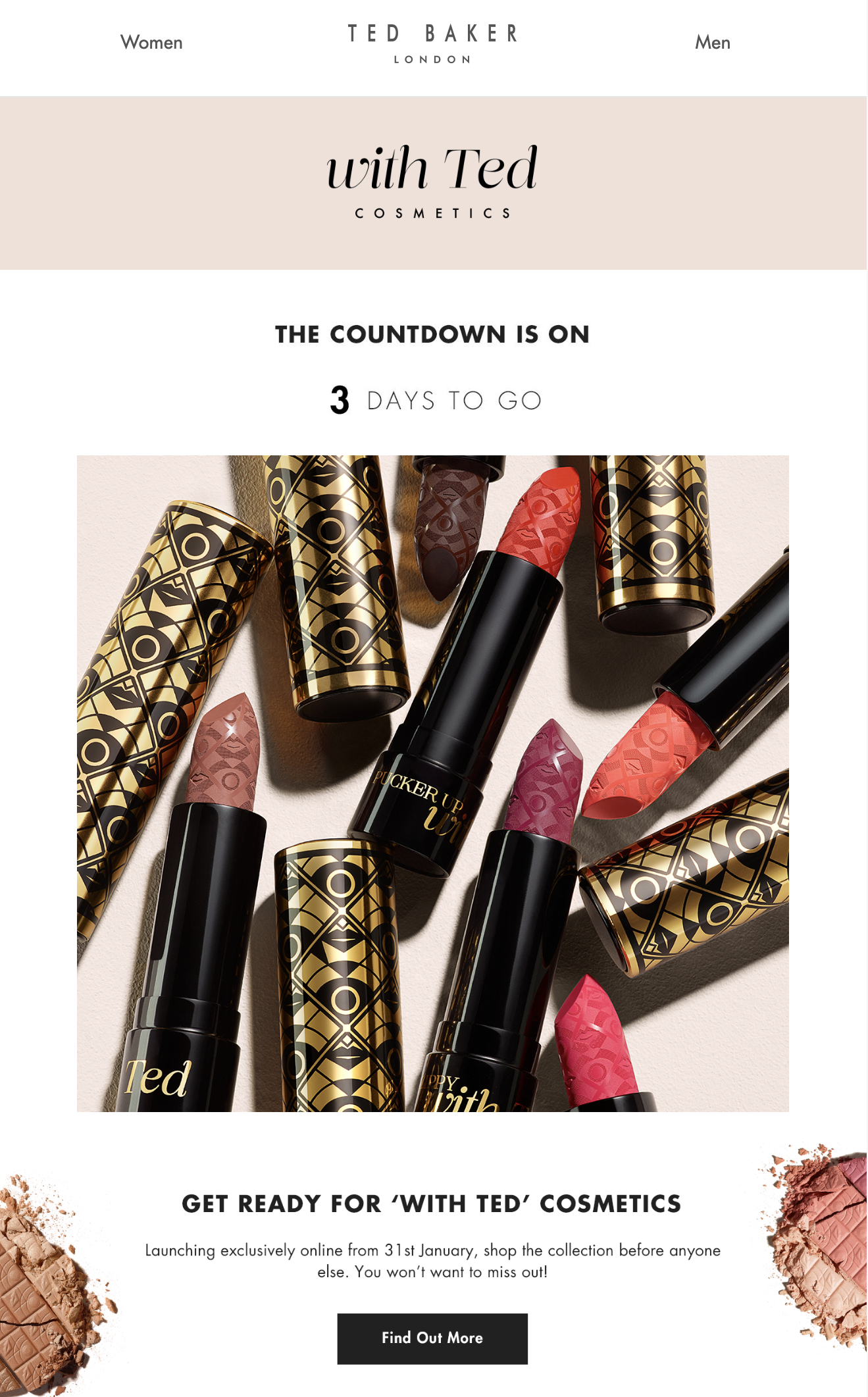 Whilst we're on the subject of banners above the hero, timers don't have to be huge. This timer from T.M. Lewin is a lovely example of a small, punchy timer that captures attention: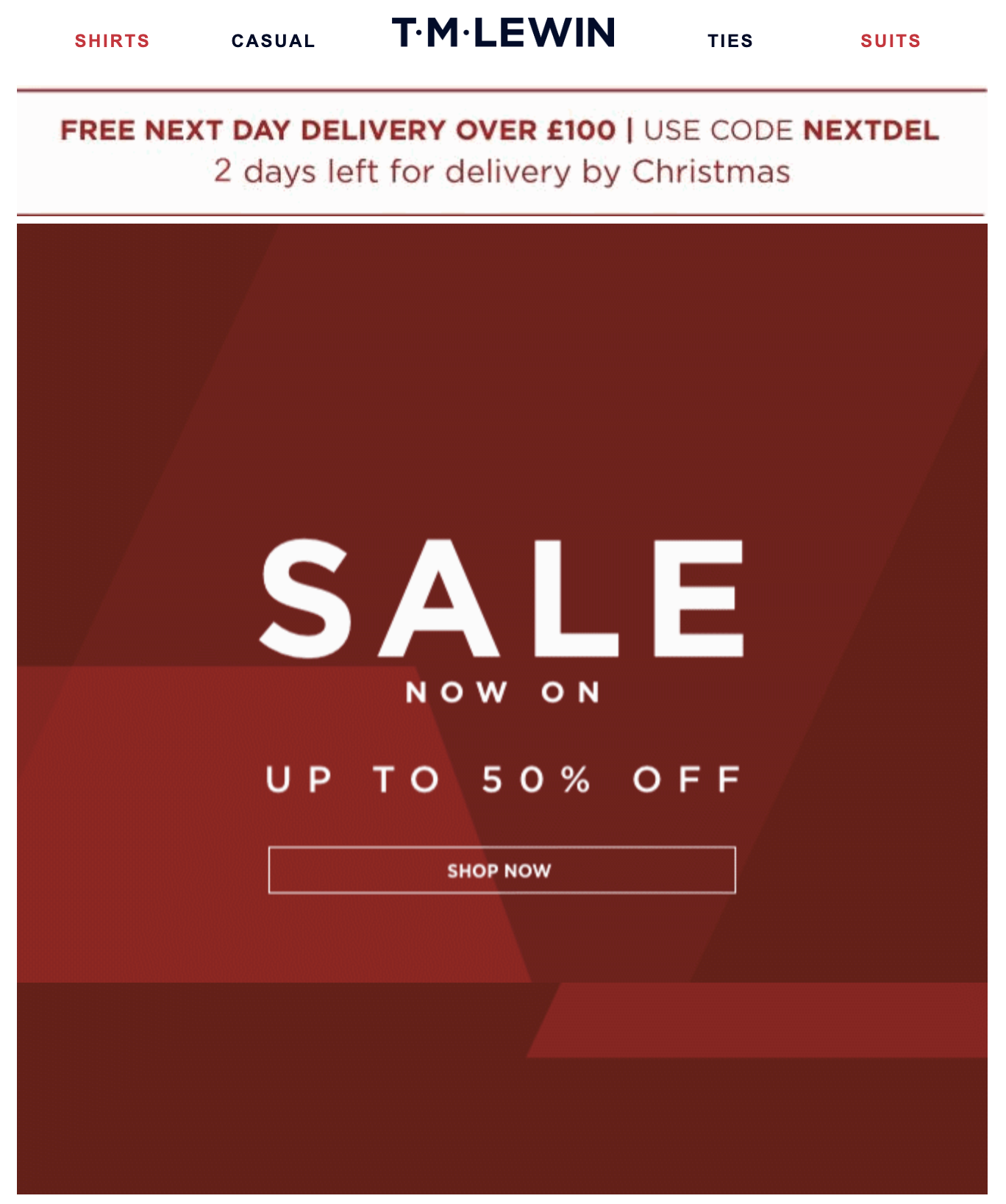 Roundels
Timers don't have to be linear, and they don't have to tick. A simple days or hours to go roundel can work wonders and gets the message across just as effectively.
P&O Ferries - free booking changes: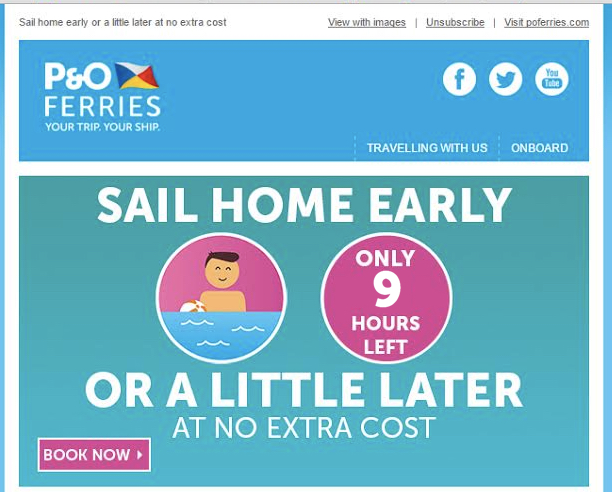 Design
Whilst you can go wild with design, personally I'm a fan of simpler designs. If the design is too complex, or 'designy', the timer can be lost. Of course, some design elements to make it pop are great and don't forget to use custom fonts for extra wow factor.
Anya Hindmarch - countdown to fashion show: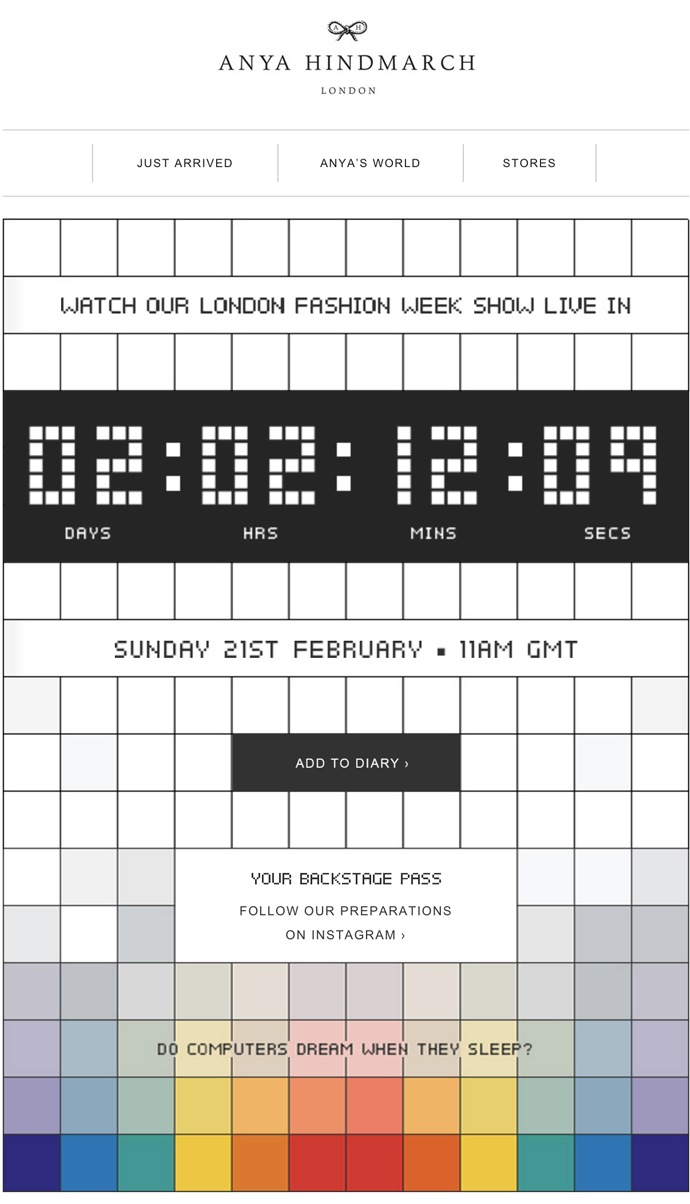 Ted Baker - Christmas delivery:

Go the extra mile
If you want to really up the stakes, add other live functionality alongside the timer. Personalized images work super well to enhance the message. Here's an excellent timer from Topshop: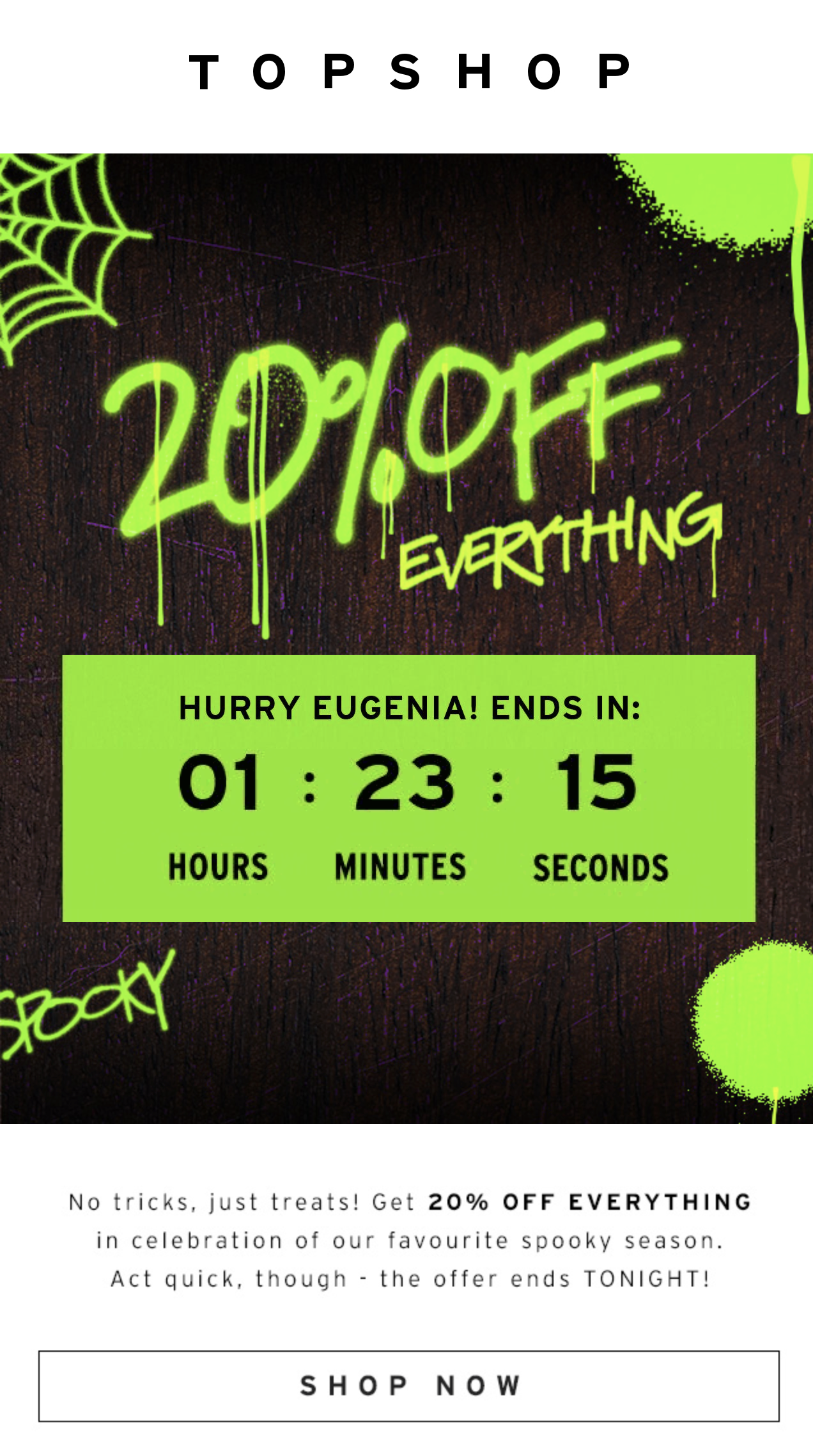 Triggered Emails
You can also add timers to triggered emails so that each recipient gets their own unique end time – perfect for new subscriber offers or personalized countdowns.
What happens when it's over?
When it's over, it's not really over. There's still opportunity for timers after they've hit zero! So many brands add a timer to an email and then let it run down to 00:00:00. If you open and it's on zero, you think it's all over and don't engage. Swap out the timer with an after message so those long-tail opens get an option to engage. Something like ' This promotion has ended but we've got some new arrivals we think you'll love'. This gives you an opportunity to win back any late openers.

I hope you find these countdown timer tips for email marketing useful. For more real examples, head on over to our live email gallery.