Convert your window shoppers
It has been reported that you're lucky to have just 5% of your website visitors get to the stage where they add products to their cart. That means a huge 95% of your site visitors, may have a browse, but then leave having taken no further action.
We all know that nailing your cart abandonment emails has a significant impact on sales - these emails offer a solid recovery rate and yield good ROI - but what about browse abandonment emails? The 95% of browsers that abandon could be a huge opportunity...so give them some love!
Like cart abandonment emails, the objective for browse abandonment emails is clear: entice a visitor back to your site to make a purchase. Browse abandonment emails may have a lower conversion rate than cart abandonment, they certainly create an opportunity. You can effectively target a much larger pool of interested individuals if you're able to identify them (*and if you have their email address and their permission!).
Of course, website visitors are inevitably at different stages of their purchase journey. They are essentially window shopping. If a visitor abandons your website after a browse without adding any products to their cart, the chances are that they're either not sure what they are looking for yet, they can't find the product they would like to buy or they just simply aren't ready to make the purchase. We're probably all online window shoppers on a daily basis!
So think about sending a browse abandonment email to the visitors you are able to identify. It could just be the nudge they need to jump back on to your site and make a purchase. According to SaleCycle, browse abandonment emails, as a benchmark, can achieve a 35% open rate, a 6% conversion rate, and a 2% uplift in sales. That's a healthy opportunity right there, but weirdly one that many online retailers choose to ignore.
To get browse abandonment content for this blog, we did A LOT of window shopping. Here's a selection of the (comparatively few) browse abandonment examples we came across.
1) Category abandonment
We visited a category page e.g. bags/shoes/lingerie but did not click on any specific products.
Here's an example from M&S after browsing lingerie, recommending other categories that are frequently viewed with lingerie and other popular pages from their site to entice the subscriber back.

In a category abandonment email, I'd recommended you show the most popular items or the latest products from that category. You could also leverage any historic info that you have about the individual, such as a few 'you might like these products' based on previous purchase information. This type of category-led product-based email can be driven by a Google Shopping feed and content automation, set up and added to the HTML. At the time of send, the category abandoned is merged into the tag and on open, the latest products from browse category are shown.
This is a fantastic opportunity and one that requires very little management beyond setup and implementation.
2) Product page abandonment
We clicked through to a specific product page but didn't take the next step of adding the product to the cart.
We love this email by Surfdome which showcases the products viewed: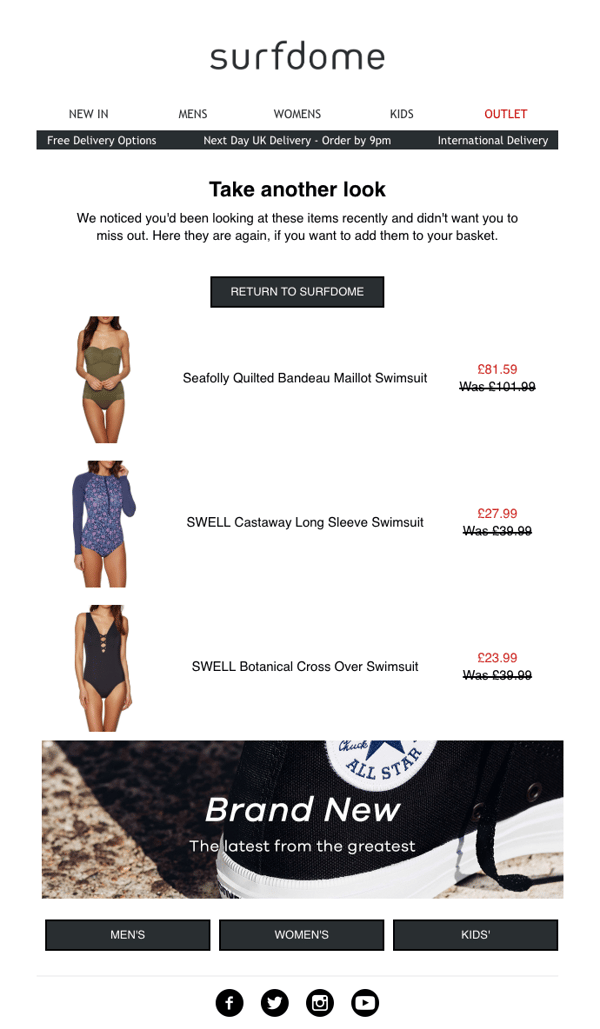 Although this email is a great example, there's one recommendation we would make. Adding in an additional product section to this email e.g. New In, best sellers or even recommended products, would enhance product discoverability.
3) Site search abandonment
For this one, we used the search function on Booking.com to search for 'Newcastle'. This automated follow up took us right back to our search results: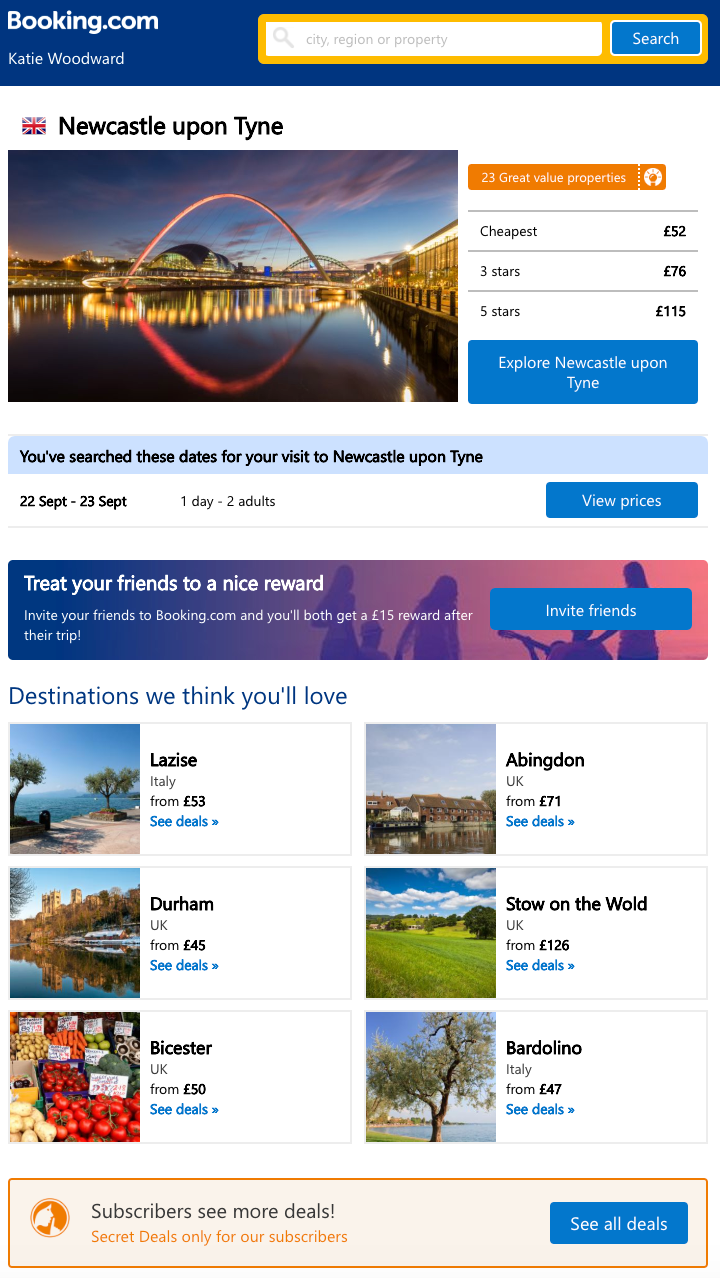 Although this is a great example that ticks all the boxes - it's got exact search dates, price tiers and other destinations searched for or they think we might love, Booking.com are a tad relentless. This email example landed in our inbox within 4 hours of abandoning the site, and a further three since (and counting!!)
By incorporating browse abandonment emails into your email strategy, you may just encourage your visitors back to make a purchase. There are a few tips in this post to help you get browse abandonment right. My recommendations are to surface the category/products abandoned, include another section in the email for product discoverability and make sure you cap the number of browse abandonment emails you send. Oh and make sure that you don't remember the browse data forever - Jordan searched Booking.com for a hotel in Hillingdon and is still being targeted with hotels there 2 years later! She's not even sure where Hillingdon is...