What we can learn from Black Friday 2018
Many marketers are already deep into planning and working on their Black Friday campaigns. With Friday 29th November not far away, the big weekend will soon be upon us.
We all know the savings we stand to make if we wait for the big weekend - the obligatory slashed prices on those high-ticket items are everywhere. Even bigger than Amazon's epic Prime Day, it's the time of year where many of us sit and impatiently wait to snap up the things we want in one day - because we might save a quid or two.
With just over two months to go, us savvy consumers are starting to hold off on buying the more expensive stuff we want, in the hope of a good deal. With Black Friday this month falling on the last Friday of the Month (pay day!), it's set to be a record day and weekend of spending.
I decided to take a look back into the email archives and see what brands have done in the last few years - I've pulled together a few of my fave examples for some Black Friday email inspiration.
Staples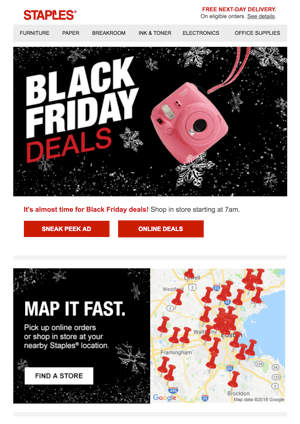 Staples have regular sales and are big players in the Black Friday game! This email was a teaser to excite subscribers ahead of their huge sale. The email featured a map of a subscriber's nearest stores to the city they opened. If a subscriber clicked on the map, personalized directions opened in their map client to their nearest store at that moment encouraging in-store traffic.
Mobiles.co.uk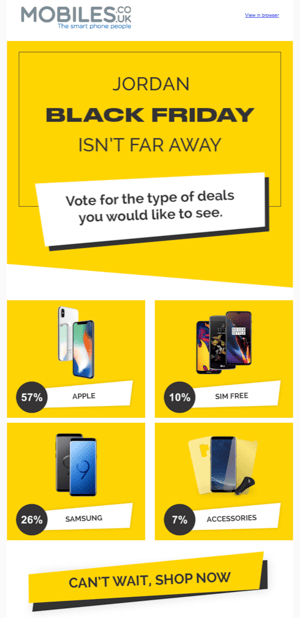 Ahead of Black Friday, Mobiles.co.uk asked their subscribers the type of deals they would like to see over the sale weekend.
They used the click data received to send tailored deals based on the category an individual voted for.
As the email was live at the time of open, the results updated in real-time as the votes rolled in so recipients could check back and see how their vote affected the totals.
Article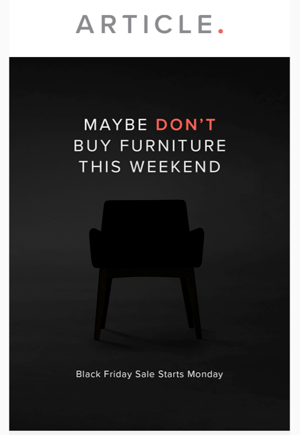 I really like this email from US furniture retailer Article acknowledging that their sale is coming and actually putting subscribers off from purchasing now, encouraging them to wait until their Black Friday sale to take advantage of the upcoming deals. I like the honesty of this email - Article know that people are likely to be holding off buying until the sale starts so they've confronted this head on for a humbling customer experience. We all know how annoying it is to make a decision to buy something only to see it go into the sale a few days later! This tactic totally avoids that.
Hunter Boots

Hunter Boots sent this email promoting their dark boots, making the most of the theme!
Hunter included a live timer counting down to the end of their sale. On every open, the timer updated to show how long subscribers have left to purchase at the reduced costs. Countdown timers are an easy yet effective tactic to create excitement, build anticipation and be transparent with your recipients.
The White Company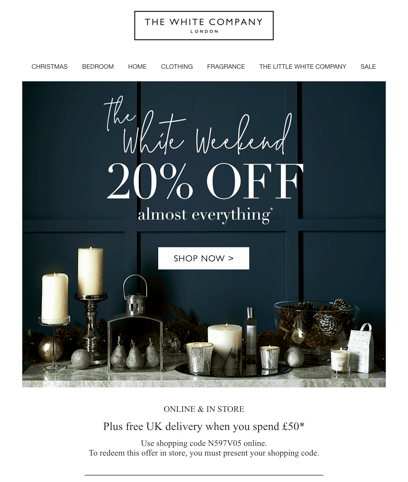 In this email The White Company have gone for a simple postcard email notifying subscribers of their sale. Playing on their brand, they call the weekend sale the 'White Weekend' as opposed to Black Friday. A nice touch in an otherwise very dark weekend!
Here's to an even greater Black Friday 2019!
View real examples and ideas on our Black Friday webpage.