Black Friday 2019 learnings
And, breathe email marketers - the madness of Black Friday Cyber Monday is now over for another year.
With more than 250 million marketing emails estimated to have been sent over the sale weekend, we've picked out some of our favourites from this year.
From snappy subject lines and thoughtful personalization to gamification in email, here's some inspiration for how to stand out in the inbox for the rest of peak.
PrettyLittleThing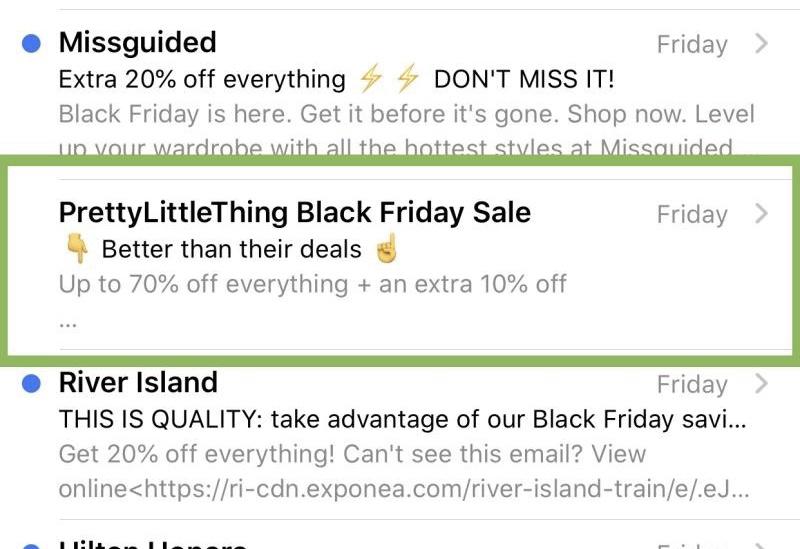 In a playful nod to the competition in the inbox, PLT cut straight to the point by highlighting quite how big their deals are, in their subject line.
Many shoppers are simply looking for the biggest discount on Black Friday – putting this info front and centre is a big help in navigating overcrowded inboxes which we're sure did wonders for their open rates.
PLT weren't done here though, the top banner of the email changed language as time went on - another great way to catch the eye

Aspinal of London

Cyber Weekend's mouth-watering discounts have often led me to buy things I don't necessarily need followed by inevitable feelings of guilt. Less guilt-inducing, however, is buying things I actually need and probably would have bought anyway, just at a lower price.
That's why this Black Friday email from Aspinal of London is great – they kept it really simple, using browse data to show products from the same category I was searching previously.
Simple yet thoughtful personalization led to one of my more justifiable purchases this year.
Kate Spade

With so many eye-catching offers to choose from over the weekend, and at this time of year generally, it can be tough as a consumer to make sense of it all and find the right offer for you.
That's why changing it up and asking recipients the type of deals they are most excited to shop during the Black Friday bonanza is a great way for brands to help customers and show them that they care about what they want. As a retailer it's also a fantastic way to progressively profile the customers you don't have much data on.
That's exactly what Kate Spade did here, using a live poll in email to build excitement. Results updated live at each open and the vote data was used to send a targeted follow-up with offers on the category each recipient voted for. Well played Kate Spade!
Paperchase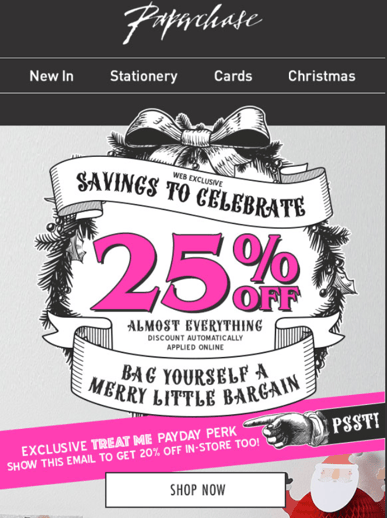 While Black Friday is the day for in-store discounts and Cyber Monday focuses on online, there's nothing to say the two have to be mutually exclusive. Sometimes it makes sense to try a product in-store while some items are widely available enough on the high street that I'd rather look for them instead of waiting for delivery.
Paperchase cleverly used email to drive store footfall by instructing recipients to show the email in-store for a 20% discount - a great way to increase conversions.
To enhance this email further, they could have included a map of nearest stores at open with personalized directions to the nearest one when clicked. With over 130 stores in the UK, consumers are unlikely to be too far from their nearest Paperchase so it would have been powerful to show that in email.
iClothing

Live content in email still surprises a lot of recipients and deal reveals like this one from Irish retailer iClothing are a great way to get them re-opening to find the right deal for them or to see the product they've had their eye on, on offer.
In this one email, iClothing displayed a different deal to recipients every two hours - communicated clearly with a countdown timer showing how long they had to redeem the live offer.
At such a crowded time in the inbox, using one email to communicate what might previously have needed nine, is both a considerate way to keep the inbox manageable and a brilliant way to make the most of the time you have a consumer's attention.