Are your emails keeping up with new data sharing attitudes?
It sounds simple, send the right content to the right people – yet still so many email marketers continue to miss the mark. And this is becoming ever more a cardinal sin as attitudes of the everyday consumer shift.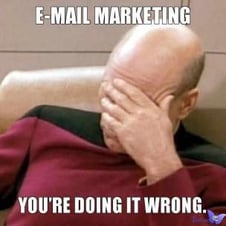 (A daily thought in the Kickdynamic office)
I'm going to speak now as a consumer, not an email marketer. I know day-to-day that retailers gather a lot of information on me; be this from store cards, loyalty programmes, or generally acknowledging that more of my online movements are being tracked by retailers. Even people who don't work in online marketing notice and appreciate that when they've browsed a certain website or product – it's likely to follow them around the internet in the form of retargeted ads.
Personally (and I'm sure the majority will agree), if I'm going to be retargeted with adverts, I prefer seeing products I'm actually interested in and the same goes for the content in my emails. It's annoying to glance at an email for a second, decide instantly that none of the products really float my boat and hit delete. If this happens a few times in a row from a specific sender I'll unsubscribe. On the flip side, when personalization is done well in email, I enjoy looking at the products and this is probably very evident in my dwell time.
I stumbled across a recent report by Salesforce 'The State of the Connected Customer' and it came as no surprise that there has been huge movement and talk around new data-sharing attitudes amongst customers. According to the survey, the majority of UK customers are more willing to share personal data in exchange for offers and discounts which are personalized to them (I mean why would you not want to be notified when your favourite product is on special offer?!).
"63% of UK customers say being sent personalised or exclusive offers and discounts has a direct influence on their loyalty."
With these changing attitudes, there is an increasing level of expectation when it comes to marketing. In the study carried out by Salesforce, it was found that one in two UK customers say they're likely to switch from a company that doesn't make an effort to personalize interactions. Now that's a scary number when you think that 50% of your subscribers could unsubscribe as a result of you not using the data you have at your fingertips to personalize your emails in the best way you can. Nobody wants to be marketed a product they've just purchased or repeatedly shown items they're not interested in.
In our world, with marketers having access to an abundance of data about their consumers AND the highlighted changing attitudes of their market – is there really an excuse NOT to be sending highly personalized emails?
In a word. NO.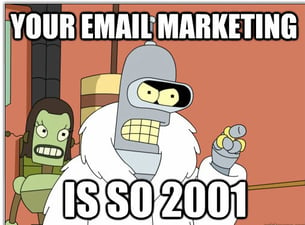 At Kickdynamic, we believe everyone should be connecting their CRM data (including browse behaviour) with a product feed enabling you to send highly personalised emails. This automated way of producing content is truly a no-brainer, ensuring your email content is always highly individualized and live at the time the email is opened all whilst saving resource and build time.
And just incase you needed some more persuading why high level personalization is so important, here are some more key stats from Salesforce's Report that suggest by 2020:
48% of UK consumers will expect companies to anticipate their needs and make relevant suggestions before they contact them

45% of UK consumers will expect companies to use AI to automatically purchase or recommend products based on their preferences