Anya Hindmarch Countdown to LFW show
This year fashionistas all over the globe were able to watch the Anya Hindmarch London Fashion Week show live. For maximum exposure and urgency, Anya Hindmarch implemented a Kickdynamic countdown timer as part of their London Fashion Week show promotion.
The Autumn/Winter 2016 show was brought to life on the runway in a show that explored the development of artificial consciousness and posed the question, do computers dream when they sleep? The bold style of the show was translated into the email with a custom font uploaded for the timer in the same pixel style as the show. The timer featured prominently in the email, with clear, concise messaging around it. The strong 'add to diary' call to action and the cross channel link to follow show preparations on Instagram made this our tag of the week.
Here is the full email: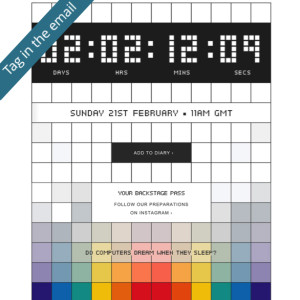 and here's the Tag: