Advice for a successful holiday season (from email experts for email experts)
The busiest time of the year is almost upon us. We're coming up fast on the holiday season after what's been quite the year. Thanksgiving, Black Friday, Cyber Monday, and Christmas are mere weeks away. For most retailers the next two months are critical trading periods – there's a lot of pressure to finish the year on a high.
This year, there are more people shopping from home than ever before. More emails are being opened than ever before. More transactions are being completed online than ever before. Ecommerce has never been so important. With email the main store front and direct communication point for many businesses, getting peak right this year is so important.
We asked email marketing leaders to give us their best advice for a successful holiday season. Here's what they said....

Jenna Tiffany, Founder & Strategy Director, Let's Talk Strategy


"Review the quality of your email marketing data: How clean is your list, what's the percentage of hard bounces, unsubscribe and complaint rates? If these are high, there could be an issue with the quality of the data that you're collecting. A method of verification at the point of sign up can help. Audit the engagement levels of subscribers - what's been the most engaging content that we've sent our subscribers? What was the least? This is a vital aspect to do before the holidays season as typically the volumes of email marketing sent increases, and if you have poor quality data, you are at risk of not being delivered."
Hannah Spicer, Consultant, Hannah Spicer Consulting

"Tip 1: Make sure you have your key automations in place for peak season, and to add new split tests to them to make the most of the increased traffic. eg. testing timings on our abandoned basket emails, testing incentives on your lapsed customer emails."
"Tip 2: 2 Be aware of your sender reputation, particularly as you are likely to be under pressure to send to more people on your list, and more frequently. You don't want to get spam complaints and suffer from poor delivery at this key time, so be mindful of your behaviour in terms of frequency and segments."
Olivia Shani-Wilson, Senior CRM Exec, Pretty Little Thing

"Stay reactive and try to switch things up each year. Even though things may have worked well in previous years, the market changes so quickly as do your customers and they're always looking for the next cool thing."
Don't be afraid to mix up your creative across the holiday season. A theme is great, but recipients can tire of creative that all looks the same – it might not pack the same punch after multiple emails. One brand we spoke to said they had a very stylised, tight theme running from Halloween all the way through to Christmas and their customer engagement dropped after a few weeks. This year they've got a general theme but have worked on having lots of different creative options within the theme to keep the content fresh and their customers engaged. Olivia's spot on - be reactive and switch it up.
Lauren Oliver, CRM Manager, Bulk Powders


"Tip 1: Be prepared! The holiday season is always crazy busy, ensure you're thinking about it and your strategy beforehand rather than rushing it."
"Tip 2: Gift guides work really well! At Bulk Powders almost all of our emails are very promotional/discount heavy, but around Christmas time we promote gifting (gifts for men, gifts for women, gifts for vegans and stocking fillers) alongside our normal promotions and the gifting banners drive significant interest (clicks) as it's something new to talk about."

"Tip 3: If you're a B2C business remember last postage dates! There's no point sending gifting guides/seasonal messaging after the last postage date has past

"Tip 4: Yearly wrap up emails thanking your customers are a must - we usually do a 'thank you for being part of our 2019 story' reviewing key highlights of the year."
Richard Jones, Head of CRM at Crew Clothing Company


"Not everything is going to go smoothly, it never does, plans never survive the first contact with Peak, but you can reduce the potential strain by pre-prepping your responses. Peak moves fast. You have to move faster... Low AOV?! Have a spend stretch campaign and audience ready to go. Low response rate?! Have an upweighted offer ready to go. You can cover off the bulk of the contingency planning well in advance."

Having 'save the day' emails in your back pocket is a must. As Richard, says, peak has a way of derailing plans. Prepare keys emails that have worked in the past to help you hit those targets. We also suggest having an 'oops' email waiting in the wings. In moments of high pressure building an email from scratch when something has gone wrong is stressful!
Gavin Laugenie, Head of Strategy and Insight, dotdigital

"Tip 1: Consider how your database will change - that's both opt-in and out. Be sure to inform would-be subscribers of the benefits of subscribing to your mailing list to ensure they stay subscribed well into the new year and that they're not just subscribing to get a discount, making a purchase and unsubscribing straightaway. With that being said, if they do want to unsubscribe don't make it difficult for them. By all means, give them an option to ramp down the volume of emails they'll get at this time of year and manage their preferences, but if they want to leave, let them go. They can always come back later once they realise what they're missing out on."

"Tip 2: Re-evaluate your automated emails. Sending the right message to the right people is precisely what you need, but if it's at the wrong time, it may well fall on deaf ears. We automate to make sure this doesn't happen. Tweak delivery times and returns policies to fit the time of year. We're talking about post-purchase to improve the customer experience and drive repeat purchases, abandon basket adjusting the time you send them, consequently avoiding your customers going elsewhere and refining your welcome program. The welcome is the first interaction a subscriber will have with you during this period, so make a lasting impression and give them everything they'll need to purchase with you."

"Tip 3: Have Fun! Bring joy, fun and excitement to your recipients often lacklustre inboxes. Think about your creative, make it exciting, but don't just throw tinsel at it, make sure your email is functional, displays well on all devices and is engaging. So few brands actually take the time to truly optimize their email marketing, making it a priority is a simple way to stand apart from competitors and deliver results.GIFs, interactivity like AMP for email are excellent ways of achieving this. Countdown timers can be fun, and they also create a sense of urgency and build FOMO (Fear Of Missing Out) which is exactly what you're looking for."
Jess Horn, Account Manager, Kickdynamic
Keep. It. Simple. Keep it clear. After reviewing a lot of holiday emails last year, there was a bit if a common theme between many emails. Clutter and noise! We get it that there's a lot to say and a lot to sell over the holidays, but cluttered, busy emails are hard for consumers to connect with.
Eugenia Hewitt, Account Manager, Kickdynamic

Personalize! If you've got data use it. And if you don't have it - ask for it. Whether it's personalization over images like the example below, or using CRM data in a more advanced way to personalize email content to each recipient, personalization equals better performance.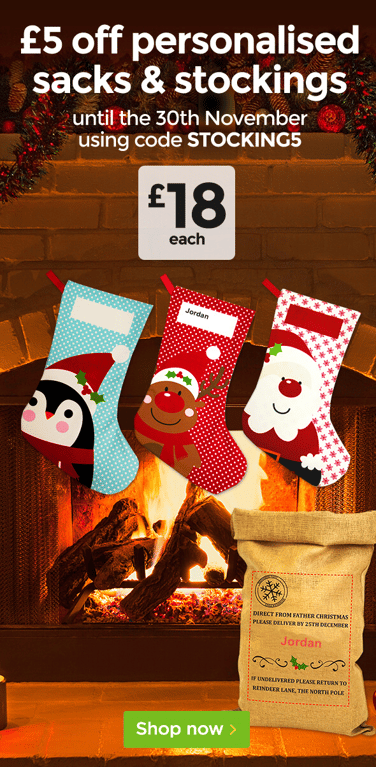 AND here's my advice:
There's a lot of emails going out. Be bold with those subject lines to get people opening their emails. I loved this subject line from Pretty Little Thing last year: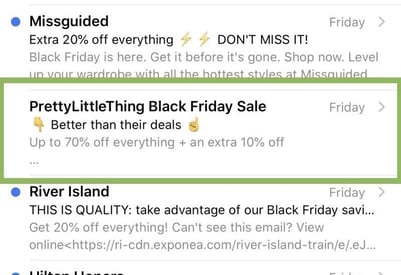 Onto the actual email: make sure the content packs a punch. Like Gav said, make it fun! As Lauren said, I'd also suggest adding gifting content or ideas to make emails relevant to those buying for others. For example, 'most purchased' or 'most viewed' products onsite can be added into email to provide inspiration. Use the site data, CRM data and tools you've got to ensure each email you send is the best it can be.
This article is packed with loads of tip top advice from people who really know their stuff. Start by looking back and seeing what's worked in the past and then make a plan - have an objective for each email. The resounding feedback we received was to be organised and do as much as you can upfront. Making a plan and locking down your strategy is a really important factor in success. You may not stick to it but planning a general holiday campaign strategy and planning the objective and content for each email is the difference between an OK campaign and a superior one. Giving each email in the campaign the love, care and attention it deserves will work to your advantage.
Be sure to keep an eye on your data and deliverability before, during and after the period. Review your automations and make sure that welcome email isn't just tailored to now - keep a longer term focus too. On automations, review and tweak these as needed. If you've got time, consider testing timings and content in these emails to find out what works best. You know what works for your subscribers in terms of email content - so do more of what works. Be sure to add some inspirational content around gifting to make sure everybody can find what they're looking for - you might just give them an idea for that one tricky person. Always review each email before it goes out to make sure the messaging in clear. Keep those delivery dates/times firmly in mind. Use live content like countdown timers to make delivery messages super clear! Finally don't forget to have a handful of 'save the say' emails setup and ready to go for a few common scenarios.
And when it's all over, send a year in review email so customers can see just how important you've been to them this year.