Celebrating the acts of kindness in the fight against Covid-19
While getting used to my new routine in this uncertain time, I decided to limit the time I spend looking at the news each day. Instead, I am focussing on the positive stories that are coming out of this global crisis including the ways so many brands are stepping up to join the fight.
Ben Essen, Chief Strategy Officer at Iris, points out that in a crisis, businesses that want to do good can often feel damned if they do, damned if they don't. Given the unprecedented nature of COVID-19, brands will continue to feel unsure of how to help without appearing to profit from the crisis. The question is whether the brand has a legitimate and authentic reason to act - ensuring the short-term survival of the company and the longer-term goodwill of the brand [The Drum].
Some brands have jumped in to help, without hesitation. They are helping our key workers, keeping our country moving and some are even saving lives. It's truly heartwarming to witness. It began with chains like Leon, Subway, Pret a Manger and Nandos offering discounts on food or free coffee for medical workers. Now, many brands have gone above and beyond, changing their production, strategy and marketing campaigns quickly to react to the crisis.
I want to call out the amazing, authentic ways brands are helping, because they deserve to be recognised and celebrated.
New Balance
The American shoe giant has recognised the US' severe shortage of safety equipment for hospital staff on the frontline treating coronavirus patients, so has retooled its factories to be able to develop, manufacture and deliver face masks.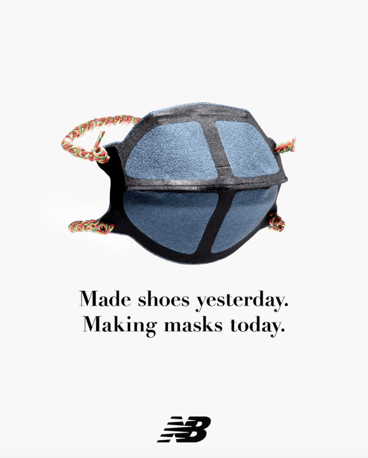 LVMH
The production sites that usually produce perfume and makeup for the likes of Christian Dior and Givenchy, are instead manufacturing hand sanitiser. CEO Bernard Arnault announced that sanitiser will be delivered for free to French authorities and hospitals. They are on track to supply over 12 tonnes of the stuff!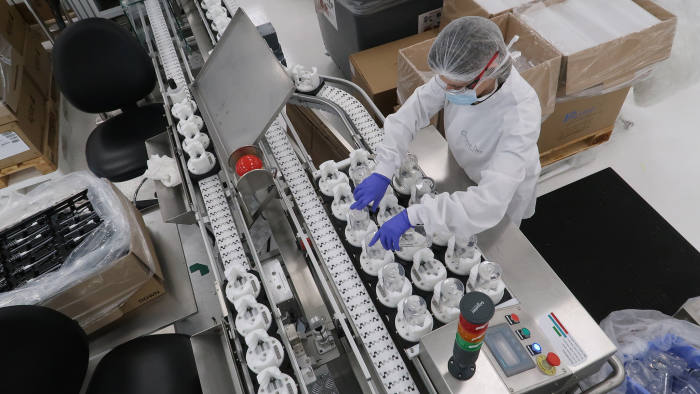 L'Occitane
A direct result of a lot of hand sanitiser is very dry hands which I'm sure we've all experienced in the last few weeks! So, to show their support for NHS workers, L'Occitane sent hand creams to hospitals to soothe their 'hard working hands'. In addition, while stores were open, any NHS worker was able to collect a free hand cream as a thank you.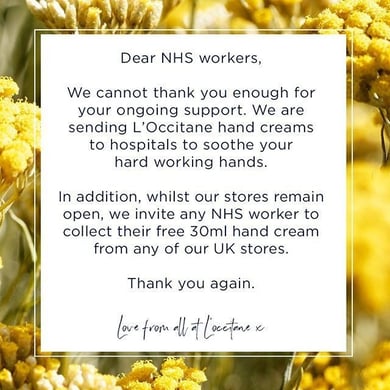 Deliveroo
Deliveroo has committed to deliver 500,000 hot dishes to NHS staff that are fighting the coronavirus. Restaurants including Pizza Hut (who have offered 300,000 of the total dishes) and Itsu will deliver directly to hospitals for no charge.
Uber
The ride hailing giant has offered to give away 200,000 rides up to £15 and 100,000 free meals worth up to £10 for NHS staff. Riders and drivers are truly going above and beyond during this crisis to feed and transport people who need to get to work.
Net-a-Porter
After deciding to temporarily close their distribution centre to support the health and safety of their staff, Net-a-Porter has donated its premier delivery fleet to help seven Age UK charities in London to help deliver food and medicine to the elderly and vulnerable across the city. In addition, to the Italian Ministry of Education's call for hardware, Yoox Net-a-Porter responded with a care package including 100 laptops for Italian school children.
Iceland
Iceland was the first supermarket to offer an earlier opening time for elderly and vulnerable customers, with the first two hours of opening dedicated to them. The initiative came from a branch in Belfast, with other stores quickly doing the same and then most UK supermarkets following suit.
For an additional heartwarming story, in case you missed it, a couple got engaged in an Iceland store after their dream trip to Iceland had to be cancelled leading to an improvisation!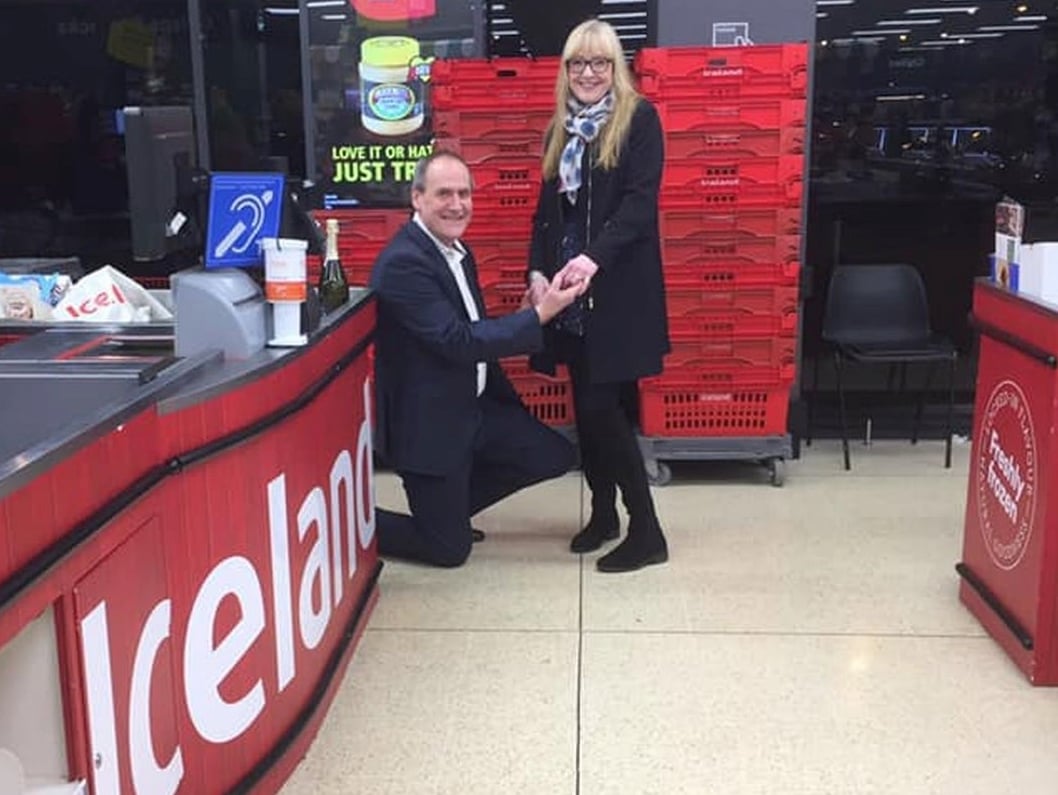 Morrisons
Over the last few weeks, sadly food banks have seen donations dry up as shoppers stay home. Morrisons has responded by setting aside £10million worth of groceries for food banks across the UK, running their manufacturing sites for an extra hour each day to be able to restock them.
And for their own employees, the supermarket is giving every frontline worker a 'thank you bonus' equating to £1,050 for floor staff as a mark of appreciation for risking their own health to keep the nation fed.
The other supermarkets are also making sure their staff are rewarded for their hard work. Tesco, Sainsbury's and Aldi pledged to give all workers a 10% increase on all hours worked, while Asda said it will give all staff an extra week's pay in June. Lidl pledged to give all of its staff members a £150 gift card for their hard work during the pandemic and Marks & Spencer will also give its workers a 15% pay reward.
All this comes after reports UK households are currently buying £1billion more food a week, spending more than over the peak Christmas period [The Mirror].
Mercedes
Due to the short supply of ventilators, Mercedes' experts are working alongside University College London engineers and UCLH clinicians to build a device that supplies oxygen to the lungs as an alternative to a ventilator. The devices have been used in China and Italy to help patients with the virus but there is currently a lack available to the NHS. So far, 40 of Mercedes' devices have been deployed to London hospitals as a trial and if it's deemed successful, up to 1,000 more machines can be produced every day.
I think we can all agree that there is a lot of good coming out of this scary time, I'm sure a lot more is to come and that's what I want to focus on. Brands' efforts will not be forgotten once we are out the other side of this.