FIVE quick contextual wins you can implement right now
As I'm writing this it's 10th June 2016. At exactly 2:30pm to be precise. And once again I'm astounded at how many emails I receive that contain content that isn't relevant to me. As an email marketer I totally understand that you may not have any data about me other than my email address but at this point in time (2.32pm) there really isn't any excuse to not be sending me email that's at least relevant to where I am, what time it is and the device I'm using. You could even send me emails relevant to the weather outside (you know us Brits love to talk about the weather).
As I'm looking out the window at an overcast London skyline, I'm wondering why so many emails I receive don't use context to capture my attention. It's a great way to provide me with relevant info and to engage me. So, with that in mind I thought I'd have a Friday rant and then put together my fave five quick, contextual wins that anybody can implement quickly and easily.
Let's start with the weather.
Summer: Check. Sunny: No. Cloudy: Yes. Raining: Most likely!
Well then, please don't send me emails containing 'barbeques' when it certainly isn't barbeque weather outside. (Unless your idea of a good BBQ is a drizzly, damp cook out on Margate beach!). Use weather detection at open to personalise the email content to the weather forecasted for the weekend. Target content effectively for the weather. So it's cloudy, humid and forecast to rain ALL weekend so I want to see products relevant to that – think DIY, furniture, decorating – not garden furniture and BBQs! If somebody opens the email and they're lucky enough to be somewhere that it's sunny (good for them!) show them the outdoor products. But don't show me. Please.
If the weather dramatically improves and I check back into the email – that's when I want to see BBQs. Use the Kickdynamic rule builder to display the correct products or images for the recipient's weather at the exact point in time they open the email. Relevant and engaging: check!
Day parting
Do certain products on your site sell better at a specific time of day? Do you sell more breakfast products in the morning than at night? How cool would it be to promote products traditionally bought in the morning actually in the morning? Well, you can! Using the rule builder, you can build rules to to display content relevant to a recipient based on the time of day. We're calling this 'Day Parting' because, well, it allows you to automatically display specific products and offers depending on the time of day the email is opened. You can literally part the day!
So you could display breakfast products in an email between 7am-10am, then snacks between 10:01am-11:30am, followed by lunch products from 11:31am-2:30pm, after which you could show tea and coffee products between 2:31pm-4:30pm, You could then show dinner products from 4:31pm-9pm, followed by beer and wine from 9:01pm-midnight.

Device Targeting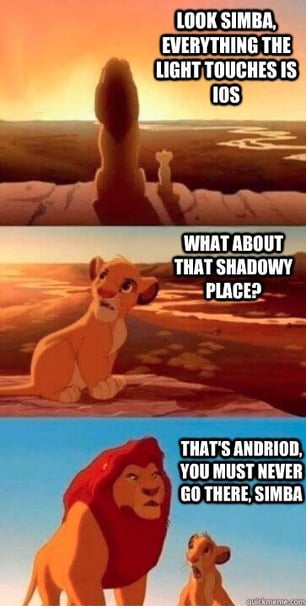 We all have a preferred device that we use to open email. Personally I'm an iPhone kinda girl. Even when I'm sat at my desk, doing work, with a perfectly good MacBook in front of me, I still check my emails on my phone. Have a look through your promo emails in your inbox (on a device of your choice) and see how many of these feature app download info. My (educated) guess would be quite a few. But I'd bet very few of them are showing the app download info personalised to the exact device you're using. This shouldn't be the case and it's easy to rectify. At open, we can detect the device being used to the read the email. With that weapon in our armoury we can show device specific content. Clever, eh?
One of the best ways to use this knowledge is to show app download banners for the specific device being used to view the email. Viewing the email on my trusty iPhone, I'd see the banner specific to iPhone which, when I click which I will because it's super relevant, I'll go straight through to the app in the app store, making the download process a dream. If I switched devices to an Android (the dark side) I'd see the Android specific banner and I'd click through to the app in the Google Play store. Opens on a desktop can be shown a different banner or this section of the email can be hidden entirely!
Expect to see: Your app downloads increase.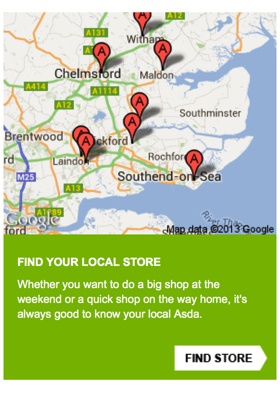 Geo-targeting
Live maps in email can make an impersonal email a whole lot more personal. Take where I am when I open your email and show me the nearest stores to where I am on a map. Encourage me to click through to get GPS directions from my location to your nearest store. A personalised, contextual email experience and increased footfall. Win, win!
The best news is that it's set up once and it can be used in every email you send to remind recipients of where their nearest store is. If they live in London but head to Manchester for the weekend – no problem! They'll see the nearest stores to their open location – your Manchester stores - pinned over the map ready for the recipient to pop in.
Image optimisation
A/B split tests to a control group ahead of an email send are time-consuming. Sending to the control group, interpreting the data, sending the campaign to the remainder of the database. It's a longer than necessary process that can easily be automated. Enter in-email optimisation. Upload the different creative you'd like to test, set an open quota and hit send. Once the open quota has been reached (10-20% of expected opens), we'll automatically display the highest converting image for the remainder of the campaign opens.
Results: Free time on your hands and increased engagement.