4 strategies for a successful Black Friday
Black Friday is right around the corner, but it's probably going to look a little different this year. A strong email strategy is a vital component for retailers that want to have a successful Black Friday trading period, especially if store access is limited.
Email content in the lead up to, and over the Black Friday period needs to be the best it can be. With the very real possibility that store access will be restricted or limited, and the potential for shoppers to have some hesitancy around in-store shopping, email has even more weight on its shoulders than usual.
Leveraging email to the best of your ability could go some way to making up any shortfall in store revenue. Below are 4 powerful ways to make your email work harder. You can download the full Black Friday Email Marketing Strategy Guide here.
Strategy 1: Live Polling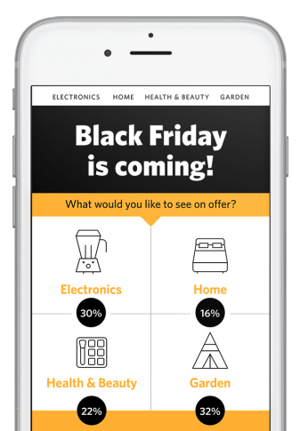 Client Results:
84% Increase in CTR
120% Increase in CTO
There's two huge benefits when adding polls into your strategy. One, more clicks. Recipients love to click and have their say on what they're interested in. That means you've got more data. So, two you have very recent interest data about what that recipient is interested in shopping.
That data can be used to tailor content to the recipients interest over the Black Friday period increasing the likelihood of them making a purchase. A client that did just this reported a 93% Increase in CTO for the tailored follow up email.
Want all the details? Download this Kate Spade New York case study for all the info.
Strategy 2: Countdown Timers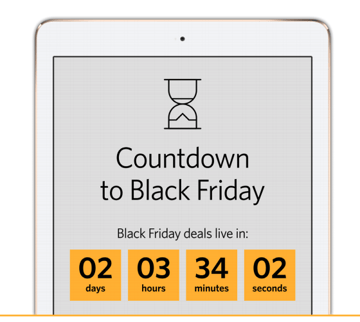 Client Results:
10% Increase in CTR
8% Increase in orders
29% increase in Revenue
Timers work. They're tried and tested. Build timers into your strategy to add excitement and anticipation for the start of Black Friday, and then use them strategically for key events during the period. Countdown to specific deals going live or display how long left until Black Friday ends of a powerful boost. Make sure that your messaging is clear and there's a CTA close to the timer. Go the extra mile by adding to cart recovery emails to build in that sense of urgency.
Strategy 3: Social Signals
Giving content extra credibility is a great way to increase brand confidence, and increase those click throughs. Surfacing the live number of clicks over individual products and/or showcasing the total number of clicks on email content in the Hero image builds positive reinforcement and social proofing into your strategy. Customers trust other people and social signals brings this to life in email.
Client Results:
29% increase in CTR for Black Friday
73% increase in Black Friday orders
Strategy 4: Live Products
My final strategy suggestion is the most powerful and the one that will drive the most success. Switching Black Friday product content from static to live will make all the difference to your bottom line. The benefits of live products are many: easy management and setup, live on open, elevated creative, auto-removal of out of stock products, enhanced customer experience to name a few. Live products (powered by a Google Shopping feed) are served into the email when its opened so stock levels, availability, discount etc. can all be considered at that moment. Only products in-stock and available to buy are displayed - increasing product discoverability and potential revenue per email.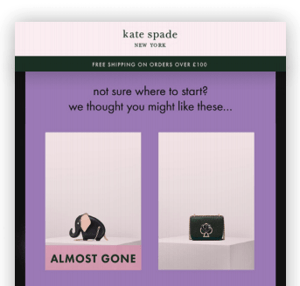 Client Results:
47% increase in revenue
140% increase in users YOY from email
Implementing these 4 strategies will see your email engagement increase and your revenue will follow suit. We've compiled a comprehensive strategy guide featuring real examples of how brands have been successful in driving clicks, conversion and revenue over Black Friday. Get your copy here.